Memoirs of Marzieh Hadidchi (Part 29)
2018-02-06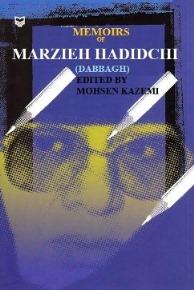 Memoirs of Marzieh Hadidchi (Dabbagh) (Part 29)
Edited by: Mohsen Kazemi
Tehran, Sooreh Mehr Publications Company
‎2002 (Persian Version)‎
Translated by: Zahra Hosseinian
---
Martyr Andarzgou was in contact with the militant clerics group in Iran, and he completely knew and was friend with some members.
He told me about the situation inside the country and then about Iraq and Najaf. He was very hopeful about the victory of the revolution and popular struggles under the leadership of Imam Khomeini. He had some plans and said that he had come to Syria to provide weapons. He ordered different weapons, from side-arm guns with a silencer to automatic weapons like the U.S machine gun.
Mr. Jalaluddin Farsi[1] was responsible for supplying such orders and I, as a go-between, should receive, carry, and deliver the weapons. Martyr Andarzegou's orders were prepared with many efforts and I handed them to him in his residence, which was a secret and safe houses in Syria.
Piety and vigil were seen in the face of martyr Andarzegou and his behavior and actions were dignified and respectful. But this all was a small part of his personality traits, and his great and transcendental thoughts were hidden. When I saw him with that thin but agile body, like a piece of flesh, in the corner of the room and I heard his crying and prayers in prostration state at night, I shook how much I'm behind with light caravan....
Martyr Andarzegou was interested in helping us. One day I told him, "We don't find any lump sugar here and we have problem for drinking tea." [It is custom in the Syria to sugar tea.] "Don't worry; I make lump sugar for you right now." He said. Then he got up and first boiled some water. Then he dripped some boiling water into a plate of sugar to moisten it. Next, he began to knead and made lots of lump in the size of hazelnut. At the end, he put them under sunlight to dry. Therefore, he made a lot of lump sugar for us. This martyr Andarzegou's move was very interesting to me. He was not ignorant of such minor things, although he was very busy and he had great plans to be accomplished.
To be continued...
---
[1]. Jalaluddin Farsi was born in 1934 in Mashhad. He met Dr. Shariati when he studied in the first year of high school. His secondary school coincided with the peak of the struggles of the Iranian people's movement and the two-year period of Dr. Mossadegh's government. He participated in the rally and struggles of the nationalization of the Iran oil industry movement. In 1955, Farsi traveled to Iraq secretly to be familiarized with July 14 Revolution of Abdul Karim Qasim in Iraq, and with the changes of Abdel-Nasser's revolution. He was arrested by Iraqi agents and after he released, he went to Syria. He was arrested and imprisoned in Ghezelqaleh when he returned to Iran. He was released in October 1962. During 1965-1969, with collaboration of Dr. Bahonar and Dr. Raja'ee and Dr.Beheshti, Farsi made great efforts in organizing and political developing of Imam Khomeini's movement. And during 1963-1970, he published some valuable revolutionary works, including a treatise on evolutionary revolution of Islam. In those fearful years, he held many lectures in the youth guidance center and universities of Shiraz. But SAVAK shut down the center because of his speeches. He traveled secretly to Lebanon in 1971 and he could train hundreds people for armed struggle and send them to Iran by February 11th 1979. Imam Khomeini introduced him as his representative in the Palestine Fatah Organization. After the victory of the revolution, Jalaluddin Farsi entered Iran with Yasser Arafat and joined the party when the Islamic Republic Party was formed. His activities after the victory of the Islamic Revolution are: representative of the Assembly of Experts, reviewing the constitution, candidature of the first presidential elections, and representative of the Islamic Consultative Assembly. [He has many works like Dark Angles, Four Revolutions and Two school trends and secularism, The philosophy of the Islamic Revolution, Dictionary of the Islamic Revolution, The Islamic Revolution and Social Organization, etc.] The Islamic Revolution calendar, Volume II, Tehran, Islamic Revolution Literature Office, p. 181.
Number of Visits: 824