An interview with Zahra Sabzeh Ali about her book "Deldadeh"
Memory-writing for the sake of social impact
Faezeh Sasanikhah
Translated by M. B. Khoshnevisan
2017-12-26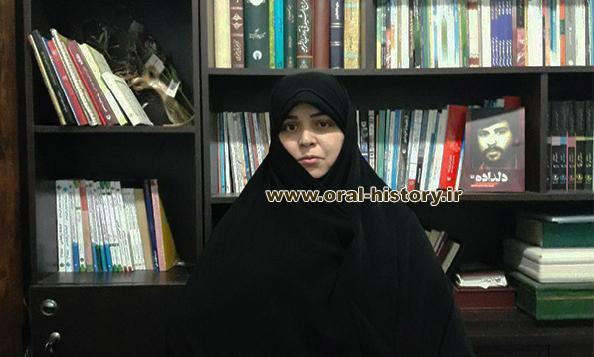 Note: The seeing of a small photo from martyr Alireza Mahini prompted Zahra Sabzeh Ali to collect the memoirs of this martyr who was from Bushehr and a commander of irregular wars. The result of the work is presented with the assistance of the Art Center and Sooreh Mehr Publications. The release of the book "Deldadeh" or beloved[1] became a pretext for the website of Iranian Oral History to have an interview with her:
*First of all tell us how you became familiar with martyr Alireza Mahini.
*It was the autumn of 1385 (2006). As I had been sitting in one of the cars of ladies in the subway, I saw a piece of paper on the train's floor and some people moved it under their feet. With the intention of lifting and putting it into the bucket, I picked up the paper. I saw that it was the photo of a martyr named Alireza Mahini who has been a commander of irregular wars. He had a gentle face and penetrating eyes. The photo's martyr fascinated me compulsorily. I was not in the mood of martyrs at that time, because we had no special martyr among the relatives and friends. I also had no recognition of the martyrs. I just knew that they are great humans. I folded and put the paper in my purse. Later, my daughter who was nine years old at that time placed the photo on the wall cupboard. Since then, whenever I faced with problems in my life, I went to the martyr's photo, confabulating and asking help from him. I sought intercession through him and he answered me. This martyr influenced my thoughts very much for five years. However, my study on ideological and ethical issues and effort to act on had been effective in this case to some extent which this was also a favor on behalf of God Almighty and martyr Alireza Mahini acted as a mediator. The situation continued until 2012 when I found out where his grave was and started researching about his life.
*Had you done any work in the area of memory-writing before writing the book?
*No. Even in 2012 when I found out where his grave was and went to pay a pilgrimage to his grave, did not think of writing or collecting his memoirs. But because I visited his friends and collected their interviews, when I came back to Tehran, said to myself now that I have collected these memoirs, I'd better write them for myself. After a while, I went to visit Dr. Asgharian Jeddi, a faculty member of Shahid Beheshti University and one of the friends of the martyr. He also told me, "Blessings have been granted from this martyr and is still continuing, you set aside these individual blessings and do something which has foreign effect socially!" I said, "What should I do?" He replied, "Write his memoirs." His words were initially impossible and influential for me because I neither knew the principles of writing nor my field of study was related to writing. I had studied mathematics and was the student of computer engineering in the university. But after becoming familiar with the story of martyr Mahini, entered the seminary. I knew nothing of writing. However, I sought intercession through the martyr and found the opportunity to start writing the book.
*How did you find the people who owned memories?
*When I went to visit the martyr's mother in Bushehr, the martyr's brother got my phone number and invited us the next day for dinner. After having dinner, he said, "I have invited three friends of the martyr to come here in order to tell their memoirs about the martyr, if they like." This had happened without my request. I got very happy. Two of them told their memoirs and I recorded and took photos and filmed with my cellphone device. The memoirs of one of them named Turk Zadeh remained. He said, "I will tell my memoirs as long as you are in Bushehr." The next day, he called me and said, "I have talked to a number of the martyr's friends and have arranged a meeting with them in the Cultural Office of Behesht-e Sadeq. You can come there and record our memoirs."
The memory of my cellphone device had no longer enough capacity for recording. I went to several photo studios to hire a cameraman for the interviews, but the cost was very high. But finally, I could solve the problem of cameraman with the assistance of Mr. Karehbandi the person in charge of Behesht-e Sadeq who sent his brother along with me.
After coming back to Tehran, I said that certainly a goal has been behind the collection of these memoirs. In Tehran, I called Mr. Turk Zadeh, asking him to introduce the friends of the martyr to me if he knows anyone, and he introduced Dr. Asgharian Jeddi. I went to meet him a few times. He introduced me to Mrs. Zahedi who was in charge of the Affairs of War Veterans, and said, "She can guide and help you to type the writings." The works advanced in this way. In fact, every friend introduced another friend. In the next trip, I found other friends of the martyr. In fact, I didn't have a collection of names and every time with every interview I found the number of another person. They were scattered between Tehran, Qom, and Bushehr. I barely had an appointment with some of them It took four years.
*What did you do for printing the memoirs?
*I visited several publishers in 2015 to ask them to help me publish the book "Deldadeh". Although they praised the writings and my effort, but because they believed that I was an unknown author, they were not ready to cooperate with me in publishing the book. I had become disappointed and decided not to publish it until Mr. Turk Zadeh made me a member of the group of Golbarg'hay-e Gol-e Sorkh or rosette petals in social networks. Most members of the group were the war combatants of Bushehr. He asked me to publish parts of the book in this group. After the release of a few parts, a man named Darabi asked me to allow the writings to be published in his weblog called "The martyrs of Bushehr Province" daily. I agreed which was warmly welcomed. Later, I released parts of the memoirs in various website including Tebyan.
In 2015, Mr. Mir Shekar the then Head of Art Center in Bushehr Province had seen my writings in the weblog of the Martyrs of Bushehr Province. He contacted me from Bushehr and asked, "Have these memoirs been published?" I said, "No." He said, "If it becomes a book, the Art Centre will publish it." Then, he took the writings and memoirs and sent to Tehran. After studying the book, Mr. Mohammad Qassemi Pour, the Head of the Office of Resistance Studies and Culture in the Department of the provincial Affairs of the Art Centre said, "This is a new work but needs to be edited. First talk about yourself and then begin with the martyr." Finally, it was approved after necessary editing.
*How many hours did you interview the narrators on the whole?
*I think more than 30 hours. I travelled to Bushehr five times for doing this.
*What did you do after the beginning of interviews?
*I had no plan regarding the interviews. I just told the interviewees, "Say whatever you know about martyr Mahini." Since I didn't have professional expertise and literary information until I was introduced to the Art Center, I wrote all the interviews completely. Then, I removed the common cases and deleted the additions and completed the imperfect points by calling back with the narrators. I was watching the films and listened to the interviews several times. I had lots of handwritings. Sometimes, I wrote and corrected for ten hours. In the fourth year, on the basis of the personal experiences I had obtained, I could ask a series of questions and did so. After the collection of the memoirs of the martyr's friends, it came to my mind to research about his student life, because there were no memoirs from that time. I was following up my subjective curiosity. I planned for this part in asking about his beliefs and even his type; what books and magazines did he read? I also raised questions about his pre-war personality. Now, I was able to visit the interviewees with better intellectual order.
*Did you have any library research?
*Yes. I read the book "With Tired Foot" which had been written about martyr Mahini. I also studied the information available in the websites. I also saw the file of his school as well as his hospital file. I even read a book three pages of which was about martyr Mahini. I watched the available films about him in the Martyr Foundation. I obtained the films about the memoirs of his friends. I read the book "The Mystery of War". I studied about martyr Mustafa Chamran and irregular wars. I researched about the martyrs introduced along with martyr Mahini and about the families of theses martyrs like martyr Abbas Kouhzadi, collecting their photos and wills, because I believe that a man cannot be recognized lonely, and the people around him should also be recognized.
*How difficult do you see the work of memory-writing?
*Some of the narrators are unpunctual and disfavoring; those who want to arrange a meeting to tell their memoirs but tell little or imperfect. The difficult part for me was that during the five years that I recorder and registered the martyr's memoirs, many did not believe me because I was not affiliated to any institution or organization. Some said, "You are a woman and married and there is no reason to follow such case! Why do you follow this up? What do you want to know about this martyr? It has been written about him in that book." For them, I gave as an example a British woman who worked on tiny creatures for twenty years and after twenty years said, "I still cannot say what this tiny creature is." And I said, "How do you say that a book is enough for a human being whose blood has been bought by God and we have scared hadith about martyrs? If those works were enough, I should have been satisfied, why should I spend lots of money from my own pocket for these trips?" Thanks to God, with the publication of this book, the martyr proved many things and healed the wounds of my heart.
*If they were not willing to cooperate, how did you convince them that the memoirs were valuable and should be retold?
* Only with perseverance, logic, frequent calls, repetition of reasons, and seeking intercession through the martyr. I repeatedly asked some of the narrators and said, "Cooperate, do not let me make a trip again and spend money".
*Tell us about personal expenses for recording these memoirs?
* Apart from touching that the martyr is alive, I came to the fact that if anyone takes a genuine step for God, God will answer him. I was neither an author nor a religious person. The martyr made me religious and a seminary-goer. I made my first trip to Bushehr in 2012. I really had no expense for the trip, but my duty was clear in the trip, because I wanted to do this according to personal beliefs and could not have any demand from my family. I had to sell a pieced of gold that was my mother's remembrance and spent on my first trip. In other words, I spent all of my personal capital for the martyr at a time when I still knew nothing about him. After that trip, I was forced to borrow a loan for other expenses, or arrange the costs through other means. It was important for me to introduce this martyr. After the release of the book, in addition to the books given to myself, I bought and distributed and advertised more books for two hundred thousand Tomans.
*What advice to do you have for memory-writers given the experiences you have gained during this period?
*If someone does not believe in memory-writing especially about the martyrs and his or her heart does not come with it, it is better not to take a step, because the path of truth is hard and difficult and if it is an easy path, it cannot be the path of truth. Resistance, faith, purity and patience are required for this work. If someone does not have these features, he or she should not take a step in this path, even if he is familiar with strong techniques. I do not claim that this is a lasting work or will reach its peak, but perhaps the future generations know better the value of a writing which has been written with suffering, because this move was not a material one, it was spiritual. And a spiritual move along with suffering will never be buried. I was very willing to complete the memoirs of martyr Mahini and work on the memoirs of martyr Esmaeel Kaman, a friend of the martyr, but I was disfavored so much and on the other hand had no budget for this work that I changed my mind and this work remained unfinished.
*Thanks a lot for giving your time to the website of Iranian Orla History
---
[1] The book "Deldadeh: Memoirs from the life of martyr Alireza Mahini" authored by Zahra Sabzeh Ali (Shah Babaee) has been prepared for the first release by the Office of the Resistance Culture and Studies of the Provincial Centers of the Art Centre and Sooreh Mehr Publications in n2017.
Number of Visits: 1182