The press exhibition had a night of reminiscence
Memoirs of two reporters and photographers from the battlefield
Maryam Rajabi
Translated by Fazel Shirzad
2017-11-14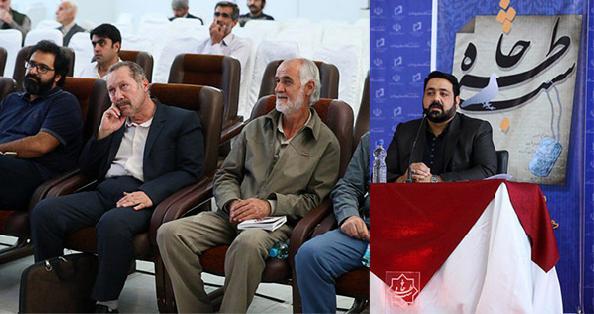 Note: According to the Oral History website of Iran, the special program "Night of Reminiscence of Holy Defense", with the participation of Night Memory Unit of the Office of Literature and Art of Resistance and the Association of Holy Defense Journalists to celebrate the establishment of the twenty-third press exhibition and for memoirs of journalists and photographers of the holy defense, was held at the congresses' hall of press exhibition in Tehran's Imam Khomeini Musalla[1] in the evening of Thursday 11th Aban 1396 (2017-November-2). In this program, Asadollah Mashayekhi and Mahmoud Zahir-al-Dini told their memories of the period of the imposed war of the Saddam's army against the Islamic Republic of Iran and the sacred defense.
My heroes
The first narrator of the night was Asadollah Mashayekhi. " I want to tell you a memoir in two parts", he said " the first part is related to 1357(1978) or early 1358(1979), and the second part is related to the war. The friends who were passing through Valiasr Square in 1358 saw that there were some kiosks on the western side of the square. In those kiosks, clothes, tape recorders or even books were being sold. At that time, I was living on Piruzi St. From our neighborhood, Mahmoud Gheghil, with one of his friends named Farshid Khal, had a tape store near African cinema and Valiasr Square. Mahmoud was nicknamed "Gheghil" because he had a small physique, and Farshid was nicknamed Khal because of a mole on his face. When the cinema was closed, the two persons was doing funny and silly things to attract customers. We went to say Mahmoud's brother that he would hurt our prestige in the neighborhood.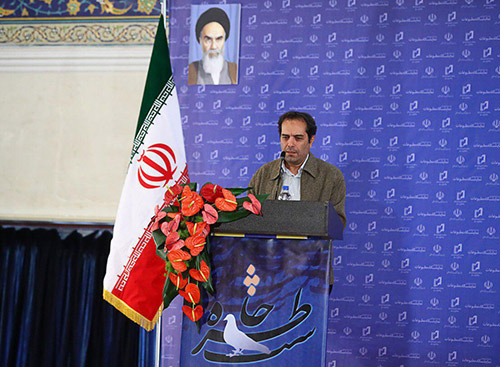 After that, we went from that neighborhood and I began to work for Kayhan newspaper in 1363(1984). I was asked who was going to go the frontage of war. At that time, we used to go operations and write reports and come back. We did not receive any military trainings, but we were somewhat familiar with some affairs until the operation Karbala 5. In that operation, there was a canal called Fish Canal, when we arrived there, the children were exposed to the enemy's counterattack, and I was scared of bombardment. We watched everything there; from fighters' abdomens to their intestines and heels, it wasn't clear whose were they? It was very crowded. The photographer was also separated from us; we couldn't find him.
I was sitting on the canal and I saw someone ordering others to do things. He seemed familiar to me! Yes, he was Mahmoud Gheghil was the commander of that day. It is well known that a revolution can change a country in all respects, and it really took place because Mahmoud was changed a lot. I asked him to take me back; actually, I was looking for Mahmoud. We went back by a truck and stayed between Ahvaz and Andimeshk County over that night, and we talked together there so much. I asked Mahmoud to find Farshid; he said that Farshid was the commander of Ashoora battalion and martyred before we went there. In those days, Mahmoud and Farshid joined to Sepah[2] and Volunteer Soldiers through Mr. Ashoori who had a bookstore in our neighborhood. I spent the night with him and returned the next day. They were supposed to rest and rejoin their battalion and go to operation for three more nights. I found the photographer, and after three nights I said that Mahmoud had given an address to go to an area where the operation was going to be taken place. When we arrived there we searched for "Mahmoud Haghdoust"; his comrades said tearfully that he was martyred during that three nights of operation.
This story was related to the year 1365(1986). The war was over and we wrote the memories. I wrote story of Mahmoud Gighel as a "story report" and sent it to be printed, but I was said that the hero of the story has smoked] on the story [, and at first he was a prank! I said: This person was the commander of a battalion and then martyred! But they did not agree and said that I should delete or change those parts of the text. I said: Mahmoud was not an angel, he was like us and wearing a long pants, a sweatshirt, with a opened collar and had a long hair.
I went to Tabriz for Farshid and found his family. Her father was old. When I arrived at their house, there were the image of Imam Khomeini, martyer Beheshti, etc. on the wall. His father was a constitutionalist. I asked him: "Why did you let your son go to war?" He Said: "I did not get hurt, but my son should go war for Islam and Iran, we first drove him out of the house, because he was a good son, but I knew that he looked like me and will come back."
Sometime a fighter, sometime a photographer
The second narrator was the one who was born in Tehran in 1345(1966) and started photography in 1363(1984). For many years, he has worked in the photo section of IRNA news agency and Iran, Abrar, Entekhab and Jaam-e Jam newspapers, and he is now a member of the editorial board of Online News analytical site. He believes that working spirit has never overcame him and his friends and companions during the years of holy defense; any activity that has been done in the sacred defense was voluntary one. "I attended in the war as a fighter for a while, and sometime as a photographer" said Mahmoud Zahir al-Dini. When we were in the war and wanted us to tell memoir, we had to think very much to describe a different scene for the addresses to attract them. But, the war was ended, and after some years when I remember past, I see that all the moments of war are memories.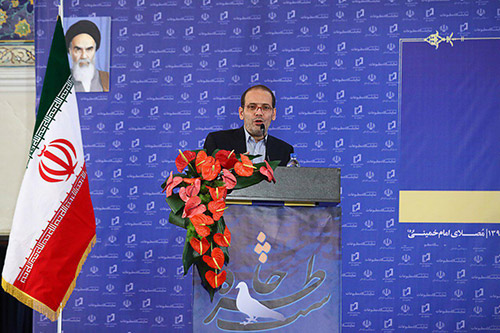 Operation Karbala was in a vast plain and Mehran should be released. The operation was dispersed. It means the battalion of Mohammad Rasolullah (PBUH) from the left of the Mehran Road and the Seyed al-Shohada (AS) brigades was caming from to the right of the road. At the second or third night, we were awake and arrived at a place where the fire of enemy was heavy. Before the morning sun, the number of fires and those lights attracted us to go towards them and see what's going on. It was morning when we arrived, and because the fighters could not fix their position at night, they were behind some of bulwarks that were created last night. There were hills at a distance of 50 to 100 meters from these bulwarks where the commanders of battalion and troop were behind them. The enemy's position was not completely known. It was bright time of morning, and the comrades were being attacked by the enemy on each side. We could not send forces and ammunition. With a lot of trouble, I got in a car and reach ammunition them to give these ammunition to guys. It was a trouble that it is still difficult for me to tell it.
This position should be fixed and the distance between the hill and bulwark should also be blocked. If the comrades left that place or retreated, or some forces were not sent to them, the enemy could recapture a large part of the land that the comrades had captured during one or two days; we had to come back. The comrade brought a crane to attach that place to the bulwark, the crane came with a truck that five people sitting behind it. Those five people were auxiliary drivers of the crane. The main driver of the crane, was between the hill and that bulwark where the comrade had taken refuge, began to dig the bulwark. He had not dug two meters still, he became martyr by enemy's fire. Then one of those five crawl from the behind of the hill to the next to the crane. He lowered the driver and sat down instead. After digging about half a meter, the second driver also became martyr. The next four drivers were also martyred in this way. They had totally dug a bulwark about 10 meters. Partly, It caused comrades to work easily and made them comfortable and secure. With knowledge and certainty of martyrdom, the six people went to the top of the crane to sacrifice their lives to create this bulwark. These comrades were martyred submissively and fought for the lands of the country and showed their loyalty by martyrdom. Now, we should see how much can we and next generation pay attention to them? As a propagator of the culture of sacrifice, have we done our duty properly to show sacred defense pleasant for current generation? I think we have not worked on the culture of sacrifice and martyrdom, and nobody has been protector. Or there is protector, but the culture of sacrifice has not been invested. I hope that attentions on these issues, at least in same amount, won't be reduced and forgotten.
A few years ago, a war photographer named Saeed Sadeghi began to publish photos of people taken in war on the media Online News. Despite all the troubles, the life of those people was very beautiful; Mr. Sadeghi's photos are published as a book."
Zahir al-Dini added, "We could record about one fifth or less of the events that taken place in the war in the form of movies and photos. The quality of the photos was one side of problem, and the equipment and limitation of the making film and taking photo was another side of the problem. We could take 12 photos by each roll of film, and in fact we should not spoil any photos.
After the holiday of Nowruz in Farvardin 1366(April 1987), we went to war zones. The Karbala Five operations were carried out in several steps in which attacks and counterattacks were doing in. I arrived to the comrades of a Habīb ibn Madhāhir battalion with an Araki driver. It was near the sunset. They were located a place where was in a very good condition for photography, but the sun was shining from the enemy to us, and the place was in front of sunshine. I could not take photo. I told the driver: let's stay here tonight, I'll take photo in the morning and then get back. Finally, the driver accepted. She put her car in a hole and came back without car and said that she would return next day at 11 o'clock. I talked to friends over that night, I prayed and then slept. I do not know how many hours I was in sleep, but I noticed that the comrades were carrying me with blankets; I wanted to ask the reason, but I vomited blood. I recovered my consciousness again and found a friend who kept me there that night, trying to wear his mask on my face, but someone else said: "it's no good to him anyway, because he is going to the open air and he cannot breathe with the mask"; they put me behind a pickup truck. The noise and the movement of the pickup truck on the grips make me to recover my consciousness. We arrived in Ahvaz. ICU was being taken turns, it was not an easy task. The wounded was sent to various cities and I was supposed to go to Kazerun, but they brought me to Tehran. At first, I was not very involved with the effects of chemical injuries, but it run in difficult little by little, a difficulty that has always been with me for years. Sometimes it's annoying and sometimes I live with it. We didn't think about chemical mask and there was no one who wanted to give us a mask. We would not be able to photograph if we were to mask during photography. Most of those who photographed in war, little or much, breathed chemical air which had its effects on their bodies."
Number of Visits: 730