Holding 285th Session of Sacred Defense Memory Night
Skill and Courage of Pilots as Narrated in Memories
Maryam Rajabi
Ruhollah Golmoradi
2017-11-07
Reported by Oral History Website of Iran, 285th program of the sacred defense memory night was held in Sooreh Hall of Hozeh Honari on Thursday, October 26, 2017. In this program, Amir (Major General), Pilot Seyyed Javad Pouyanfar, Amir, pilot Ali-Mohammad Souzanchi and Amir, pilot Ali-Asghar Jahanbakhsh expressed their memories of the sacred defense and the Iraq imposed war against Iran.
Belqorfeh, made my beard white!
The first narrator of the 285th Program of the sacred defense's Memory night was Seyyed Javad Pouyanfar. He said, "On September 18, 1980, four days before start of the war, we had to go and strike our target. Reason of our attack on that day was that Iraqi government's army had dug some trenches, seized some of our territory and passed our borders. Another area we bombed in west of the country was Zain al-Qos. Two arches were in our territory that the Iraqis had taken and captured all border guards and those who guarded them and took them with their selves. We were four articrafts on September 18, two front and two rear, which we carried out the operation. Unfortunately, Hussein Lashkari's fighter crashed in that operation and we did not know what had happened, had been captured or killed?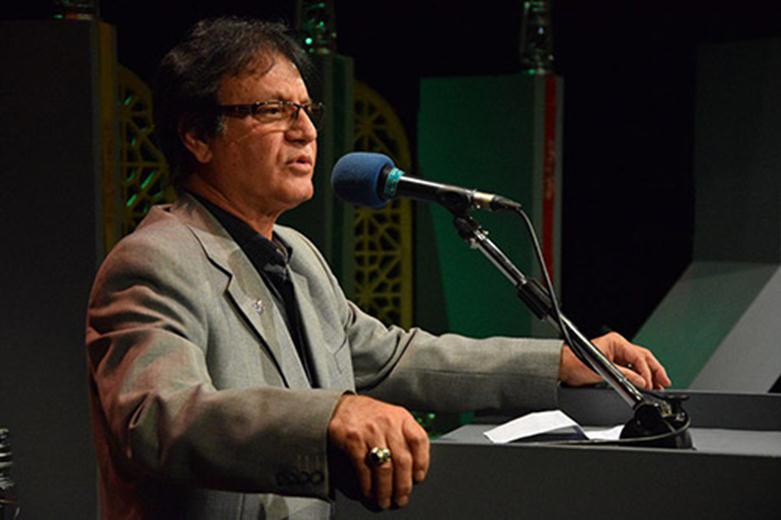 In other operation that we did, we went with 140 fighters and stroke different bases of the enemy. I stroke Iraq's Nasiriyah base. When I was coming back, I saw some tanks and I wanted to shoot them that I realized that families and civilians were fleeing with personal machines and avoided striking those tanks. Our pilots were much better than the Iraqis as we were moving at low height and they passed above us and came to strike Iran, but we had to keep silence, so we did not announce that they were coming. When we arrived, we saw they had struck Ahwaz and Isfahan and there were no place to landing. One of my engines had been out of order, and finally I landed at Dehloran road and saved an aircraft.
There was another flight that we had to go to and struck an oil company in south of Baghdad. When we arrived and dived to hit there, we noticed that there was no oil company and there were several factory complexes. In that flight I crashed and fell in a village. Local people kept me until military forces came and took me to their base. There brought me a glass of tea, and I said it was very sweet. They replied that you shoot sugar and did not like sugar too! I just discovered that we had struck a sugar factory.
I was captured for about ten years, and was prisoned a long time in Belqorfeh [in Arabic""بالغرفة, a word which was common among captives and its meaning for them was solitary confinement]. I was there for about two months that they asked us to shave our beard and when I shaved them, I saw my beard had become white. Then they mounted us to take to Abu Ghraib Prison. I had a code with martyr Lashkari; when I told tank, he told cannon and vice versa. When I was in the car, I squinted and saw that Lashkari was also next to me. I thank God that he was alive. I said: Tank, he said: are you Javad? Have you been captured too? I told yes. I was in with him in Abu Ghraib for a long time. He was well-behaved and was very tolerant. 18 years of captivity was really hard, and only I and those likes me know how was the 18 years for martyr Lashkari. We were there for a while, and then they took us to the camp where we could write letters to our families and the families of those who stayed in Abu Ghraib without any contact with out of prison. There, we entertained ourselves with books and letters that Red Cross brought, with running and sport (we made dumbbells by stones) to save ourselves strong and useful, and when we would come back to not be a troublesome for our family and society, and would be a pattern for our children. When I returned, I could hold a doctorate in aeronautics and was transferred as an officer to Iran Air. I flew as a captain 25 years and 17 thousand hours in Iran Air and Iran Airtour and did not show any weakness after my captivity."
We were not armed, our work was listening
The second narrator of the 285th session of the sacred defense's memory night was Ali-Mohammad Souzanchi. He told, "In the old days, building of Andisheh Hall in Hozeh Honari was called Haziratol Qods, which belonged to misled sect of Bahá'í. In years 1354 and 1355, I had a friend who was one of them and tried hard to bring me into this cult, but because I had studied it before, he did not succeed. The time was passed and the revolution was occurred and God wanted to dismantle them, because they had plundered wealth of the country and bought 480 hectares of land around Mahalat and intended to make there as their biggest Haziratol Qods."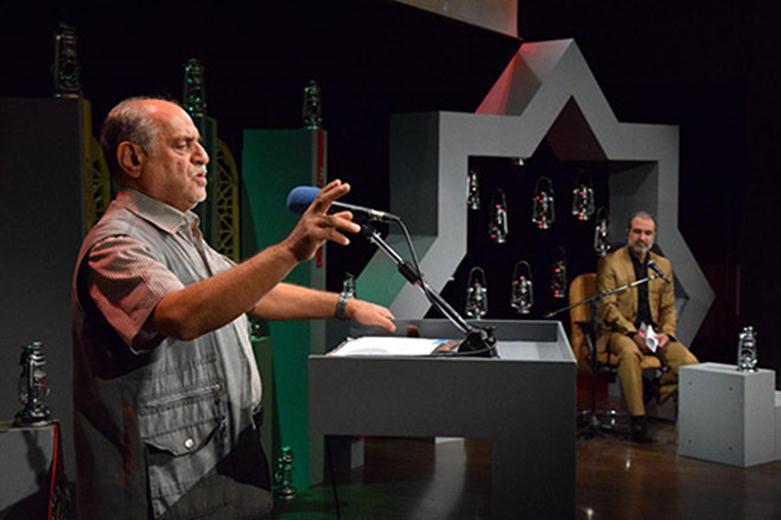 Souzanchi continued, "I was pilot of C-130 Hercules. In March 23, 1982 in Norouz, we had a flight mission with bat C-130 aircraft which carried tasks of radar and listening. In that day, our flight was on the airways of Garmab, Bijar and Tabriz. It was around 11 hours, and the guys who carried out radar task in the aircraft told that two planes had flown from Nasiriyah to Baghdad and were coming to Iran. We were not armed; our work was radar and listening to alert to the ground bases in Tabriz and Hamadan. Those who were working in radar section on our aircraft described direction and height of enemy aircrafts. We warned Hamadan base to prepare its fighter aircrafts. Two aircrafts took off from there, that one of them as soon as was taken off, it faced a problem and landed again, and the second one moved toward Iraqis to fight with them. We heard words of the aircraft. As soon as the pilot spoke I knew him. He was my friend, martyr Hossein Khalatbari Mokaram. When the aircrafts arrived together, we did not understand what happened, but the guys said they "struck it!" The guys did not say anything so that we, who were pilots, saved our mood and mentality and then we returned to our base in Mehrabad. The next day we were commanded to go to Ramsar from Hamadan and we were very surprised, because we never had had missions in those areas. After some query, I realized that Hossein Khalatbari, who were both in United States and here with each other, had died a martyr, and since he was from Ramsar and Tonekabon, we had to take his corpse to his birthplace in that mission."
He stated, "We had a mission with C-130 to the evacuation headquarters. The evacuation headquarters meant that C-130 Hercules aircrafts took off from Tehran, Mashhad, Shiraz, Ahvaz, Kermanshah or Urmia in order to evacuate the injured. About 1984 or 1985 we went to Ahvaz. When we arrived in Ahvaz, we were told that had to wait about two hours to bring the injured from Taleqani Hospital so we could transport them to Tehran. When the injured arrived, about 75 of them were in stretcher and about 15 outpatients who all wore hospital dress. In the meantime, we intended to pray at the airport. We were about twenty people and Martyr Abbas Babaei was also the first person. A cleric was chaplain. When the first Rakat of the prayer was ended, one of the same outpatient patients stood in the front as Mokabber [Takbir teller]. We were surprised that he was healthy, so why did she wear a hospital dress? He became Mokabber. After the prayers he told Takbir and began singing as the speaker was in his hand! Martyr Babaei quickly got up and took the speaker, and after that we realized that the poor fellow suffered a blast injury."
Suzanchi remarked his last memory: "In 1987, I had a mission from Tehran to Kish. We were two C-130s with load of passengers, meats and groceries for the air force site in Kish. I was pilot of the first aircraft, and pilot of the second aircraft was martyr Ahmad Monsefi. Monsefi's aircraft got out of order near Isfahan and returned. I went to Kish lonely. It was autumn and we had considered weather forecasting. They predicted that the weather was at the risk. On the one hand, they told us that we couldn't put meat again in refrigerator, because they would be corrupted. There were about 60 personnel of Kish and women and children, and they begged me to take them to Kish, because it was for about four or five days that they came to the airport so that maybe someone would return them. In this situation, we trusted in God and continued our airway.
We passed Esfahan and moved toward Bushehr. We contacted there and said: why did you come? The weather is inclement. We called to ask destination situation too. As wives and children of their personnel were in our aircraft, they said: "The weather is good!" When we arrived near Bushehr, it started pouring. We contacted Bushehr radar to tell where we were, but the radar could not find us there. Bushehr was informed that a stranger aircraft was in sky and, God willing, we could tell to an airplane, which was taken off to identify us, by accent that we were insider. After Bushehr we went to Kish. The weather was very inclement and was pouring. About 40 years ago, Kish airport did not operate at night because there was no light in tarmac. About 15 minutes had remained to reach destination that they told me to lower my height. I was landing, but there was no light on the tarmac and I could not recognize my route.
They had lights that were told Gooseneck lights; a container contains gas oil with a wick. They turned the wick on and put them on both sides of the tarmac. I told them to turn on the lights, but there was so much rain that turned them off. Then I told its officer that only way is to tell Air Force Base that everyone has a motorcycle, bring it and start so that their lights illumine the tarmac. About 30 to 40 motorcycles came. It was very pouring as we could not land. I took off again, turned around and we landed hardly. Our around was very crowded. Everyone was smouldering Esfand and thanked God for landing safe and healthy. The next day I was tried! They wanted me to write a report and I wrote it too; but eventually they encouraged me because staffs of the based had written a petition and praised me."
Adventures of destroying four MiG-25 aircrafts
The third narrator of the 285th session of the sacred defense's memory night was Ali-Asghar Jahanbakhsh. He remarked, "After mission of 140 aircrafts, when the enemy found out that could not achieve its decided goals, it appeased Russians and brought MiG 25 to attack cities. The aircraft moved three times more than speed of sound. When the enemy realized that he could not achieve superiority in the war tried, at least, to frighten the people. For this reason, it broke the sound barrier with these aircrafts and scared people, but it did not work. Then they took photos to strike military and economic resources airplanes, and those photos did not work too, so they installed under MiG 25 bomb, and since there were no fighter that could fight with it, it paraded its power easily. Finally Air Force headquarters commanded, and F4, F5 pilots and all those who were skillful gather together and talked. Ultimately, we concluded that for annihilating MiG-25 technicians had to retire healthy aircrafts.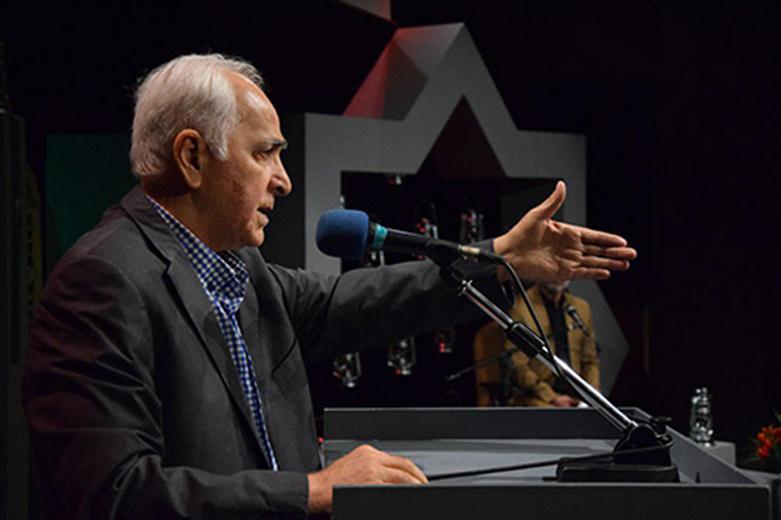 We had done all calculations. Speed of a missile which was installed for destroying MiG-25 had to be the same speed of the aircraft, otherwise the target would passed and missile would not strike at it. At first, they only struck Tehran. Since MiG-25 moved three times more than speed of sound, when it was around Karaj, it had to leave the bomb to hit Tehran. We calculated and supposed to stand at a point in west of Tehran. We determine three points to get around there and waited. The eastern point was on Qazvin, Abyek, the southwest point on Malayer and the western point on east of the triangle was on Qorveh. Our place of standing was between Qorveh, Abyek and Malayer. On the agreed day through radar of bat aircraft we detected flight of MiG-25. When it passed the border, it lasted 12 minutes to reach, and we had only 4 minutes from the 12 minutes to do our measures. In those 4 minutes, we made necessary adjustments and stood with F-14 aircraft in the agreed height. In 90 miles distance, I found it on the radar. MiG-25 received alert of existence of our aircraft, but it did not know what to do? If it came straight, we were on its way, if it went to the left, we would follow it and if it went to the right, it would enter Russia territory. Meanwhile, in about 33 or 34 miles distance, our missile hit it. It perforce went to Russia and then to Turkey, and then it crashed. We did not see its crash, but the same day, in the Arab English newspaper it was told that Iraqi MiG-25 has had crashed.
After that they learned that Tehran was under control, they attacked Isfahan. I asked the officials to go toward MiG-25 and they accepted. I found it on Shah Abbas Dam (Zayanderud Dam). We were constantly going to left and right and I could not hit it. I did not shot a missile so that near Kuwait border where its gasoline was finished and crashed. Another MiG-25 was hit by one of our friends in Persian Gulf and the last one was struck by the country defense with surface-to-air missile."
Jahanbakhsh reminded his other memory: "When our ships brought food and provision, we protected them with four aircrafts because Iraqis hit them. When gasoline was decreased, two airplanes went for refueling and two aircrafts protected area. The Iraqis planned to attack when the two aircrafts stood in the region. We went for refueling, and when we came back, we realized that an Iraqi MiG was approaching one of our aircrafts and were going to hit it. I had passed electronic warfare courses, and those courses helped us here. I told everyone to keep silent in order to only I talk and I spoke with four in a way that Iraqi operators were deceived and thought that I had hit missile; the Iraqi MiG turned and returned.
Two other aircrafts went for refueling and we were two who protected the area. When we lowered, we saw that an aircraft was firing at the ships, but did not hit the ships. I saw shadow of the aircraft, but due to sultry air and dust, I did not see the aircraft. Suddenly the aircraft was appeared. I said to a helicopter to target it, and then landed on the ship and its pilot obeyed me. We turned and saw that two MiG-23s were coming in front of us. We fought with them for about 6 minutes. I followed them to 5 miles distance to Basra, but they escaped and I returned without any achievment."
He concluded, "It was about 9 a.m. that I fueled. My mission was toward Fakkeh. I wanted to go there that the radar told me to go toward Khorramabad, because the Iraqis were hitting there. About 40 miles distance from Khorramabad, I saw an aircraft was flying with white smoke from its upper. Near Khorramabad I saw an F5 that was increasing its height. I informed and they told me to hit every aircraft that I saw. I followed F5 to strike it, but I suddenly understood that I was clashing with a C-130 and if made mistake as long as a blinking we clashed. Eventually it became clear that the C-130 was transporting ammunition, and if I would clash with it, it became a good situation for Iraqi F-5 aircraft and went and informed that it hit two aircrafts simultaneously, and Saddam wouldn't understand that we had clashed ourselves!"
The 285th program of the sacred defense's memory night was held by the Center for Studies and Research on Resistance Culture and Literature and the Office of Resistance Literature and Art in Sooreh Hall of Hozeh Honari on October 26, 2017. The next program will be held on November 23.
Number of Visits: 718