Report on the First Oral History Conference of Executive Agencies III
We must reach an Iranian pattern for oral history
Maryam Rajabi
Translated by Fazel Shirzad
2017-11-07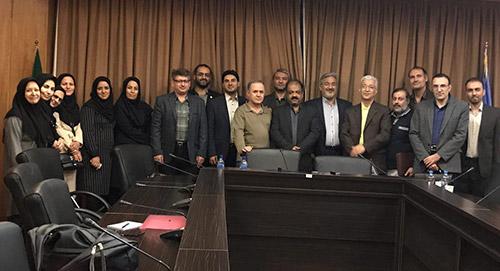 The third panel of oral history conference of executive agencies regarding the methods of interview attended by the members and experts of executive agencies, and Mohsen Khazai, Dr.Abolfazl Hassanabadi and Gholamreza Azizi
The difference between memoir and oral history
Mohsen Kazemi initially said:" a produced text of an invitation is a result of interview's climate. So, in a way, the interview of oral history has three sides; interviewer, interviewee and a content is being produced. One of the difference between a memoir and interview of oral history are kinds of memorable one which are kept in our mind as file, but achieving these memoirs are not in same way. Anyway, oral history is involved in memoirs, and interview is only difference between memoir and oral history, because the interview of oral history is not active one. The question is an interview for memoirs are entirely unorganized and unstructured, and recorders and cameras are usually useful for doing an interview with narrator interviewee, the interview begin with a simple question related to interviewee's mood; interviewee leads the answers on every way. But, the interview of oral history is not like that; in the interview of oral history, all interviewees are conducted by the topic of interview; therefore, one of the major difference between memoir and oral history is how an interview can be done and how a memoir can be achieved.
Enrichment is the next difference. Oral history is usually involved in enrichment but oral memoir is not. In the interview of oral history, it is trying to get validation and accuracy but they are not being tried in oral memoirs. By the way, the interview determines our tasks in oral memoirs. An interview will be an active one, if interviews has some characteristic; s/he must have a common understanding of some human sciences. She must be specialist in own field. S/he must be aware of categories related to the archive of document and organization. Also, interest is one the characteristic of interviewer.
He added:" what make important the process of interview for us is the interview is going to transfer some meanings and concepts. If interview is not able to transfer expected meanings and concepts to parties, the interview will be surly weak and partial one. When such interviews is going to be compiled, the compiler will be also encountered with difficulty. But, it is recoupable through an interview is named a supplemental interview. One of good characteristics for an interviewer is that s/he is good at studying and writing. There are some primary and secondary factors can effect on the condition of interviews. The primary factors include: respecting the mental state of interviewee, not to be boring, the lightness of room, showing proper respect, etc. the secondary factors which show a process made between interviewer and interviewee, is a trust created by parties. If there is not the trust, many shortcomings of initial factors won't be observed."
Oral history and organizational memory
Then, Dr. Abolfazl Hassanabadi, the manager of Documents and Press Affairs of Astan Quds Razavi, said:" there is a discussion about how we can work on the oral history of executive agencies, what issue should be considered, and what organizational is, and how many opinions about organizational memory there are. First discussion is about individual knowledge and documents are provided by organizational works. Organizational memory is used for providing past information and oral accessibility to pay attention on the importance of past, success and failure grounds, influence through various informational opinions, importance of major organizational points, periodical milestone and special situation via the record of experience.
Organizational memory is a main body of informal and formal organizational knowledge that is necessary to continue it because it is one an active function of an organization for every level and includes of various skill and experience can be useful for making decisions. An organizational memory is an approach for making organizational identity which is formed through events and decisions, times, important events or organizational interaction to enrich understanding of the past events.
There are also organizational interests, feelings, relations within groups, failure, managerial change, challenges, interaction in work life can be transferred via documentation of organizational unwritten memory- sometimes they are more important than written one- and via personal and general memoirs in from of experimental narration."
He added:" those who were working in the field of oral history, they must be aware of the difference between organization memory and organizational knowledge. The organizational knowledge is, in fact, the added value of man power which is achieving during job relationships via experience. Human resources and organizational structure is one the most important factor to deploy a knowledge management completely in an organization, because these two factors are influential on other ones. Knowledge management includes some features; uniqueness, rare, valuable and irreplaceable.
Oral history, through organizational narrations, is one of the ways to remake the past for telling what it has been and what it has been done; so, in this way, the experience of past can be used in the present to form its future. There are matters related to oral history and organizational memory; first, oral history and the documentation of organizational experience. Second, oral history and the documentation of organizational knowledge, Oral history and the documentation of organizational culture. In the world, mainly Iran, there are some issues and side problems to do oral history project, such as; less attention to rationalize oral history, the absence of coordination of parts to general, the absence of clear definition of favor purposes, tendency to personal preference much attention to political issues, inner and outer distress, the importance of special time and managerial period, the absence of prioritization for the oral history, the justification of managers and staffs, exceedingly emphasis on pivotal usage, project period length, the absence of prioritization in organizational oral history (such as the ratio between individual and collective questions, an analytical or descriptive approach), the ratio between individual and office biography, passing from logging and thematic analysis and policy of deepening the content of information in order to pay attention to organizational knowledge, avoiding the use of official formulation to raise particular issues, avoiding excessive attention to formal organizational memory and neglecting unofficial memory and communicating between them, keeping the dignity for archive of oral history and observing its standards (including; implementation, indexing and rationalizing content), creating a reliable relationship between written documents and verbal evidence in archives, paying attention to the desires, opinions and historical needs of each period in the study of organizational memory, trust-testing and documentation."
Question & Answer; the security of the interviewer and interviewee
In this section, Mohammad Taqi Arsin said:" One of the topics that has always been a question for me was that when a particular issue is raised in oral history's interviews, it is possible that the person's security may be put in danger, and if the issue is opened, it may not be a good reflection. What is the solution? How can interviewer and interviewee's security be safeguarded?
Gholamreza Azizi replied:" If a person is going to go for a risky environment, s/he should expect a hazard. In oral history's interviews, we do not intend to hurt one's prestige or reveal his mistakes, but want to be close to reality as possible as possible."
Mohsen Kazemi also answered the question:" The subject of discussion is one of the obstacles to oral history. History is alive and near; that is why it is risky to enter into many of the issues. Oral History involves in recording and publishing. What will be dangerous for the researcher is about publication. These issues have to be addressed, but they must adhere to the customary rules in order to publish them, but we can, as a researcher, take these and keep them for future. In publishing, we are able to do some works with a number of techniques and techniques. "
In the answer to this question, Morteza Rasulipour said:" interviewer and interviewee security is a major issue. It is against the rules of research to have an authority to say that you can't do an interview in this topic or you can do an interview in another, because when I like a subject and I want to talk to someone about it, and no one can tell me not to interview. We sometimes go research centers to record interview; so, it should not have any limitations, and, in fact, there are not any limitations. The issue of publishing is not related to these fields. The issue of publishing has social considerations and depends on several factors. If we help this obstruction and repression, it's not a good idea. When someone wants to tell information, we record it, even if s/he is from SAVAKI[1] and wants to tell his past work. If a person wants to interview another person and stop him, this is also contrary to the principle of human liberty and the censorship procedure cannot be useful, because if we interview with a problematic person and don't publish his/her interview, it will made problem somewhere else, and this is useless. The attitude of the authorities towards the information should be changed, because if the dialogue is accepted in the media as a principle, there won't be fear. We are living with a culture that has a very wide range of metaphors, imams and references. The great people in the past have said lots of words by gestures, and I believe that they were in more difficult situation, but they were brave to say their own words; so it, mostly, depends on the artistry of a person who works, and s/he needs to practice more to deal with the problems. Second, the authorities and those who claim to have a change, must change their view and should try in this way."
At the end, Abolfazl Hassanabadi also said: "Our policy, at Astan Quds Razavi[2], is not a print policy. We have a limitation in publication, because it is costly and time-consuming, and it requires the skillful forces. We have never had an ideal for book. We are the only center that two thirds of our work is implemented and their profile is available on the site. We have keywords and there is no limitation to give information to researchers, and we have provided most of the oral history projects in the country. Our mechanism is based on global standards and the people who work with us are trained, but our standards may differ from other organizations."
---
[1] the Iranian intelligence agency during the rule of Mohammad Reza Shah Pahlavi
[2] An institute or autonomous charitable foundation in Mashhad city, Iran
Number of Visits: 661