An interview with Touran Qorbani about her books
We should recognize the narrator well and remain loyal to memory
Faezeh Sassanikhah
Translated by M.B. Khoshnevisan
2017-11-07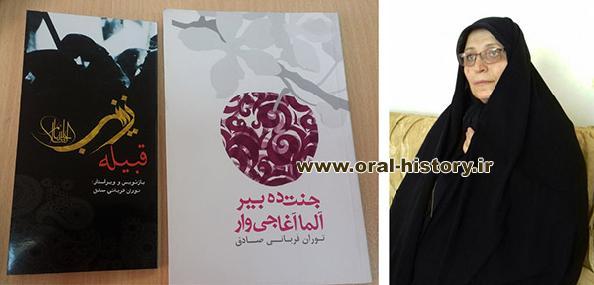 Note: The book "The Tribe of Zainab (PBUH)" is the most recent book authored by Touran Qorbani and released by Khat-e Hasht (Line 8) Publications. For more familiarization with the book's author who is from the city Ardebil, the website of Iranian Oral History has conducted an interview with her:
*Tell us about the book "The Tribe of Zainab (PBUH)".
*The book has referred to two events from two pre-revolution and the Sacred Defense periods. The people of the village of Niaraq in the suburb of Ardebil held demonstrations against the Pahlavi regime on 7th of February 1979. Several people of the village were martyred in the demonstrations. Also, a number of women and children were martyred or injured in Yasavol neighborhood of Ardebil in a bombardment on 11th of March 1988.
*Why have you dealt with women, girls and children in these events?
*Many works have been done about men, but there are many words about women which have not been expressed. I have the concern of women even in the stories I write, and deal with their personalities.
*How did you obtain the book's information?
*A number of girls who were members of Basij (voluntary) forces and Islamic Revolution Guards Corps (IRGC) had collected information about these women and children and delivered to me in handwritten sheets. However, I did not suffice to them and conducted interviews with a number of ladies for completing them. Meanwhile, I have lived in the period of the events and have witnessed and touched many events, Therefore, I used the information and started writing. Also for writing the book, I studied a few books related to the events that had happened. I worked seven months on this collection. Of course it has a second volume which is about the account of a number of other martyrs and disabled war veterans, and I am supposed to write it the next year.
*The account of some of these individuals like Mrs. Eqlimeh Jahedi who were active during the sacred Defense cannot be expressed completely by writing a few pages. If you are supposed to deal with the back-front activities, you have to write more about them. Why are the memories so brief and short?
*Yes. This is correct. She is still active, spending all of her income on road-building. This was supported by the Female Basij Association of Hazrat Abbas (PBUH) Corps in Ardebil Province and the Foundation for Preserving and Disseminating the Values of Sacred Defense and carried out hurriedly to some extent, because it was supposed to be prepared for the Scared Defense Week. So this book had to be written as fast as possible.
*Do you have any program for registering and writing the memories comprehensively?
*I cannot go out of the city for conducting interviews due to the physical conditions of me and my husband who is disabled because they do not live here (Ardebil). I do most of my works in my house due to the conditions I have. I can write inside the house if my information is complete.
*What new experience did you gain by writing "The Tribe of Zainab (PBUH)"?
*I became familiar with the women who had experienced problems. My concern was that the book should be attractive and sweet for the school girls who read the book and get familiar with resistant women who were active during the war.
*You have also written a book in Azeri language. What is the subject of the book?
*It is related to the area of the Sacred Defense, social issues and folklore. I am writing since 1984 and this collection is based on the memoirs of my husband who took part in the war and other relatives. Several texts have been written with folklore theme and on the basis of the beliefs of our birthplace and in general with the Ardebil's indigenous feature. This collection is full of old idioms and words of Ardebil. It took seven years to be written since it took seven years for me to succeed in writing and becoming skilled in Azeri language. I was the student of Mr. Mahdavi. I decided to write it in Azeri with my own discretion and friends. I presented the book to martyr Alireza Emami Yeganeh.
*How did you find out that your you are interested in writing?
*I wrote nice compositions since the fifth grade of elementary school and continued writing. Then, I took part in the classes of the Art Center. The center's classes cohered my work. I am still active in the Art Center. We have the workshop of story-writing on Mondays which has been continued for years. Once I was in charge and professor of story-writing. At present, I have non-attendant teaching of story-writing. I also do editing and have edited several books for the Foundation for Preserving and Disseminating the Values of Sacred Defense. In addition to writing, I also translate Farsi books into Azeri language and translate the stories I love very much.
* In the texts you write about women, do you bring up a female feeling and their problems or just the main personality of the texts is women?
*No, I try to bring up their problems and use my experience and the women around me very well.
*Do you have any new work at hand?
*Recently, I have finished the writing of memoirs of the martyrs of our neighborhood which is in the expertise phase. I also want to write the biography of martyr Alireza Emami Yeganeh who was martyred at the age of 19. I am a relative of him and want to interview his family soon. He was accepted in medicine but left it and went to the front. He was missed for years but his body was found after six years in the snow. It looked that he had been given a mercy shot. It is interesting to know that he had dreamed at the age of twelve, part of which was interpreted with the martyrdom of one of relatives and the other part was completely interpreted seven years later with his own martyrdom.
*You write stories, memory and biography; is memory-writing harder or story-writing?
*Story-writing and translation is easier for me. But memory-writing is hard. We should remain loyal to memory and recognize the narrator well. We cannot make books for writing oral history and memory. I have spoken with the members of family of martyrs for the collection I have recently written and even cried together with them and then wrote their memoirs.
Thanks a lot for giving your time to the website of Iranian oral history.
Number of Visits: 712