The 283rd program of night of reminiscence
The Memoirs of Commanders of the Control of Frontier (Part 2)
Maryam Rajabi
Translated by Fazel Shirzad
2017-09-12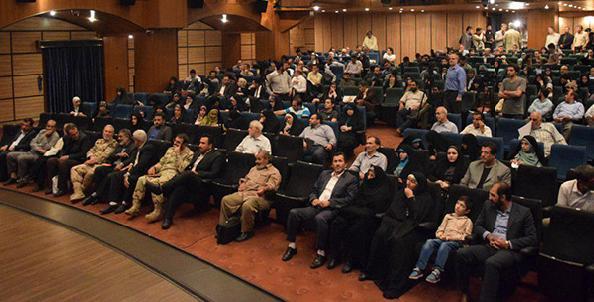 Being released after 17 months
Roham Bakhsh Habibi told his third memoir as follows:" someday, the governor of Sistan and Baluchestan province telephoned and said me that a subgroup had captured one miner and his driver, and transferred them to Pakistan for 17 months. The governor wanted to give a mission to margraves; we made a connection with our addressee. He responded us that he would bring them Iran on one condition; "what is condition?" I asked him." There is a Pakistani family whose two children are captured, and one of them is going to be executed; if you release them, I will deliver your two comrades to you." his words were very meaningful because we weren't men of bargain and if we wanted to recapture our comrades, we were able to do it at all cost. I spoke with attorney general and he replied that I could propose them if they released two comrades we would cut the crime of their two persons as well, but we cannot release them at all. The subgroup made a decision with other Pakistani and brought our two comrade to a place to speak together. I said them that I would try in court not to execute the two persons. After speaking, they said goodbye and went. The brother of one of those who was going to be executed, telephoned me; he said me on the phone that if you didn't release them, they would kill both your two comrades and all of your forces in Makk Sukhteh area; I responded him that I would surly execute your brother tomorrow, and I stopped speaking on the phone and put it down. I telephoned to attorney general to have permission to perform the execution; the attorney general accepted it. I coordinated with comrades to keep him in the Quarantine of Execution, then I telephoned the layer of executioner to call his brother and say that his brother would be executed at six o'clock in the morning. The brother called me again at 10 p.m., and said on the phone:" I wasn't going to do whatever I have already said to you!" however he requested me not to execute his brother, I didn't accept and told him that I would execute your brother at six o'clock in the morning and I'd come in front of Makk Sukhteh and speak together to realize who is man of his words. I was telephoned by some mediators at 11 p.m. and 1:20 am, but I didn't accept and told them last words. The brother of executor telephoned me again at about 5 o'clock in the morning and swore that the two Iranian persons were alive and safe; he asked me not to execute his brother until six o'clock to have an opportunity to deliver our two comrades. But, I replied him that this brother would be executed at 6:05. The brother telephoned me at about 5:30 a.m. and said that he passed them through the border of Iran and deployed among palms trees after Makk Sukhteh. I made an arrangement for calling him to inform that his brother had been transferred from the Quarantine to a concentration camp; the execution of his brother was postponed to next day." At around 6 o'clock, the brother of executor telephoned and thanked us because his brother have been executed as yet. One, who spoke, and treated us by force of arms, thanked us for his brother wasn't executed in that time. I gave a person charge of going to police station between Rutak and Makk Sukhteh by a helicopter and bringing the two comrade, and coming back quickly. When our two comrades came back, I found some strange things. In that day, all of comrades were crying. I brought two borders to cut and arrange their hairs. They took a shower and sent them home respectfully. Two days after the martyrdom of Mansur Towhidi Nasab, I went his home to visit his family. He had a daughter at 14 year old; she was crying, I said her:" don't cry! Hold your father in honor because he was a margrave changed myths to truth!"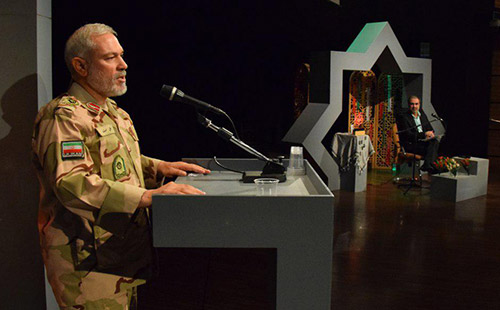 I told him:" congratulation on your martyrdom!"
Second brigadier general Jalal Setare was second narrator of 283rd of the night of reminiscence. He attended in the frontage of war at the age of 16 and cooperated in some operations such as primary operations of Valfajr, Karbala 4 and Mersad in some posts e.g. as the commander of corps and troops. He joined to police force of Iran's Islamic Republic in 1362(1983). He told his memoirs as follows:" when we say the word" border", it means a safe "wall"; it can control an insecure waves in the two sides of wall. Throughout history, many eminent defenders had kept the holy border of Iran, but we, in many cases memoirs have been not transferred from generation to generation; they are forgotten whatever we know about the defenders before the revolution are limited to some graves in the north provinces of country. After the victory of Iran's Islamic revolution, we found many movements against Iran. The margraves not only defended the borders of Iran during the 8 years of sacred defense, but also they supported other areas of Iran in their penetrative perspective in order that the armed forces defend the western border of Iran against the Ba'ath party of Iraq without any trouble.
In primary operation Valfajr, at first days of our attendance, I found some holes on the ground like graves where some comrades sat in and prayed at nights. At the night of operation, our battalion was fired ceaselessly by enemy. When our battalion began to defend and attack, it encountered with the fires of enemy; only one troop of our battalion was remained alive in this operation, the martyrdom of our Battalion's advertising director who was predicted by his friends to be martyred for his shiny face, was more interesting. I saw with my eyes that that a mortar fell near him; his body was hurled into air and fallen on the ground in some pieces. This martyr named Seyed Mansur Husseini."
He added:" after operation Valfajr 8, we should move to a place to deliver the defense line from last battalion. I was sleeping on bus and when I woke I found the bus stopping next to Faw masque. I asked the friends how we passed over Arvand River. They replied that the bridge was destroyed by Iraqi forces. I couldn't believe it, when all of comrades was getting ready to go to the front line, I went to see what happened for the brigade. The efforts of staffs of Jihad of Construction for remaking this bridge was honorable. We moved towards the front line. We had already recognized the bulwark of enemy in front of us. It was evening, and fog was coming. We put DSHK guns on bulwark and determined the angles of the guns before fog would come down.
When the fog covered everywhere, we started to shoot, because the enemy was firing against us by different kinds of guns.
There were some volunteer soldiers in our battalion. One of them, after injured by a quiver, shouted: "ouch! Quiver! Quiver!" for several times, we asked him what the matter was, but he didn't answer. Then we found that he had injured by quiver in his hips, and he was shy to say. After a few days, I found some comrades washing each other doing the ablution to get ready for martyrdom. I said them that the gun fire of enemy is in the extreme; go inside your bulwarks, we would come back in these days! One of the comrades responded that we would come back at this night, it was not 11 o'clock still, a person informed me that one of bulwarks was bombed by artillery. When I arrived the bulwark, I saw that they were martyred together with smile on their faces."
Jalal Setare told:" at the last days of war, our defense lines was changed from Faw to the bank of Arvand river, we were familiar with Faw area well. We, some of comrades was the member of revolutions committee and became a crusader, and I was also a student of university; both of us returned to the frontage of war voluntarily, I remembered, in those, while we were coming back by a car and we were mostly far from city, the comrade who called Mohammad Moradi Nasab said:" stop the car!" when the car was stopped, he got off it and prostrated and began to cry. He was an active and agile young and it was meaningless for him to cry. We asked what his reason for crying, he replied that I wouldn't see my country anymore. When we arrived Dezful, our battalion was given a mission to go the west of country, and we passed through the border Sardasht and Baneh and entered into the war. We stayed there, and Mohammad became a prayerful and religious man and constantly in doing ablution. Someday, I said him that congratulation on your martyrdom, he replied that he was ready to be crumbled and martyred and didn't receive any reward from God, but I wanted God to give victory to Islam. After a while, and operation was taken place in the mountains of Estark and Asus and Seikh Mohammad; we defended in heights for some days. Our comrades destroyed some of enemies there. At night, on the one hand the fire of enemy was in extreme, and on the other hand, we hadn't slept for some nights. When we were climbing the heights, we should walk for 5 or 6 hours as well; we, some of us, were walking behind the troops to help them to carry the heavy equipment, if someone dropped behind. At same time, we saw that the martyrs of line were being carried back by mule. Mohammad looked me and said that I felt pity for you, because you should come back on this road and this situation. I was carrying 7 or 8 gun on my shoulders. I laughed and said to Mohammad; "so, what do you want to do?" He replied:" I was come back by helicopter." I said him:" I won't allow anyone to bring your corps by helicopter. Because the blood of all men is in one color; your corpse should be carried by mule as other martyrs. We were laughing and waking towards. Later, I was informed by wireless phone that Mohammad was injured in foot by quiver; his foot might be cut, and a helicopter was also arrived there to distribute food. At that moment, I forgot what I said to Mohammad. The comrades, who were arrived on top of mountains sooner, told me later that Mohamad got his last breath while he was placed inside the helicopter. He was only martyr who was come back by helicopter. The dead body of Mohammad was sent to Mashhad city amiss and circled around the shrine of Emam Reza (PBHM). When it was found that the dead body of Mohammad was brought Mashad wrongly, he was transferred to Garmsar."
Jalal Setare added:" someday, I got stuck among mines in Talaieh, when I was searching for border signs, I walked for about one Kilometer, and I suffered from thirsty, and there was also a wide desert in front of me to travel. I didn't know what I should do. On that day, I found the meaning of thirsty. One soldier came to; I asked him why did he came there. He replied he came to defend my country from enemy and got ready to be martyred. The soldier said when I was coming to attend in war, I knew that it was possible to be crumbled and martyred.
At the end, Jalal Setare told:" one of the dear officers, who was going to dive but I didn't allow him to do diving because he had small physique. His blood pressure was checked in pressure room, but it wasn't suitable for diving. He insisted to dive a lot. At last, he did a diving course and come back to Bandar Abbas. I said him:" you are from Bushehr, I transferred you to Bushehr. He replied:" let me go an area where is the most dangerous one. He had already researched and knew that Bandar Abbas, due to fight against enemy, was more dangerous than other places. After 10 days fighting against the armed insurgent people and smuggler he was martyred that part of his head was destroyed."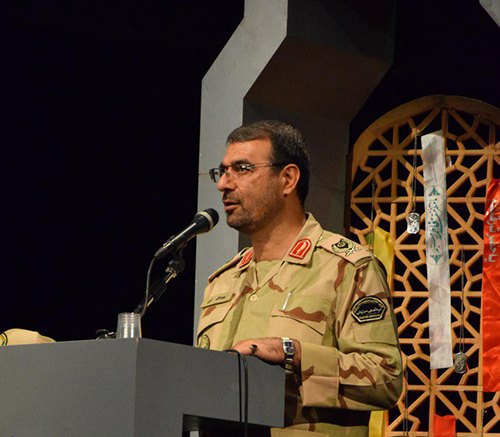 A frontage that is not less than frontage of that time
Mohammed Kazem Taghavi was third narrator of the 283rd program of the night of reminiscence. He, at first, joined to the committee of Iran's Islamic Revolution, and he is as succeeder of commander for NAJA[1]'s control of frontier. He told his memoirs as follows:" when I was a student of high school, I went to the frontage of war of war voluntarily. I had success in attending in operation Fath ol-mobin. Shush city was in the gunshot of Iraq force; they fired the city by artillery. It was on 29 Esfand 1360 (1982 March 20). According to estimate from enemy, an imminent operation was taking place. At the night of Esfand 29th, Iraq did single attack to disperse Iranian forces to get the planning of Iranian commander into trouble, but, by the half of God, operation Fath Ol-Mobin was done at the night of Farvardin 2nd(March 22) was done. One of the troops was one which was called 17th Ali Ibn Ali Taleb division. As the custom of fighters, all of them made a will and said goodbye. We were to be sieged by Iraqi forces in order that our fighters would be able to break the lines easily. This hypothesis was mostly successful. One of the troops of army also attended in the operation. We had prayer on road. While we were moving on the road, I found suddenly one person play down next to me inactively. He knew me and said my name. "I'm shot" he said. I wanted him to come back, but he didn't like; he said that he wanted to continue his way. Thanks for god, the operation was done successful, and Iranian fighters tasted victory. After few days, we were transferred Abuzar town in Haft tappeh(I.e. seven hills) area. I was worried about him, and I didn't knew whether he was cured or martyred. It was night and I saw that he came into residence. I became happy because he was mostly healthful. I asked him why he came back although he had injured. He replied me:" I was transferred Tehran to be cured; I hospitalized and treated for some days; I didn't achieve martyrdom, and I couldn't abandon the war. That is why I wanted the staffs of hospital to release me to join fighters. I was eye witness of such situation in margraves. When one of our good and brave commanders at the late last year came into a mined area, he was moving ahead; he, unfortunately, lost one of his on mine. We telephoned his as soon possible, he replied:" pray for my health to be able come back and join comrades in war.
Mohammad Kazem Taghavi told at the end:" during the eight years of sacred defense, scholar, theosophist and clergyman came in war and said:" we came in war to use of spiritual climate in 1388, we were informed that one of scholor was agent of Islamic leader (Vilayat-e Faqih) in one of province, was coming here. We were surprised because it was planned and coordinated in spite of limitation. When he arrived there, sat in room and began to speak as follows: "nowadays, there isn't any frontage of war in our country to be similar with sacred defense, but the role of frontier in which you are working and defending (the Control of Frontier) is not less valuable than the frontage of war in those days because you are taking major decision against the treats of current enemies. I came here to be dusty in your room to have some saving for after life, I came here to breath at this climate to be saved for me."
Two hundred and eighty-third programs of the night of reminiscence was held under efforts of Center for Cultural Research and Studies of Culture and Literature Stability, and Office of Literature and Art of Resistance at Sureh hall of Art Center in the Thursday evening on 2 Shahriver 1396 (2017- August- 24). The next Night of Reminiscence will be held on 6 Mehr 1396 (2017- September- 28).
---
[1] Police Force of Iran the
Number of Visits: 534