Memoirs of Marzieh Hadidchi (Part 7)
2017-09-05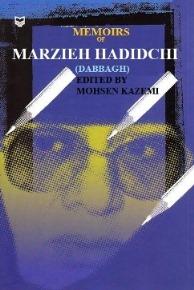 Memoirs of Marzieh Hadidchi (Dabbagh)
Edited by: Mohsen Kazemi
Tehran, Sooreh Mehr Publications Company
‎2002 (Persian Version)‎
Translated by: Zahra Hosseinian
---
The events of June 1963
My strange dream came true on June 5, 1963.
That year, the first ten days of Muharram of that year had a special spirit. The mournful ceremony of Aba-Abdullah al-Hussein (AS) had gotten excited the ones who had been hurt by bloody calamity of Feizieh[1] and brought the blood to boil.
On one hand, the speeches and sermons delivered by preachers, scholars, and clerics in the mosques, the places of public mourning, and Hussainia[2], as well as exciting presence of the religious people in these assemblies; and on the other hand, the threat of Shah's regime to deal with those who opposed the Shah and Israel and they said that Islam is in danger; all indicated that the moments are pregnant with a major incident.
Two days after the great Ashura rally, which was the symbol of public opposition to the Shah's sovereignty, the house of Imam Khomeini was encircled and he was arrested and sent to Ishratabad (now Valiasr) barracks in Tehran from Qom. In a short time, the news of Imam's arrest was orally spread in the city of Tehran. For fearing of people's movement and reaction, the regime had laid siege to the city by its military. Their ranks marked a military battle array.
When the anger volcano of people erupted and they rushed to the streets and protested against the arrest of their religious and political leader... blood flowed all over the city.
On the morning of that bloody day, I went out of the house to buy some bread. The Khorasan square was crowded. I went toward Shahbaz Street (17Shahrivar). I saw the policemen of police station 4, who had stood in front of the people and had aggressive and warlike arrangements. The situation was completely unusual, but there was no overcrowding. I entered Sangak[3] bakery, a few people were ahead of me in the queue. I waited until it was my turn. Suddenly, a loud noise was heard, and then the bullets began to tear the chest of people. With the onset of fire, the baker stopped working and sent the customers to the basement of the shop. For me, while five or six men were present, was not good to go there; so, I stood in the shop. Through a hole on the roller shutter, I saw a bullet tore an adolescent's chest. It was a scary scene. It shocked me badly. Anger rushed into my whole body. I gnashed to control myself. People, also by seeing the scene of that teenager's death, got angry and shouted slogans more strongly to express their protest. The policemen preferred escape rather than fighting. By using a kiosk and barrel and several other things, the angry people made some trenches on the street, so that the policemen couldn't pursue them any more with their cars.
After one hour and shedding a lot of blood, the situation was quieted down slightly. The baker began to bake and after buying three loaves of bread, I got out of there and went to my house through back allies. The epic of June 5 and seeing the bloody scenes of that day was an answer to some of my questions. Questions like knowing who is oppressor and who is oppressed? Where is the source of oppression? What is the meaning of oppression and being oppressed? Who is the traitor? And who and what cause backwardness? And...
I saw your languid eyes and lose my heart
The massive pressure of the public opinion, the persistent urge of the people, and the constant protests of clergymen and Maraje' (learned sources of emulation) led the regime to release Imam after ten months.
The people rushed to visit him in groups. Hearing the news of Qom, I also was enthusiast to visit my master. I asked Mr. Dabbag to take me Qom to visit Imam. Because of lots of business and lack of permission from his employer, he did not agree at first. But eventually, he submitted to my insistence. God knows how much I begged him to let me to go Qom, and he gave his consent for two hours staying in Qom.
We headed to Qom. I was immersed in thinking all the way. And I wished the way would be shortened, so that I would visit Imam sooner. Imam Khomeini spent several hours in morning and afternoon for public meeting.
Unfortunately, when we arrived in Qom we were told that the morning public meeting has been over. God knows how I saddened when I heard it. I, who had gone there in a very difficult condition and with a thousand hopes and dreams and saw a spark in Imam - which implied he is the great respondent of the time and can answer the questions rooted in my mind - now had been run into a closed door. I had a lump in my throat and tears were in my eyes; the grief of lack of good fortune and bliss shadowed on my heart. I looked at the holy shrine of Hazrate Masumeh (S) with yearning eye. My husband, who had noticed my state, said that we have shortage of time and it would be better to visit the holy shrine. With a broken heart, I stepped into realm of supporter. "O Sayyedeh! Why did not you help me to visit my master?" I cried out in my heart, "O Sayyedeh! Why I had no good fortune? Why did not you help me? Why...?" It was pilgrimage and prayer which lightened me a little.
To return Tehran, we went to the street behind the Imam Hasan Asgari (AS) mosque. "Tehran! Tehran!" a driver cried out. Inside a minibus, four or five passenger had been sat and waited until all the seats to be occupied. We also joined them. I was so upset and I didn't say anything and looked only out of the window.
At 2 pm, the driver came and said: "Mr. Khomeini came to the mosque for the memorial service of martyrs. The ones who wants to visit him, hurry up, we'll wait." It was like I walked on the air when I heard it and I rushed hastily to the mosque. Entering the mosque, I faced with a big crowd. It was not possible to move forward, so I stood there, and while I wore Niqab, I saw Imam at the top of the mosque! His face was the same divine face which I had dreamed. Haj Aqa Mostafa had sat next to the Imam. "I've seen him before!" I said to Haj Agha Dabbagh. He said, "No, you make a mistake." I stood up there, put my hand on my chest, bowed, and said hello. It was like Seyyed noticed our respect from that distance. He raised his hand and shook. I jumped for joy, as if I have drank the water of life from Kowsar spring. I came to life and made sure that the Seyyed, whom I had dreamed before and who moaned because of shoulder pain, was Imam himself. I had been confused and distracted, so that I did not understand how we returned Tehran from Qom, because I constantly cried under my chador in the way. "Marzieh! Control yourself." Haj Aqa continuously said, "If it is cleared that why you are crying, we may get into trouble. Control yourself!" But was it possible?!
After that decisive meeting, a fire burst into flames in my heart and removed my peace and rest. Since then my life became unusual. I wanted to do something, but what? I was bewildered, and really distracted. Three or four months elapsed the same until I was hospitalized. In the course of my illness and recovery, I begged Haj Agha to sell our house and household goods and furniture and move to Qom; perhaps I could have good fortune to be Seyyed's servant or maid, and thus, my pains and agony healed by every day visiting him.
My sickness intensified and I was in a coma for more than forty days. Many physicians examined me. "It's typhoid!" One of them diagnosed. Another one said, "It's a mental disease!" My husband, who was more familiar with my mental state, asked Haj Agha Mousavi Hamedani; one of Qom's scholars and one of his friends, to visit me. He prayed beside my bed. As my husband knew that I am interested in Hadith Kisa, asked him to recite it too. Hearing his intoning, I felt that Imam Khomeini is reciting Hadith Kisa and I opened my eyes. I saw Mr. Mousavi, who had sat on a chair and was praying. I grabbed his aba[4] and asked, "Pray for me to be healed, I can't stand to be in sickbed anymore and also being away from my kids."
Dr. Nasser Partovi, a physician who was aware of my mental problems, prescribed some instructions and shared some information with my husband. After applying his prescription, I improved.
To be continued…
Number of Visits: 1038