14th Session of "Oral History of Book"
I Do Not Discount Much, Book Must Be Lord
Maryam Rajabi
Translated by Ruhollah Golmoradi
2017-08-08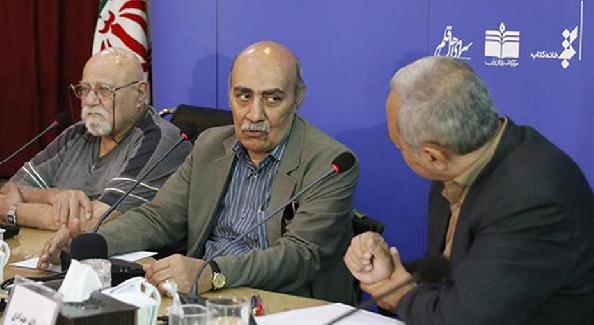 According to the Oral History Website of Iran, the 14th session of the second term of "Oral History of Book" was the second meeting of conversation with Mohammad-Reza Jafari, director of Nashrenow Publication. This meeting, managed by Nasrallah Haddadi, writer and researcher, was held in the morning of Tuesday, July 25, 2017 in Khaneh Ketab Institution's Saraye Ahle Ghalam.
About seven months I read Persian Encyclopedia
Mohammad-Reza Jafari during the meeting and in continuance of recounting history and memories of Amir Kabir Publication, which had been presented in the 12th session of "Oral History of Book", stated, "When my father was in prison, I was still in Amir Kabir Publication and mangaed it. The office of the publication was open, but they had closed stores and they did not have any income. For this reason, I had to stay and run there. I felt that others wanted to confiscate the institution on the pretext that we could not pay salaries of our employees, so I gave workers' salaries with my personal account. It was lasted from February 1980 to April 1980. It was almost Eid that we protested to the prosecuting attorney's Office and said that our publication was being destroyed. After the protest, Mr. Mohseni came and opened the warehouses so that we could take the books and sell them, but the stores were still closed. My father was tried in April 1980, and while ayatollah Mohammadi Gilani had said that he would be released soon, my father was in prison until September 1980. After that, the prosecuting attorney sent a person named Mr. Bonakdar, and since I was not reconcile with this person, I went to production department and took charge of production until September, when my father was released. At this time, we had paper in the warehouse, and on the other hand, the printing house received its money on credit. At that time, we produced reprinted books and sold them. The days we met our father, first he asked about the situation of his case and then Amir Kabir Publication. I took books which we had published for him and he became very happy. They had sentenced that two thirds of my father's property would be confiscated. We collected list of movable and immovable property. First, they introduced a person named Mr. Abbas Sattarian. He resigned when he understood that it was difficult to keep its calculation. After that, a person named Mr. Ali Mottaleb was sent. This person had a modest appearance, but when he saw property of Amir Kabir he started reporting."
He continued "I did not go to Amir Kabir Publishing since January 1980. Mr. Jafar Homaei and Mehdi Modarresi were brought to Amir Kabir's Publication. The book "I and My Child" was among the last books which I had prepared in Amir Kabir. We printed photos of some foreign books and this caused them to start proceedings against us and accused us of publishing troublesome books. They announced some books as misleading books. According to their report, they sent about 15 million of these books to paperboard making. Checking the property and their story on third or two-thirds had been lasted three years. One day they called my father for peace. We were very happy and told ourselves that finally the issue would end. My father [Abdol Rahim Jafari] went to the prosecutor's office and I waited with another friend. He returned after about three hours, and the result was that Amir Kabir Publication was confiscated with all its property. In that situation, the only thing that was easier to make cash was our house which we sold it and bought an apartment. My father constantly asked me to write letters for those who had spoken about us in different places. I may have written many letters about a Masnavi. Some people were gentlemen and responded to the letter, but some did not any answer."
Mohammad-Reza Jafari said: "I myself chose the name of Nashrenow Publication. After releasing my father, I established Nashrenow Publication. They bothered me and didn't let me to go to the institution until my father case was determined, as they backbitten me and said that I received commission and right of broker from authors. Due to these rumors I preferred to sit at home and read Persian Encyclopedia from the beginning. It took about six to seven months until my cousins proposed to establish the new publication."
Editing my father's memories
The publisher continued: "Mr. Masoud Razavi was one of pros of Amir Kabir publication. He was the only one who had full archive of Amir Kabir Publication from beginning to end. Masoud Razavi asked my dad why does not write his memories? In fact, this was spark of the work. Memories were recorded on a tape, and a person implemented them onto the paper. After that, Ebrahim Younesi compiled and arranged them and then sent me for editing. I also reminded some things for my father to add to the book. After publishing the book, some people said that this book was not written by Jafari, but it should be noted that all people whose memories are printed are not writer and naturally they narrate memories and someone else writes them. The same was true for my father. Dr. Ehsan Yarshater wrote a detailed text in a newspaper about the Father's book and he was very grateful and admired, Mr. Kaveh Bayat wrote a note in magazine of "Jahan-e Ketab", and you (Nasrollah Haddadi) also wrote something. There were about 10 to 15 other comments about the father's book."
Adventures of publishing license
He said, "When we opened Nashrenow Publication, while I had some people to help me, I often did emendation and editing myself, and I tried the works to have fewer mistakes. Between years of 1983 to 1984, when Nashrenow had been established newly, and after publishing book of "Zamin-e Sukhteh (The Scorched Earth)" and several other books, they said that your books are expensive. Mr. Tajzadeh wrote a letter to Anti- profiteering Committee. We worked for a while and then they stopped us. We had about 15 books in Ministry of Guidance that were not allowed to print. For this reason, we asked for help from Mr. Reza Saghafi, Imam Khomeini (RA)'s brother-in-law. A few days later a young man came and entered our office. Has called names of some people and asked who are they here? When he heard negative answer, he was surprised because they thought we had gathered there to plot against them. Eventually, they allowed, intermediated by Mr. Saghafi, and we published these books."
Mohammad-Reza Jafari continued: "The paper crisis occurred and the paper became scarce. We had to resort to Ministry of Guidance to get paper. We visited many printing houses. We gave our books to Ettela'at newspaper or a print house in Qom to publish. In these ways we passed the paper crisis; until the year 1990, when publication license story was made. All publishers were gathered at a Hall of Ministry of Guidance. A man named Saba Zanganeh was Deputy of Minister of Guidance. "We do not have anything to do with authors, because it is publisher who prints thousands of copies of a book" he said. All publishers received publishing license, but they did not give us our license and told your security endorsement was not issued. Ministry of Guidance issued security endorsement and Ministry of Intelligence claimed that it was not informed about it. They said that the president was plaintiff to us. We had contracted 150 books, and we had to ask publishers who had been recieved their license to give us their license, so we could print our books. We gave them two to three percent commission. We printed our books with this and that logo and after printing, we also had to pay their taxes, while others received loans with two or three percent interest and also subsidy paper. We spent the situation until year of 2000 they gave us license, but I was sick at heart to work at the time. This was a one year publishing license, and we had to renew it each year until 2011, when they told you could not renew because you have a case; a case that I did not know about it myself. They said: introduce another person to issue the license in his name. I introduced my wife and they issued publishing license in her name. When they wanted to issue a new license, I said name it "Farhang-e Nashrenow". With all these problems, I think my work is worth the effort. I would come in of the window if they will expel me through the door. This is my father and me job and I do not leave it. I love myself more than this business because I am "myself" who interested in the work. I could do other works too, for example, the same days I was offered to work at Iranica [encyclopedia], but I did not go."
I did not regret for printing any book
He remembered Esmail Fasih and said: "When he was informed of our pocket books, he brought book of "Sharab-e Kham (Raw Wine)"and it was supposed to be revised and reprinted. It wasn't happened but the book caused our relationship with Esmail Fasih. Book of "Dastan-e Javid (Javid's story)" by Esmail Fasih had been published after the revolution. When he had returned from USA, he worked with Mr. Homaei and others in Amir Kabir Publication. He wanted to reprint "Dastan-e Javid", but they had not accepted. They had said: "Give us give us 13000 Tomans cost of film, zink and typesetting and then take your book to any publication you want to." He gave them 13 thousand Tomans and released the book. After that, he gave us the book. I read it and slightly edited it and then sent it for printing. At that time, since we did not have publication license, we published this book as publisher-author. We did not have any post, so we sent authors to Ministry of Guidance for getting permission. This made Mr. Fasih tired and asked us to give back the book."
Stating while his father had regretted for publishing Esmail Raeen's book, Jafari said "I have not regretted for publishing a book. I might contract a book, then read its translation and find out that it's not good and I regret that, in this case, I would finally emend it, but generally it has not occurred to be regretted for publishing a book. My father used to present his familiars his new books, one of these books was "Constitutional History". On the other hand, I have never offered anyone to publish his/her book under an alias. For example, Esmail Younesi was governor of Kurdistan and he was cautious to publish his book under a pseudonym."
"Some people printed books of Nashrenow subterraneanly and I should prosecute from the side of author, as concessionaire of the book, but the court did not listen to my prosecution, and it the case was not taken seriously. Some of my non-authored books were printed subterraneanly, which later some people came to ask me for (religious) pardon," said the director of the Nashrenow Publication.
Jafari said about governmental publication, "The government must invest in books which private publishers couldn't afford to publish them, such as the great Islamic Encyclopedia. On the other hand, what does mean something like book garden in which books are sold with a discount of 40%? How can a publisher sell his/her books with a 40% discount? How much does a publisher benefit? This will destroy book."
He added, "I had books in Nashrenow which weren't sold unfortunately, and we had to change them into cardboard, one of them was " Reminiscences of Taqizadeh" which we took them from the printing-house suggested by Iraj Afshar. Of course, this book has already been distributed and sold."
The publisher continued: "In 2011, Ministry of Guidance had not yet renewed our license. Mr. Iraj Parsinejad called and said that Ms. Mehri Behfar had started a work on Shahnameh and asked us to help her. We went to her house to negotiate. She said: I have printed the first volume of Shahnameh, but I'm not satisfied, I want to continue, what should I do? She said: "let's have a contract so I could abandon my other works and focus only on this work. It was supposed she didn't do anything except teaching and work on Shahnameh, and we pay him a monthly wage and eventually we would deduct it from her royalty. It has been continued during these years."
Jafari commented on his criteria for accepting a book: "a book should be good, meet needs of people, and have a good title. We now have 110 books for publishing which I suggested some of them to the author, and some others were suggested to me and I accepted after reviewing them."
He added: "I had an apartment and sold it to save the publication, in fact, I'm subsidizing the publication! (Jokingly) I don't discount much in sale of book, because book must keep his head! Book is not a market commodity which I discount it 30 or 40%. Book has dignity. How much does a publisher benefit so that he/she discounts a book 40%?"
Mohammad-Reza Jafari said: "I identifies with story of "The Old Man and The Sea". I wanted to translate it and present it to my father, but its opportunity was not created."
Finally he told about publishing a book to transfer his experience in writing and editing, "At the moment, I'm busy with publishing a dictionary, and then, if there were an opportunity, I'll sure provide something compiled. Dictionary is more important than anything. I think with myself why is language of our translators so weak? If I could give more equivalents for a word to translators is better or I'd write a book and say, for example, where should I write می"" separately?! Naturally printing dictionary is more important."
The new session of "Oral History of Book" has been held in Khaneh Ketab Institution's Saraye Ahle Ghalam respectively:
The first meeting on Wednesday, April 12, 2017 attended by Haj Beitollah Radkhah (Mashmachi), Director of Tehran-Tabriz Publication
The second meeting on Wednesday, April 19 attended by Jamshid Esmaeilian, Director of Partov Publication
The third meeting on Wednesday, April 26 with presence of Abolqasem Ashraf Ol-Ketabi, Director of Ashrafi Publication
The fourth meeting on Wednesday, May 17, attended by Hojatoleslam Buyuk Chitchian, Director of Mortazavi Publication
The fifth meeting on Tuesday, May 23 attended by Seyyed Jalal Ketabchi, Director of Eslamieh Publication, and Seyyed Farid Ketabchi and Seyyed Mohammad Baqer Ketabchi, directors of Elmieh Eslamieh Publication
The Sixth Meeting on Tuesday, May 30, again attended by Seyyed Jalal Ketabchi, director of Eslamieh Publication, Seyyed Mojtaba Ketabchi, Seyyed Farid Ketabchi and Seyyed Mohammad Baqer Ketabchi, Managers of Elmieh Eslamieh Publication
The Seventh Meeting on Tuesday, June 06, with presence of Morteza Akhundi, director of Darolkotob Al-Eslamieh Publication
The eighth meeting on Tuesday, June 13, re-attended by Morteza Akhundi, director of DarolKotob Al-Eslamieh Publication
The ninth session on Tuesday, June 20, attended by Mahdieh Mostaghni Yazdi, concessionaire of Karnameh Publication, Makan and Roozbeh Zahraee, offspring of late Mohammad Zahraee, the dead director of Karnmeh Publication
The tenth session on Wednesday, June 28, re-attended by Mahdieh Mostaghni Yazdi, concessionaire of Karnameh Publication, and Roozbeh Zahraee, offspring of late Mohammad Zahraee, the dead director of Karnmeh Publication
The eleventh meeting on Tuesday, July 11, attended by Mohammadreza Najian Asl, director of Rasa Publication
The twelfth session on Sunday, July 16, attended by Mohammad-Reza Jafari, director of Nashrenow Publication
The thirteenth session on Tuesday, July 18, re-attended by Mohammad-Reza Najian Asl, Director of Rasa Publication
As well as, the first session of series of "Oral History of Book" was held from second half of 1393 (SH) to summer of 1394 (SH) by Nasrollah Haddadi in Khaneh Ketab's Saraye Ahle Ghlalam. The results of these meetings were published in a book titled "Oral History of Book" in 560 pages by Khaneh Ketab Institution.
Director of Nashrenow Publication Told About History of Amir Kabir Publication
Number of Visits: 638