Memoirs were told and listened in the 282nd Night of Reminiscence (part I)
In remembrance of pilot Hussein Lashkari and operation Mersad
Maryam Rajabi
Translated by Fazel Shirzad
2017-08-08
Note: As oral history website reported, two hundred and eighty second programs of the night of reminiscence was held at Art Center's hall on Thursday evening on 5th Mordad 1396 (2017-july-27). In this night, some told their memoirs of sacred defense and Iraqi imposed war against Iran, such as Assadalla Naseh, manizha Lashkari, the wife of pilot Hussein Lashkari and pilot Ahmad Mehrnia Farshid Eskandari.
The major stroke and cleaning up for one month
General Assadalla Naseh, the deputy of operation Mersad's command in 1367, was first narrator. He was also one of the narrators at the night of reminiscence in 1372 (1992). General Naseh told:" the memoir of 1372, as I told, was about before operation Mersad. The first point, as I can say, is that I didn't attend in the operation; I went garrison" Allah Akbar". There were some of Generals said me to go Kermanshah, because I was summoned to attend there. All commanders, even the commander of Najaf garrison named martyr Nur Ali Shushtary from south, were attended in Kermanshah. In fact, there weren't any commanders of garrison and Sepah[1] of Kermanshah; I wasn't informed of this, because I was absence in Kermanshah for 48 hours, and when I came back there, all were happy for I was alive and said that you should go to hospital Imam Hussein (PBHM), where was bombed, because Mr.Hashemi Rafsanjani, the deputy of commander in chief, had attended in.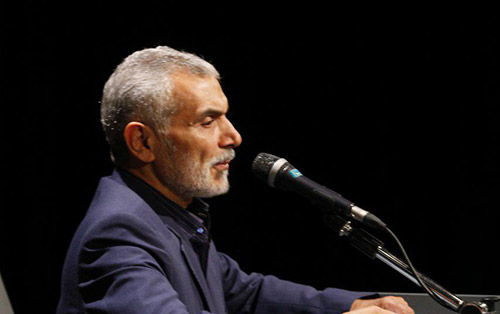 Ismail Ahmadi Moghaddam, who was deputy of Hamza garrison, Naser Shabani who was the commander of fourth Sepah garrison, and also Daneshyar who was the deputy of commander in chief and I attended in a meeting altogether. We were speaking and computing what ability of Iraq forces were remained to attack us. We were different in opinions. I believed that Iraq had brought one military division into Kermanshah, but Mr.Hashemi believed that it had brought just one brigade. As I had found the ability of Iraq forces in Gilan-e Gharb and Sarpole-Zahab, I guessed that Iraq had probably brought a division to continue the operation. While we speaking and discussing, we were informed, about at 5 p.m., that one group of Iraqi fighters were coming through Patagh gorge. It was very incredible militantly. We were doubtful whether they were Iraqi fighters or not. It was about 6:10, we were informed that the Iraqi fighters arrived to Korend, and they are dissenters.
Considering that Iraqi fighters made some movements to all war areas of north and west, all forces od Sepah were deployed in the north to defense of country; the frontages of war were full of activity and messy. If we consider the time, we will find that we accepted the resolution 598 in Tir 1367(1988-july-18), but we were informed that the Iraqi fighters have begun an operation. As soon as we accepted the resolution, the enemy imaginarily thought it meant that the regime of Iran would be conquered. The enemy used of war as a lever to hide the problems behind it. After beginning the operation, requested around the word to increase its forces. About 5000 fighters were added to forces of Iraq; they were organized in different brigades. Iraq had taken money from Saudi Arabia and bought guns from Brazil and other countries. The enemy was going to arrive itself to Tehran within 45 hours. Iraq captured Sarpol-e Zahab to Kal-Dawoud gorge. While I was in a meeting with Mr. Hashemi, Mr. Ruhaollah Nouri who was the commander of 57th army in Lorestan, called me and said that I've arrived and we were in dangerous situation; you should send force for us! He reached an accord to receive one battalion. Mr. Sadegh Mahsouli was also the commander of an army unit and had some battalions there. Mr. Hashemi commanded him to operate his battalions and move towards the enemy.
In the case of dissenters, some strange events taken place. When Mr. Hashemi found that dissenters had come and capture Karand and moving towards Islamabad, he also said me to go that area. Badr corps was a group of Iraqi devotees who was fighting against Iraqi fighters for us. They had a military line in south; they, as their plans, were going to go south by bus. In Hassan Abad dessert, they encountered with Iraqi fighters; two friends of Information and Security Unit of Hamadan's Ansar army told that it was a wonderful scene, because Iraqi devotees fought against the Saddam's dissenters. A violet fight was taken place in there; this event caused the devotees to move towards south late. At last, the dissenters of Karand were captured by the devotees. So, the devotees moved towards Islamabad again. According to schedule, the devotees were moving to Islamabad well. They were to be in Islamabad at 8 p.m. and Kermanshah at 12 p.m. to declare democratic republic. They had moved on Monday and it was supposed to be arrived in Tehran on Sunday's afternoon or noon. I spoke with Mr.Moradi (the former directorship of purposive subsides organization), who was deputy in brigade Mohammad prophet (PBHM); and we decided to bring fighters to garrison Abu Dahr to have supportive force. The dissenter arrived. Our fighters were collapsed. The battalion of army transferred the fighters from Patagh gorge to behind Islamabad. Interestingly, the army had a battalion with Islamabad's soldiers; many of these soldiers came into an operation and many of them were martyred in their own alleys.
General Naseh added:" the dissenter had scheduled well to arrive Islamabad, but their other schedules were wrong. Mahmoud Ataei, the chairmanship of liberator army headquarter had told commanders of his established brigade: "Certainly, when the people hear the sound of your tanks' wheels on the roads of Iran, they will come and welcome you." but, when the people found the city under attack, they were going to leave the city. We sent forces as much as possible to defense of city, but the forces faced to these people; it made heavy traffics. I went to visit governor in a small room of Sepah. I requested him to give ten cars us to send fighter to south. When general shushtari in south of Iran and there wasn't any commander for Najaf garrison, Mr. Ahamadi Moghadam was appointed as a temporary commander of the garrison to make a coordination between Sepah and army. At second high martyr Sayad Shirzai arrived there, and then we determined a line between Iran and the dissenters in Chahar-zabar gorge at 1:00 a.m. people rushed towards west and many disasters taken place in those days. In that time, the dissenters were like Daesh for us. I remember that some persons, as their hands were closed, were executed beside a gas station. At the hospital, injured people, as they were alive, were fired by the enemy. When our forces arrived at Chahar-zabar gorge, everything was almost clear, and people also had passed through the gorge. Our forces had established a line behind the gorge. There was a station behind the gorge where Ansar brigade of Hamadan's soldiers deployed their friends in; they covered the left side of the gorge and established a line. Other groups of soldiers who were behind. I was there and tried to equip the forces."
He stated:" to send forces to operation Mersad was very strange. When Imam Khomeini (Allah is pleased with him) said that people should go to the frontages of war, it was first time in history of war that most forces attended in the frontages. Those who have never taken a gun in hand, attended in the war. The deputy of a minister came in the war and said:" I'm ready to do every works." As he was the deputy of ministry and held the equipment of the ministry, I requested him to establish a line around Kermanshah to have a second or third line, if the line was destroyed. Even, we didn't have a gun to give them. In operation Merasd, there was no shortage of forces, but there was problem to organize and equip that we faced to shortage of equipment. We needed two or three days to bring our force. 27th division of Mohammad prophet (PBHM) came from Tehran, with the soldiers of Arak, and opened a made a line among the forces of dissenters. In fact, we were fighting somewhere before the main operation. In these fighting's, the soldiers of division Amir Ol-Mowmenin (PBHM) and the forces of Islamabad attended there. Martyr Sayyad Shirzai played an important role in operation Mersad there. When he arrived, both the aviation of army and the air force of army began to bomb against the enemy. Helicopter also had an important role to exterminate the cars of dissenters. Also, martyr Sayyad shirzai ride on helicopter himself and flew it. As I was in the area of justification for fighters, it was supposed to bring some fighters to block the backside of the dissenters. At night of operation, the road was not recognized. There was a garrison on top of mountains of Dalaho. I was along with the battalion of Ruhullah. The comrades said that it was better to climb the mountains and bring the soldiers of battalion Shahadat with us to block the backside of dissenters between Patagh gorge and Sarpole-Zahab altogether. At the night of operation, but, there were so deep valleys that we arrive there when it was near to morning and the operation was finished. The dissenters had gone away and there were only some of them; they claimed the mountain.
We made the major stroke in main operation on Mordad 5th (July 26th). Then, we were trying to clean the area for one month. During one month, we killed and captured 120 fighters of the enemy. But, by the grace of God, only one of our fighters was injured. On fifteen day of cleaning the area, when the family of martyrs came from Tehran, we captured one woman and one man the dissenters. The man was died, but the woman was brought. The family of martyrs wanted to see her, but she didn't agree to be seen. We gave permission to the family to meet her provided that no the body dispute her. When they meet each other, the family said her:" are you from Iran." How were you able to act against Iran?" we found the role of god obviously in all events of war; it was not possible to avenge such many losses; we killed 1200 fighters and injured 1800 fighters from 5000 ones. In fact, the enemy didn't have forces any more God remunerated those who made lots of sacrifice for the revolution.
To be continued…
---
[1] Islamic Revolution Guard Corps
Number of Visits: 559