The 281st Night of Reminiscence of Sacred Defense Was Held (Part II)
With the Memoirs of Line Breakers; From South of Iran to South of Syria
Maryam Rajabi
Translated by Fazel Shirzad
2017-07-12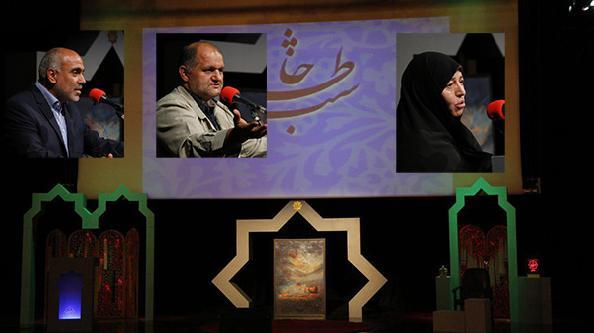 The chemical night of war
Sediqeh Samii who was the second narrator in 281th night of reminiscence for sacred defense told his memoirs as follows:" I hold M.A in the field of nursing. I was a junior in collage while the Islamic revolution of Iran were being headed for victory. One of friends said me that they had established a group and needed a nurse. He asked me to join with their group; I accepted. We went to visit garrisons, because they were busier than other places. The mother of the one of group's members, who had a car, always sent baked potatoes and eggs with bread for soldiers. We used to go on street Piruzi and give the food to militant fighting in there. We went to Eshratabad's garrison. Today, it is named garrison Vali Asr (PBHM). We watched the injured fighters brought there, if it was possible for me, I could transfer them to a hospital. One if the injured fighters was harmed seriously, and he must to be transferred to a hospital. I went inside of car and brought him into car through another door; a car passed over my toes.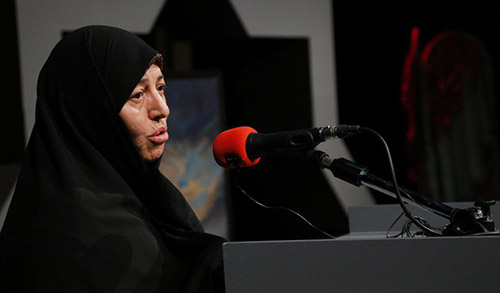 I was in employment of hospital Vali Asr (PBHM), where it was the first hospital of Sepah[1] established at crossroad Araj in Tehran, in the spring of year 1359(1980). I was proud to work with martyr Rahnamoon, martyr Asemani, martyr Sharifinia and martyr Murtaji who was one of the fugitive soldiers of king[2]'s garrisons in the waked for victory of Iran's revolution; in those days, he was also was working for a clinic. I worked with martyr Asemani at a clinic as well. Dr. Rahnamoon was a person who actually deserved to be martyred. He was a self-possessed, patient and gracious with fabulous moralities. In 1360, I insisted that I wanted to be transferred to Khuzestan's hospital, but I was transferred to Ahvaz's. The hospital's official wanted to use me in the training section of the hospital, because there were only few people studied in the field of nursing in those days. At that point in time, there were lots of nurse, and medics in the frontage of war, but there weren't enough confidents to become responsible for works. I was sent Behbahan city to train nurses in Nursing Education Institute. Fortunately, I had a friend in the injured fighters' center of ministry of health; he informed me to go and help there whenever there were injured fighters by enemy's attacks. I helped the center during the operation Fath al-Mobin, Beit al-Moghadas and Ramadan; and I, indeed, attended in Ahvaz's hospitals in 1360 (1981).
Operation Fath al-Mobin taken place in Dezful. In those days, I was on vocation of New Year (Noruz) in Tehran. The friend called me that we were going to do an operation very soon; you could come back Dezful to attend in the operation soon as possible. I canceled my trip hardly and sent my family to township, and I went to the hospital of Ahvaz. In the hospital, there was a tall man, who was a paramedic, in the front of o emergency room's door to vaccinate all patients against Tetanus before they entered into the hospital; so, there would be any cause of trouble for to tetanus. The tall man was named as tetanus-man.
A women who was the supervisor of hospital Sina, came there. She was working with us. I asked her about what I could do. She replied me that you could inject the patient with antibiotic. Crystal penicillin should be inevitably put to test on the patients, otherwise it can make a sensitivity in the body of patient; and she will be shocked, then died probably. I said he that weather they should be tested. She replied me: " oh, girl! They are holy persons; go and inject them, don't worry!" during the operation, as I injected the injured with penicillin, nobody got sensitiveness into penicillin.
In operation Fath al-Mobin, one of the students of nursing, who slept even for one hour during 2 days, joined us; she tried to do whatever we asked her such as transmission of patients and washing their face and hands. In fact, such volunteers help us to improve the situation of the dispensary.
In operation Beit al-Moghadas, I was sent to airport of Ahvaz doctor, who was the responsible of the dispensary, said me that he heard I was able to manage a section of hospital!" which section?" I asked him. "I wanted to initiate an ICU[3]. I believe that the situation of this section is messy; if you're able to establish ICU." When I entered into the saloon, I found it messy and disordered scientifically. I wanted pilots not to be entered in this section; everyone protested against me. There were two doctors said me jokingly:" we raised our hand to give ourselves up; and we will do whatever you like." I prepared the section ICU, and separated it from the rest room of staffs and pilots.
Someday one of woman who was working and helping for the dispensary, said that a person was going to help us and he said he wanted to do whatever we would ask. I asked him to make empty the salon of urine probes and write the amount of secretion on them. He did it, then he came and asked what he should do else. I requested him to clean the hands and face of patients to leave them with next appearance to come back their hometown. After a while, the woman who referred him to me, said that he was a boss of bank; therefore, I offered an excuse him. He replied me that there was no excuse for such behavior and if it was necessary to do, I would do the works again. Here, the sincerity of staff was highlighted.
In operation Ramadan, as I was sent to Abadan, I went to work in hospital Taleghan; there was a surgeon whom I should insist her to sleep for some time; because she was always busy. Then I went to hospital Hilal Ahmar[4] in Abadan, because there wasn't any nurse; I was required to go and work a nurse. I had a mission sheet and I constantly asked friend that I would go to another hospital to help patients, if there wasn't any operation taken place, because I believed that the eating lunch or dinner in this hospital wasn't lawfully good. Unfortunately, operation Ramadan was a damaging one. I remember that, after beginning of operation, Ramadan, an injured fighter was transferred to the hospital and his face was covered by dust and lips were cracked and blood on them. It was in month Ramadan; the staffs was in month of prayer and they kept fast; I wetted a handkerchief to clean her face to be kept of infection. He said:" sister! Be careful! I don't like breaking fast."
When the first chemical attack taken place in Ahvaz, injured fighters were transferred to Ahvaz's Takhti stadium. The stairs of the stadium were made by cement. They were place in long space from each other. The injured fighters were on the stairs. The injured fighters had cough and were tears; they were repeatedly saying:" we are suffering of great pain." I was in Jundi Shapoor hospital and requested me to go the stadium to help injured. Initially, nobody knew me; they thought that I am a medic, so that they asked me to use eye drop for injured hourly. When they found me a nurse, they changed my post i.e. we sent to intensive care unit (ICU) for chemical injured fighters. There were six beds where the worst chemical injured were hospitalized on. Those nights, as I was there, were the best night of life. The injured were suffering of eyesore and pain in lungs. There were only one or two injured were in conscious; other were inflated and even in coma. Actually, we were not able to identify them. One of them, who were in conscious, was sitting and not able to lie on the bed; he was repeatedly saying:" nurse! I'm boring!" I replied him:" oh dear! What can I do for you? You should bear your pain. I don't speak more." Then, he kept silent. Until I was there. I found him suffering of pain extremely. I left his room for two hours, when I came back I saw an announcement on the door of ICU; he was martyred. I was surprised how someone can be martyred in a short time. I asked some body:" which bed is he martyred on?" when I found his bed, I realize that he was one whom I was already speaking with him. In those days, when I was working in intensive care unit for chemical injured fighters, I was pregnant for my first child. All asked me not work in this unit in other that my baby and I would be kept from any damage. But I believed that those persons could bless my baby; today, my baby has so grown that he can be a leader of prayer in a mosque. This is a bounty resulted from those chemical fighters.
The memoirs of Syria
In the hundred and eighty-first programs of the night of reminiscence for sacred defense, Majid Yusefzadeh told his memoirs as follows:" God helped me not to be in Syria into the month of Ramadan for the purpose that I took a responsible as a shrine's defenders and helped others. Today, there are lots of forces to send Syria, but it depends the policy-making and diplomacy to determine how many forces should be sent there. Syria has a space of one hundred and eighty-five kilometers. It is fifteen times bigger than Iran. It has total population of 22 million, and ten million of the population is wondering and living in other countries. They are from different races such as Arab by 10 percent, kurd by 10 percent, Muslim by 86 percent, Sunni by 75 percent Alavi and Shia by 12 percent, Christion by 10 percent, 130 groups are fighting in Syria.
We went to a garrison in Damascus. This garrison was reserved for Damascus and north of Syria. There were two places where were our red lines; the first, it was airport. Daesh came near to the airport that they fired the saloons of the airport and then they deployed near to the walls of airport; our fighting shot and repulsed them. The second important place of Damascus was electricity station." In fact, we took steps to protect the army of Syria, because the station was a crucial place for them; mined around the station. The forces of Daesh came habitually there with a personal carrier and five package of explosive and fired the area of electricity station. They made loud explosion, so that nobody was able to near another voice and make decision for a distance 500 or 1000 kilometer. Then, at the same time, they attacked and went on shots by a drone (a remote control aircraft). The rail of train was the only place not be mined by us; so, the forces of Daesh moved on the rail by their personal carrier. When they came near us, toward our fighters fired against them by missile; Daesh's personal carrier was destroyed, and we started fighting against them. Daesh's fighters got us busy on one side while other fighters came near the gate of electricity station from backside. But the Syrian airplane came and fired them so that they left there. There was an area named Daria where the tomb of Sakineh (PBHM) was in; Daesh's forces had destroyed it. The force of Sepah went there; they run to us in a group of two fighters or three fighters to give themselves up. After being given up, they asked for food to be able to speak with us, they were only eating lentil for about 4 years.
In Syria, there is a group named an-Nasreh Front from Al-Qaeda is one of the most power enemy. It is a well-trained group. Some time ago, one of its commanders was killed; it is, then, said that he had been fighting for 18 years. Whenever he shot a missile toward us, third missile would be fallen on goal. The most powerful army of the world is American one whose transfer rate is equal to 60 kilometer per hour, but the transfer rate of an-Nasreh Front is equal to 80 kilometer per hour. They, force example, deployed 20 fighter in a village to begin a war; so that they increase 200 academy of fighters else on the numbers of them.
We went to Haleb city where the artillery of Syrian arm was placed in. it was firing against northwest, northeast and southwest; the Syrian artillery had a control from 360 degrees to 280 degrees, and we had a control are 70 degrees. The enemy was going to do an operation. He got ready to attack against us. Our bulwark, where we were deployed, was for a distance about 500 meter from the entrance of Haleb city. We were transferred to Damascus city with some equipment. I was a scout. When I went Damascus I found no enemy there. I found that the place where we were going to be deployed in is an olive garden and some destroyed apartment, and there wasn't anybody gun, and tank. I said to me that it was better to attack and capture there. In fact, the enemy had camouflaged the equipment we prepared the operation in three side; one brigade of Sunni fighters of Syria were with three battalions. The enemy was going to attack from downside to area Rehveh, and Fatimyon was going to attack from middle side to rush them was martyred among the fighters of Afghan, six of them were from Iran, and four of them became martyr. Mahdi Askari was one of the friends who had attended in the operation; he was from Karaj city, he was commando and paratroopers and he sixth belt in martial art. Askari was the commander of battalion and only one who had gone forwards with his fighters and attacked and destroyed the bulwarks of the enemy. But the enemy attack from behind and closed the road. Askari commanded the fighter to come back. Those who were martyred in there consists four Iranian fighters, sic afghan fighters and three Syrian ones caused the enemy not able to do operation.
The fighters of an-Nasreh Front usually organized themselves in crescent shape. Either they attack on enemy or run away towards back, Mahdi Ansari attacked on the ambush of an-Nasreh Front, but he was injured by a bullet."
After being shown some pictures, Majid Yousefzadeh introduces some of shrine's defender:" Martyr Ebrahim Askari, Mohammad Keihani who was theologian and the commander of and the commander of troops and martyred in Hama. Sardar Asadi who was the deputy of battalion and Mohammad Javad who was one of Afghan Fighters; he had stayed in area for three days. The enemy besieged him to lure us. Own fighters went and tried to save him for some times. In operation Khan Tomman, Ebrahim Asadi prevented the forces of Daesh and an-Nasreh Front by gun DSHK, Kalashnikov and machine gun, and about 35 or 40 fighters of enemy were killed. As a result, thy came to force to retreat, and Ebrahim kept the area alone. We called him Abo-Jigar[5]. Mohammad Amin Karimian was a theologian and from Ramsar city." I will be martyred" he said. The Syrian forces were at a distance of 30 meters by the enemy, and they was telling Allaha Akbar[6]". Mohammad Amin said:" the enemy are telling Allaha Akbar; it is better to reply them with "Labeik Ya-Ali [7](PBHM). When he stood up and said first Labeik he was shot by a bullet in his chest and martyred. Murad Abdullah pour have been already martyred as well.
Two hundred and eighty-first programs of the Night of Reminiscence was held under efforts of Center for Cultural Research and Studies of culture and Literature stability, and office of Literature and Art of Resistance at Sureh hall of Art Center in the Thursday evening on 1 Tir 1396 (2017-May-22). The next Night of Reminiscence will be held on 5 Mordad 1396 (2017- July- 27).
Number of Visits: 953