Seyyed of Quarters 15 (24)
Memories of Iranian Released POW, Seyyed Jamal Setarehdan
2017-04-10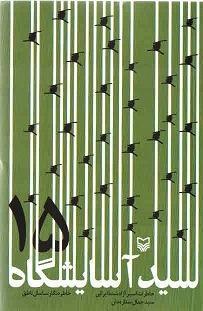 Seyyed of Quarters 15
Memories of Iranian Released POW, Seyyed Jamal Setarehdan
Edited and Compiled by: Sassan Nateq
Tehran, Sooreh Mehr Publications Company
‎2016 (Persian Version)‎
Translated by: Zahra Hosseinian
---
After being counted in the morning and having breakfast, I picked my toothbrush and toothpaste and went to the toilet. I was brushing when my toothbrush was suddenly released my hold, fell into the toilet bowel, and got stuck in it. The Iraqis did not give us Fils for a while, therefore we could not buy our needed supplies. Also, it was not clear when they gave us Fils again to buy a toothbrush. I had no choice but rolling my sleeve and picking my toothbrush from the toilet bowel. I washed it with soap and water several times until I was satisfied.
Iraqis gave each quarters a large plastic bucket and a medium flat round tub. Those who worked in the kitchen, brought tea in the bucket. Each prisoner could drink tea less than half a glass. We used the tub for performing ablutions, so the water didn't pour on the floor. Sometimes, the bucket hit here and there and punctured. Moslem Tehrani had a special skill in fixing the bucket. As soon as he saw a hole in it, set to work and fixed it so that other prisoners didn't suffer hardship.
One day, when I woke up for performing morning prayers, saw the tub has filled with water and tea residues. I said to myself: "Let's empty the tub to be clean for others' ablution when they wake up for praying."
The doors still had not opened. I took the tub by the window carefully and poured the water out. I was careful not to spill the tea residues. We were punished by guardians if did so. Although I was careful, but some of the tea residues spilled on the edge of the window and outside.
I performed my prayers. Other prisoners woke up one by one and did it too. One or two hours later, the doors opened and Seyyed Salman began taking census. As soon as his eyes fell on the edge of the window, he asked: "Who's made the edge of the window dirty?"
He had seen tea residues in front of the window, when entered the quarters. I rose up. If I did it late, he punished all prisoners. I said to the interpreter: "tell him I wanted to clean the tub for performing ablution, but the tea residues were spilled too."
He separated me from the others and said, "Go ahead."
He beat my head and shoulder with his cable as I was walking. I always prayed when performed my prayers. I had made a pledge with my God to worship Him and instead He helped me to be strong in front of the enemy and not to cry. All my body hurt with every hit, but no matter how, I tried not to wail. It was clear Seyyed Salman had told the matter to the next guardian. He came to me and hit me with his cable, when their post was changed. That day, the guardians beat me up with cable after each post shift. I had a lump in the throat. I wanted to scream because of so much suffering and mental torture, but I did not want them to think that I have given up and surrendered.
After being counted at night, they closed the door and left. I prayed and prolonged my prostration. I pulled the blanket over my head and poured out my heart to the God. As if you shared your problems with your closest friend. I said, "O Allah! What do you want from us? What's gonna prove? Appraising my faith? I'm your servant, I believe in and worship you. I can't be patient like your prophet Job. So, what's gonna prove? I can cry in front of you however you want, but don't let me cry in front of them. So far, whatever it had been, it has passed, but now I want you a result. We are far away from home in a foreign land in the hands of these irreligious people; neither anyone knows about our existence nor anyone goes to meet us, nor anyone feels sorry for us. We don't have anyone except you, but it seems you also have forgotten us. If not, then why don't help us?"
A few days passed. Seyyed Salman who had gone on leave, returned. Soldiers could get three days leave in lieu of twenty days serving. The sun was setting when he came behind the window. He called the interpreter and asked him to translate his words. The interpreter said loudly, "Listen up everybody. Seyyed Salman wants to say something."
Seyyed Salman looked inside the quarters. He had turned away, spoke, and sometimes casted his eyes over me. The interpreter said, "He says, 'when I went home, saw everything has burned. My mother told me that surely I've hurt one of the prisoners and this disaster is its fruit.'"
The interpreter asked, "He asks, did all of you hear?"
We said yes. The interpreter said, "He says, do you forgive me?"
Most of prisoners looked at me. Before he go on vacation, had punished me and told the other guardians beat me up too. Pride or embarrassment did not let him to ask for forgiveness face to face. Without anyone says anything, the interpreter told Seyyed Salman: "He forgives you."
I prayed for Seyyed Salman's mother, who seemed a devout woman, and asked God to guide us and Seyyed Salman to the path of righteousness. The words of Seyyed Salman's mother reminded me of my grandmother. My grandmother was a kind and well-spoken woman. She told us stories of prophets and Imams when began talking. Stories in which children and their families performed prayers and fasted. One day, she gathered and sat all of us around herself and told a story. She said: "That time, I was still a little girl. A strange famine had occurred shortly after attacking of the Russian army on Iran.
Reza Khan had suppressed the Shahsavans and made them to be wanderer. It was the night before Nowruz when a few men, women, and children had sat down in front of our home with dirty face and head and tattered clothing. I saw my mother was busy cooking steamed rice, when entered the yard. I cried and said we want to eat rice, but they are hungry. My mother gave me some breads with steamed rice and said don't cry, take it for them."
Tales and stories of my grandmother had no end. She said: "My father had a pistol. One night, when your grandfather was not at home, two thieves were going to climb up the wall and enter our yard and sweep the house clean. Your father was a little boy and was afraid. I took the pistol and as soon as the thieves wanted to jump from the top of wall, I fired a shot."
My grandmother's brother had a coffeehouse. The next day, she took my father's hand and both went to the coffee house of her brother and told him the story. Her brother said that two strangers had come to his coffeehouse and told they were going to bring him some odds and ends, but a shrew woman had fired shots until morning and had not let them to do their business!
My grandmother said, "People were afraid of hearing the name of Reza Khan. One day, I was told that if Reza Khan steps in our house, suspects we have a pistol in our home. So he skins us alive. Eventually, we threw our pistol into a well for fear of being killed."
To be continued….
Number of Visits: 817