11th Professional Session of Oral History Was Held
Compiling Oral History in Iran; Present Time and Methods
Faeze Sasanikhah
Translated by Ruhollah Golmoradi
2017-03-12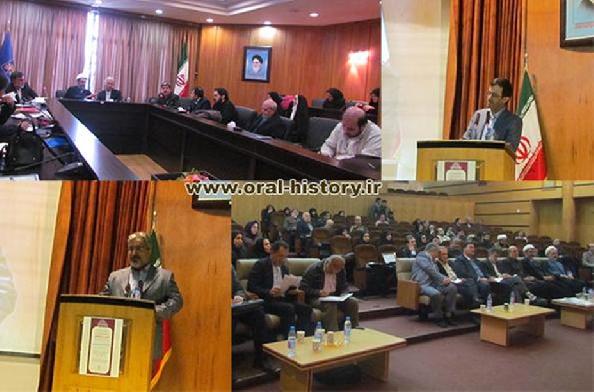 Reported by Iran's Oral History Website, 11th professional session of oral history titled "National Conference of Compiling in Oral History" was held by NLI's Research Institute of Documents and Association of Iran Oral History, Iranian Society of History, Women Researchers Society of History, Guild Association of History Researchers and officials of oral history agencies and those interested in this subject at National Archives building of NLI on Monday February 27, 2017.
A Workshop during the Conference
At the beginning of the session was played a music video about documentary published and publishing books by NLI for audiences in the hall. Then, Gholamreza Azizi, member of board of the session and president of NLI's Institute of documents presented a report on calling for eleventh session and its results.
He explained: since last 8 months, announcing about holding the conference began, but it wasn't welcomed well until November 2016 and we received only four papers. After second and third calls, articles increased, but the number was too low and about 20 articles and unfortunately most of them were not related to core of the meeting. This shows that compiling oral history in Iran still needs more work and practice and research.
Azizi continued: this is the second conference on compiling in oral history, but unfortunately its output was not good and it wasn't received much attention by academic circles. I think number of works on compiling and how to compile in oral history are still not in more than ten, because of the issue the session board decided to hold a workshop on compiling in oral history after the session.
Importance of Interaction between Local History and Oral History
The first part of 11th meeting was headed by Alireza Kamari, researcher and master in field of oral history. The first lecturer of this section was PhD Abolfazl Hassanabadi who presented a paper on "Importance of Interaction between Local History and Oral History in Compiling Oral History".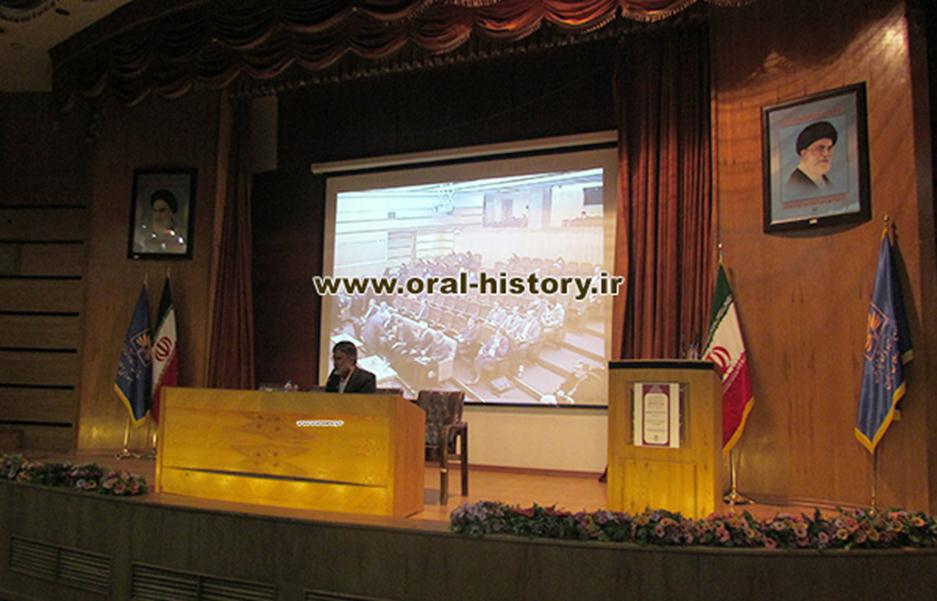 He said: local history includes thematic, emotional and practical aspects of social life and human interaction. In this term (local history) people are not studied because of being elite, but because of their interaction in environment. People usually are ignored in underlying layers. Knowledge about family, class, ethnic and racial groups, and many historical details provides background of promoting more accurate understanding on public history of society. Portelli Allesandro believes that oral history not only tells us that what people have done, but says what they want to do, what is what they have believed to do and what they think they should do now.
Hassanabadi made it cleared: relationship between local history and oral history is so extensive and in discussion of history and oral history, the most important area is local history. How much can we use local history? Usually a lot of data are collected in local history. The data includes customs, celebrations, joys, pains and sorrows, because it is on historical identity of a place.
Director of Documentation Center of Astan Quds Razavi then pointed out importance of local history and added: local history is very important in oral history, especially if you determine a wide range of historical information. We have kinds of compiling in oral history of Islamic Revolution. Some works has been done in several different areas in the last 30 years. Some works has been done in Research Institute of Imam Khomeini and Islamic Revolution in field of provinces oral history such as Tabriz and Khomein and most of them are local and through applying oral history. Works of Documents Center of Islamic Revolution about Sabzevar, Hamedan, Gorgan and etc. are in the same field. Hozeh Honari also has published works in field of local history and North Khorasan is one of them and it is a volume on history of Islamic Revolution that has literary view but it could be reconsidered as local history. Interview with dignitaries is also local history.
The researcher in field of oral history told: using local history and its compiling is not consciously and knowledgeably. Studies are arbitrarily and do not follow structure of local history and there is not notable interaction between them. These researches are done in form of descriptive approach in different cities and are less critical. While there are much debates on critical local history in the world.
Hassanabadi finally pointed out issue of output in oral history and stated: in our country, we rely on books and articles, but it is different in the world. We can move toward radio, of course radio is notable but not methodical. Centers which are active in field of oral history must regard accent in oral history. This is very important especially in local history and because Tehran is pattern it is less addressed.
PhD Masoud Atashgararan, another practitioner in field of oral history and graduated in history at Institute for Humanities and Cultural Studies, was second speaker of this part of the meeting and presented an article titled "Some Notes on quiddity of Compiling in Oral History". He pointed out literally meaning and then stages of compiling and said: compiling is focused on a general meaning that indicates process of creating and structuralizing and it is based on factor of raw materials and a continuum of structure.
He continued: operation of process includes combining or merging, cutting or separation, displacement, connecting and assembling, removing and adding. Consequence of the process is transferring audience meaning. Process of compiling in oral history starts from interviewer and interviewee mind and before any other measure, that it must be considered pre-compiling.
The scholar of oral history added: red line and regarding personal and collective expedient is important here and interviewee do compilation in his mind and based on the two issues, expresses some points during interview. Developing in mind of interviewer is also selective and in form of selecting people. He/she does research for a while in order to choose which kinds of person or persons. Compiling oral history is different in two sciences of history and literature and it is depended on text usage.
Atashgaran divided stages of compilation to first preliminary compilation, second compilation, interface compilation and writing compilation of oral history. Then he explained selecting writing ways which is first preliminary compilation and said: documentary, pure reporting, reporting and making climate, reporting and making climate and characterization, story, novel and comedy are some methods of writing and compilation strategy is effective in this step. The second preliminary compilation includes stages of writing and collecting data, classification issues and determining seasons, refining data, calibration, selecting and arranging corresponded similar data. Interface compilation is related to modus operandi of compiler during facing with related textual elements and components and contains verbal data as basic information, context, historical background, feelings and verbal emotions, value system, manner, nonverbal postures and movements, explanatory system governing relationships within text, interpretative system governing proposition of reasons and expressing interpretation. Writing compilation is also the last stage and includes features such as compiling in scope of technique and re-writing techniques application, rhythm of the text audio and creating atmosphere.
Finally he stated: compiling text is a process in writing text and an art activity with both individual and public requirements which include public standards and similarities and applying rules of techniques and techniques with the same conditions.
Solutions for Compiling in Oral History
The third speaker of first part of the conference was Maryam Hajizadeh and she presented an article titled "Solutions for Compiling in Oral History". He said: Our results show that formulating interview should be considered at the beginning of interview. Because at the beginning if what should be done and what not about compilation to be clarified, interview also to be directed toward compilation and this manner is more effective in simplicity of proceeding compilation. Main goal of the study is to help development of compiling methods of oral history by field experience.
Hajizadeh added: in interview necessity of being a high energetic interviewer is very important. These people should be interested and historian and seek truth in their questions, increase their knowledge about research subject, use pen and paper during interview, note and ask if there was an ambiguity or problem, as well as pay attention to details.
Pointing out that during compiling sixteen notes should be regarded, he counted them as follows: motivation of research centers, interviewer and compiler should be the same and separating them is improper, forming a group that causes interaction of ideas among members, reading a text for several times, separating non-essential and essential information of interview, observing chronology and continuity of events, translating oral language of speech to text, illustrating words, eliminating contradictions in interview, observing and applying writing criteria, exploiting literature, using available documents, avoiding prejudice, writing terms, vocabulary and location in terms of narrator tone, using footnotes and proportion of text components.
At the end, the researcher pointed out: in field of developing oral interview there is a close relationship between interview and compilation. Although practical start of compilation is after implementing interview, but originally, interview to be done through compilation and it is better to be done compiling interview by interviewer.
A Special Capacity for a Variety in Compilation Forms
Morteza Ghazi, a writer and practitioner in field of Islamic Revolution Cultural Front was the last speaker at the first part of 11th Meeting of Iran Oral History and he presented an article titled "Ethnographic Oral History, A Special Capacity for Diversity in Compilation Forms".
Author of "Amaliate Farib (Deception Operation)", said," Our focus in cultural front of Islamic Revolution is on experiences. Islamic Revolution was relied on people and still presence of people and demos in events of the revolution, is characteristic of our revolution in comparison with other revolutions. Oral history helps us to record the movement.
Author of "professional" told: Cultural Front of Islamic Revolution has focused professional on people. Other organizations often work on revolutionary fighters, the exiled or fighters, but Office of Cultural Front works on the masses. It doesn't mean that we don't address on person or hero, but our heroes are social and at the heart of people and feedback to be transferred the same people. Like an old woman who baked bread for the fronts. Important thing is collective spirit of the revolution in oral history. Measures that took place had collective spirit; that is, groups of people gathered together and acted and generally the activities were spontaneous. To recording history of these measures one must approach crowd, community and population. Point of view of Oral History Researches of Office of Cultural Front has been at First and fundamentally, addressing public populations, and in fact writing on crowds. People individually or through forming crowds for their activities constituted a cultural front. In the cultural front, there were "centers" which were busy to producing "works" and the works has been produced by agents. The agents include groups or individuals. For Office of Cultural Front Studies, Cultural Centers which are active in cultural are more important than works and agents. As well as, in the cultural front, works are more important than the agents who have produced the works. Because the cultural front of the revolution to be known through works that it has produced. That is a "work" among subjects of Office of Cultural Front is more important than its producer agents. In fact, office of studies is seeking works in "public culture" people, not "private culture"; anthem groups and active mosques, Literacy Movement's teachers and Jihad of Construction's jihadists are in this group.
The researcher stated: it appears there is a serious problem in agencies which are in charge of oral history of Islamic Revolution and Sacred Defense and it is not to consider collective narrations or public and collective faces and facets of agents and actors in field of Islamic Revolution and Sacred Defense. What is more fundamental than individual and collective actions of the Revolution actors is collective spirit and collectivism governs in atmosphere of Islamic Revolution. What made Islamic Revolution successful and advanced the Islamic movement and managed the war was collective spirit of Iranian nation. For example, rarely activities of women jihadi of a city back of the war which is a collective activity to be regarded and subjected for these centers. He continued: another research that has been done in Office of Studies in details and it is compiling is oral history of famous anthems of Islamic Revolution. Music and revolutionary songs were among the first topics which Office of Cultural Front Studies began to work from the earliest days of its forming and interviewed leaders of the field such as the late Manouchehr Abraviz, masters Shahangian, Ahmadali Ragheb, Gharehbaghi, Hossein Shamsaei, Mohammad Golriz and PhD Zoraq. One of the products of the researches that Office of Studies is working on is collecting 25 famous and popular songs of the revolution along with memories of their creators.
Morteza Ghazi finally said: Cultural militant is known through his work. Educational teacher must create a collective work like wall newspapers. Writing on crowds means a group of people at one time and in one place are doing the same work. "Jang Jang Ta Pirouzi (Battles to Win)" introduced by Lorestan's choir is a sample which has been interviewed 40 people. They have sung more than a thousand anthems and have presented in presence of current President and Supreme Leader of Islamic Revolution. The work has been used third-person narrator, because all memories are collective. A book on educational mentors of Tabriz called "Years in Class" is another one of these works. Producing artwork is also regarded in cultural front. It is an artwork which has been come from people's popular culture and it has influenced the same popular culture. Movies, paintings, plays, stories and essays, wall mural posters, anthem and theater are some of artworks that have been drawn attention. Home Documents are another one of these cases. Book "Deception Operation" is one of home documents and a book based on memoir of a martyr Asadollah Ghazi about a deception operation alongside illustrating memories.
Oral History Centers Don't Have Guideline
At the end of the first part of the session, Alireza Kamari, a leading researcher in field of oral history summed the presented matters up and said: The difference between being local of oral history and oral history is in compiling the former in terms of ethnographical criteria and the latter under oral history.
He also mentioned position and role of institutions in charge of oral history in writing works and told: institutions and centers that are responsible for developing, willy-nilly tell the compiler what they want, so there is not just compiler mind, but client is also important. It is almost doable for compiler to be neutralized.
Author of "Ba Yade Khatere (in memory of memoir)" mentioning the article presented by Morteza Ghazi, affirmed it: This is based on lived experience and three issues are considered in his debate. Focus of the center is in producing and compiling an approach that has not been discussed and is view of cultural history in oral history and it could become a manifest or Dastineh. Centers which are working in field of oral history don't have guideline and institutions must work in a direction in order to compile their guideline. He finally said: the paper of Ms. Hajizadeh was good, though she couldn't present it completely.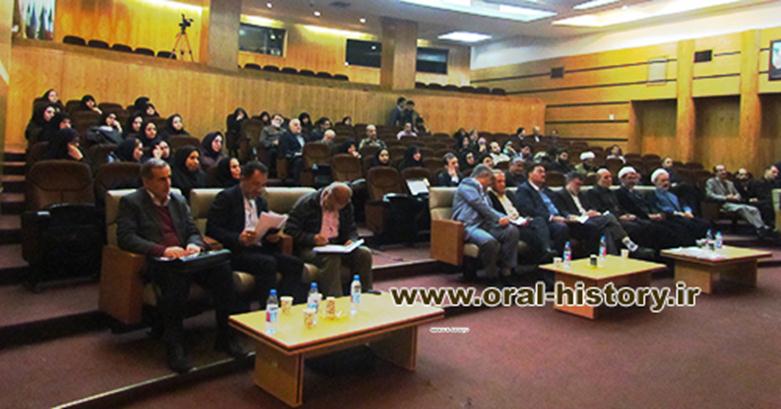 Domestic and Foreign Subtleties of Interview
Second part of the meeting began by management of PhD Ali Tatari and the first speaker was Majid Tafreshi. He explained about interview with abroad Iranian, diplomats and ambassadors and said: Oral history issue has necessities which perhaps it needs subtleties within the country and outside the country it needs another delicacies. When you know someone and meet him for interview, form and kind of the interview is different. In the case of foreign people it must be through letters, they do not answer e-mails and some of old ones don't have e-mail and he/she should accept writing style and literature. Style of talking with abroad Iranian is also different; talking with a guerrilla is different from a monarchist and each one has their own literature and this make the task more difficult.
Tafreshi said we should seek those who are decision makers and not must follow names but follow important and pristine resources. We haven't addressed those who were decision makers of Iran-Iraq war, and its result is that some international conferences have been held and several books have been published. In fact, they write our war book. We almost haven't done anything in this regard in international arena and false historiography of war is dictating upon us. This area is fully empty and oral history is neglected.
Relationship between Body Language and Oral History
Hamid Qazvini, one of active people in field of oral history and is in charge of oral history department of Cultural & Research Institute of Imam Musa Sadr, was the second speaker of the part and said: we should keep body language like laughter and tear so that audience to be familiar with space and condition of interview.
He talked about his work on writing memories of Ayatollah Mostajabi and added: his literature and style of his engagement with matters was specific and it was clear at first that there is no way only to preserve his literature. Things and entities which have happened in the past need mental and linguistic representation. In process of representation of the narrator in his/her mind and language, aimed at things that have already happened, conceptualizing procedure takes place and everyone has his/her own look and image and tries to express it. Mind and language is for everyone and when it is expressed it is for interacting with others and sharing an issue.
Qazvini said: a note that we must consider is that in addressing people's lives there are no the same approach for all and especially language should be considered in context of folklore culture and people life. If necessity and importance of studying people's daily lives as convention arena is essential to achieve a proper understanding of people behaviors so in this case, language has a decisive role.
Finally he pointed out that if we see oral history a democratic way in historiography that includes participation of all of society, so language and its conceptual representations have particular importance.
The Stages of Reporting in Oral History
Another speaker of this part of the session was PhD Faezeh Tavakoli. She said compilation begins when a report or a proposal is presented to a social or personal organization or institution. She went on to describe specific steps of reporting in oral history and talked about research title, research goal and period of time, theory position or theoretical framework, research method in oral history or context or field of study, problem statement, sampling in oral history, techniques of data collection, validity assessment and style of writing data and findings, and at the end concluded.
Oral History of Compiling Textbooks
Salehi was the last speaker of this part and presented a paper titled "Oral History of Compiling primary and secondary school textbooks (1300-1332 SH): Necessities and Features". He stated that goal of the paper is to address history of compiling primary and secondary school textbooks especially publication process of the educational references during 1300-1332 SH and added: in stating evolution trend of textbooks in the period, exploiting available oral history works NLI is a priority. Student's narratives as readers of these books provide a clear picture of content of educational resources, teaching methods and author's positions. Research method is basic-librarian and description and analytical that has been written through visiting primary historical sources, both oral history interviews and library resources.
The researcher went on: to recording history of textbooks compilation in the past decades, in addition to books and documents, oral history interviews with readers of these educational resources, especially characters who later joined groups of teachers and education authorities, causes completing the unwritten of written resources and reveals a clear picture of content of textbooks and status of the book's authors. Investigating focused approaches on writing primary and secondary school textbooks based on written researches and words of oral history interviewees, has not received much attention in Iran so far. Having deep thinking in this context, we can understand that recognizing affecting factors on compiling the books in prior periods, causes notable help in reforming attitudes in compiling educational resources in coming years.
He added: the research intended to study developing primary and secondary school textbooks in the period according to author and teacher's views, but due to lack of access to these characters (because they are not alive), used their instance opinions. The instances are students of the same period who in those years were educating in primary or secondary school and most of them joined groups of teachers and education mentors.
Salehi stated about his research: after analysis, narrations and approaches of interviewees whom their word were used in the study, one can result some notes that have been less considered in published works. In fact, releasing approaches experts and critics of textbooks in Iran began since 1340s (SH), after establishment of textbooks organization in 1962 (1341 SH); but comments of original readers, students, of these book were less examined. So, based on extracted information from available oral history resources in NLI on developing textbooks of (1300-1332), these issues were analyzed:
First, author's positions: academics as authors, teachers as authors and determinacy of teacher-oriented approach; second, competition and multi-compilation system: group compiling of textbooks, freedom in compiling textbooks; third, lesson planning and teaching methods: using old and Maktabkhaneh methods, emphasizing in applying abstract methods in teaching, ignoring interests of students in lesson planning; fourth, role of training centers: centers as selector of educational materials, to gain experience in exploiting resources, shortage of teachers for teaching some courses; fifth, content and issues of inadaptation of content with abilities and age situations of students, descriptive content and emphasis on memorizing, transferring product not process, emphasis on learning ancient Persian works, considering compilation not translating and sixth, visual aspects: using visual texts, considering texts margins, inclusion of art in textbooks, competition for improving quality , and at the end, lesson planning and teaching methods of using old and Maktabkhanheh methods, emphasizing on using abstract methods in teaching, ignoring interests of students in lesson planning.
In the study which was based on oral history interviews of a dozen contemporary characters, practical application of exploiting these resources in order to highlight dark and hidden corners of written sources and documents were described.
PhD Ali Tatari at the end of this part of the session addressed the presented articles in the second part and said: most of the presented articles in this section were not related to main topics of the conference.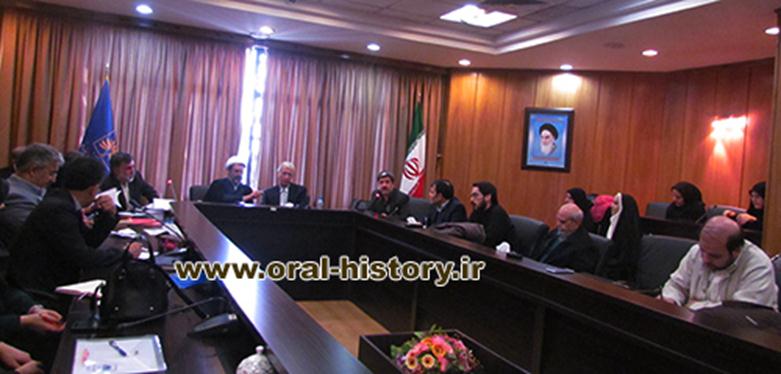 Jumping-off Place of Compiling Oral History
In continuance of 11th Session of Oral History titled "National Conference of Compiling in Oral History" a workshop was held by management of Hojjat al-Islam Saeed Fakhrzadeh.
First speaker of the workshop was PhD Morteza Rasoulipour, writer and researcher in field of oral history. He said: We don't have a same understanding of subject of compilation and fundamental issues of compilation have been still remained unanswered, because we are not careful in jumping-off place of compilation. Jumping-off place begins in writing. Compilation is one thing, and interview is another one. It must distinguish between the two. Compilation is after interview.
He continued: why we are weak in developing oral history? as we aren't familiar with writing issue. We must work on standard language of each country's capital. Written has its own rules. There are some tools for one to be approached body language. Interview cassette is available and everyone wishes could listen to it. What has been done at Harvard University is not a high-quality because the same interview was implemented and after a short time it would be repeated. At the same time, speech language doesn't always explicit marginal issues. If you also present interviewee text without modifying, he/she doesn't accept that it to be published. However, if we would be skillful in techniques and methods, there would not be much change in interview as the original text to be changed. At the beginning of text and introduction, present climate of dialogue and write it so that readers to be more familiar with interviewee.
Kinds of Compilation in Oral History
Second speaker of the workshop was PhD Abolfazl Hassanabadi and he pointed out kinds of compilation in oral history, criteria of a good compilation and components of compilation in oral history: kinds of compilation in oral history are referred to individual, collective and thematic memories and symposiums. In recent years, collective memories have been considered. Components of formulating oral history are objectives of institutes, individual intentions, text necessities, content and its impact, writing style and interviewer. Goals of institutes include political policies, specific techniques of interview, publishing policy, selecting specific compilers and purposeful way of compilation.
Finally he noted role of indigenous and non-indigenous compiler, civilian and military compiler and their difference, desires and thoughts influence upon compiler and commitment of compiler in completing interview and its place in development.
Stages of Compilation in Oral History
PhD Rahim Nikbakht was the last speaker of the workshop. He said: stages of compilation are a process. It is required to be studied archives and documents about the subject before interview. In any research we must have a research literature. In the early steps, some lights of compilation to be formed in our mind.
Nikbakht also pointed out the stage after interview and stated: after interview implementation, writing subject of interview and completing interview is important. Text from audio or visual file to be exchanged writing document and during the exchange it would be edited and a person who is implementer, do early compilation during relistening. Subject must be replaced if it is necessary and to be located in their place. Perhaps we infer at the end of compilation some notes are incomplete or ambiguous and it needs footnote.
He then pointed out methods of compilation and finally stated some difficulties of current compilations are in lack of transmission accents in interviews, description and explanation instead of modern disputes, low attention toward verify data and the way narrator's position become prominent in development.
Movement towards Removing Current Barriers in Compiling Oral History
Gholamreza Azizi, member of board of the session and president of NLI's Research Institute of Documents summed up at the end of the workshop and said: We have no unit understanding of oral history and some still see oral history interview and oral history the same.
At the end, he expected gaps of the conference causes practitioners and researchers of oral history to think and write numerous works on this subject in order to be resolved problems of this field.
Alongside 11th Meeting of Iran Oral History titled "National Conference of Compiling in Oral History" at the NLI's National Archives building, a small exhibition of published books in field of oral history had been held.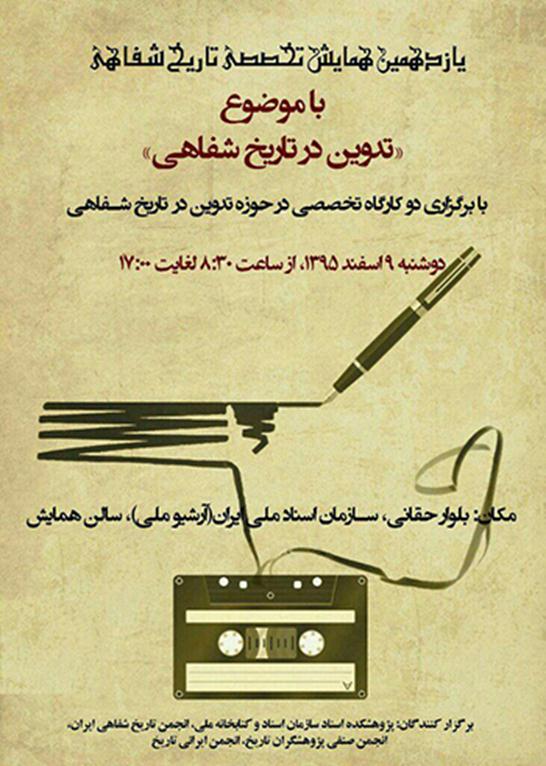 Number of Visits: 1010