Holly War Aid Worker: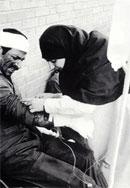 Still Can't Believe Mental Capacity of the Warriors/They'd Say Anesthesia Prolongs Surgery, the City is Falling
Jamaran- Zohreh Rezayi: "Tahereh Naghi-yi" is a teacher and social activist. It was in women's social gatherings that I learned about her active participation in war as a photographer and aid worker. Her friends said that she has a lot of memories and uses her mental capacity as a teacher and keen mind in mathematics to preserve them. She has never told her story for the media and is now involved in peaceful activities; however she agreed to an interview with Jamaran and talked about her efforts to save lives of warriors who, she believes, "teased death with their unprecedented mental capacity."
What comes next is a detailed recount of Jamaran's interview with Tahereh Nagi-ie, aid worker of Holly War and post-war teacher and social activist:

You were actively involved in the imposed war from its outset, how old were you? What was your family's opinion about your involvement?
I was 19 when the revolution happened and 21 when war began. During revolution, I was studying in the faculty of mathematics in Tehran University and after Cultural Revolution, when universities were closed, along with a group of other students of Tehran University and Development Jihad (Jahad-e Sazandegi) (1) , I decided to move to western provinces of the country in summer of 1980 to provide cultural and educational assistance and elimination of poverty. Divisions were formed and I was placed in cultural department. We were supposed to train local communities, especially youth, to hold literacy classes and resolved health problems and issues in deprived areas in remote rural districts through support and training of local resources. We were at the stage of preparation that we heard the news of unrest in the border of Iraq. We were in Kermanshah when war started. I had never witnessed war; I heard the fearsome sounds of bomb explosions in the city and saw the smoke rising up. We heard that the enemy has targeted the airport and then we saw on TV that some key airports have been attacked all over the county. The first thing that we did was to go to stricken areas. When I saw those grating scenes, all I did was to sit down to regain balance. We had come all the way from Tehran to help development in deprived areas, but before anything else, we witnessed destruction. We gathered together to decide on priorities under such devastating circumstances. Many vehicles were coming from western cities such as Dehloran and Mehran to Kermanshah. It was painful to see displacement of all those people packing their home in a pickup. We returned to the dormitory of Jihad and packed to go to war stricken areas. I contact my family before departure; they were very worried but as always respected my decision. This was when I experienced war closely for the first time.

How did your first experience of war felt?
I felt confusion, anxiety and surprise. We didn't know the details. These were the first strikes of the Iraqi army and we didn't know what they were planning and what we had planned for defense. During my short presence and activities in Kermanshah, I had built a network of friends whom I contacted instantly for further planning; since there was no plan to command war, we just wanted to establish coordinated efforts to assist war stricken people. In light of these efforts and coordination I met one of the girls I knew, who was assisting people and the wounded; she was from cities in far west. I asked her: What is your opinion of the situation? What is the most urgent need? She responded: aid. I didn't know where to refer to for rescue assistnace. Then I realized that we can't wait. We just heard that the invading forces are closing in. Since there were no offices of Sepah(2) or Basij(3) , we decided to go to Islam Abad(4) .

Within the process of these decisions to be made, what did you see?
The buses full of different people coming to the city. People who had just managed to leave their town and flee to Kermanshah. They were not in good condition, they were awestricken and some even injured. There were also buses full of volunteers coming to the city. These buses were full of different old and young people. I just figured that I have to document these moments. My camera was my companion since the Revolution. I came across strange things during photography. I saw strong but aged men among volunteer forces and took their picture. I asked a young fellow: why are these old people here? He responded: these people know all the mountains and paths in this area, and they have come to lead the forces. At the beginning I took many pictures and did many interviews. Where have you come from? What do you want to do? Who has sent you? Couple of days passed. We started supporting two groups of people including those stricken by war and volunteer forces. We were still in Kermanshah and had not gone to Islam Abad. The number of both groups grew each day without any planning or special organization to equip and train and accommodate them. Then we heard the news that rescue forces and equipment and donations have arrived. We decided to stay and assist in organizations, rescue and classification and food distribution. We created a committee of women with 50 members and started dividing clothes for men and women and also children's cloths and then divided them according to sizes. We packed bread and food items and after we finished our distribution, tents were set up by other forces. The area and forces and war stricken groups were almost organized that we were informed there is an urgent need for our rescue support in Islam Abad. Hence, we went to Islam Abad and this is when I experienced aid work in war after documentation and support.

Tell us about aid work in war? Did you have any experience or training in rescue? What about other women? How different is rescue in war with that of hospitals?
I started this experience while I was afraid of blood or scared of injection. Two third of rescue team women were like me. They were volunteers and had accepted the job since it was the most essential need during the first days of war. Surgeons were all men and most nurses were women, as well as 80 percent of rescue team members. As I said, two third of this aid workers didn't have experience. We started our work despite all fears and lack of experience. We carried all hospital duties except surgery and nursing. We transferred the wounded to the hospital and fed the patients and washed clothes and bed sheets and medical equipment and did catering and hospital services. Sometimes we were overloaded and surgeons would join to help us during their free time; they even peeled potatoes in the kitchen. I'll never forget the emotions and sense of cooperation in the hospital, which felt like a family.

Tell us about the emotions under harsh circumstances of the hospital? What was your emotional status when you saw the wounded?
When there was a huge load of work, the hospital personnel would sincerely do anything even if it was not within their job description. Although many aid workers were not experienced and it was the first time that we saw wounded people, especially those wounded in war which is quite different from normal hospital situation, we would never talk about fear and hardship of dealing with blood and injury. Everyone would think that it is a unique feeling and they are alone and they have to overcome their fear. However, at night or any spare time we had to talk and share, we discovered that we are all dealing with the same emotions which have made it possible for us to tolerate the situation and it was the time that I honored all my friends for their big hearts. Of other moments filled with emotions, were feeding those who were in a lot of pain; they were patient. Feeding them, talking to them and empathizing with them were more to satisfy our sense of empathy rather than a cure for their wounds. The moments when one would recover or one would martyr were associated with unique emotions. Emotions, from the peak of happiness to the depth of sorrow.

Of other impressive emotional scenes was the warriors were offering their turn of surgery to the other. Facilities were minimal and surgery rooms were few compared to the number of wounded. Hence, they would always prioritize their friends and would refuse to go under surgery by seeing the other suffering from pain.

What types of patients were strange in your opinion as an inexperienced person and had painful wounds?
We had patients who had lost the ability of speech; they were in shock. For instance, one of the patients, who was a war commander witnessing martyrdom of many of his soldiers and was in critical physical condition, besides many emotional damages, had lost speech, as well. I was wondering what type of treatment is required. They had to shock him to recover. A shepherd had found the commander and two other soldiers and transferred them to the hospital. It was very difficult to witness the situation of many others. It is different to see someone wounded in war from that of a normal injury in the hospital. The scenes of enucleation or removing the colon were horrifying and are images that are stuck in my mind.

What moral characters of the warriors do you still remember?
Modesty, patients and immaculacy. In my experience as an aid worker, I've seen famous soldiers and commanders who would never brag and I didn't know them before. I was the rescue support of Shahid Boroujerdi in one of his injuries; I figured he is a leading commander during his last days of stay and through people who would visit him. He was a peaceful, respectful, quiet man, with very little sleep. His expectations were low and he was respectful. Of course, all soldiers, despite their injuries and lack of facilities, had low expectations and were patient.
In one case, two seriously injured patients were transferred to the hospital; one had injured eye and the other suffered injury in his leg and required urgent surgery. They were insisting to delay surgery and be discharged. I asked: why? They responded: Abouzar garrison is falling due to lack of forces and equipment. We started our journey during midnight to report the incident and we were injured. We have to reach to headquarters as soon as possible. Eventually, they agreed to the surgery but didn't allow anesthesia. They said that anesthesia would prolong the surgery and they will try to tolerate the pain. It is still hard to imagine physical and emotional capacity of some of the soldiers which makes it difficult to recall these memories; since I feel that one has to witness such capacity to take my words for it.

Till when did you act as an aid worker in the war? What other experiences do you have?
I was an aid worker till the end of 1983. Then, fronts and hospitals and medical facilities were organized and had strong management that we were contacted from Tehran to join for cultural activities. The navy commander contacted me and said that since the enemy has focused operation on the navy, the families are under pressure and they have been transferred to Tehran and accommodated in International Hotel. Due to my experience in cultural activities I was requested to cooperate in planning for children of navy forces who were in difficult emotional state. Hence, I returned to Tehran and my cultural activities. There is did planning for children and adolescents. I planned cheerful and recreational trainings and also book readings which were warmly welcomed. We encountered children separated from their fathers and mothers anxious and worried about their husbands. Eventually, this was another difficult task and a very new experience which convinced me to choose teaching as my mission after war.

You didn't talk about your photos. What did you do with them?
In two incidents I lost most of them. I lost half of them when I was moving in 1985 my house as a student of Tehran University. Unfortunately, they were never recovered. I was carrying them everywhere with me and looking for a place to publish them, but never got the chance and the second half, which were mostly photos of martyrs and children of martyrs in western regions, I tore them apart since I couldn't take it anymore. These pictures would cause sorrow and depression in every one and would remind them of the violence of was and nothing else. I took the pictures of the martyrs and children since the situation was harsh and pretty chaotic in was zones hoping that they will be used for identification later and also under such circumstances, it felt like I was trying to console myself by grieving their innocent and defenseless death and taking their pictures. After that I realized that these pictures reproduce sorrow, so I tore them apart. I figured that the story of war shall not be merely sorrow and grief but reflect capacities and dedications and through transfer of these memories to the next generations of this land.

At the end, is there any other memory you want to share?
Another memory which might reflect the greatness of the warriors as recounted by them. During one of the operations, the hospitals were on standby. During standby, the patients would be transferred to another hospital to evacuate to receive the wounded. The first patient brought into the hospital was a tall and thin young soldier with blonde hair. He face resembled the image of Jesus. He was seriously injured. His stomach was torn apart. The medical team was gathered and we were waiting for their decision to transfer him for surgery. The medical team called us and said that he will die shortly. It was very difficult to accept the fact. The young soldier was awake and talking and suffering pain. We didn't know what to do so we cried. Unfortunately, he figured what was going to happen. With his sweet southern(5) dialect he said: why are you crying? Don't you believe in martyrdom? Don't you believe martyrs are alive? He barely smiled. I approached him, trying to make the pain tolerable by talking to him. I said: you are from south. What are you doing in the west? I wanted to gain the grace of God by defending not only my city but by commitment to defend my county! In couple of seconds his soul departed.
 
The Story of C130 Crash The Commanders of Samen Olaeme Operation by the Pilot
Colonel Pilot Solati in the anniversary of C130 crash, an aircraft carrying martyred commanders of Samen Olaeme Operation, recounted the incident.
Reported by Jamaaran quoted from ISNA, retired colonel Solati, pilot of C130 aircraft transporting martyred commanders, in memorial ceremony of commanders Javad Fakouri, Mohammad Jahan Ara, Vali Ollah Fallahi, Yousef Kolahdouz and Seyyed Mousa Namjou said: It is very difficult for me to give a speech in the anniversary of this plane crash in the spot of the incident, but I have to say that I'm one of the pilots with the most tours of flight during war and I joined the war from the beginning.
"Before I was summoned for this mission to transfer a number of commanders to Tehran, I visited late Hamtian and told him that I've covered a lot of missions and I need rest and it is my anniversary and I have a disabled child. I need to rest one day but he said that the mission precedes my needs and I accepted. Maybe, it was the will of God", he said.
Colonel Solati continued: "we landed in Ahwaz airport and Shahid Fallahi and Fakouri were walking along the ramp. The hospital authorities asked me to transport a number of the wounded to Tehran. I said that I can't decide and I visited General Fallahi. He accepted the request. So a number of wounded were boarded. Before we board the aircraft they took our weapons and again returned them. I asked Shahid Fallahi: what does this mean? He said: let your weapon be your faith."
In his speech, he described the incident in details and said: when we took off and travelled for a while, suddenly we heard an explosion resulting from electricity damage and immediately four aircraft engines stopped function. I contacted Saneie and dispatch using the battery inside the plane and since the aircraft was flying towards the refinery, I was ordered to change course towards Kahrizak. It was a difficult task since the hydraulic was not functioning. Martyr Fakouri joined me in the cabin and once he realized there is nothing to do, he said: young man, cool down and gain control over the plane. I said that I'm cool and doing my job. Till we reached 4200 feet, I was expecting to hit something but unfortunately we experienced IFAk and the plane crashed. The last thing that I remember was calling "Hossein", then I experienced instant coma. When I woke up, I realized that both sides of the aircraft are on fire. I threw myself out of the aircraft window. Following the crash, local mobilized forces approached us and believing that it is an enemy aircraft opened fire. I explained that we are national forces and they assisted in the rescue of 23 others. We even moved two wounded on stretchers. Shahid Fakouri was trying to remove aircraft tires that an explosion happened and two sides of the aircraft burnt.
At the end of the ceremony, five compact discs of martyr commanders of this crash were demonstrated and the crash spot was covered with flowers.
C130 aircraft crashed on September 21, 1981 carrying martyr commanders of Samen Olaeme Operation, in "Dotouyeh" village in Kahrizak and commaders Fallahi, Fakouri, Namjou and Jahan Ara were martyred.
---
1 Jahad-e Sazandegi (Development Jihad) was established in June 17, 1979 by the command of Imam Khomeini to develop and support basic needs in disenfranchised rural areas.
2 The army established after revolution to safeguard the revolution and its values.
3 The mobilized forces established November 26, 1979 by the command of Imam Khomeini.
4 A city in the west of Kermanshah.
5 Southern provinces of Iran.

Translated by Natali Haghverdian
Number of Visits: 4019