School Grandmothers
Narrated by Mrs. Zahra Darvishi
Selected by: Faezeh Sasanikhah
Translated by: Fazel Shirzad
2022-12-06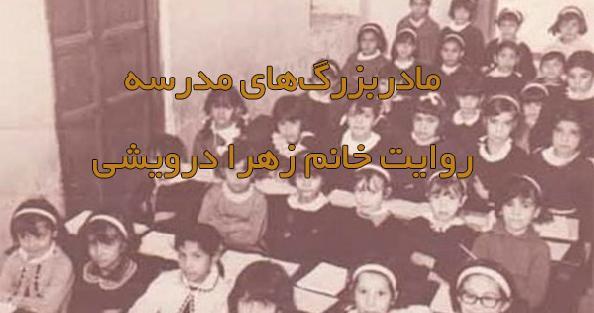 Hijab was forbidden in school and girls had to wear uniforms. My father was a religious and fanatical person and he said that I don't like my daughters to study in this condition. For this reason, when I reached school age, he did not allow me to study. Three or four years later, Zainab managed to get my father's opinion to go to school, and although I [Zahra Darvishi] was a few years older than Zainab, we both went to the first grade. On the first day of school, my father came to school with us and talked to the principal and said: "My daughters go to school wearing headscarves and chadors, and no one has the right to protest." The manager also accepted. A few weeks passed, the school employee came to the classroom, took our tents and threw them in a sack and said: "I want to burn your tents. Let it be the last time you come to school with a tent."
That day we returned home without a tent and with a scarf. My father saw me and asked angrily and upset: "What are you doing?" I said: "The lady principle took our tents." The next day, my father came to school and argued with the principal about why she have to take my daughter's chador, You should think about teaching, not about making girls naked.
At the insistence of my mother, we went to school again, but on the days when there were street parades and celebrations, my father did not allow us to go to school.
At the end of 1356, a cleric named Mrs. Rafiei came to our house with his family for political activity and revolutionary propaganda. When Mrs. Rafiei saw us tying our headscarves and wearing a chador, she said: "Let me sew you a mask. This way, you can sit in class more easily."
Ms. Rafiei sewed two masks for Zainab and me. That morning Zainab and I went to school happier than ever. During the morning ceremony, the teacher shouted at the front of the line: "Hey school grandmothers, let's see here." The students all laughed. Zainab and I, trembling with fear, went to him. He asked: "Who sewed these for you?" I said: "The lady who is our guest sewed for us." He said: "You made a mistake, why are you breaking the rules of the school?" You come to school in the same way every day. I don't want to see you come to school with this look tomorrow."
The next day, because Imam Khomeini had announced that everyone should sit at home and strike, my father did not go to work and asked people not to leave their homes. We didn't go to school either. Hormuz was like a ghost town.
When we went to school, the school principal, who was standing like a sword at the top of the stairs, shouted: "What game did you play, why didn't you come to school?" We said: "My father said, Khomeini said to stay at home." "This is for adults, what does it matter to you?" said the manager. We finished the fourth grade with punishments and difficulty, and we stopped going to school from October. After the revolution, we started studying again.[1]
---
[1] Source: Behbodhi, Ansieh, We Were There Too: The Islamic Revolution According to the Women of Hormozgan, Tehran, Surah Mehr, 2019, p. 105.
Number of Visits: 305