SABAH (94)
Interviewed and Compiled by Fatemeh Doustkami
Translated by Natalie Haghverdian
2022-01-25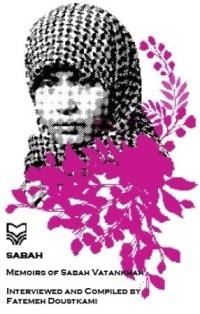 SABAH (94)
Memoirs of Sabah Vatankhah
Interviewed and Compiled by Fatemeh Doustkami
Translated by Natalie Haghverdian
Published by Soore Mehr Publishing Co.
Persian Version 2019
---
On one side we had lost Khorramshahr and on the other hand we lost Jahan Ara. The sweetness of breaking of siege of Abadan turned into bitterness for us. My mother and I started crying loudly. With his martyrdom we felt that we had lost a big support; a support who should have stayed and resisted until the victory of Khorramshahr.
In the resistance days and after the fall of the city, even before that and on the last days of the victory of revolution the shadow of Mohammad Jahan Ara was on the head of the soldiers. He was a leaning spot for all of us; even our own support although we were not in direct contact with him.
I felt devastated. I had a strange feeling. I really felt that I couldn't stay in Tehran. My heart was broken. I remembered my actions in the morning with the son of Mashallah Ashi. I felt shy. Poor guy had heard the news and had come to our place. At that time, lots of families from Khorramshahr were living in Koushk building. But our family, was one of the few families whose all members were so much affiliated with the war. My father was a war veteran and Ali was prisoner. Except for Fouzieh and I who were in Abadan until a while ago, Saleheh and Shahnaz were also in the area. Poor Mohammad had expected compassion from us instead of anger and ugly reaction. We should have supported him. I decided to go to him and apologize to him for my behavior.
I told my mother that I was going to call the hospital to see what has happened. I called the hospital from Mr. Zeyneddin's office. The situation of my friends in the hospital was bad as ours. We all felt like orphans. With the martyrdom of Jahan Ara, our hope for victory of Khorramshahr had turned to hopelessness. We knew nobody as compassionate as him to do everything to win the city. My friends told me that here it is public mourning. I wished I could be there. If we were together, we could endure this loss more easily.
The television announced that the bodies of martyrs of this crash including Jahan Ara were supposed to be buried in Tehran. At that time, his wife and children were living in a 24 storey building in Sattarkhan Avenue.
The funeral was glorious. Martyr Mohammad Jahan Ara was buried in 24 part of Behesht Zahra near the graves of some of the war commanders such as martyr Ali Gheyvaraseli.
One month had passed since I was attending school that I contracted parotitis. I had to stay home. I had fever and chill for four five days. My throat was swollen badly. When I felt better I told my mother and father that I want to return to Abadan. I said that the weather in Tehran is not suitable for me and I can't bear the chill in the winter. My poor mother was very happy that I had found a job in a school and would stay with them. At first they didn't agree. They told me that it would be a pity to leave my job. They said that being a teacher is a job with teacher. If you stay, they will officially hire you after a while.
They were right but I couldn't stay in Tehran. The climate didn't match with my mood. The street debates of Hypocrites and the deviation groups, the Hejab situation of most of women and girls in the street, the carelessness of people who walked in the streets and had no update on the situation of war an fighters. Besides that, my city was gone, my comrades were going one by one, I couldn't stay longer.
I wanted to be with my friends and serve the frontline. I was kilometers away from my family but I was serving the injured and fighters and this made me calm. I felt less guilty there. The guilt that why I didn't take any step in the war and acted like many others. I couldn't be indifferent to the issues of war at all. In Abadan I felt more closed to Khorramshahr. I felt less sad like this. Therefore I persuaded my parents to go back.
On the last day when I went to school to say goodbye, students gathered around me and asked me to stay. Even some of them cried. I liked them so much and I knew that I would miss them. Ms. Hassani was very sad too. She said that I don't like that you go from here and it is hard to find a substitute teacher. Despite all these talks, I said that I can't stay and have to return to Khuzestan.
When I wanted to return to Abadan, Ferdows and Mohsen started pleading me to take them with me. I explained that they attend school but they said that mother will get the permission. In those days, they were not hard on those war-stricken children when they didn't attend school. they all knew that the living and home of these children is somewhere else and sometimes they are commuting between here and there. My parents agreed that I take them with me for a few days and then return them to Tehran.
Now that the siege of Abadan had been broken, we could travel from Mahshahr – Abadan road. Therefore we arranged for bus tickets to Sarbandar. Then we got into the car of an army person who was from Khorramshahr and we went to Abadan. It had been near a year that this road was under the siege of Iraqis. The edge of the road was full of Iraqi trenches. Trenches made of cement and firm which were very different with ours. One could see the remaining of burnt tanks of Iraqis on the edge of the road. Mohsen was overjoyed to see the trenches and tanks of Iraqis and was talking non-stop. When he saw the burnt tanks, he showed them to Ferdows and me and said Allah Akbar loudly.
The whole road was full of pits which had been created from the hitting of cannon bullets and mortar bombs. The car fell into the pits constantly and drove slowly. I was happy to see Mohsen's joy. I was not upset that I had brought them with me. The driver who saw the joy of Mohsen, narrated the methodology of operation carried out in this road with simple words. He had liked Mohsen and would say Mashallah what a sweet boy. God bless him.
In Taleghani hospital, my friends greeted us. The joy of breaking of siege of Abadan and the sadness of martyrdom of Jahan Ara had mixed. The joy of victory and breaking of siege of Abadan had made all of us feel pretty well. Saleheh who had come to Abadan a while ago, was very happy to see Ferdows, Mohsen and me. She didn't expect to see siblings with me at all.
We went into the ward. Ferdows went to the injured and ask about their wellbeing and asked whether they needed anything or not. Altough she was only fifteen years old but when we were in Sarbandar, she was in the mosque all the time and helped those war-stricken families who were stationed in the mosque. I promised her and Mohsen to take them to frontline tomorrow.
Among the patients of the ward, there was a Christian soldier who had done laparotomy and was in N.P.O[1] situation and was not feeling well. Like other patients in his situation, he shouldn't have water and liquids for two, three days. The nurses said that his stiatuion is very grave and there is not much left in his stomach. They had removed the spleen, one kidney and a big part of intestine and stomach. His bladder was raptured. They had just brought him from recovery to ward. He was restless from thirst. I went to him and moisten a piece of gauze and placed it on his lips. No use. He was begging constantly to give him water. The weather was very hot and there was no cooling system in the ward. I tried to fan him with a piece of paper.
He was pale and lethargic. His eyes were protruding out. His restlessness mounted each minute. He was begging us to give him water. He tried to suck the moisture gauze but when he felt nothing, he started begging. A few moments later, he started saying: "Yazidis why don't you give me a drop of water … my heart is burning Yazidis … Why are you so merciless …"
When he uttered these words, I started crying. Although he was a Christian, he had remembered the thirst of Imam Hossein. Everybody was touched by his words. It was as if he was reciting Rowzah for us.
I couldn't take it anymore. I called his doctor and told him the story. I asked if I could give him small portion of water or not?! The doctor said only a small portion. I ran and grabbed a glass and poured a small amount of water and went towards the injured soldiers. I tiled his head up a bit and dropped that small portion of water into his mouth. He thanked me with his look.
Half an hour later, the injured Christian soldier became martyred. I felt pity for his martyrdom but I was happy that he hadn't departed this world thirsty.
At night I took Mohsen to Saleheh who was in the house opposite the river in which army members were stationed. Ferdows stayed with me in the hospital. The next day we went to Fayyazieh frontline; with its lotus trees. Khuzestani people love lotuses. We picked a few and ate. Mohsen was very happy to see the trenches of fighters. When he saw a mortar bomb that had hit the ground but had not exploded, he became so agitated and he was running around constantly.
My siblings stayed with me for ten days. Ferdows was with me and Mohsen was mostly with Saleheh. Mohsen had interesting memories of those days. He said that at the end of the street where the house was located, one of the neighbors who was Arab turned his radio voice loud and despite objections, there was no use. One day from the other side of the river, the house of that man is raided by an RPG. Although nobody was hurt but the voice of radio was silenced.
My siblings had to return to Tehran. Saleheh brought them back. Ferdows left but she was not happy. She didn't want to return at all. She wanted to stay with me. But there was no choice and they had to return.
To be continued …
---
[1] The injured suffering high-energy trauma (injury) or penetrating trauma are called N.P.O (Nil Per Os or nothing through the mouth) injuries. These people should not be given any beverages or food such as water, sugar water, etc. because their body cuts off the blood circulation and supply to unnecessary organs and as a result, nothing is absorbed by the body through the stomach and food remains in the stomach.
Number of Visits: 741