The Martyrdom of Nawab Safavi Narrated by His wife
Faezeh Sasanikhah
Translated by: Zahra Hosseinian
2022-01-18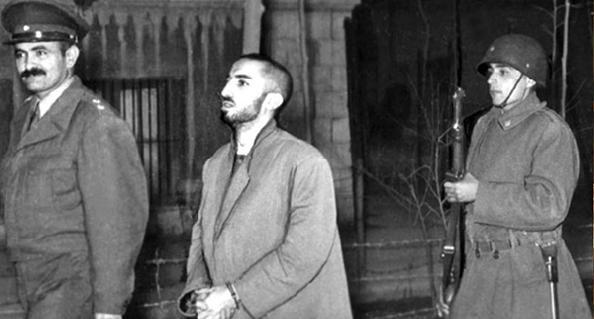 We lived in a rental house in Dolab at that time. One morning, the wife of Seyed Abdul Hussein Vahedi came to me and after a bit of lingering, said to me, "Nayerehsadat, unfortunately, Mr. Nawab Safavi was executed [on 18/01/1956], and now you are in the same condition as me." At that moment, I had a very severe shock. Just like that, you were unknowingly thrown into a cold pool. I wanted to shout; but I warned myself to control myself and said to myself: "Nawab Safivi's wife! Feeling helpless and suffering makes the enemy happy. Now you have a heavy and important burden on your shoulder. Let's take the bodies of him and the other martyrs and put his turbans on the coffin and at the funeral invite the people to rise." While crying, I put on my clothes and then went to Ayatollah Mohammad Behbahani's house to get Nawab's body. There was no other choiceو and I could not do anything. Seeing him, I said: "Mr. Behbahani, the court and Shah's supporters' wish was fulfilled. But I want to ask them to deliver Nawab's body so that we can bury him wherever we want." He said to stay here until I make several phones. He rang two or three times and talked about taking the bodies. But after he finished his calls, he said, "Ma'am, they've been buried at dawn."
I didn't show any weakness or hesitation and said that martyrdom was a long-standing wish of Nawab and his companions. Thank God they achieved this great wish. I strived until the same day afternoon to get the bodies, but I didn't succeed. At about 3 or 4 PM, I went to Mesgarabad with some women, who were members of the Fadā'iyān-e Islam. It can be said that the regime had established martial law in Mesgarabad that day, and the district was completely surrounded by military forces. Reaching there, we saw some people gathered. When I arrived at Nawab's grave, the feeling of missing him hurt my heart. Finally, I burst into tears and began weeping. As I was weeping, one of the officers came to me and said rudely, "stand up, don't cry." Like an exploded gunpowder, I began speaking aloud. I immediately stood up and cried out that: 'Yes, the Umayyads also consoled the offspring of the Messenger of God in the same way. O, criminal king! O Yazid of time! At midnight, you kill the offspring of the Prophet for telling the truth and piety. Do you think that you will continue this corrupt and oppressive government forever? Alas! Alas! Do you fancy that you have extinguished these candles of truth? By God, these candles have become brighter and more lit. I swear by God, by the honor of blood of Nawab and his companions, other devotees will grow who overthrow the foundations of your corrupt government and squeeze the dirty throat of you and your companions. If you kill all our men and young people, we women will take their place and stand in front of you and do not feel scared. O Yazid of time! How well you have proved what dynasty and family you are from. Did you not see with what humiliation your criminal father died in a foreign land?!
I gave the speech for about an hour and a half. A large crowd had gathered. A deadly silence filled the space. Breaths were trapped in the chests, and I spoke so loudly that all the people could hear. Some of them wondered how much this lady is brave at this young age. How bold and fearless she is. If we were in her shoes, would faint in fear! I explained the philosophy of Nawab's movement and uprising and went on: I swear to God that I will grow up my daughters in a way to take revenge on you, the criminal of history and your allies. Then, I added, "Peace be upon you, dear Nawab, peace be upon you, lover of God, peace be upon you, O slain of the path of truth, blessed be you! Well done! Congratulations to your honest and faithful companions; how well, beautifully, and sincerely you played your role in the path of truth and surpassed everyone. Dear Nawab! Your constant wish was that you would be in Ashura and help Imam Hussein. How well you helped him today.
The officers and everyone who was there cried. Referring to the military forces, I shouted: "O soldiers of Umayyads, who stand and look at me and shed tears, weep so that the tears of your remorse will never dry. But you know that you have committed a great and unforgivable crime. And you, 'Azmodeh', 'O Obaidullah Ibn Ziad', you take an exquisite and precious ring from my husband and order the murder of the son of the Messenger of God! And you, 'Bakhtiar', 'O Ibn Asad', you insult the son of Fatemeh (PBUH), Seyyed Abdolhossein Vahedi in the military governorate of Tehran and kill him there![1] Do you think that all this crime and corruption will be hidden forever? And you, the people who have been in the hands of swindlers and deceivers throughout history; do you know the crime for which Nawab and his companions were martyred? Nawab was guilty of saying that this is an Islamic country; this is the country of Imam Ja'far Sadegh (AS), so the laws and rules of the Qur'an and Islam must be executed. He said that 'on one side of this country there are atheists, scoundrels, and wine drinkers who are enjoying themselves from night to morning and playing games, and on the other side, there are poor and helpless people who need a loaf of bread for the night. A woman's baby should die of hunger and disease due to poverty and misery; and instead, the dependents of the government and the courtiers live in happiness, well-being, and prosperity. He said that a judge who attends meetings from night to morning accompanying wicked women, and fills his impure belly with alcohol, how can he judge on the basis of reason and justice tomorrow?' One by one, I narrated the crimes of the Shah's court and agents, against which Nawab fought and was martyred, to achieve his holy goals.
Beside the grave of Seyyed Mohammad Vahedi, I also spoke a little and compared him with Hazrat Aliakbar (AS), 'This 19-year-old man was the one who never left the night prayer and wished and asked God for being martyred.' And then I talked about Mr. Tahmasebi and quoted his wife, 'if my body is cut into pieces seventy times and is boiled in a cauldron, and I martyr twice, I still love martyrdom.' In Mesgarabad, I gave a speech beside the graves of all companions of Nawab, but unfortunately, I have forgotten some of them due to the passage of time and old age. On the third and seventh day after the martyrdom of Nawab and his companions, I also spoke in the same style.
At that time, the "Khandaniha Magazine" wrote about the joyful words and self-confidence I had: "Nawab's soul has dissolved in his wife's body, and she has prepared the people to rise with her fiery words."[2] Of course, it is true. If I succeeded in taking Nawab's body, I would have started an important and bloody uprising. Unluckily, they did not give me Nawab's body. A friend of my father named Sheikh Abbas Ali Eslami[3] had said about my speech in Mesgarabad: "Mr. Nawab Ehtesham, I had read the sermon of Hazrat Zainab (PBUH) in books, but today I heard the sermon of Hazrat Zainab (PBUH), and this had surprised many scholars and clerics." Of course, my father could not come to Nawab's funeral that day, because he was under surveillance, and the intelligence service doesn't allow him to do anything.[4]
Number of Visits: 624