Review of the book "Baloch Stars"
Spiritual Memories of a Shrine Defender, Abbas Naroui, about the Presence of Nabavion Forces in the Battle of Syria
Compiled by: Fereydoun Heydari Molkmian
Translated by: Fazel Shirzad
2022-01-11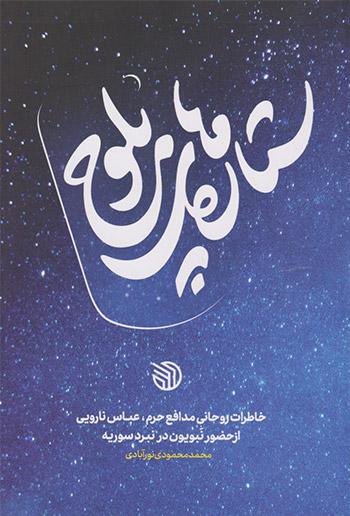 "I hated me that I was the sheik of that caravan and breathing alive on that bed. It seems that Abdul Nabi realized my thoughts when he started preaching and said that God had placed a task on me after this incident. It was the task of narrating the courage, freedom, and bravery of the stars of Balochistan was put on the road for the first time by the head of the tribe's brother-in-law; a difficult work that seemed more difficult than all the sufferings of life. From there, my mind and imagination became involved in seeing people from the living of that incident and asking for a complete description of that massacre "...
This is an excerpt we read on the back cover of "Baloch Stars." After the [book's] title and identity pages, which have a special effect with dark blue and black, it starts with a photo that has the following description: "Sheikh Abbas of Norway / in the uniform of the warriors defending the shrine / Syria, south of Aleppo." Then we have "Instead of Introduction", which was written by the interviewer and the compiler of the book, and then immediately begins the text of the book, which includes 31 memoirs of Abbas Naroui. The final pages of the book are dedicated to color images with acceptable quality.
Sheikh Abbas was born in the second half of the 1960s to Sunni religious families. His father is Sunni and his mother is Shiite, but he became a Shiite through his studies and research. In this narration, he began his life story when he was coming from the twenty-family village of "Gazhak" in Balochistan and from the heart of that plain, to the Zagros and Sisakht mountains: "In fact, I was empty-handed clergyman, I was on the list of assassins of evildoers, and I had to keep myself so far away from the danger that no narrow mind Takfiris could reach me. It can be the worst situation that a person not have security in his living environment, where he was born and grown; there, although I claim that, by God, my father was still praying, and our mother has not told anything against the Sunni elders, and she has never even once argued with each other about the Shiite and Sunni caliphs, Wahhabi educated person of the neighboring country schools...."
But a different step of Abbas's life was started when Zabihullah travels from Gazhak, Iranshahr, to the city of Boyer-Ahmad to visit his sister and sister-in-law and stay with them for a few days. His brother-in-law is ready to go on a mission in Syria. Abbas also wants to accompany him, but Zabihullah opposes. The wait was getting more and more serious. Abbas felt the issue was getting serious. He felt that he was suspended between Sisakht and Gazhak, but in the end, he had to pick up the children and get from Sisakht to Gazhak; A village that has always been the center of the climate; Where his mother lay on cold ground.
However, the narrator goes back several times officially to Gazhak and narrates the present. First, he says that to escape the danger of assassination, he and his partner decided to emigrate unintentionally and agreed on Yasuj to be guests of the Lors. They had two quilts and two mattresses; with so much clothing that they put everyone in the trunk and back seat of their black Peugeot and still had a vacancy. They did not have enough economic situation to think about proper food along the way. The days of a clergyman who grew up in poverty and still struggles in that difficult situation could not be better. They were just happy that they had taken their lives and were getting out of danger with their only child, four-year-old Abolfazl. It was the fall of 2014. They settled down and in May of the following year, their second child was born in Sisakht.
Returning to the past [memories], the narrator tells his late mother that he was constantly thankful. Her name was Zainab and she was fascinated by the Fatemeh Zahra [PBUH]. He wanted to say to his mother, "Mother, I am going on a pilgrimage and defending the shrine that you sigh every morning and evening and every time; but can I write the words on my chest "Oۥۥ Zeinab(PBUH), we, all, are your [brother,] Abbas? "Does your Abbas deserve such?" on my chest?" He says of his father that he was one of the thousand workers of the Baft Baloch factory in Iranshahr, and this was not a small privilege. The factory produced special fabrics for Baloch clothes. His father got a salary, dressed nicely, and protected the family, but one night when they returned from a party, they found their house had been rubbed and lost their belongings.
He had spent his early years in Gazhak with all its easiness and difficulties. At that time, his whole dream was to go to Maxan village and experience a boarding house. It was in Maxan that he realized the world was wider than he thought. He was in a different world was going. Later, in Gharibabad, Iranshahr found the world even wider than before, and finally returned to Ghazak with a computer diploma. His parents celebrate his graduation and invite the neighbors to dinner. His father wanted him to become an engineer and did some activity in Gazhak, but he did not succeed. His father did not know that he had become an engineer and wanted to study. He wanted to get married and get organized. His father wanted him to be engineering with a helmet in his head, and but he was thinking of a white turban [of clergy]; a clergyman named Sheikh Abbas of Norway.
After receiving his diploma, he participated in the seminary exam. His father was eager to announce the results of the university entrance exam. He heartily wanted his son to be accepted in the exam and become an engineer, but the son had was determined and purposeful in his decision. He loved the clothes of the clergy and did not want to foot on his love and desire because of his father's wishes. The father did not know these wishes. Of course, he did not want to know and constantly they argue with each other, but when the results of the seminary test were announced and he was accepted with an excellent grade, the father found his purpose and opposed him. However, he talked to his father and tried to make him aware of the importance of the issue. He tried to make aware his father that he was free to choose his purpose what he is interested in. When all he had to do was to serve the religion of God and to be a clergyman, why did he have to go the other way, which he had no interest in? So he went his own way.
Now, considering this past and this situation, he had returned to his homeland from Sisakht and was going to make a risky trip to Syria. The Syrian mission had been welcomed well by the people. When you saw the passion of the Sunni brothers for such a difficult mission, you became proud of being Muslim and being Baloch. The Baloch [people], always in their mind and conscience, were prominent and powerful, and at the same time, oppressed; but now being powerful and oppression had a different form. It was as if no one knew Shiites or Sunnis anymore. It was as if everyone had united to go and fight the people who had muddied the clear stream of Islam and sprinkled the dust of pessimism and disgust on the manifestation of this religion.
After about three weeks of military training, he will leave for Syria. As the plane's wheels collided with the runway at Damascus Airport, he and his friends realized that this was their first they were not in their homeland. The first night was a special and strange night for him and his Baloch companions. It was the first time that they had to sleep together in sanatoriums without a religious division. After visiting the shrine of Zainab (PBUH) and the shrine of Roghayeh (PBUH), they had to go to Aleppo and go to war with Takfiri extremists such as ISIS, Al-Nusra, and Ahrar al-Sham. His mission is to reach the south of Aleppo and participate in a cultural meeting on behalf of the unit. His feeling was that they were getting closer to the Takfiri presence. The operation was imminent but he did not know the exact time. It was a pure moment when the comrades were ready to go to the battlefield. They had to walk about ten kilometers to reach five hundred steps to the place of conflict. There were loud gunshots and explosions. Sometimes they even heard people's noises…
During the operation, he felt for a moment that he was falling from the top of a tower. His eyes were not able to see. The sound of moaning could be heard all around. The pain covered all over his body, but the pain in his arms and legs was different. He rolled over on his back and tried to cross his palms and see his feet, but he could not ... he had no hope of surviving. It even occurred to him to tell the religious words for acceptance of Islam in the last moment of life. It was a special situation.
He was in Aleppo Hospital but he couldn't remember where he was. After three days of anesthesia, he does not remember at all that he took part in the war and was wounded. However, he was slowly realizing what had happened. A group of his companions was martyred and his right leg, below the knee, was amputated. The number of injured was high. Everyone was lying on a stretcher, and with every movement of the plane, their screams went up in the air. Those who had experienced the hard moment of an hour-long trip by plane from Aleppo to Damascus now had to endure it as far as Tehran.
So, in this book, while referring to the discussion of the presence of Baloch youth, both Shiites and Sunnis in the form of the Nabavion Brigade in Syria and confronting ignorance, stagnation, petrification, and takfir, tries to ask many questions and ambiguities that may be about this There are people to be answered.
One of the salient features of the book is the use of the tone and dialect of the Baloch people in interpersonal conversations; as it is mentioned throughout the text of the book of conversations with the same Baloch tone and accent, but in the footnote of the page, its Persian translation is also included.
The book "Baloch Stars" has been written by Mohammad Mahmoudi Nourabadi and its first edition was published in 2021 by Khat Moghaddam Publications (Qom), in 288 pages and 1000 copies and with a price of 48,000 Toman (Iranian currency).
Number of Visits: 1876