SABAH (86)
Memoirs of Sabah Vatankhah
Interviewed and Compiled by Fatemeh Doustkami
Translated by Natalie Haghverdian
2021-11-30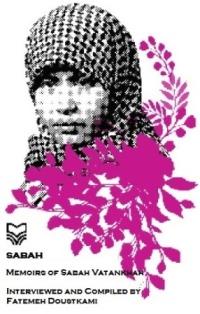 SABAH (86)
Memoirs of Sabah Vatankhah
Interviewed and Compiled by Fatemeh Doustkami
Translated by Natalie Haghverdian
Published by Soore Mehr Publishing Co.
Persian Version 2019
---
We returned to the hospital. We shook hands with the nurses and kissed and congratulated the Nowruz. We all wished that this is the last year that the country is stuck with the war …
Two three days had passed since the Nowruz. I had taken leave to go to Tehran and visit my family. I wanted to be with them since I hadn't been with them the moment the Nowruz arrived. One of our friends called Zohreh Farrokh Nejad was from Shiraz and wanted to go and visit her family. She asked me to go with her. I wanted to see Shiraz city in the season of spring.
Zohreh and I went to Chouebdeh and then flew with helicopter to Mahshahr. In Mahshahr we got into the bus for Shiraz.
Zohreh's home was in Zand Avenue in Shiraz. Her family was very happy to see her. Zohreh had three sisters and three brothers. Her father was a calm and patient man, exactly opposite her mother. Zohreh's mother was an energetic and smooth spoken woman. Zahra was more like her mother considering the morale and behavious and Zohreh was like her father[1].
I went to Shah Cheragh, Hafeziyeh and Sa'adieh with Zohreh. The three places were beautiful and worth seeing; especially Sa'adieh with those beautiful fishes in its pool. Sightseeing in Shiraz reminded me of my childhood memories; when we lived in Hossein Abad village and my father brought us to Shiraz for fun during weekend.
We went to Vakil bazaar. During all this time, I had bought nothing for myself. I had had no money to be able to buy anything but since a while ago Abadan army had covered the female aid workers of the hospital under Basij coverage and gave us one thousand and five hundred Tomans salary per month. Most colleagues bought San Quick orange syrup, imported sour cherry pickles, dates and plums but I hadn't touched my money for two three months; hoping to buy chador for myself.
I bought textile for chador, one trousers and one pair of shoes for myself in Vakil bazaar. Zohreh's mother sewed my chador on the same day and I could wear my chador after seven, eight months; it was a good feeling. During all this time, it was as if I had lost something. I felt secure in chador; a beautiful feeling which had estranged with me during this time.
I stayed at Zohreh's place for only two days. Prior to my departure, Fouzieh had called my uncle in Shiraz and said that Sabbah is coming to visit you. I wanted to visit them and then spend most of my leave in Tehran with my family. Zohreh said that she will come with us. I thanked Zohreh's family and said goodbye. They had been so hospitable towards me in the last two, three days.
Since Fouzieh had called, everybody in my uncle's family was waiting for me. My uncle and his wife were so happy to see me. My aunt Nejat was also there. I could see my aunt after a few years. Uncle Nematollah had been given a small home from Oil Company. Although the house was barely eighty square meters, but my uncle's morale was in a way that he had gathered all around him. My uncle's spouse just like her husband made everything hospitable as much as she could. Almost all our war-stricken families of Khorramshahr stayed at his house for a while.
We stayed at my uncle's place for one day and purchased bus tickets for Tehran for the next day. We were on the road for nineteen hours. We were really tired. It was as if a person had put all the bones in our bodies in a pounder and knocked them. Therefore when we reached Tehran we didn't have the strength to go home by bus. We got a taxi from south terminal to our home in Koushk building. They were so happy to see us. My mother and siblings welcomed Zohreh warmly; as if they saw their own daughter after a long time. Shahnaz said that this Nowruz, on the contrary to previous years, was no special at all; no shopping, no house cleaning. The moment Nowruz walked in, we all cried, either loudly or without voice. We could feel Ali's empty place besides us. Mother cried more than all.
Around two weeks had passed from Nowruz and two three days had passed since we arrived in Tehran. We took Zohreh to Imam Zadeh Saleh and Beheshte Zahra. One day we had just finished lunch that we heard someone knocking. Mona opened the door. Suddenly uncle Hossein came in with excitement and said: "Sister! Sister! Give me a present! Give me a present for the good news! I have brought a letter for us from Ali …"
As soon as my uncle said those words, we all shouted. Overall, my uncle's way was to create a fuss around him, let alone for a time when we had important news like this. My mother went towards my uncle and took the letter and started smelling and kissing it. We were all crying of joy. We didn't give uncle a chance to tell us where this letter has come from.
A few instances passed with joy and happiness. We sat around. My uncle said that some people have come from Borujerd Red Crescent and have given him this letter. Then they have found out that you are not in Borujerd and live in Tehran, emphasized that you go to Red Crescent and tell them that a letter has arrived from their captive.
My mother didn't hand over the letter to anybody. She had put it on her chest and was crying. My father was crying too and constantly repeating Thanks God, Thanks God that my son is healthy. By arrival of this letter, Ali's status changed from missing to prisoner.
This was the best present I had got for Nowruz so far. With the arrival of Ali's letter, the atmosphere in our house had turned to real spring. My uncle got the letter from my mother and read it to us. Ali had written the letter addressed to uncle and had started it with this verse from Quoran: "All that is on earth will perish". He had written that both he and Ghasem Madani are well.
Then he had asked about the wellbeing of all; all members of the family including auntie
Maryam and Amoo Hejab and their children. At the end of the letter he had told my mother and father that this has been his fate to become prisoner. He had asked them not to be worried or sad.
The letter was a white paper with red lines and Ali had written it from a province in Iraq called "Roumadi". The paper was small. The below part of the letter was empty and as my uncle had been told it was the part to put an answer to the letter.
At the rear of the envelope the delivery and sender's address was written. As Ali was not sure where we are, he had given the address of uncle Hossein in Borujerd to make sure that his letter would be received.
Next day, Shahnaz and I went to Red Crescent. Although it was Noruz time and most of the offices and organizations were on holiday but a number of Red Crescent employees had stayed to follow-up the tasks. We went to the Mohammadi sisters and told them the story. They congratulated us for receiving a letter from Ali and the good news that he is held as prisoner. Then they issued an index card with the name of Ali for us.
By issuance of an index card with the name of Ali, a prisoner file was created for him in Red Crescent. We gave them the reply to the letter and our own address. The letter was small and we couldn't write much. We just had greeted; and told him that we are all fine and have moved to Tehran for living.
They told us: "If nothing specific happens, the prisoners usually give letters every 45 days. When their letter is received, we will call you immediately to come and pick it up." Since we didn't have a phone, we had to give Mr. Zeyneddini phone number.
One of the sisters of Amireh Mohammadi said that Ali's name has been removed from the list of missing and martyr foundation has to be informed that we have received a letter and his status as prisoner is confirmed. She herself gave a letter and confirmed Ali's status as prisoner and introduced us to martyr foundation. She said: "You have to create a prisoner file for your brother there too."
I told her: "So please give me a letter confirming his status as prisoner for Khorramshahr army. When I go to Khuzestan, I will put it in Ali's file in army." I was worried all the time that his issue of being an officer be problematic during his absence. There was a big difference if a prisoner was followed up by army rather than being affiliated with any organization and office[2].
In Taleghani hospital, if we had a patient with bad injury and underwent a heavy surgery, we tried to follow-up his wellbeing after discharge. We took the contacts of some of them and some who didn't have any contact, gave us their address. One of the patients was a clergy from Tehran. This young man was a true believer and had a very shining face. When we went to attend to him, he never looked up at our faces. At the joining point of his right hand to his shoulder, there was a strange wound. The quiver had taken all the flesh under her arm and had left a hole full of blood and infection behind. Every time the nurses wanted to change his bandage, lots of blood and infection came out of the hole and made our heart ache. The wound gave us the feeling that the arm and hand are attached to the body only by a piece of skin. All the time when we changed his bandage, he just uttered SALAVAT and there is only one God. Later, he was sent to Tehran. Before going, we got his address.
To be continued …
---
[1] Zahra Farokhi drowned and died in Bahmanshir River a few years after the war when they had gone to celebrate the Iranian Nature Day; May her soul rest in peace.
[2] Until Ali returned from captivity, Fawzia did not eat watermelon. Fawzia and Ali had a strong emotional bond. She strongly depended on Ali and really liked him. Every time Mom would slice a watermelon and bring it, Fawzia would shut down and stare at one point. No matter how much we insisted to have a slice, she would say no. I remember how much Ali loves watermelon. I can't eat. It doesn't get through my throat. Until Ali's return, Fauzia did not allow any suitors to come to the house. No matter how much my mother tried to reason with her that her marriage has nothing to do with Ali's captivity she said that she is not in the mood to do anything let alone thinking about marriage and starting a new life.
Number of Visits: 307