The 325th Night of Memory -1
Border Guards of the Police Force
Compiled by: Iranian Oral History Website
Translated by: Fazel Shirzad
2021-10-06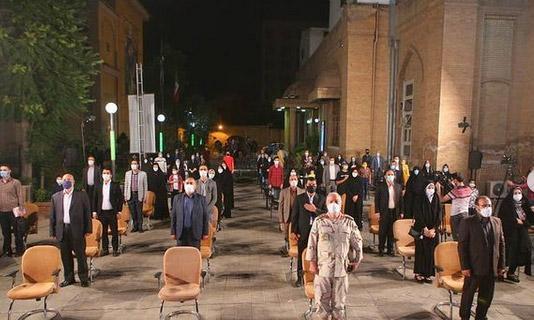 The 325th Night of Memory program was held in person on the Thursday of 23rd July 2021, in the open space of the Arts Center, with the performance of Davood Salehi. In this program, some recounted their memories with the subject of border guards of the police force, such as the 2nd Brigadier General of the Revolutionary Guards, Jalal Setareh who is Deputy Commander of the Naja[1] Border Command, Colonel Abolghasem Khatami who is Deputy Minister of Culture and Social Affairs of the Naja Border Command, and Ali Kazem Hassani Raigani who is the cultural advisor to the Naja border commander.
After welcoming the guests, the presenter of the program stated that we are going to talk about Massoud Naroui, who was martyred in a struggle with armed miscreants and his three beloved children remained alone forever. Let's talk about martyr Mohammad Ahmadi, martyr Mohammad Rasoul Hatami, soldiers, martyr Ali Beyrami, Sasan Amirkhani, Mohammad Raouf Rezaei, and many other martyrs and loved ones who died to maintain the security of this country. Then the video of the speech of the Supreme Leader of the Revolution, Ayatollah Khamenei, was presented, which is transcribed as follows:
"You send your daughter and son to school, you do not worry; you go to work yourself and come, you do not worry; you go, you sit in the park, you do not worry; you walk, you do not worry; you do not worry about insecurity; you live safely, what do you know about a martyr who was standing up and preventing the enemy from entering the country, what do you know how difficultly he was keeping the border; people do not know. He was oppressed. Our border martyrs are oppressed.
There are problems at the borders, in all of this, it is our border guards who are defending there with all their might. If there are no border guards, the enemies will import a thousand kilos of drugs from the borders, each kilo of which may make a hundred young people miserable. Who prevents these? "Our border guards."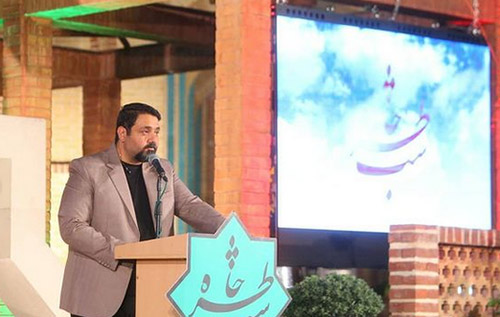 The presenter continued: "Some people thought that the opportunity of jihad is ended, the opportunity of martyrdom is ended after the end of the holy defense, but our dear country has eight thousand seven hundred and fifty-five kilometers of land and land border and with fifteen neighboring countries, and has warriors who are at war against the enemy day and night. Now, this enemy is not necessarily a military enemy, it can be a smuggler enemy, it can be a spy, it can be a terrorist enemy or any other enemy. What thing is important is that our border guards die and work in the most difficult conditions in the cold mountains, in the hot deserts, in the valleys and the impassable places, and in the very difficult areas in very difficult conditions to defend this land. Here, I want to invite the first narrator of the program, who had been sent to the area of operations for the first time in the third grade of high school, spent some time on the battlefields to learn and get fully acquainted with it, and later won the Medal of Honor on the chest during Operation Mursad."
I politely and respectfully invite 2nd Brigadier General Mr. Jalal Setareh the esteemed successor for guarding of the frontiers.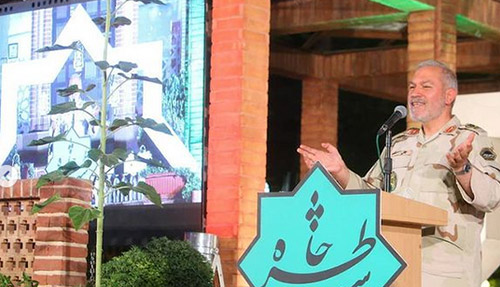 "Peace be upon you all and may God have mercy on you. in the name of God. I am very happy to be effective tonight for the large family of border guards of the holy country of the Islamic Republic of Iran. Indeed, many may not be aware that every time there has been a war or even a negotiation in the country, a part of the country was separated, except during the Islamic Republic. First of all, I would like to name a part of the country that was separated during the Pahlavi regime, and I know that many of our dear listeners and viewers do not know many of these things. The place where it first separated from our country is the small region of Ararat, where two triangles with their vertices attached are separated, both of which lead to the Cheshmeh Soraya. Turkey had already no border with the Republic of Azerbaijan, and the Islamic Republic of Iran was not only on same the border with Armenia but also on the northern border from Cheshmeh Soraya onwards.
As small Ararat was in the possession of Iran and then separated, we read in the treaties that our border with Turkmenistan reached the Atrak River, but a part of it has now been separated and that border is located on the Qasemkhani River; we have such a problem again. Or maybe no one knows that the old Sarakhs was previously an integral part of Iran before, but later we see that it also had been separated and lost in the treaty with the Soviet Union. Firoozeh city itself is part of Iran in the maps and many other small places. Elsewhere in current Afghanistan, for example, 300 hectares of land were separated by eleven aqueducts in Hashtadan, but during the Islamic Republic and despite the enemy's extraordinary efforts to clear parts of the land, under the help of the world, but we see that we were able to maintain our homeland; this is an honor for the holy system of the Islamic Republic of Iran, as well as for its youth and warriors.
Let me not go beyond these words, it is better to offer you a few memories
The first time I was on the war front after Operation Muharram was Operation Valfajr, and I was not yet seventeen years old. I took a training course for relief and went to the war front, behind the hills of Zelijan, which ends to Fakeh, where we had to run in the morning exercises and the hills were sandy. One day a stranger came and ran among us; he was a stranger and it was a good opportunity to meet and make fun of him. Whenever He ran, we kicked his feet; and he fell to the ground. He would get up, shake himself and run again, we would push him again; in short, we bothered him a lot. This poor man just looked, laughed and did not protest.
We came back from the morning exercise and came for breakfast. We said to him jokingly, he was a newcomer and he had to prepare breakfast; he made tea and provided breakfast, we all had breakfast. After one or two days, the brigade commander want to give a speech; we found that the commander was the stranger whom we had bothered and fallen on the ground so much, was Mohammad Bonyadi the commander of Hazrat Masoumeh's (PBUH) brigade. Now we were wonder what to do, each of us tried to hide ourselves to not be seen by the brigade commander, we thought he did not know. Two or three weeks later, the brigade commander came to the battalion and introduced us. We stood for a while and he. Called my name and said: I have already known you, you are reliefworkers. We realized that he did not forget us and that he was never angry toward us. He did not protest. This patience and forgiveness should be a lesson for officials and commanders.
After a while, there were three other teenagers the same in Valfajr preliminary operation, who were younger than me; when the operation took place, we were in the battalion and those three teenagers in another battalion. We saw each other most of the time. After a while I came back and saw that one of them was severely injured, the other two are bringing him back. It was an operation that had to be withdrawn. I was told a lot to stay and help them. I replied that I couldn't stay, I have to help the other wounded, they should help their friends themselves.
I was unaware of these friends for a long time. I had to bring other people back. After a week when we were going to have another operation, I saw that these friends were sieged; these three teenagers also had taken a gun and fought and saved themselves from the siege of the enemy in the next operation. This was very important to us. The three did not abandon their comrade and could easily leave the wounded friend and come back. This self-sacrifice became famous later. Because after the operation, I was with these three friends, and they had a really good time.
My other memory refers to Operation Dawn 8; at that time we were not as the Basij (newcomer soldier) anymore, we had become main guards in the Qavamin Brigade. We went to the war front. How we came and crossed the Arvand River was very important to me because the first time I crossed the Arvand by boat and we went there and back. This was the first time we went to Al-Fāw. The second step we wanted to go Al-Fāw, I fell asleep in the car. Then when we arrived I told the comrades where we are. They said that we are in Al-Fāw. I could not believe it. I said them that they mean we took off our wings and come to Al-Fāw. We had to initially get off and get on the boat. They said that the forces built a bridge. Actually, I did not believe it. The comrades went to the frontline at night and I slept in the Al-Fāw Mosque and came back and found this bridge built over Arvand and it was a source of pride and greatness for us. We were in Al-Fāw for a while. One of the comrades was from Shahroud. He was very funny. He said: "we want to fly toward the sky". I thought they wanted to come back. I said I would not give allow; they had to stay here. "If you do not want to fly, repair this bulwark," he said.
Of course, I had already believe that this bulwark had been injured by a lot of mortars. We gave a few sacks and they filled them with dust and we helped as well; it was almost over, we came inside the bulwark, suddenly a 120 mortar fell there. The dust completely covered the trench. At noon, he is supposed to be the commander of our guest battalion. It completely covered the bulwark. And we completely forgot that the brigade commander of our guest at noon. In short, we had lunch to gather. We had potatoes and bread for lunch. Not much. Suddenly the battalion commander came. When the battalion commander came, we wonder what should we do; there was no shop, and we couldn't prepare supplies. We took the extra potatoes with dry bread that we had thrown away and we had gathered in a corner as a piece of garbage; we watered and pounded them, and then we mixed it with some butter; we made a lunch for the battalion commander and he ate it, and he did not say anything. After lunch, when he wanted to leave, he said: " thanks a lot, although I knew that you provided that materials from the garbage." Here, our work was revealed. We had a long history of being revealed. One day he invited us and we went to his bulwark, then he said: "What can I bring you for lunch?" I said, "Please bringing me the potato." "You guess rightly, I made potato for you, too," he said. And he took food and then when I went to eat he took my hand and said: "First I have to eat and check it myself so that you become sure it is clean and healthy, and then, you eat it. It was very interesting. We were involved in this case. The memory related to that day is that Iraq fired there hard. Now the reason was that two or three of the Basij forces (volunteer soldiers) had gone up ... There was also a Basij in our battalion. The Basij forces were from Behbahan ... Haj Aghaei, who was a newcomer, was responsible for our propaganda battalion. He put up a loudspeaker to propagandize for Iraq, he made a major and dangerous speech; had advised in Arabic, he instructed, and finally, he had said that he was speaking from the public relations of the Qavamin Brigade consisting of the committee's guards!
As Haj Aghaei revealed something in his speech, the enemy had also started firing there severely. One of these teenagers was standing in the bulwark. Whatever we say him to sit down, he didn't sit, and said, "I will not leave the bulwark of Islam and Muslims." The commander said, "He sees all of Islam in this bulwark. It will not sit down; either go to stand up instead of him, or I will go!" Well, that means I should go to stand there. In short, I went up. I wish you were there to see what happened to me; I was injured for the first there. I was injured there for the first time by a quiver. This Basij soldier was along with us until we wanted to get back from Al-Fāw; it was daylight and we had to come back by car. He said that he wanted to stay, he would stay for a while and come back later. It so happened that the battalion that wanted to change the position did not come back at once; it means it would stay for a while and then come the next days. He stayed with three of the comrades who were from Shahroud. I had to stay, I did not want to stay, because they stayed, I had to stay to come back together. Those brothers had already said that they want to go and fly and we told them they were not allowed here. In short, as found that they were washing each other that is they were taking a bath for martyrdom, I said we were coming back, what a hurry. They said that we were going to fly. I was worried for them and I knew something was happening. I was awake almost until 2 a.m. When I went to a bed at 2 o'clock, I heard the sound of several mortars and I came out of the bulwark and saw that these three dear friends were martyred. A mortar had been fallen on the bulwark which was a watch bulwark, all three of these loved ones martyred and flown. Later, when I went to see their family, the family of Seyyed Reza Mousavi was the son of Kalat Sadat from Shahroud. His mother said: "Before he left, he knew that he would be martyred, even he knew how he would be martyred."
Many people think that those young people, those teenagers of that time can no longer be repeated. Some say that time is no longer coming, the comrades are no longer coming and it is over. But really, we have seen at the border, we have seen many times that young people now, even teenagers, are more active in this way than young people and teenagers forty years ago.
A few years ago, I was the deputy director of treaties and I went to visit the area of Fakkeh where we operated Preliminary Dawn around this area. I was looking for the borderline and the border operation got stuck in the minefield. It was very hot; I was thirsty, I had neither way to go ahead nor way back. I saw that the comrades had even brought an ambulance there from one kilometer, two kilometers away due to if we were injured they would bring us back. I do not know how they wanted to come. Because no one could come to this minefield I did not know how the minefield was. Of course, I knew there was a mine, but not to this extent; Iraqi minefields are usually regular, for example, if there was an explosive barrel at a distance, there were Walmer mines around it, and there are also tomato mines in the middle. I knew these things, but this minefield was different. In that hot weather, my chest was dried.
I saw a young man, maybe 19 years old, bring himself a bottle of water step by step.:" why did you come?", I said. "I find if I do not come I am not Iranian, if I do not come I am not a Muslim, if I do not come I am not a border guard," he replied.
There are many such young people; our dear brother, Mr. Capt. Rasoul Talebi, many of you know the comrades, was one of the members of this headquarters and one of the forces of Capt. Khatami. He was a prominent person who always said, "Send me wherever it is harder." He was living in Sistan for a while, then Hormozgan; he returned to Sistan from Hormozgan, and he carried out a very heavy operation against the miscreants in Rutak, and fired a car and killed some of the miscreants, finally achieved the grace of martyrdom. There are many of the young on the border.
There was one of the clerics whom we were along within Operation Mursad. At that time, of course, he was not a religious student. He commuted with the dispatch of missionaries to the border. He used to tell me that I remembered the comrades of that time, one day I called him and said:" where are you? He said, "I am in Kurdistan, and the comrades are struggling together to achieve me. I have to go from one station to another to cook.
I have tried not to add some extra words to what I offer to you dear ones. The things that have happened are the same things that are happening every night and every day at the borders, and the border guards continue the path of the same loved ones who fought forty-two or three years ago.
---
[[1]] The Law Enforcement Force of the Islamic Republic of Iran or Iranian Police Force
Number of Visits: 1910