SABAH (76)
Memoirs of Sabah Vatankhah
Interviewed and Compiled by Fatemeh Doustkami
Translated by Natalie Haghverdian
2021-09-21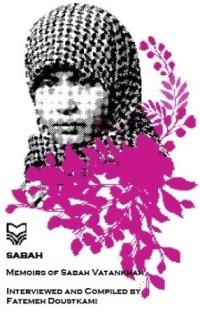 SABAH (76)
Memoirs of Sabah Vatankhah
Interviewed and Compiled by Fatemeh Doustkami
Translated by Natalie Haghverdian
Published by Soore Mehr Publishing Co.
Persian Version 2019
---
Chapter eighteen
Zolfaghari front and the margin of Bahman Shir had been stabilized and the war in Dairy front had been suspended somehow. When a front was suspended and there was no movement or special conflict, there were less injured. It was not good for us as women to stay there and there was no explanation for our stay. Therefore I did not feel like returning there.
From the other side Iraq was bombarding Abadan. Oil refinery, hospitals, markets, mosques, Minoo Island and Kout Sheikh were among those places that were attached by the enemy many times. People brought the injured to the hospital; injured who needed to be attended. I wanted to be in a place where I could provide services.
During the day, we went to OPD hospital to help. The distance between the hospital and the base was very long. We had to commute by car but not many cars took us there directly therefore we had to change a few cars. Most of the time, we walked most of the day. As we had taken the aid workers to our base in Zolfaghari, actually none of us had returned to Karevansara hotel and only those working in the kitchen were there.
Some of the army members had rented houses in Arya alley area and lived with their families. One day Saleheh and I went there. The houses in that area were very big and belonged to the rich families of the area. The house that members were residing in had white marble facing and was very luxury. It had a very big hall with five, six rooms. There was a big bed of flowers in its yard with lots of flowers. In order for all to be in one place and to secure their presence there, they were besides each other.
Hoursi sisters, Fatemeh Bandari and Saham Taghati were also there. A few houses away, spouses of members and some of fighters from Khorramshahr were staying. At the doorstep of that house, I saw Masoud Paki. We greeted and I asked Masoud: "Where are you stationed? In Zolfaghari or somewhere else?" He said: "No. after you left from Zolfaghari, all members from Khorramshahr exited there and stationed in Kout Sheikh Front.
I bid him farewell and went to the girls. We were very happy to see each other. Batoul Kazerouni was a petite and happy girl. I knew him from Jihad. Her spouse was Saleh Mousavi and was a member of army and was very vivid and had sense of humor. Wife and husband became each other. After the fall of Khorramshahr, this was the first time that we gathered around and had a lot to talk about. Especially those members, whose spouses were in front, had lots of event to narrate.
One day I went to Taleghani hospital. I wanted to see if there is anything I can do or not. Hospital was crowded and lots of people commuted. The referrals were much higher than OPD hospital therefore there was a lot to do. Therefore, I decided to go to Taleghani hospital instead of OPD hospital.
The next day, me, Saleheh, Batoul Kazerouni and Fatemeh Bandari who had come with army members from Ebika, went to Taleghani hospital in the morning and returned to Arya alley at night. We walked all the way. We had got used to long hours of walking by then.
It was the last days of last month of autumn and the number of medical personnel in Taleghani hospital had decreased significantly. We did everything we could. We transferred injured from emergency to ward or took them to radiology department and dialed their home numbers.
During the first days, the nurses did not allow us to inject the injured. We had become experts in front line and injection was a simple thing for us. Some of the injured soldiers were not satisfied since the nurses did not wear covered and when they wanted to inject or check their blood pressure, their hands touched the arms of the soldiers and they did not like that. Sometimes they even argued on this issue. Contrary to the nurses, we were very careful not to touch the hands of the fighters – both in the front line and in hospital.
At the hospital, I came to know Masoumeh Ramhormozi and Maryam Farhanian. Maryam Farhanian was from Abadan and had a few sisters. She and her sister, Fatemeh, had come to Taleghani hospital. Maryam was calmer than Fatemeh. She was very active. She and Masoumeh Ramhormozi and I were lot alike both by age and behavior; both were vivid and active. This made them closed together. On the contrary, Maryam was calm. She did not stay in the hospital for long. After a while when the families of the martyrs had come to visit the graves of their beloved ones, Maryam resided with them. She said that she wanted to serve the families of the martyrs.
Two three days had passed since I had come to Taleghani hospital that Shahnaz and Fouziyeh came for help. They said that on the same day that I had returned to Abadan for Ghasem's burial ceremony, Ali and one of his friends called Ghasem Madani had gone to Sarbandar. Shahnaz said: "Ali was on leave. Jahan Ara had given him two weeks off. Ali had told them that on the other side of the front line and on the opposite of Kout Sheikh front meaning Seyf market and Melli bank area, an Iraqi RPG operator who was professional shot one RPG every few minutes towards those who were stationed behind Coca Cola factory and caused losses. They had tried for a few days to hunt this operator since he was causing loss of human lives each day. Finally one day I told my Commander to permit me to go and kill that RPG operator and he agreed.
Ali said that he had to reach a semi-destructed wall opposite the Iraqis to be able to shoot the RPG operator. My comrades took fire line for me. I got behind the wall very hardly. I waited there for 24 hours until I found out from where he comes, where he stations and shoots. During that 24 hours I was watching his manners so closely that I blinked as less as possible and my eyes had dried. I waited and controlled his commute until one day, right at the moment he wanted to shoot the RPG, I shot him right in forehead and killed him.
For this success, Ali had been granted two weeks leave to visit his family. Ali goes to Ghasem Madani's place and then brings him to Sarbandar to visit my father, mother and siblings. Ali told Ghasem on the same day that we have to return after one day. Ghasem objected that we have fifteen days leave. Let us stay for a while and then return to front line. Ali had said that other soldiers are under the fire and bullets of the enemy and you want to rest for 15 days! It is enough and we have to return. Ali and Ghasem Madani stayed for one night and went to Mahshahr airbase to return to Abadan."
As soon as Shahnaz and Fouziyeh said that Ali and Ghasem Madani had set out for Abadan the day before yesterday, my heart dropped. I don't know why I remembered the new I had heard from the radio yesterday. Yesterday when Saleheh and I were going from Arya alley to OPD hospital, I turned on my two band radio to check for any news update. Four five minutes later, radio announced that yesterday a minibus belonging to Iran which was carrying passengers towards Abadan, had been captured by Iraqi forces in Shadegan – Abadan road. As the radio reporter said some of the employees of the oil company and fire department had also been in it.
I told Shahnaz and Fouziyeh: "Are you sure that Ali has reached Abadan?" They said: "He must have arrived by now."
I did not say anything about the news I had heard but I was very worried; I told Shahnaz to accompany me to the base of army members and make sure that Ali is there. Fouziyeh stayed in the hospital. I went to Persian hotel with Shahnaz.
At the entrance of hotel, we saw Yassin Madani. He was from army and had no relation to Ghasem Madani. We greeted and asked about Ali. Yassin started laughing: "Don't you know where Ali is?" I said: "No. we don't know. Where is he? He has set out from Sarbandar to reach Abadan."
Yassin said: "Ali has gone to marry!" I said: "Don't joke! It is not a proper time to joke? If you have any news, tell me."
He laughed again and said: "I am not joking! He told us that he wants to go to Isfahan and marry, right before he left for leave!"
Shahnaz got angry and said: "Why do you repeat that he has gone to marry! How come none of his family members does not know about this?" I said: "Shahnaz, drop it. He has joked and the others have believed him. We must find news about him."
Shahnaz and I went towards Zolfaghari. We wanted to find Ali to feel comfortable. In Zolfaghari we went to Colonel Kehtari. He greeted us warmly. Then he asked me where I was and what I was doing. I told him that I am not in front line anymore and am mostly in Taleghani hospital and go to OPD hospital some days. We gave him the specifications of Ali and told him what had happened. He said that he has not seen anybody resembling Ali in the front line in the past two three days.
We were worried. We said goodbye and went to army members who were in frontline. None of them had seen Ali. We asked those in Kout Sheikh Front about Ali. Nobody had any update.
We returned to the hospital. Fouziyeh was in the hospital. I told Fouziyeh: "Fouzi, Ali can be found nowhere. Nobody has seen him since two three days ago!"
As soon as I said this, Fouziyeh said all of a sudden: "Sabbah, Ali has been held captive! I am sure about it."
Shahnaz and I got upset by her words and said: "What are you talking about?! God forbid. He has fifteen days of leave. Maybe he hasn't headed to Abadan at all. Hopefully today and tomorrow we will hear about him."
Fouziyeh insisted on her saying and repeated her words. She had no evidence for her words and she only said that she is sure that Ali has been taken captive. Anything could happen in a war. Being captive was one of those probabilities but Shahnaz and I did not want to accept this even for one percent. He had been in different frontlines all this time and thanks God he had only got a small injury and nothing special had happened to him. How come he had been captured easily?!" Iraqis did not keep their prisoners. They either killed them right away or tortured them to death. Ali and Ghasem were guards and if they were captured by the enemy, the worst tortures awaited them.
To be continued …
Number of Visits: 232