324th Night of Memory -1
Martyr Chamran Jeremiad for Seyyed-e Azadegan
Adjusted by Iranian Oral History Website
Translated by Ruhollah Golmoradi
2021-06-22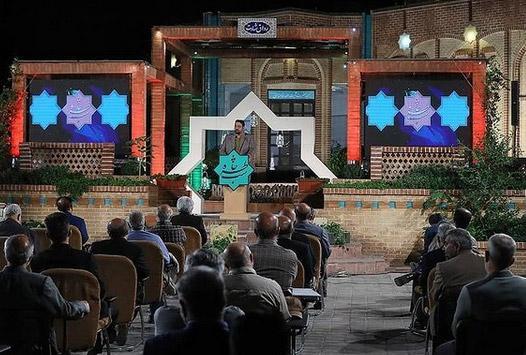 The 324th Night of Memory session was held in person in the open area of Hozeh Honari on Thursday, May 27, 2021. In this program, Engineer Mehdi Chamran, Hojjatoleslam Mohammad Hassan Abu Torabifard and Mr. Saeed Owhadi expressed their memories. This night of memory in which the book "Salam Aqa Seyyed (Hello Sir Sayyid)" was also unveiled was organized by Davood Salehi.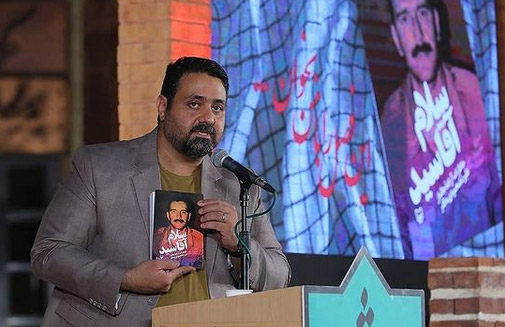 At the beginning of the session, Colonel Azadeh (liberated) Ahmad Heidari recited verses of Sura Al-Qadr by retelling a memory of his captivity and after playing anthem of Islamic Republic of Iran, the presenter, Davood Salehi, on the occasion of the 21st anniversary of the ascension of devotee mystic, the late Sayyid Ali Akbar Abu Torabi, said: "When there was no news of health of the late Abu Torabi on January 16, 1981, martyrdom of the grandee was proclaimed officially. Immediately, Martyr Chamran, a friend, companion, and old fellow of the late Abu Torabi, writes a romantic and mystical deep quote in describing him that we intend to start this program with these words of Martyr Chamran, because we believe that in order to know character of a great person like the late Abu Torabi, we must search for mystical words of Shahid Chamran. After that, a clip about how the late Abu Torabi was captured and tortured in The Ba'athist camps of Iraq will be broadcast.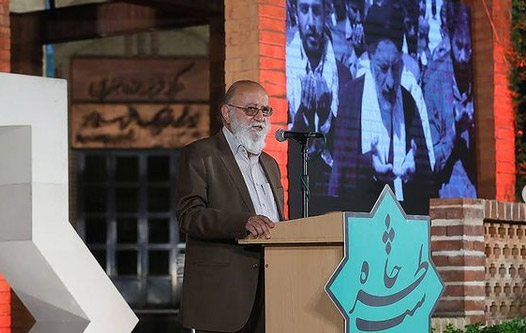 The first narrator of this night of memory is friend, fellow and companion of the late Abu Torabi, engineer Mehdi Chamran. At the beginning of his remarks, he said: "In the early days of Holy Defense, Shahid Chamran and the Supreme Leader both met Imam on September 27, 1980, without setting up a prior appointment, and they made some points about the war for Imam, and both asked Imam to let them to go to the front because they were representative Imam in the Supreme Council of Defense and in addition to representative of people of Tehran in the Islamic Consultative Assembly. Hadhrat Imam became pleased and prayed for them and mentioned some points too. The next day, they both went to Ahvaz with about 70 others on a C-130.
The narrator continued: "After that, headquarters of irregular warfare was formed, and the first place we fought was area of "Dobb-e Hardan".[1] At the time, the enemy had passed also "Jafir"[2], and village of "Sakineh" was the first place where the enemy was stationed. There were still no embankment and trench at the time, and enemy tanks were easily visible with the naked eye. One of the people who scintillated there well and carried out successive attacks was the late Abu Torabi, whose martyr Dr. Chamran, in his jeremiad for him recalled this point. Many operations were carried out in that area, and in the early days of the war, the news was heard by the people. After many efforts and step by step in pushing back the enemy, we succeeded forced the enemy to go from 6 kilometers away south of Ahvaz to 26 kilometers, finally the enemy escaped two or three nights before liberation of Khorramshahr and retreated further.
Chamran continued: "After that, in northwest of Ahvaz and heights of "Allahu Akbar"[3], We opened a new front. These heights were at the hand of the enemy and because of its dominance, it would see any of our activities in Susangerd. Allahu Akbar was the key to conquest of the region, which was the sentence that Dr. Chamran said before Imam on the first anniversary of conquest of this region that is May 21, 1981. By doing so, we could have conquered Bostan and in this way cut off the connection between the north and south of Saddam's army on our soil. In order to conquer these heights, it was necessary to have a complete detection of the area, and one of those who was bravely prepared to detection and went to this scene was the late Abu Torabi, I think he came to Dr. Chamran with two or three of his fellow fighters at night, and after further talks and justification, they headed to the area through dirt and impassable roads. The next day came the news that none of these people returned, and everyone thought they had all been martyred.
The narrator continued: "Before being a fighter, the late Abu Torabi was a loving and very intimate cleric with his companions and those around him, and therefore everyone, including Dr. Chamran, became very sad by this incident. Many people did not know that the late Abu Torabi was a cleric, and he did not insist on introducing himself, but he was very sincere in his movements. A team of about 15 capable warriors was formed to go to the region and search for a trace of these magnanimous people who unfortunately failed to do so. One of the people who near there stated that they had heard gunshots and that they had been arrested, but because the area was a war zone and the weather was dark and distance was too long, they finally concluded that the group had reached the position of martyrdom. It was then that Shahid Chamran wrote the jeremiad for his companion and fellow and sent it to his family. This great, loving figure was a serious and real fighter, and after his return to Iran, I repeatedly invited him to speak on the anniversary of martyrdom of Shahid Chamran on June 21, one of which was at the Technical College of Tehran University. It was clear what sufferings and tortures he suffered during his captivity, and he endured all that their traces were still visible to his body, soul, and even his expression.
Then, Engineer Chamran took advantage of remarks and jeremiad of Dr. Chamran, which was compiled in a book titled "Epic, Love and Mysticism", and said: "This book contains manuscripts written by Dr. Chamran in Khuzestan, that is, from the day he arrived there until an hour before his martyrdom. Since this jeremiad was also written in Khuzestan, it is listed in this book.
At the end of his remarks, the narrator recited lines of these manuscripts to the audience:
I testify that Sayyid Ali Akbar Abu Torabi fought heartily in the way of God and promotion of Islam and victory of the revolution and defeat of the paganism front until the last of his life until he went in the arms of martyrdom.
I testify that he accepted the hardest missions lovingly, and the more dangerous his task became, the happier and more satisfied he seemed.
I testify he was the highest example of purity, piety, love, courage and dedication, and his high spirit and mount-like faith and steely will were so glared from his existence that he lit up the whole environment and the warriors under his command had been attracted and melted into his existence and rounded candle of his existence like butterflies and burned.
I testify that he was the first to enter the famous Dobb-e Hardan with his guerrilla group and hit the enemy hard, which eventually forced him to retreat.
I witness his secret pray with God and his morning prayers, and asking forgiveness and fiery words before leaving for battle, were so sentimental and deep and sincere that he would revolutionize us all and create a volcano in the spirit of his friends.
I testify, his comrades testify, the high sky and her stars testify that Sayyid Ali Akbar Abu Torabi fought against Taghut, disbelief and ignorance in the ahvaz region with all his heart, day and night in the way of God, and on a very dangerous mission without a bit fear penetrated heart of the enemy and left an unspeakable epic of himself and achieved his lord's visit with a bloody shroud at the height of honor and martyrdom.
God, you, who will soon take the good ones to yourself and deprive us of the blessings of their existence, you know how a man he was and how he treated his fellow warriors, and how much the warriors under his command loved him, and after his martyrdom, they wanted to attack the enemy's front madly, to kill, to be killed, and to calm down as soon as possible next to their preceptor and commander, Abu Torabi.
---
[1] It is a forest and village located 15 kilometers southwest of Ahvaz, where the 5th Mechanized Iraqi Division after crossing the border and reaching Ahvaz-Khorramshahr Road on the seventh day of the war, occupied there with dozens of tanks and carriers temporarily, and caused significant damage by direct fires on Ahvaz.
[2] Jafir is a village in the Hoveizeh district of Dasht-e Azadegan in Khuzestan Province, Iran.
[3] Allahu Akbar is a mountain in the city of Dasht-e Azadegan, located in 10 km north of Susangerd and near Bostan.
Number of Visits: 1472