The narration of doctor about wartime
The treatment of the people who surrounded us
Interviewed and compiled by: Ahmadreza Amiri Samani
Translated by: Fazel Shirzad
2020-03-03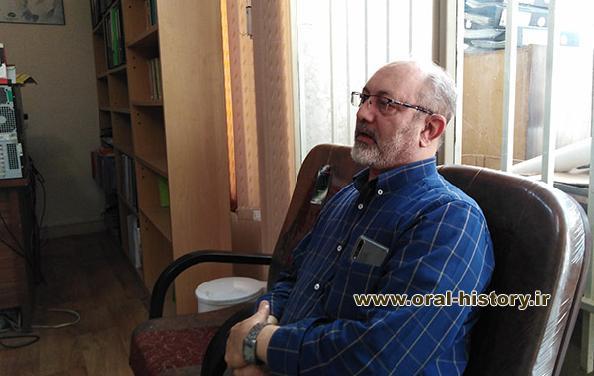 In the mid-summer of this year, we invited Dr. Hamed Daghaghzadeh to the Office of Culture and Sustainability Studies of Isfahan's Art Center. The doctor was very busy, but I insisted to do the interview. He is a doctor in Isfahan, and also a member of the Faculty of Medicine of Isfahan University of Medical Sciences for thirty years. It was hard to find vacancies in his job to listen his memories. The memories and dangers that started from Sardasht[1] in the west continued to the Majnoon Islands in the south. Working in the relief unit of war is an enough time to have many memoirs of operation. In a phone call, we had asked them to give us a short break time in the office or elsewhere, but the doctor only asked us for our working hours, until the next day we saw a man standing in front of the office listening with a hearing aid and introduced himself reverentially. The doctor's ears in the same battlefields were injured and weekend; because they were under fire and mortar shells to aid and treat the wounded. Dr. Daghaqzadeh, during our one and a half hour conversation, recounted good memories of the west and south fronts. The context of this page, of course, contains only a part of their memories of Sardasht.
■
Doctor! We will start questions about your birthday and birthplace.
I was born on April 10, 1338. I am from Toguchi, Isfahan, but I was born in Karbala. Children of parents died as soon as they were born. Someone gave advises them: "let make a vow that your new child will be born in Karbala to stay alive." The same thing happened. Since then, my parents born every child in Karbala, they survived. I'm the last two child. Later the last child became martyred and I became the last one. My father was a tailor and he owned a shop in one of the Isfahan streets named Mokhles. Before school, I would go to help my father. I had to work in the summers as well, because my father's financial situation was not very good. As I mentioned, his first child died. In fact, he was very old and we grew up in a tailor shop. Then in accident, a part of Mokhles was burnt down where my father's shop was also there. That part of street had been not made yet. Later, my father bought a shop. We also had to work to gain money.
Do you remember what year you worked apart from your father?
Little by little, after 1972, I no longer went to my father's shop to work, because my father believed that sewing was not a good job, and he wanted a goldsmith to teach me. For a few years, I was a student at my hometown near my father's shop. When I got older, I was a carpenter for a year, and then I became the student of a goldsmith again so that I gain money for my education. Even, later I was accepted to the same university in Esfahan, I was still working in the summer so that I could study in winter and live. Economically, I passed difficult years. The university also provided scholarships to help us, but we soon fell in events of revolution.
So, you also experienced the Cultural Revolution. Didn't you?
Yes, we were in the clinical phase that the Cultural Revolution was taken place, and I was dispatched on 1981-May-27 and went to West Front; I also spent a month in the Shahid Ghazi Hospital in Sanandaj. Then they told us to go to Saqqez. We went to Saqqez with the helicopter. I was stationed at the Saqqez's Revolutionary Guards clinic for a while and they said: "Are you going to go Sardasht?" I said no problem. But Sardasht[2] was also besieged by the Komola[3] and the Democrats[4], and we couldn't go through road; we again went to Sardasht with a helicopter, along with a friend named Mr. Fathiiyan (General Nasrallah Fathiiyan), who was in charge of the clinic.
What was your responsibility in Sardasht?
There, I was in charge of both the clinic and a hospital. Of course it was the health service; the Sardasht' health service network. A 50-bed hospital was owned by the former Lion and Sun organization and the current Red Crescent. I stayed there for about a year and then returned to Isfahan and finished my studies and went back to the southern front. I only visited Isfahan once a year. During this time, I traveled only to Orumiyeh and Tabriz by helicopter to coordinate facilities for the injured. That is, we would travel through airway and helicopter back to Sardasht. We always had the problem of lack of facilities. Because, for example, the injured were only brought there here with sheets and blankets, but from here, they would be sent to Orumiyeh and Sanandaj with tubes, oxygen capsules, stretchers and other supplies. They would never return these equipment. We were in siege, too. It was supposed to send equipment by helicopter or in a way no one could understand. Once an agent of Prime Minister came and we talked to him and he promised to send us facilities through the earthly ways. They tried again and again; it taken placed. For example, oxygen capsule and other facilities were embedded in trucks, and we received them. But we were waiting for rest of all through the helicopter.
How was the situation and the severity of the siege?
It was a bad situation. I remember once a column of forces led by Major Shahram-Far came ahead about twenty kilometers to Sardasht. It was about 67 kilometers between Sardasht and Baneh, but it had a bad mountain road. They were besieged about twenty kilometers in advance and unfortunately many were martyred. Major Shahramfar himself sacrificed and became a martyr. I remember that Iranian forces were firing enemy from Sardasht with rockets. Of course, the distance was too long and we didn't have enough strength to overcome all the blockade and siege. It was an army barracks in Sardasht. His commander was an agricultural colonel who later became a martyr; may God have mercy on him. The garrison had one or two tanks and one or two rackets 120. The city of Sardasht mostly surrounded garrisons. Sardasht is built on the top of a mountain. It had one main street and two side streets at the time. It had a hospital with a Basij station and nine volunteer soldiers; some stations and administrative buildings-like the governor's building, which was just above the city. At night, Komala and the Democrat came and speak Kurdish near there: "Give up Khomeini's mercenaries!" They speak in Kurdish and we could hear their voices clearly. They would attack at night and escape on days.
How long have you been under siege?
When I attended there it under siege. It was still besieged when I returned a year later. In addition, there were counter-revolutionists and they powerful in and around the city. These were one day a year, the so-called Independence Day. (A National Day or Party Day). On the day of their party, they set up lanterns at night in all the surrounding mountains. At night, everywhere was clear. They wanted to show us: "You are under siege." Of course, Sardasht had been already fallen, but it didn't fall while we were there, and there was a conflict every night.
One year of resistance?
Yes. It was hard work. The groups were moved by helicopter. One of our problems was delivering fuel. Every three to four days, a helicopter 214 delivers fuel with air-protection of two helicopters. When I was there, eleven helicopters shot us; especially those carrying passengers and the injured. I remember that once we went to Orumiyeh with Brigadier General Abshenasan (may God have mercy on him). The route was very dangerous. We were taking some martyrs. I also had a mission to coordinate supplies. As we passed through the top of the mountain, I saw the counter-revolutionaries started to shoot us on the mountain by machine guns at us. Although the helicopter's height was high, they were two hundred and three hundred yards away from us because they were on the peak of the mountain. Our Cobra helicopters helped us not be injured; the pilots were very brave, because the Iraqis would beat us if they got high. So they lowered the height and shot them closely. Whenever there was a helicopter sound in Sardasht, it was a message happy. Even a few years later, when I heard the helicopter, I had such feeling. I remember the scene where they were bringing forces and facilities and carrying the martyrs through airways. There was heavy snow in the winters. Sometimes, for example, it would snow for 10 days and in two meters height, and the helicopter could no longer sit on the snow. We had a lot of hard work in those days. These helicopters were in danger. For example, they used to carry four barrels of fuel into the net. It was also dangerous to put these barrels on the ground. Although the town was very small and we didn't need much fuel, we had no other way than the airway. Sardasht's people used of wood as fuel. We were the only ones in need of fuel and it was very difficult situation. In the month of July of the same year, the commander of the Revolutionary Guards and his brother were martyred and it was a huge damage for the forces until Mr. Nasrinpour came and seized the command of Sardasht. Many were injured and martyred there. The first days I attended in, we didn't have a surgeon. We had an Indian surgeon and a team of Indian doctors who went there on the same day. No one would dare to come there. Surgeons were coming and leaving. The last surgeon was a man who was specialist in plastic surgery and came from Tehran. It was originally from Isfahan. "They told me that they wanted somebody for Sardasht; I accepted to come." Then I went to the Joint Staff of Tehran to send troops. It was very busy. I also said in a hurry to the man who was in charge: "I came to go Sardasht." One time he raised his head and said: "Here you come. Bring some tea for him!" It was there where I realized that Sardasht was no ordinary place.
Which cities were most dispatched to Sardasht?
The Basij and Corps forces, who attended there, were mostly from Isfahan. Elsewhere, like Saqqez, there were mostly from Mashhad. This doctor (plastic surgeon) whom I unfortunately forgot his name, came when there was an extreme fighting. The enemy even were throwing mortars in the room of hospital. Any way, we stayed a month there until we came back together. Because I wanted to finish my lesson. But remember, it worked really hard. We had two operating rooms there, and they were injured at night and midnights. There was no way to escape through the earthy roads. We had to finish their work there.
How many medical courses had you passed when you went to Sardasht last semester?
I was in the ninth semester; the first semester of the fourth year.
Before you take general medicine?
Yes. I did most of the auxiliary work there. I was doing the work of technicians and nursing. Like finding vein, injection, sutures, and triage (checking the injuries and checking them before surgery). At that time we had been learning these things from the first year of our gradual university in the hospital. Unlike now!
Then, for example, when I was in 4th semester, I was able to do a lot of works. There was a skillful surgeon in Sardasht named Dr. Haddout. Once he tried to operate a patient, he had no assistant. According to ourselves, I washed my hands and stood with my help. That is, we were so capable. During that same period, I also examined and treated simple outpatients.
Did the people of Sardasht were living normally in that war?
They have to do. There was no way. Some might disagree with us, but they didn't complain.
What was the intensity of the pressure and intimidation of the opposition on you?
Once, we were instructed in the hospital and at these bases to protect yourself. I went to one of those bases. I was given a Kalashnikov and 123 bullets and two grenades to protect myself. In that siege, no one could help us. Of course, because I was inside the base I didn't use a gun. Then it was ordered that you should shoot at night, wherever you were. We had 9 forces guarding the base (and the inside of hospital). As we checked the hospital in the morning, we saw all the windows had been shot. (Laughter) That night we heard that all our neighbors were shooting at us!
The women and children who lived there were not being shot? Were they not injured? Were they not killed?
Most of us were the target of enemy. They would not shoot at ordinary people. I remember people saying, "The cost of Kalashnikov is thirty-five thousand toman[5], and killing a guard costs thirty-five thousand toman too." There was a guard who was working a lot of cultural work, especially for teenagers. But unfortunately one of the same teenagers he knew had assassinated him! We were informed by wireless telephone that the guard had been assassinated and shot him. We sent an ambulance and went within 5 minutes and brought him. The hospital was also open. It had a yard with cement floors. When the ambulance arrived, I and an Araki guard - my deputy - ran to the yard to bring the injured guard. We were very surprised. The rest of the locals didn't come to the yard. Until the driver stopped I ran into the yard. I opened the ambulance door and pulled the stretcher out. While that friend wanted to get on the ambulance to push the injured out, we were suddenly targeted by machine gun. It was probably a plan. We figured out why the other guys didn't come forward! I took one side of the stretcher in my hand and I couldn't unhand it. These bars were in touch with ground and the cement was being broken and thrown toward me. I waited with half-closed eyes to see when the shooting would end. Luckily, the bullets of the enemy suddenly finished; at that moment, we were able to take the stretcher to the hospital. He was apparently shooting from a distance that could not get the right shot. For example, they took a brick from wall and make hole and fired, that was why they couldn't shoot me. The enemy was far away, and finished all his bullets, the bullets impacted around me and on the ground and didn't shoot me. It was very strange. It was designed to hit us when the injured arrived. This poor person was injured in head, and his helmet was also injured. Her blood type was B. Of course he became a martyr. We worked hard but we didn't have a brain surgeon. Of course, if there were, s/he probably couldn't do anything. That teenager, easily, because he knew our army friend, greeted him shot him at his forehead. It was common there! After sunset we could no longer go on the street. That means it was not possible. It was a hard conditions, but everyone was determined to keep going. We stood for our country.
The last question: As the city was surrounded by Komole and Democratic forces from the outside, and you were all at war Inside, How did people get their supplies? They wanted food and clothing. Was there any grocery?
Yes it was. There was fruitful and grocery. Even our Indian doctors used to come by public transportation. There were no restrictions. The Kurds would were easily moving through earthy ways, but we couldn't. That is, if they saw Persians they would capture taken. They had inspections on roads and gate. When cars wanted to pass, everyone should get out of the car, and those who was not Kurdish, captured and left them.
Doctor! Thank you for giving the opportunity to us.
---
[1] It is a city in and the capital of Sardasht County, West Azerbaijan Province, Iran. Sardasht is located southwest of Lake Urmia about 1480 meters above sea level. It lies in the West Azerbaijan province.
[3] The Komola Kurdistan's Organization of the Communist Party of Iran is an Iranian Kurdish communist party active throughout the Iran–Iraq border. The party is led by Ibrahim Alizade.
[4] Iranian Democrat Party or Democrat Party of Iran was a short-lived political party in Iran, founded in 1946 and led by Ahmad Qavam. It was the most important party formed by the old Qajar nobility, and an association of aristocrats and anti-British radical intellectuals.
Number of Visits: 1704