Listening to Iraqi Radio for 5 Years
Soheil Hajipour
Translated by: Asghar Abutorabi
2015-09-06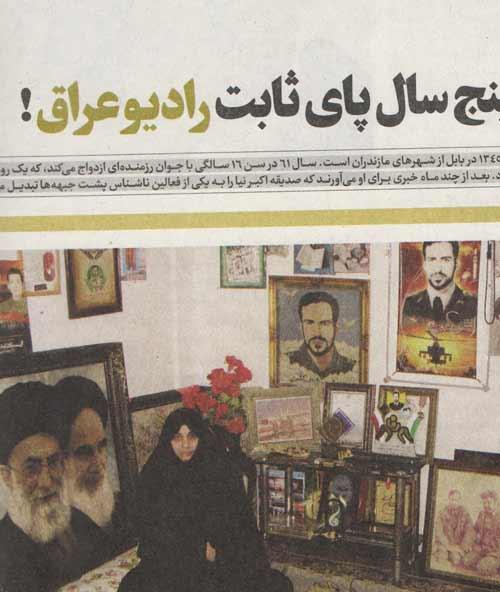 Sedigheh Akbarnia was born in Babol, a city in Mazandaran province, in 1966. He married a young militant in 1982 when she was only 16. Her husband left for war fronts in the same day of marriage. Some months later, she heard something from him that transformed her as one of the unknown activists of the home front.
Q: Tell us about your marriage.
No invitation card was distributed. Only a leaflet was printed and attached to the boards of garrison that reads, for example, "Mr. X's wedding is on…." All his friends came to wedding ceremony by bus. They read Tavasol prayer and went to Friday Prayer. They returned for lunch by the same bus. That was our wedding ceremony. My husband went to war the same night and didn't return. He had been captured 6 or 7 days after dispatch. We didn't know anything and even expected to hear his martyrdom or injury news. That was usual in those days.
Q: What did you do after his captivity?
Hossein was captured in March, 1984. I entered to women branch of Basij [a voluntary force] in April after Imam Khomeini's order. I was a military tutor and also responsible for the security of the Friday Prayers which was held under tents then.
Q: What were the military trainings you thought?
We were three persons who passed the general military trainings. Then we went to different bases to teach their forces. We thought them how to use Colt, G3, AK-47, how to creep and get up, etc. It included just the necessary trainings.
We went to different districts and villages to gather money and supplies for the fronts and to organize local Basij bases. And after organizing these bases a general training was performed.
Q: Were those who helped in preparing supplies for the fronts from a specified stratum?
You could see people from all sectors among them. There were some women who were neither mother of a martyr nor even so religious, apparently.
Once I went to one of the houses in which women were knitting different clothes for the combatants. They had not finished their work yet, while I was helping them to finish the clothes, an interview was broadcasted from radio in which a combatant was asked to open a package sent to the fronts. He read exactly the address and the name of the same place we were in, we couldn't believe that. This empowered all those present there, even though some of them had not slept for 48 hours.
Q: What was the duty of Ansar-al-Mojahedin?
We were three women who were enlisted in this group and had a special ID card. This group was a branch of Iranian Revolutionary Guard Corps (IRGC). We visited combatant's families and provided what they needed. In some cases we took their children or themselves to hospital, took them kerosene for the cold days of winter and….
Q: How did you tell the families about their sons/husbands' martyrdom or injury?
It was not easy. We asked for God's help and sought their help in this regard. Usually Mrs. Poolaie and Mrs. Emami were with me. Each one of us preferred the other one to say the news. Even when we went to visit combatants' families for ordinary things, they thought we have something to say about their sons/husbands.
Q: Were this not one of the duties of IRGC?
It should be so. We were voluntary forces of IRGC so we helped the families in different situations like illness of one of their members or meeting their needs, because martyrs' families had no one else. One of our works was to inform families about the time their sons/husbands would call, because there were not telephones in every home then. They should come to IRGC bases to speak with their sons/husbands in a preset time.
Teaching Quran and religious orders was one of my other activities in those days.
Q: Tell us about guarding Friday Prayers.
There was a need for some security measures taken in Friday Prayers to prevent activities of the anti-revolutionary gangs considering what had happened before in women part. We inspected those who attended the prayer for bombs and weapons.
Q: What about the three months you spent in war fronts?
I requested many times to attend there but women were not allowed for that. Once, our Basij base was chosen as the best among many others. So, two women, including me, from each province were selected to be sent to the fronts to help in different work of the combatants and the families remained in nearby cities. I spent three months in Shahid Beheshti garrison. We supplied combatants with different provisions, helped people after bombardments, etc.
Q: Was your husband, Mr. Monsef, in captivity then?
Yes, he was.
Q: How were you informed from him?
I was unaware of my husband for two and half years before that. I went to Red Cross Office many times. But they told me, he is not allowed to write letter. Usually he sent an empty letter with a signature every 6 months. After this period, he once wrote me that I could ask for divorce if I wished, to which I answered how he thought about me?
I was ashamed to tell the wives of martyrs that my husband was in captivity. Even when he was freed I was ashamed to tell them.
Q: How did you find out that he is in Iraq prisons?
We didn't know that. It was told he may have been injured or disabled or even lost his memory. We searched for him in hospitals in different cities in this period. Once I heard that Iraqi radio interviewed with Iranian captives. I asked my father to buy me a receiver. One night Iraqi Radio was on and at the same time I was listening to the Tawassol prayer which was read in our wedding ceremony. All at once I heard my husband speaking in radio. I was in such a hurry that I recorded his voice on the same prayer cassette.
Afterward I decided to record the interviews of the captives and inform their families to make them happy. I called many different cities, Tehran, Isfahan, Shiraz, Bandar Abbas …
Q: How did you know about their numbers? What was their reaction?
The captives themselves told the numbers. There were families that were unaware of their sons for years. They even didn't know they were captivated. Some of the families didn't believe my words, so I played the recorded voice of their sons/husbands to make them confident. They were delighted very much. I used one cassette even 20 times for this end.
Q: How long did you perform this job?
Four or Five years.
Q: Did any other organization do the same work, Red Cross for example?
No, they were astonished about my work themselves. I did not sleep until 1 or 2 AM every night. Sometimes the interviews were not broadcasted. I was up to 3 AM usually.
Q: How long did you listen to Iraqi Radio before hearing your husband's voice?
It took about one month before that.
Q: What was the hardest part of your work?
Informing the families about the martyrdom of their son/husbands. Sometimes martyr's mothers hugged us before we could say anything and told us you are here to tell me about my son's martyrdom. They told, "I will be patient for God's sake. He himself will increase my patience". They didn't even cry. Telling the families about their sons being missed was even much harder.
Number of Visits: 3487