The Memoirs of Mohammad Reza Hafeznia (17)
Hamid Ghazvini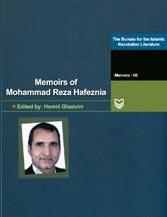 Memoirs of Hafeznia (17)
I came next to the road. I saw a closet of a well near there. I decided to enter it and wait until morning. I might have been arrested due to the martial law. At the same time, the closet was warm. When I reached the closet, I found out that it was locked. I had no choice but to sit by the wall of the closet. I was very tired and it was cold. I had been moving since 10 PM and now it was near dawn. So I inevitably tried to keep myself warm by doing exercises.
Arrival in Mashhad
While I was waiting for the weather to become clear, every few minutes, I was hearing the sound of some vehicles which made me worried. The weather was clearing little by little. I prayed and prepared to move. When the sun rose, I came by the road and raised my hand for the cars passing by there. A Paykan whose only passenger was its driver was approaching and stopped by my request. The driver asked, "Where are you going?" I said, "I want to go to the holy shrine of Imam Reza (PBUH)." He said, "I won't go there but if you like, I can reach you until Ferdowsi Square." I accepted and got in.
I didn't know where Ferdowsi Square was located exactly. After a few minutes, the driver put me down in the square. I could find a vehicle there. First, I went to the holy shrine of Imam Reza (PBUH) to take a pilgrimage. Then, I decided to go to the house of Mr. Alireza Chaychi.
When I reached there, I saw that they were having breakfast. After greeting, I told my story and asked them to hide me as soon as possible.
I knew that it would be announced the same morning that somebody had escaped and the guards would start looking after me. If it kept secret today, it would be revealed one or two days later. I was important for them. They would certainly come to find me, and the first place was the house of Mr. Chaychi. He said serenely, "Now have breakfast. No problem, we think of it later." I started having breakfast, but he left there to review ways for escaping.
He took a look at the backyard, saw the roof and found a ladder. On the whole, he was looking for ways to help me escape if something happened. So he was looking for a way for my escape. After a few minutes, he came and had breakfast.
I told Mr. Chaych, "I have to leave your house anyhow, since it is not safe. If they don't understand today, they will understand that I have escaped tomorrow."
He asked, "what should we do?' I said, "To me, I'd better go to the house of one of other relatives."
We thought I went to the house of my cousin "Mrs. Assieh" in Mohammad Abad area located in the suburbs of Mashhad.
Nobody knew that one of my relatives was living there. So, we got in the car and moved. As soon as my cousin and her husband saw me, they got happy and welcomed me warmly. Although they knew that I had escaped from the prison, they gave me shelter and I stayed there. Mr. Chaychi came to visit me every now and then. After a while, I told Mr. Chaychi, "I feel that it is not safe here anymore. So, notify friends and revolutionary forces that the continuation of this situation is not proper." After a few moments, he said, "I'll go the house of Ayatollah Mar'ashi and tell them that you are here."
He left there and came back after a while and said, "Come on, I could manage to do something for you." He took me to the house of ayatollah Mar'ashi immediately. Most of the people who attended there and were young welcomed me warmly. Of course I was worried that there might have been a few spies among them. But Mr. Chaychi assured me that everybody was insider here and not to be worried. He stressed that the regime's agents did not dare to come here.
After a few moments, I and Mr. Chaychi were guided to a room. As we entered the room, we sat by the side of Ayatollah Mar'ashi. After some two hours, one of the young men came and said, "I am Mohammad Beikzadeh, come with me Mr. Hafeznia!" He was an active man. I asked him, "Where?" He said, "Let's go for the present."
I again asked, "Where should we go?" He said, "Let's go to my house." And then he took me to his house secretly.
M. Beikzadeh was living with his mother in a rented house in Mashhad's Khawjeh Rabi Street. Their house owner was from Azerbaijan and looked a good man.
Finally, I hid in their house. His mother was also an informed and combatant woman. At the same time, they gave me a gun in order to defend myself if something wrong happened. Later I found out that the house had already been searched for one time by the police and security forces and no suspicious object had been found. It was interesting that two big guns had existed in the house that the daughter of the house owner had hidden under her chador and stood in the yard. The police had inspected the house and found nothing.
Translated by: Mohammad Baqer Khoshnevisan
Number of Visits: 3711