"The Gift of Memory"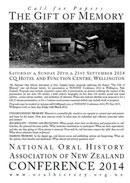 National Oral History Association of New Zealand Conference, 20-21 Sept. 2014

Tēnā koutou,
The National Oral History Association of New Zealand (NOHANZ) is seeking abstracts for papers for presentation at our oral history conference in Wellington, New Zealand, Sept. 20-21, 2014. It is a biennial event that provides interesting and thought-provoking conversations, and the company is warm and enthusiastic. We would love to see a large international delegation this year too!
The conference themes are as follows:
• UNDERSTANDING MEMORY: Memory is a powerful gift, crucial to our capacity to connect past and present and learn for the future. How does memory work? In what ways do individual and collective memories relate and interact?
• RECIPROCITY – GIVING AND RECEIVING: When people share their recollections and perspectives in oral histories, the personal becomes public. What motivates interviewees to participate? What are their expectations and who are they giving to? How private is memory? How well do oral historians respect the 'gifts' they record? What about unknown future audiences?
• SHARING MEMORY: In the digital age, oral history access and publishing options are burgeoning. What are the options, their benefits and drawbacks? What ethical and privacy questions arise?
Please see Call for Papers at: http://www.oralhistory.org.nz/documents/conf14.pdf.
Nāku,
nā Michael Dudding
for NOHANZ Conference 2014 Committee
National Oral History Association of NZ
Te Kete Kōrero-a-Waha O Te Motu
Wellington, NEW ZEALAND
Number of Visits: 3756