The 60th Anniversary of 1953 Coup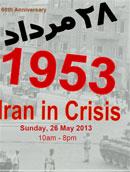 Iranian Oral History Website reports the conference on the 60th anniversary of 1953 coup would be held on 26th may 2013, 11 AM to 8PM in The Cruciform Lecture Theatre, UCL, London, WC1E 6BT.
The conference consists of three separate sessions.
● The keynote speaker:
Ervand Abrahamian
● The theoreticians panel:
Babak Amir-khosravi, S. Mahmoud Kashani, Darioush
Bayandor
● The researchers panel:
Majid Tafreshi, Siyavash Ranjbar, Hamid Ahmadi and Ahmad
Seif
Admission £10, students £5.
● Bank name: NatWest
● Account holder: Forum Iran
● Sort code: 60-50-06
● Account no.: 80525350
Please email forum.iran.london@gmail.com
and include your name and payment reference.
â–  The event is bilingual. A limited number of headset is available there.
If you need one please let us know.
â–  Snack is provided for lunch. Tea and coffee will be served between sessions.
â–  Any suggestion or comment is welcomed.
â–  Students of Post World War II studies may find interest in this event.

Here is the schedule of the conference:
*11:00 *
Opening Time, Tea & Coffee, Book Sale, Slide Show.
*11:30 - 14:00*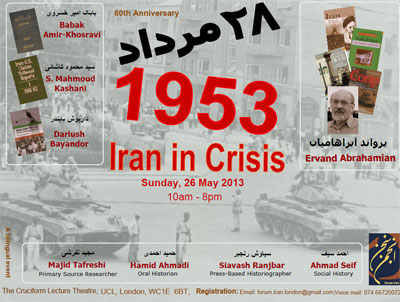 Panel One
*Majid Tafreshi:* 60 Years of Historiography: Transformation of Mind Sets. (PPP assisted)
*Hamid Ahmadi:* Newly Found Narrations on the Events between 7th and 18th of August 1953 (Video Clips)
*Siavash Ranjbar: *From 7th to 18th August 1953: In Depth Press Review (PPP assisted)
Q&A
*14:00 - 14:45*
Lunch break: Sandwich, Tea, Coffee
*14:45 - 17:00*
Panel Two
*Babak Amir-Khosravi:* From *'The Coup of 16th August'* To *'The Toppling of Dr Mosaddeq on 18th of August'*
*Dariush Bayandor: *Iran and the CIA: The Fall of Mosaddeq Revisited
*Mahmoud Kashani: *Events Between July and August 53, Plots Against Iranian National Movement
Q&A
*17:00 - 17:30*
Break: Tea, Coffee
*17:30 - 19:00*
Panel Three
*Professor Ervand Abrahamian:* The Coup 1953, The CIA, And The Roots Of Modern U.S.-Iran Relations.
Q&A
Book Signing, Photography
- Closing Time: 19:00
- Ticket desk in open on the event day as well.
- "The Coup", Abrahamian's latest work, will be sold at Book Desk
- Speeches are receivable live at Forum Iran's chat room, Paltalk Program.
Email: forum.iran.london@gmail.com
Voicemail: 074 66 72 60 72
*Forum Iran (London)*
Number of Visits: 4528