CSUB Workshops to help write Kern County Military Memoirs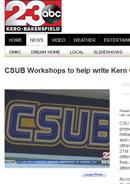 CSU Bakersfield and the Kern County Library will present a series of workshops designed to help military veterans tell their stories through written and oral history. These will take place every other Tuesday at 5:30pm from April 9th to May 21st at the Beale Memorial Library, with a different theme every week. The classes are free and open to the public, and attendees may attend to any or all workshops.
According to CSUB Associate English Professor Dr. Barbara Bartholomew, who will be facilitating the workshops, those who participate will have the opportunity to collectively share and listen to others share items from their past that were meaningful to them and have had an effect on who they have become. These gatherings will help them create a memoir of their experiences, and those who wish may contribute their story to a volume of Kern County Veteran writings that can be used for research and reading by members of the community.
"In other locales where workshops like this have been held, the participants have reported that the writing and the telling of their experience itself was often beneficial to them by lacing their self history in a new and worthwhile context," said Bartholomew. "These workshops will focus on the personal journey each man or woman made and its importance to them, their families, their nation, and to Kern County."
The dates and topics are as follows:
April 9 – A brief Autobiography: Through words and pictures, fiction and nonfiction accounts, we will look at other autobiographies and suggestions will be made for how to begin the process of telling one's story, whether in writing or as a personal oral history.
April 23 – The Backdrop of History: This week's workshop will explore and assist in forming your personal narrative for joining the military in two contexts: Political and personal.
May 7 – The People I Most Remember: Authors will have the opportunity to describe one or several individuals who they recall as having let a lasting impression in their lives, whether it be military or civilian.
May 21 – What I Gained from the Experience: This final week will consist of putting together thoughts and lessons. Those who choose, can contribute copies of their memoirs to a library archive dedicated to Kern County military veterans.
Those who wish to learn more about these workshops can send an email to bbartho@gmail.com or maria.rutledge@kerncountylibrary.org.
For more information on CSUB please visit www.csub.edu
Source:turnto
Number of Visits: 3988