Conference: Faculty of Asian and African Studies Saint Petersburg State University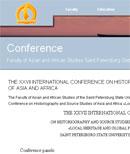 THE XXVII INTERNATIONAL CONFERENCE ON HISTORIOGRAPHY AND SOURCE STUDIES OF ASIA AND AFRICA
The Faculty of Asian and African Studies of the Saint Petersburg State University is organizing the XXVII International Conference on Historiography and Source Studies of Asia and Africa «Local Heritage and Global Perspective»
THE XXVII INTERNATIONAL CONFERENCE
ON HISTORIOGRAPHY AND SOURCE STUDIES OF ASIA AND AFRICA,
«LOCAL HERITAGE AND GLOBAL PERPEKTIVE»
SAINT PETERSBURG STATE UNIVERSITY, 24-26 APRIL, 2013
Conference panels:
Historiography of Arab Countries.
Historiography of Iran and Afghanistan.
Historiography of Turkey.
Historiography of the Caucasus.
Historiography of Central Asia.
Historiography of India and Southeast Asia.
Historiography of China.
Historiography of Japan and Korea.
Historiography of Mongolia, Tibet and Buddhism.
African Studies – "In memoriam of D.A.Olderogge".
Historiography of the Ancient Orient.
Languages of Asia and Africa.
Literatures of Asia and Africa.
Historiography of Islam in Russia.
"Where the East is heading?" Round table discussion: "Oriental Revolutions" and possible developments in the modern Orient.
Workshop of Young Scholars in Asian and African Studies.
Working languages of the Conference: Russian and English.
Time limit for papers: 15 minutes.
Deadline for the submission of abstracts: 31 January 2013. Abstracts should not exceed 300 words and should be e-mailed to the Organizing Committee as an attachment in MS Word 1997-2003 format. The book of Abstracts will be published prior to the Conference and distributed at the time of registration.
Conference fee: 80 Euro.
We regret to inform that the Organising Committee is unable to cover the costs of your tickets and accommodation; however, the Organizing Committee can help in arranging accommodation in St. Petersburg.
Those who wish to participate in the Conference should fill in an on-line application form, which can be found here: http://conference.ci.spbu.ru/?eng. Applicants will be informed on the outcome of their applications in a month from the date of their applications, but not later than two months before the conference.
You are kindly advised to check Faculty website (http://en.orient.spbu.ru/science/conference/conference_180.html) for further information including the Conference Programme.
Should you have any query please contact the Organizing Committee of the conference at conf2013@orient.spbu.ru, tel./fax: (+7812) 328-77-32.
source: en.orient.spbu.ru
Number of Visits: 3803