Fragments of What Happened, Vol.3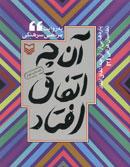 In older issues of Oral History Weekly, the first two volumes of the three-volume book Fragments of What Happened were introduced. Recounting Iraqi soldiers and servicemen`s memoirs chosen, compiled, and elaborated upon by Mortezā Sarhangi and with illustrations by Kūrosh Pārsānezhād, this book was first published last year, reprinted in medium octavo and with a new book cover this year, and published in 72 pages and 2500 copies by Mehr publications recently.
The third volume is the five hundred and ninety third book published by the Bureau for the Literature and Art of Resistance at Hozeh-ye Honari (Art Center).
The first memory in the third volume "The Captive of Ramādi" recounts Lieutenant Yahyā`s memories and is extracted from the book "The Mounds of Hājj Omrān". Lieutenant Yahyā was, for a year, a among the security officers guarding Ramadi`s Prisoner-of-war Camp, where Iranian prisoners of war were held captive. During his service, he takes a liking to the conduct of an Iranian prisoner named Majidi, and this then leads to a friendship between the two, a friendship so deep that Lieutenant Yahyā has to pay dearly for this friendship. A paragraph of his memoirs reads: "It was the first time that I was called to the office of a security officer. Even though I had tried my hardest, I was not so sure of myself. I was plagued by anxiety. I walked my way to the Major`s office and sat down before him. Refusing to beat around the bushes which would fuel my anxiety more, he frankly said, 'Lieutenant Yahyā! I am a fan of yours, but I have some bad news for you.' I felt my heart thumping. 'There have been some reports on your conduct in the camp that cannot do well to your reputation.' It came all obvious to me then what it was about, yet I was waiting anxiously to hear more. He picked up some papers stapled together which were lying on his desk and began to read: 'Lieutenant Yahyā says his prayers recently, fasts, or often meets with a prisoner named Majidi. He treats prisoners too kindly, occasionally using Persian words to show his liking for them. He refuses to punish or discipline prisoners. He has recently purchased a rosebay and repeats zikrs (worships). On top of these, he also secretly listens to Arabic programs of Iranian radio." Lieutenant Yahyā is transferred for his behavior into the 113th Infantry Brigade which is under the command of the 3rd Army in Kūshk ol-Basrā. He serves in this brigade for three years, but he cannot bear it there and escapes from the military. The Iraqi Intelligence Service then arrests his family, and he is forced to surrender himself and is sentenced to rank reduction and a one-year confinement. Once he is released from prison, he joins the 88th Brigade which is under the command of the 7th Army in Faw. He is then dispatched to Halabja to fight Iranian forces. But at a particularly ripe time, he jumps into the turbulent waters of a river which is the border between the Iranian and Iraqi sides. He then asked Iranian forces to be granted asylum. He then takes part in an operation in the region Shākh Shemirān and fights alongside Iranian forces, but a bombshell pierces through his right eye.
The second memory, entitled "Three Shots", is by Captain Fahmi ar-Rabibi. Sarhangi has extracted this memory from the book The Brigade of Cowards. This story recounts a memory from an operation code-named Operation Victory Is Ours undertaken by Iraqi forces on the 23rd of June, 1984, in the regions Panjwin and Seyyed Sādeq. These two mountainous regions are located in Sulaymāniyah Province, in Iraq. This invasion was masterminded by Lieutenant Colonel Hamid Haithami, who wished to compete with his colleague who had been promoted to Colonel. Fahmi ar-Rabibi`s superior, Lieutenant Colonel Hamid was killed by three shots by the Captain. The next memory, "Colonel`s Secretary", retells Lieutenant Colonel As`ad ad-Dajili`s memoirs which were published in a book called The Great Invasion. His memoirs read: "Hamid Sha`bān`s secretary was Miss (Lami) Zāher al-Khāsi with whom I was on very good terms. She liked me, especially when she saw that I had modern-car treats for her every day. (Lami) Zāher al-Khāsi gave me secret intelligence from the meetings held in the office of the Commander of the Iraqi Air Force. She told me, 'Hamid Sha`bān has received an order from Saddām to launch a chemical attack on Iranian cities should the Iranians do not agree to a ceasefire. When I asked whether he believed Iranians would not respond to this, he replied, 'It does not matter. The US and the West support us'… There is going to be a meeting supervised by the American side. This meeting is held to arrange arms trades. The US President Reagan has promised that Iranians will be victimized should they attempt to overthrow Hussein Saddām`s regime.'"
Extracted from the book Saddām`s Double, the fourth memory, entitled "Women of Mehrān", is by Mikhail Ramezān. Sarhangi describes Mikhail Ramezān: "The narrator is not a serviceman, but rather a plain teacher who had an uncanny resemblance to Saddām. His fate takes him to Saddām`s palace, where he impersonates Saddāam, deceiving the world for the next 19 years. He even once meets with Yāser Arafāt and the then-President of Egypt, Hosni Mobārak, who do not realize that this is not really Saddām, but only a political decoy.
The next memories are memoirs of Captain Thāmer Hamūd al-Khāsemi, entitled "Five People" and extracted from the book The Secrets of Turbulent Times; "The Infant", memoirs of Captain Ghānem Ahmad ar-Rabi`ee which are extracted from the book Blizzards; "The Bridge" by Conscript Ebrāhim, extracted from the book The Badge and the Leave of Absence; "Colourful Ropes" which is memoirs of Dr. Mojtabā al-Husseini and is extracted from the book The Third Brigade; "My Brother", which is extracted from the book Death Howls; and "The Devil`s Face", which entails memoirs of Lieutenant Colonel Salām Nūri ad-Deilami and is extracted from the book Our Crimes in Khorramshahr.
The memoirs recounted in this book have been chosen in a way that they present us with new ideas and themes for making documentaries and short films about the Sacred Defense. Directors and screenwriters will hopefully proceed to make excellent cinematic and artistic works by choosing and adopting these memoirs and written documents.
Asgar Abbāsnejād
Translated by: Katayoun Davallou
Number of Visits: 3450