Review of Jole
Memoirs of Colonel Ali Farmani
Fereidoun Heidari Molkmian
Translated by: Zahra Hosseinian
2022-03-15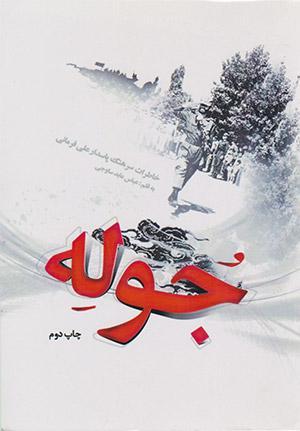 The design on the cover of Jole has a unique simplicity. The red color title on a black and white background in a combination of design and photo well attracts attention. In addition, the proper pagination of the book deserves praise. After the title page, a list of several chapters of the book (including 76 chapters) is inserted, followed by a short preface by the author. In the following, the memoirs of Colonel Ali Farmani are narrated in singular first person. The book ended with some black and white photos with acceptable quality, and the last page has been dedicated to the introduction of the author and his published works.
Ali Farmani was asked to narrate his memoirs of 2200 days in the operational areas, and he began his memoirs long before the holy defense, from his childhood years:
"In 1956, I was born in a poor farming family at Veinasar village located in Chahardoli, on the outskirts of Qorveh, Kurdistan ..."
His parents were from the Kolyai village in the Songhor district of Kermanshah. Because they conflicted with the village master, they moved from Kolyai at night and settled in Veinasar village. He was the last child in the family to be born in Veinasar; where the smells of straw on the rainy days made you happy. At nights the stars seemed so close as if you could reach out and pick them up. There was a spring in the middle of the village that had refreshing water. The village climate was mild and in the spring, everywhere became green, and the flowers could be smelled from all sides. Most of his childhood memories were recorded there.
He completed the sixth grade in their village school and was one of the best students. Although he had completed his primary education with a GPA of 18.50 (out of 20.00), his father's death made their lives more difficult in those years. He recognized that he could not do anything in the village; they had no land to farm, and no livestock to herd. He had to work as an errand boy or experience laboring from an early age. He said to himself that he should travel to a place, where there are more job opportunities for a person like him. But he was not still far from Hamedan. Finally, one day, he left and went to Karaj, where he worked as a construction worker for a while. After that, he went to Tehran. He shortly joined a street showman and worked with him. After that he worked as a worker sometimes here and there... then he became unemployed. Also, he sometimes went to the village to visit his mother and to stay for a day or two. Then he returned to Tehran.
In 1974, he received the related booklet of serving in the military and was sent the following year. He completed the three-month basic military training course at the 3rd fighter aircraft base in Hamedan. When the privates were divided to be sent for continuing their military service, his fellow was sent to other air force bases, but he remained the very base with the help of his cousin, who served as a 1st sergeant there. His military service ended with the ups and downs he had gone through. On November 06, 1977, he returned to his village while receiving his military service completion card.
But during his military service, there was a change in his perspective. Without realizing it, talking to disgruntled military forces changed his mind. He had a background of difficult living conditions from his childhood and adolescence, so he joined the revolutionaries and those who were dissatisfied with the country status.
On the other hand, after years of living and working in Karaj and later in Tehran, he couldn't stay in the village. He had gone through the years of adolescence and youth, relying on his effort and will, albeit with hard work. Now that he had completed his military service and became more experienced, the village seemed very small and depressing for him.
Although her mother missed him so much, he had made up his mind. After a while, he finally packed up and headed toward Tehran. It was almost at the same time as the days when the "Death to the Shah" was heard here and there. Of course, the public protests soon took another form and led to demos. Crowds marched from several corners of the city, gathering in the center of the city and forming a roaring flood. People fought empty-handed against the armed forces. He joined the protesters and took part in the demos, but when Tehran came under martial law, and the offices and companies were on strike, he lost his daily-wage work. He decided to return to the village to visit his mother but was surprised to learn that the villagers still lived the same way of thinking. A small number of about ten out of three hundred families changed their minds and talked in private meetings about the revolution, the change of government, and the fall of the Shah. Having just returned from Tehran with a passion for revolution and struggle, he thought the people needed a leader to guide them. In Tehran, the photo of Shah was trampled on and passed over, and not only did no one protest, but they were also happy. So, he took a picture frame of the Shah to the main square of the village, put it on the ground, and walked on it in front of the crowd. The glass and the frame shattered loudly. He lit a match under the photo to burn it. People looked puzzled at him as if they were frozen. They could not believe what had happened. For a moment, the shock was gone and people began to beat him. Under the punches and kicks, he could not show any reaction. The only thing he could do was to put both hands in front of his face so that he would not be hurt. He never thought that the villagers would be so prejudiced against the Shah. Therefore, he could not stay in the village. He reached Hamedan, got on a bus, and headed for Tehran.
But when the revolution won, he returned to his village again at the end of that year. Now everything was changed. He wished to work in revolutionary institutions. Shortly after, when the IRGC of the Qorveh was founded, about twenty-five people had registered, and he was one of them. They worked on a 24-hour basis, but there was no salary and allowance. There was no training course. They had to go home for eating food and then back to work. A month and a half passed. They were fatigued by unemployment and inactivity. He heard that some contract soldiers were being recruited in the Hamedan garrison, with a monthly salary of 2,500 Tomans, along with food. It was in an ideal condition for him. Although he had completed his military service, he became a contract soldier!
In the same days, there were clashes between counter-revolutionary armed men and military forces in Kurdistan. He was one of the first warriors, who were sent to Kurdistan with the 224th Tank Battalion of Hamedan, and witnessed many incidents until Sanandaj and its affiliated cities were cleared of invaders. Even some of his friends were martyred.
The mission of Kurdistan was not over yet. It was the beginning of fall 1980 when Iraq attacked Iran with all its forces from the ground and air. The tank battalion moved towards the Hamedan garrison, and then the entire Hamedan 3rd Armored Brigade headed for the garrison of the 16th Armored Division of Qazvin. They stayed at the headquarters of the 16th Qazvin Division for a few days. Then, they loaded their ammunition on a train and left for the southern front. The south was hot. They reached Andimeshk and spent the night around the city. Via the Andimeshk-Dezful dirt road, they moved to Dasht-e Abbas the next morning and settled in the Sabzab area of Dezful. A few days later, it was announced that a group of nine volunteers for reconnaissance was needed, and he was selected for the first group to reach the front line, which was in the hands of the Khuzestan Corps. After the sedition of Kurdistan, it was the first time he faced a real war zone. He became acquainted with the fighting forces of the Basij. They made such an impression on him that he always thought of them; their dirty but bright faces and the sacred utterance they whispered all the time. In terms of military equipment, they were at a minimum, and their heaviest weapon was a limited number of RPGs.
His contract was for one year, but he served as a contract soldier for fifteen months. When Iraq had thwarted the battalion's successful operation with a heavy counterattack, and a number of his friends and the soldiers had been martyred, he went to the battalion headquarters and requested a settlement, but because he was considered a qualified force, they did not agree and even asked a rank promotion for him. But he no longer liked to serve in the army and wished to serve in the Basij and the IRGC. He persisted in his request and finally they agreed. After a day or two, the settlement was over and he said goodbye to his friends and colleagues. With tears in his eyes as he said goodbye, he packed his bag and headed for home. During this time, he married and started a family.
On March 01, 1982, he registered in the Kurdistan Basij again because of his interest. He was immediately sent for a forty-five-day military training course. He completed a theoretical course at a school on Marivan Road and a practical course on guerrilla warfare in the mountains and urban warfare on the hills around Sanandaj. After completing the training, he spent a few days on leave. Then he was sent to Bukan in West Azerbaijan. His duty was to take part in the ambush and anti-ambush operations, both in Bukan and in other cities of the province, such as Divandarreh, Saqez, Baneh, etc., and to show his competencies in clearing these areas of counter-revolutionary. He was even invited a ceremony which was held for celebrating him in the Urmia operational base. But, after returning from Urmia, he announced that he no longer wanted to serve in Kurdistan and wished to be sent to the southern front.
His three-month mission lasted seven months and ten days. The officials of the IRGC insisted that he works there, but he said: "Security is established here; there is no need of me."
However, his mission lasted nearly a year with its ups and downs, and he finally managed to liquidate. After that, he served in the Basij bases of the cities where he lived until the first half of 1983. According to his record, he became a member of the IRGC on March 25 and wore the IRGC olive uniform that he liked. He began serving in the public bases of Dehgolan, and then he continued his work as a tactical instructor and head of a training company.
However, he was not in a good financial position. He was a tenant, and his wife was in poor health. He relied on God, asked his mother-in-law to care about his wife, and headed toward Ahvaz with some of the old IRGC members in the form of a battalion. It was the spring of 1986 when Iraq had fired the border towns with all its might, and the airstrikes on the towns continued. Operation Dawn-8, which led to the liberation of Faw, had just taken place.
After finishing his mission, the newly recruited forces were sent to the front line. He took a bus to Abadan in the Faw, then to Ahvaz, and finally, he returned to his hometown. Ali Farmani returned to work a month later. He was sent to the Joleh[1] center of rural Basij bases in Dehgolan. There was a base inside each village. The villagers themselves picked up arms and provided security at night with the military. He set up the Joleh group. The job of the Joleh group was to be always ready to cover all the villages. In each village, some people, who were loyal to the government, were armed to protect their village. However, if a big problem arose, the Joleh group helped them as soon as possible.
The country was in a special state when Imam Khomeini died in 1989. In the areas where Ali Farmani worked, patrol groups formed so that the counter-revolution would not have the opportunity to act. He was directly in charge of one of these groups with thirty members.
The following year, he went to Tehran with a group staff of Beit-ol-Moqaddas Corps brigade to receive 3rd lieutenant rank from the IRGC Commander-in-Chief. After the formation of the Basij Resistance Force, he joined it and was transferred to Qorveh again. From now on, he decided to study at night. In 1997, he graduated in humanities. Through distance learning, He also completed the basic military science course, which was considered as his associate degree. After taking political-ideological classes and in-service training, he became the commander of the Dehgolan Resistance base, with the rank of captain, in 2000. After that, he went to Tehran to complete a higher education program for 9 months and was granted a good grade. Then he returned to his job with a major rank.
In 475 pages, octavo, and 1000 copies with paperback and price of Rls. 300,000, the 2nd edition of Joleh, written by Abbas Abed Savoji, was published by the Alborz Foundation for the Preservation and Publication of Sacred Defense Works and Values and Hanzaleh Publications in 2021.
---
[1]. It means "Patrol and ambush".
Number of Visits: 869