SABAH (92)
Memoirs of Sabah Vatankhah
Interviewed and Compiled by Fatemeh Doustkami
Translated by Natalie Haghverdian
2022-01-11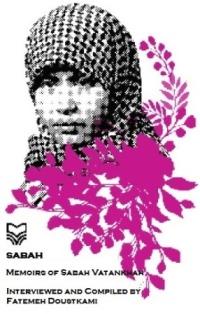 SABAH (92)
Memoirs of Sabah Vatankhah
Interviewed and Compiled by Fatemeh Doustkami
Translated by Natalie Haghverdian
Published by Soore Mehr Publishing Co.
Persian Version 2019
---
In such conditions, the news of escape of Bani Sadr disguised in female clothes together with Masoud Rajavi on the seventh day of second month of summer of 1360 (1981) made big talks in the country. I don't remember where I heard this news but I remember well that I was so happy with this news that I wanted to scream. Hearing that a bad luck such as Bani Sadr from the country was not a little thing. One by one I saw the image and news of his treasons were going around in my mind.
I remember that once I received a pamphlet in the hospital in which a comparison had been done between one sentence from Imam and Bani Sadr's talks. Imam had said "Don't say I, tell my belief; this I is the Satan." On the other hand, on two pages there were the different sentences Bani Sadr had said in different occasions; they had quoted that he has said that I have done such thing, I have done that thing, I have done this and …
On one hand with the escape of Bani Sadr our hope for victory and different successes in frontlines blossomed in our hearts; on the other hand, Rajavi's actions were revealed for all. Many people hadn't noticed his original being and his deviations but his companionship with Bani Sadr left no excuse for anybody.
It was the last month of summer of year 1360 (1381) and I was still busy in the hospital. I had missed my father and my mother and siblings. I wanted to go to Tehran and visit them. I told Belgheys to accompany me to change her mood. She had been in hospital for long. Zohreh also wanted to go to Shiraz. We had to go to Mahshahr.
Zohreh said: "Now that we are going to Mahshahr, let us go to martyr Atash Panjeh's home and visit his wife, then we will go to our cities." It was a while that I had very bad stomach aches. The physician had advised for color radiology of stomach. I decided to go to Mahshahr hospital and do the procedure there. A few friends from Abadan also accompanied us.
We went to their house. Ms. Atash Panjeh received and hosted us with the same kindness of hers and insisted that we stay overnight and go to Mahshahr in the morning. At night we sat around. Since I had consumed Castor oil for color radiology of stomach, I couldn't eat anything.
The next day we bid farewell and went to Mahshahr. As soon as we walked out of their home, I felt that something has happened in the city. There was a reverberation among the public. The army and Jihad cars were commuting significantly. I told others that I think something has happened. A few moments later we noticed that a bomb has been blown in the office of Prime Minister and Mr. Rajaie and Bahonar had been martyred. We were shocked of this news. We were still mourning the martyrdom of seventy two individuals. We were going crazy. In less than a few months we had lost the Chiefs of Judiciary and Executive Power. This was not a small loss for the revolution. We were just heart warmed by Imam.
I remembered one month ago; the day that Mr. Rajaie had come for a visit to Taleghani hospital. He was a revolutionary man. Since he came from the low-level income of the society, he had a deep understanding of the public. These specifications were enough to make him popular among the public. He was a pious and modest man. His appearance and way of talking was like the medium and ordinary people of the society. He was wearing a brown simple trousers with a cheap Chinese shirt. It was as if he was not the Prime Minister of a country and had the best opportunities in his domain. His way of talking was like teachers; very disciplined and measured; and his every word remained in your mind.
A while ago, with Dr. Ansari, Masoumeh Ramhormozi and Mahboubeh Esmaeili we had gone to Fayazieh frontline. There we met a few members of the army and they started chatting with us. They said: "We are the soldiers who have finished our military in year 56 and when the war started, they announced that we have to come to frontline for six months. It is about nine months that we are in frontline, but we are not permitted to return and they say that you are not finished here yet. Please raise our voice and our problem if you have the chance. We have left our wife and children for a while and have no update on them. It is not clear how long this situation will continue."
When Mr. Rajaei came to the hospital, personnel of the hospital had lots of complaints about their stay and the awful situation of the hospital. They all said that they are obliged to stay here whereas our lives are in danger. Our families are in other cities and we are many kilometers away from them and have no access to them. Then they raised the issue of shortages in the hospital; from lack of equipment and medication. All of them talked so hopelessly that we got angry. Mr. Rajaei heard their sayings carefully and said that he will follow up and report the status of the hospital to the responsible organizations.
After the personnel of the hospital, we as aid workers surrounded him and talked. We had decided to tell him that we have come here on voluntary basis and we will stay until when we are needed and will serve. We all talked one by one. On the contrary to previous talks, Mr. Rajaei was happy to hear the talks of aid workers and appreciated our efforts by nodding his head. When it was my turn, I raised the issue of service soldiers who had done their military service but had been called again. I said that they are not in a good condition and nobody listens to what they have to say. Mr. Rajaei promised to follow-up this issue personally.
When we were done talking, Mr. Rajaei turned to us and said: "When I leave here, I can say something to Imam very certainly and that is he doesn't have to worry about anything as he has you all here."
Only God knows how happy we were when we heard those words. Imagining that our efforts were heartwarming for Imam, gave us energy and made us more determined to continue. After Mr. Rajaei was done with his talks, I got my camera and asked for permission to take a group photo. He accepted and we took a photo. When Mr. Rajaei went out, the Basij official of the hospital approached me and said: "Who gave you permission to take a photo of Mr. Rajaei?" I said: "His own permission!"
He said: "What does it mean his own permission?!" Don't you know that he is one of the authorities and you can't take photo from him so easily?"
I wanted to give him an answer but he suddenly took the camera from my hand and took the negative out. I started arguing. I said: "We are living here. We are attending the injured constantly. Then you say that we shouldn't take photo of him due to security reasons. What does this mean? Don't you really trust us?!"
I told my friends: "I couldn't attend the funeral ceremonies of Shahid Beheshti, I wish I could make it to the ceremonies of Shahid Rajaei and Bahonar."
I forgot about the radiology of the stomach. Me. Zohreh and Zahra Farrokh Nejad, Belgheys and Ashraf went to the bus terminal. We shouldn't waste time. We had to act quickly. They had no place to stay in Tehran and were supposed to stay at our place. Thanks God we could attend the burial ceremony.
To be continued …
Number of Visits: 596