SABAH (82)
Memoirs of Sabah Vatankhah
Interviewed and Compiled by Fatemeh Doustkami
Translated by Natalie Haghverdian
2021-11-02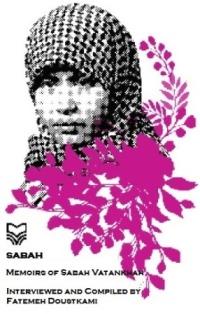 SABAH (82)
Memoirs of Sabah Vatankhah
Interviewed and Compiled by Fatemeh Doustkami
Translated by Natalie Haghverdian
Published by Soore Mehr Publishing Co.
Persian Version 2019
---
Mr. Karoubi said: "There is a building called Koushk in Ferdowsi Avenue. This building belongs to martyr foundation and is the residence of a number of war-stricken families from Khuzestan. I give you an introduction letter, go to martyr foundation and tell them that we are war-stricken and get a place to stay temporarily until the situation with our father gets normal."
We said goodbye. When leaving, Younes Mohammadi said: "If you have no place to stay in Tehran, come to our place with family."
We thanked him and said that we are at our aunt's place for the moment. He was a very good and modest man and never hesitated helping all those who came from Khorramshahr. I had heard from others that his house is full of guests all nights and his home is open to all war-stricken families.
We searched and found martyr foundation building and went to the unit dealing with war-stricken families. The person in charge of registering new cases was a young and smiling young man called Ali Mazandarani. I gave him the introduction letter from Mr. Karoubi along with the medical file of my father which was prepared in Sarbandar martyr foundation to attach to the new file. He asked about our whereabouts and condition. Shahnaz told him about the absence of Ali and told him the story. She said, from the investigation we have done we found out that he has been captured by Iraqis but nobody has approved this story.
After creating the file, Mr. Mazandarani asked us to go back in a few days to get the ID card for members under the coverage of martyr foundation. Then he said: "For your brother you must go to Red Crescent building and make a file there." We got the address of Red Crescent.
While coming out, Mr. Mazandarani gave us a paper and said: "In Hafez Avenue there is a shop which belongs to martyr foundation. With this paper you can get the basic living things free of charge, they will also give you a set of coupons which is for purchases from the same shop. With these coupons you can buy your daily requirements with some discount.
He was a polite and good young man. His tone of voice was call and full of respect. He was the right person to establish contact with families of the martyrs and war-stricken. He listened to the referrals patiently and guided them a lot.
We said farewell to him and went to the shop. In the shop they asked about the number of family members and gave us a blanket and pillow each, a big piece of carpet, some rice and oil. They got our address and said that they will deliver the items themselves. We gave them the address of Koushk building.
We went to Ferdowsi Avenue and found Koushk building. At the entrance of the building there was a small guard room and the guard was a gentleman called Mr. Zeyneddin. We showed him the introduction letter of Mr. Karoubi. He greeted us openly and asked us to accompany him. We went to fourth floor with elevator. He opened the door of one of the units and we went in. He said: "Here is under your authority; this is the key. I will be downstairs. If there is anything I can do or you need anything that I can help you with, tell me."
The new residential area was around forty square meters. It had a big living room which had been divided into two parts with a tiny wall; A tiny wall with the height of two meters. The ground was covered in grey carpet. The windows were covered in frosted glass and there were stripes on the windows in X format. The curtains were grey blinds. I told Mr. Zeyneddin: "To whom does this place belong?" He said: "During Shah's time, it belonged to Ministry of Programme and Budget.[1]"
We didn't stay there long and went to Red Crescent in Taleghani Avenue. At the entrance we told the guard that we want to go to the missing persons' section. He guided us to the unit dealing with management of prisoners and missing people. The person in charge of the unit sent us to the next room to make a file. When we entered the room, we saw two sisters of Amireh Mohammadi sitting behind one of the desks. We were surprised to see each other. They approached us and we shook hands and kissed. We asked how Amireh was. They said she is fine. They were also war-stricken like us and lived in Tehran. A relative had arranged them to work in Red Crescent.
We told them about the missing of Ali and they created a missing person's file for him and as they said they registered his name. Then they said that we have to return once or twice a month to know if there is any update on him. We got their address to visit Amireh in a suitable time.
We returned to auntie and mom. We told them about events. We decided to go to Koushk building for lunch. We went there in the evening. Although we had nothing and had to start from scratch, but we were satisfied to come out of the humid and cemented room of Sarbandar mosque.
In the evening, my father went into asthma attack and turned black. We didn't know what to do and where to take him. We didn't know anywhere. Shahnaz and I ran downstairs to arrange for a car. It was near sunset and it was getting dark. In an estranged city, my father was dying on our hands. We got a taxi and asked him to drive us to the nearest hospital. Then we went up and brought my father down. My mother came with us. The driver went from Ferdowsi square to an avenue called Sa'adi. There was a hospital there called "Amir Alam".
My father had turned blue and I felt he was suffocating. We got out of the car when we reached the hospital and my father sat on the edge of the street. I ran inside the emergency ward and brought a wheel chair and took my father inside.
They administered Oxygen and injected him. It took him a few minutes to feel better. I told the emergency ward physician a brief description about his injury. He said: "We can't do much for him in this hospital and the treatment would be only to help him breathe. He has to be transferred to a more equipped hospital."
After the serum therapy was over, we returned him home.
Early in the morning, we took him to Mostafa Khomeini hospital and told me about the problem last night. The results of lab tests and chest x-ray were also ready. A physician called Bani Sadr who was a specialist in lung and the nephew of President attended him. When he saw the x-ray and results of lab tests, he ordered his hospitalization.
When we were content about our father, we decided to go and bring our family members. Shahnaz and Abbas stayed in Tehran with my father, my mother and I went first to Borujerd with bus. We stayed in uncle Hossein's home for one night. In the afternoon we went from Borujerd to Mahshahr. It was dark when we reached Dezful. Behind us a young man around 18 years old and a lady, who was his aunt, were sitting. As it got dark, the boy started having unclear whispers. As time passed his voice became louder and clearer. His aunt said repeatedly: "Be quiet for God's sake. Why should people endure this voice, please be quieter …"
The boy said: "I will tell the sun to eat you! I will tell the sun to eat you!"
Then he uttered "Hoo" like Dervishes. I told my mother that maybe he is a dervish and is in his own world. My mother turned her head back and said: "He is pointing at us and saying that I will tell the sun to eat you!"
A few seconds later, my mother told his aunt: "Your nephew is dervish?"
His aunt said: "No! My brother's home was in Dezful. A missile has stricken their home and all the family members were martyred. Only he survived. He is shocked and is acting like this."
I felt sorry for him. It was obvious that the shock had been hard. It was not obvious how long he would have stayed in this state.
We reached Sarbandar around noon. Ferdows was in the mosque and was helping the women in packing the public aid items. Mohsen and Mona were playing in the yard. They ran towards us as soon as they saw us. Mona jumped into my mother's arms. Mohsen said: "Where is father?" I said: "We have hospitalized him and now we have come for you."
Mohsen jumped happily. He and Abbas were playmates with auntie Maryam's son, Reza. He was very happy that they could all be together again.
We had no special utensils. We couldn't carry our warmer lamp and a few blankets and some bowls and plates and pans. We didn't know how we were going to reach Tehran, let alone our equipment.
We said goodbye to Pari Khanum. My mother gave her our warmer lamp and some of the pans and bowls and extra plates that were hard to carry. She was restless of our departure. While we were commuting to Tehran, she had received the news of martyrdom of her husband. As she had been told, her husband had been hit by a quiver on the route of Abadan and had become martyr. Whatever the news was, she knew that she shouldn't wait for his return then.
To be continued …
---
[1] Later, one day I went to the basement of the building. The boiler room was in the basement. I was curious to see the boiler room. All the documents were piled on top of each other in a corner in the boiler room. I went to the documents and pulled out two pieces of paper to see what they were. I saw the correspondence of the Minister of Programing with Hoveyda.
The budget is obvious
Number of Visits: 944