SABAH (81)
Memoirs of Sabah Vatankhah
Interviewed and Compiled by Fatemeh Doustkami
Translated by Natalie Haghverdian
2021-10-26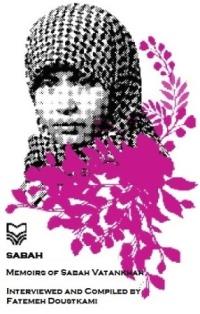 SABAH (81)
Memoirs of Sabah Vatankhah
Interviewed and Compiled by Fatemeh Doustkami
Translated by Natalie Haghverdian
Published by Soore Mehr Publishing Co.
Persian Version 2019
---
Chapter Twenty
It was the second month of winter but we had no news of Ali. We had all accepted that he has been held prisoner. My mother and father had become calmer. Each was trying to comfort the other and make the acceptance easier for the other one. My mother's name was Farang Banou but my father called her Farang and said: "Farang! We think that we were in Karbala dessert and we sacrificed a boy for Imam Hossein."
Hearing these words from my father made us grateful. Among us there was nobody not to know how much my father loved Ali. When Ali was a child, he was in love with bicycle but my father didn't buy one for him. We pleaded him to but Ali a bicycle but he didn't accept. When Ali was not around, we asked him why he doesn't agree to buy one and he would say: "He is not focused, and he is naughty. I am afraid that he might have an accident with bicycle and be hit by a car."
But now this man was trying to comfort his wife to cope with the sadness of her son's disappearance. God knew how devastated he was. My siblings were also not well. Mohsen and Abbas were being naughty and my mother called them "elf". After this incident, one could notice the depression and isolation in their faces.
Since the date of Ali's disappearance, we went to Sarbandar one by one and didn't leave my mother alone. We were afraid that the sadness of being homeless and the pain of not having any news from her son, might devastate her. The Lor people loved their sons. My mother had had a few girls and then Ali had been born and she was in love with her son. Most of the time, when we were praying or in praying ceremonies, we just wished for patience for our mother. Ali was one of the children whose absence was noticeable. Now that he was not here, his memories twisted in my mind.
He had great sense of humor. When we sisters gathered, he jumped in the middle and played with us. Sometimes he made jokes that we laughed a lot and sometimes we objected. Then my mother came with a spatula and joked and ran after Ali and told him with Borujerdi accent: "Get up. Why are you in the middle of a group of girls? Are you auntie Maliche?!"
By that she meant girly talk. Ali ran away but he came back to us again.
Shahnaz and I wanted to go to Sarbandar. Jounshan commuted to the hospital, when we were talking about going to Sarbandar, he noticed and said: "I want to take a few prisoners from Abadan to Ahwaz. Come with me till Choubedeh."
I don't know why for a minute we accepted. We didn't even think that being with a group of prisoners and criminals is not a proper thing. We got into the bus carrying prisoners and sat in the back. The atmosphere was very heavy. There were also two armed guards from the prison in the bus. I asked Jounshan who was sitting beside us: "Why do you want to take them to Ahwaz? What is their crime?" He said: "They are thieves and smugglers. Some of them used the time of war and escaped. We are taking the rest to hand them over to Ahwaz prison."
Shahnaz and I looked at each other. We were terrified with these travelers and on the other side we were laughing at what we had done and we felt regretful!
If we knew any other solution, we would get out of the bus. Jounshan said: "Wait until we get them to Ahwaz, they all should get slashes. We will hit them wish slashes to feel better." Shahnaz said: "Feel better? Can you slash them to feel better? This is illegal by God!" Jounshan said: "No! Who said it is illegal? We have to skin them."
I said: "It is obvious that it is illegal. Hadd is done for the sake of God, the person who hits the slash, should do it for the sake of God. Not for his/her own sake![1]"
It took us almost one day to reach Chouebedeh with that ruined and old bus. From there we went to Sarbandar with Shenouk. When we got home, we saw that my father is worse than before and is weaker and paler than the last time we saw him. He himself said that breathing has become very hard for him and he feels as if a heavy object is on my chest and is suffocating me. I told Shahnaz: "Let us take father to the hospital. Maybe a new problem has risen for his lung. Nearly four months has passed since his injury and he should have felt better until now."
Shahnaz was also very worried for my father, accepted and said: "If necessary, we will take him to Tehran."
We took him to Mahshahr hospital. They told us that they can't do more than what has been done in Shiraz and Abadan and it is better to move him to Tehran. They said: "Go to martyr foundation in Sarbandar, they will arrange for his transfer to Tehran."
We went to martyr foundation. In martyr foundation they created a new file for my father and wrote the details of his injury. Then they gave us an introduction letter for Tehran Shahid Mostafa Khomeini hospital.
One month earlier, meaning in the first month of winter, aunt Maryam and Amoo Hejab had gone to Tehran. Amoo Hejab had friends in Tehran and wanted to start a business for himself. They had introduced themselves to the war-stricken headquarters and they had given them a classroom in a school in 17 Shahrivar street. We decided to take my father to Tehran with Shahnaz and my mother and if necessary to stay there for a few days, go to aunt Maryam's place.
We entrusted children to Ferdows. In the yard of the mosque, there was a lady from Abadan who was our neighbor. Her name was Pari and her husband had gone missing when going towards Abadan. It was not obvious whether he had been captured or martyred. She had two little children; a three four years old son and an infant girl. She cried loud from morning till sunset. My mother and we sisters tried to talk to her and comfort her, but it was not useful and she was devastated. While we wanted to move towards Tehran, my mother went to her and asked her to watch the children for her.
We got tickets to go to Borujerd. There was no bus going from Sarbandar to Tehran. We had to go to Borujerd and stay overnight and then go to Tehran. Me, Shahnaz, Abbas, mother and father got into the bus and went towards Borujerd. In Borujerd we went to uncle Hossein's place. My uncle got tickets for Tehran for next morning. Although we had not come to Tehran directly but my father had suffered a lot on the way and asthma was torturing him.
In Tehran we went directly to the location where aunt Maryam and her family resided. They had given us the address of a school in Lorzadeh Street and said that they stayed there for a while. When I entered the school and the classroom where auntie and Amoo Hejab were there, I felt upset. Amoo Hejab and aunt Maryam were among the rick families of Khorramshahr and had all kind of facilities in their house and living. A few months prior to the war, Amoo Hejab and aunt Maryam had gone to England to visit their sons, Ahmad and Mahmoud. Ahmad was studying architecture in England and Mahmoud was studying civil engineering. They had been there for three months and they had just returned when the war started. Now their house and living was summarized in a small classroom. Aunties were very happy to see us but considering her weary morale, it could be noticed how upset she is from the situation.
We stayed with auntie for lunch. Elaheh felt better since she was not alone anymore. Auntie said that she has been restless during the past one month. They had registered her name in one of the high schools in Tehran to keep her busy. Elaheh was on fourth grade of high school and studies experimental science. After lunch, mother stayed with my aunt, Shahnaz and I took father to Mostafa Khomeini hospital. We showed them the introduction letter of martyr foundation of Mahshahr to the nurses in cardio and lung unit. They said that we have to take some radiology and lab tests from him and after the results are ready in the coming one or two days, then under the supervision of specialist, he will be hospitalized. The procedure took one two hours. Shahnaz and I had decided to do what is needed for our father and then go to see Younes Mohammadi who was the representative of Khorramshahr people in parliament was. We wanted to ask him to consider the living condition of our family and rescue us from the dark and humid room we had in Sarbandar.
After the hospital, we took my father to my mother and the rest. Poor man was so breathless that when we were ascending the stairs in school, he stood in the middle of staircase and said: "Wait, I can't. It is as if I am dying."
We came out of school and reached Hassan Abad square, Imam Khomeini Avenue. The door to the parliament was open and anybody who wanted could go inside. The guard at the door asked: "What do you want here?" I said: "We are from Khorramshahr and we want to see Mr. Mohammadi who is our representative."
They searched our purses and a woman did the body inspection and allowed us inside. Since it was war time the war-stricken families had gone to their representatives and explained their problems; problems like unemployment, homelessness and dispersion. The representatives were really busy but the interesting thing was that despite their busy schedule, they listened to what the public said carefully.
We found Younes Mohammadi. After greeting, we told him about our problems. He took us to a clergy called Mr. Karoubi and said that this man is in charge of the martyr foundation and war veterans. He introduced us to him. Mr. Karoubi greeted us and asked about our situation. We gave him a brief description of our situation and at the end told him about the disappearance of Ali. They told him that some believe that he might be held prisoner but we haven't received any letter from him and haven't heard his name from Iraq radio. When I heard Ali's name, I felt changed. No news from him was bothering us. Sometimes I thought to myself that if the news of his martyrdom reached us and even if we buried him with our own hands, we wouldn't be bothered as much as we were suffering now by not knowing about his whereabouts.
To be continued …
---
[1] It was the last time that I saw Jouneshan.
Number of Visits: 1351