Ahmad Ahmad Memoirs (8)
Edited by Mohsen Kazemi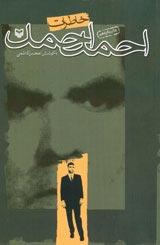 Ahmad Ahmad Memoirs (8)
Edited by Mohsen Kazemi
Soureh Mehr Publishing Company
(Original Text in Persian, 2000)
Translated by Mohammad Karimi
---
The Everlasting Rise
On March 22nd 1963 Grand Ayatollah Golpaygani held mourning ceremony for Imam Sadeqs martyrdom anniversary. The regimes commandos and agents attacked this ceremony. Some students were killed or injured. Most of Iranian people particularly the clergy became sad for this catastrophe. The clergy, grand ayatollahs, bazaar shopkeepers, guilds, Islamic communities and groups, condemned this attack and supported Qum seminary school by issuing a number of statements.
Among all these statements, the Imam Khomeinis was more revealing, braver, and more incisive. His holiness had asked preachers and speakers to reveal the Pahlavi regime genocide in the last three days of Muharram ten days of mourning ceremonies for Imam Hussein. Imam Khomeini was about to speak revealingly in Feyziyyeh School on Ashura evening. In Tehran "Islamic Councils Coalition" were scheduling a big rally against the regime on Ashura.
Muharram began and preaching sessions began. People began their own mourning ceremonies. There were few days to Ashura. "Islamic Councils Coalition" wanted to gather people in front of Haj Abolfath Mosque on Ashura. However, they were worried about Teyyeb Haj Rezai(1) and Hussein Ramezan Yakhi(2) who would possibly raid the population. Martyr Haj Mehdi Eraqi talked to them on behalf of "Islamic Councils Coalition" and they promised not to raid Ashura ceremonies. I joined the population in the morning of Ashura. Number of people was growing moment by moment. Suddenly a high-sounding mourning group arrived. Naser Jegaraki(3) was the head of that group. Apparently he had come to raid the ceremony and people. He entered Haj Abolfath Mosque. However by the hoax that Martyr Haj Mehdi Eraqi(4) made in his speech, scruples prevented Nasser Khan and he returned.
After Haj Mehdi Eraqis speech, we moved toward Sar-cheshmeh and then Majlis, Mokhber-ud-dowleh crossroads, Istanbul crossroads, British Embassy, and Ferdowsi square. We would stand in some points and short speeches were made. Then we continued toward Tehran University. At first, we wanted to finish the rally in Tehran University Mosque, by the population moved toward 24th of Esfand square and then Si-metri Avenue (Kargar), Pasteur square and Marmar Palace. The police guards had surrounded the palace. We walked around the palace and hit its walls while shouting: "Down with Dictator!"
We reached Bazaar and the Shahs Mosque and there the rally was over. "Islamic Councils Coalition" could execute its program successfully.
In the morning of June 5th 1963, I saw one of my friends, Mr. Jafari(5) was quarreling with a shopkeeper near Abbassi crossroads. I went closer. Mr Jafari told the shopkeeper angrily: "You should close your shop!" The shopkeeper answered in a Turkic accent: "I cannot. The police may come and badly punish me!" Mr. Jafari told more angrily: "Ok! Tell them that Jafari has ordered."
I got closer and had greetings with Mr. Jafari and asked: "What has happened, Sir?" He said: "Dont you know?!" I asked: "What should I have known?" He answered: "They have arrested Ayatollah Khomeini last night." I was shocked and pale when he said that and asked: "Who said that?" He said: "It is reported." I said: "Ok. What should we do now?" He said: "Lets go to Bazaar, there we may see others."
This way, I was informed of the event. I was so worried. It was seen in my behavior. Along with some other neighboring youth, we went toward Edam (Mohammadiyyeh) square and Galoobandak crossroads through Khayyam Street. There, I could see that people were going toward bazaar group by group. It was interesting; bazaar shopkeeper had closed their shops without any scheduled program.
It was so populated there and some minutes later spontaneously there was a public rally. The guard would impede them and finally started shooting. People would shout: "Death or Khomeini…!" and continue walking through alleys and streets and the number of people was growing more and more.
At Galoobandak crossroads, an army colonel ordered his soldiers to make two rows, one kneeled in front and the other one standing in the back aiming different directions. One group was organized in Khayyam Street near Edam Square, one group in Boozarjomehri(15th of Khordad) Street near Abusaeed Street, one group moving toward bazaar and the last group standing near Ettelaat Newspaper three-ways. The army colonel was standing right in the middle of these four groups of soldiers to order them to fire and raid. It was said there that they had orders to fire bullets without cartridge-shells.(6)
About 10 o'clock in the morning, a helicopter passed over our head around bazaar and surrounding streets. It was clear that the regime was using its maximum strength to suppress the people's rise. When we got closer to Galoobandak crossroads from Khayyam Street, I saw the army colonel moved his hand upward to command his commandos. I could not think that his threat was serious and I thought it would be only a show off. But suddenly he moved his hand downward and shouted: "Fire!" I could hear the scream of bullets moving in front of my eyes. For me that had never been in the army and had not heard the sound of gunfire, watching this scene was trembling. We found ourselves moving toward bazaar and lost our contact with Galoobandak crossroads. The gunfire increased. I reached to a stony entrance of a bank and hid behind it. The bullets were still passing by. Some of them would the stony wall around me. I was seized with scare. I pressed myself to the glass walls of the bank to save myself from bullets. Suddenly I saw a boy who was shot in the middle of the street. He moved step by step backward and fell down. He was thrashing from side to side. I wanted to help him, but the fires would not let me. Some minutes passed. I could not tolerate that scene anymore. I lost my control and shouted: "Oh, cowards! Why you shout slogans and then run away? Come here, this boy is dying!"
Then it became calmer. I went to that boy fast and lifted him from the ground. Some others came either. I held his left hand, one his right hand and two other people held his feet; we lifted him and while moving from the middle of the street to the sidewalk, the army colonel commanded to fire again. The one who was holding his leg in front of me, bend down and fell. Then the one who was beside me and had taken the right hand of the injured boy was shot from behind and fell down. When it happened, the other man and I escaped. I went to the walls of the bank and hid behind it. I found myself in blood; my hands, my clothes. I was astonishingly watching these scenes. I could not move and fully seized with scare. Then I heard the sound of people shouting slogans. I saw some people carrying mace and sticks moving toward us and shouting: "Death or Khomeini… Go toward bazaar… Go toward bazaar…"
---

1- Teyyeb Haj Rezai son of Hassan Ali was one of gang leaders in southern Tehran and he was famous for his braveness and being generous. Every Muharram he would lead a very big mourning group in the city. He and Haj Esmail Rezai, after the bloody rise of 5th of June 1963 were both arrested by SAVAK and martyred after tolerating heavy tortures.
2- Hussein Ramezan Yakhi, was another famous gang leader in Tehran who also had mourning groups in Muharram just like Haj Teyyeb Rezaei.
3- Nasser Jegaraki was another gang leader in southern Tehran and Bagh-e Ferdows (Ferdows Garden). Sometimes these mourning groups (gangs) might have quarrels with each other and sometime some may get hurt or even killed.
4- Martyr Haj Mehdi Eraqi was born in 1930 in Pachenar Quarter in Tehran. From early days in teen ages he was interested to take part in religious circles. He started working in Bazaar when being a teenager. When he was 16, he joined "Fadayan-e Islam (Devotees of Islam)" led by Martyr Navvab Safavi and was active in most of their activities. He took sanctuary in Qasr Prison along with 353 other people in support of Navvab Safavi.
In 1962 along with some other friends, he founded "Islamic Councils Coalition". He had a big role in June 5th 1963 movement and the gathering of that year's Ashura at Haj Abulfat'h Mosque. He participated in the assassination of Hassan Ali Mansour along with other members of "Islamic Councils Coalition" members. He was arrested and sentenced to life imprisonment with one degree of commutation. He was an effective element in organizing the unity of Muslim forces in prison in front of Marxist groups. He was freed in 1976 and continued his fights. When Imam went to Paris, he went there either and came back with him to Iran.
After the Islamic revolution he became a member of Central Council of Islamic Republic Party and accepted different posts and responsibilities such as, supervision of Qasr Prison, membership in central council of The Oppressed Foundation and also its executive unit presidency, and financial management of Kayhan Newspaper.
He was martyred along with his son, Hessam, in the morning of August 26th 1979 by Forqan terrorist group. For his martyrdom Imam Khomeini says: "He was not a man for dying in bed. He deserved martyrdom."
5- Mr. Ahmad was acquainted with different people because of his presence in different circles and mosques. One of them was Mr. Jafari who was acquainted with Ahmad in Seheb-uz-zaman Masque (Abbassi).
6- In army regulations soldiers should deliver empty cartridges after shooting bullets. However, in this rally, the regime that had predicted people may become angry of Imam Khomeini's arrest, had allowed the forces to shoot without delivering empty cartridges.
Number of Visits: 4762