Ahmad Ahmad Memoirs (7)
Edited by Mohsen Kazemi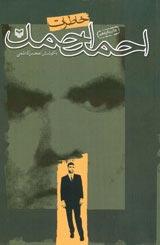 Ahmad Ahmad Memoirs (7)
Edited by Mohsen Kazemi
Soureh Mehr Publishing Company
(Original Text in Persian, 2000)
Translated by Mohammad Karimi
---
Meeting with Imam Khomeini
The rise in opposition with "Provincial Councils" bill made an opportunity for me to have a visit with Imam Khomeini. From that day I became devotee follower of this knowledgeable old man. My brother did much better than me in this field. He had became member of "Islamic Coalition Party" and was completely under the obedience of revolution's leader and could have visited his holiness several times and hear his words.
The idea of sending "Neday Haq" to the addresses of "The Saint Mary's Path" subscribers and its postal costs made us to really think about finding money and a solution.
The day that I talked to my brother about this matter, he said: "If you present a report about your activities to Imam, and if he confirms your activity he may financially support you." I asked him to arrange a meeting with Imam for us. He accepted our demand after consulting Haj Mehdi Eraqi and promised to ask a meeting for us in his first meeting with Imam.
We started to make a report to achieve his confirmation for our activities. Marjani whose activities were more expanded and had more influence in central branch could gather 48 volumes of Christian missioners proselytizing books which had been published in Iran. We put all these books and a series of "The Saint Mary's Path" and "The Jesus' Path" in one or two pouches and waited for the day of our appointment.
In spring of 1963 Marjani, Mir Mohammad Sadeghi and I along with my brother and Martyr Haj Mahdi Eraqi traveled to Qum to meet Imam.
Martyr Mahdi Eraqi and my brother went to meet his holiness in the morning and we waited in the harem of Her Holiness Ma'sumah (PBUH). When they returned, they told us: "Today afternoon about 3:30 to 4, you have an appointment." We became so happy of hearing it. We prayed and whispered in the harem that day till that hour.
We entered Imam's house; an old fashioned house with an inner and outer room in front of us. Beside the inner yard, there were some wooden couches with pieces of carpet on. Imam answered our greetings and then we kneeled in front of him and presented our report when he permitted us. We talked about out fight and the danger of Christian missioners and explained about "The Seventh-day Adventists" and who they were.
Marjani said that they had made all the people of a village in Hamadan Christian in an exaggerating attempt. When he said that, Imam asked: "Where is it?", then when he found that Imam had known he was exaggerating, he became silent and stopped talking. We told what we had in mind fitfully and with all that energy of our young age, we said that we were eager to fight with them and wanted to raise the flag of Islam everywhere.
Then we took out those journals that we had taken with ourselves from the pouch and showed them one by one to Imam. Then we faced an interesting scene. When Imam would take each of those papers he would say: "I have seen it, I have seen it either!" Then he would put them beside. We could not believe that Imam had seen all those papers and his reaction bothered us and we felt sad inside. Even one book was not among those books that he had not seen. It was not expectable for us. We were about to cry. When Imam saw all the books and stacked them beside, he named two other books that we had not been able to find (which I do not remember the titles now) and talked about them. We winced and it was strange to us that we had not been able to find those two books.
Apparently in those two books there were made some doubts about the borders of the country and the Pahlavi regime had not permitted the Christians to publish them. We were astonished of the information that Imam had. We forgot our sadness and understood that he was forefront and we were in delusion.
After this big lesson, we told Imam that we had ten thousand addresses of the Adventists' journals' subscribers and wanted to send Nedaye Haq instead of them but we had financial problems.
His holiness said: "This is not fighting!? And you should not be busy with these things!?" Being winced again, we asked surprisingly: "It is not fight?! So, what is fight?!" Imam said: "They have been doing these for more than fifty years and have not been able to make one single believer, a Christian. They have made some irresponsible but not irreligious. These moves have one source just like a river. Go and find the spring. All these happen because of the corruption in the regime. Go for that. These things just take your time."(1)
We became more passive. We saw that is these activities were not fights, so what would happen to all we do?
Imam continued and said: "An anti-Baha'i group is working under Mr. Halabi leadership. I wanted to introduce you to them. However, that one is not also a real fight." By hearing these things from Imam, we found that he was aware of anything and from any dimension and talk so clear and incisively. So, we asked: "What should we do? What is our task?"
Imam with his own sweet and simple language understandable for everyone said: "Follow the fight the clergy is doing. Do the same."
In our minds, we thought that the clergy were not doing anything special. They would just go mosques and preach. And if they preach harshly, they would be arrested and remain in prison for some time. At that time we could not think of something higher and could not accept that what the clergy was doing was a real fight. But, passing time proved that among all revolutionary movements and activities, it was the activity of the clergy which made the big Islamic movement of people successful. Those days, we were thinking of military action, parties and guerrilla fights and this kind of movements (the clergy preaches) could not be considered as real fights from our viewpoint. Time showed that Imam was right and our ideas were not correct.
Our meeting time was over. We bid our farewell to his holiness and returned. I would never forget this instructive meeting.
---
Note:
1- Mr. Mir Mohammad Sadeghi had narrated this meeting and the Imam's sentences somehow differently and his voice is archived in Oral History unit of the Bureau for the Islamic revolution Literature.
Number of Visits: 4018