The Memoirs of Mohammad Reza Hafeznia (14)
Hamid Ghazvini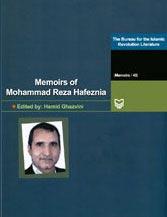 Memoirs of Hafeznia (14)
Apparently, I had not been banned to visit someone anymore. I didn't know who had come to visit me. It was for the first time that I went behind the visiting room which had big and closed glasses and talked though a headphone. I saw that Mr. Alireza Chaychi, my former friend who later became my brother-in-law had come to meet me. I was surprised. How had he dared to come and visit me? I never thought that someone had the guts to do so. Apparently, he had relation with some of the guards outside the prison and had found a way to come and visit me. He had brought me a little money and some fruits. It was very interesting for me that someone had been found to come and ask about my health after that incident. He left there and after him, others also came to meet me. His wife along with her infant as well as the mother of Mr. Chaychi's wife came there. Then, my mother came to visit me. I saw that she was crying behind the visiting window, saying why you did this. I tried to comfort her and told her not to be worried. Then, a few days later, my wife who had been brought to Tehran for interrogation at that time, along with her sister came to visit me. I used this opportunity and just told her, "You can make your decision, and if you want to separate from me, I can give you a power of attorney to divorce from me and decide for your future. Don't wait for me. My situation is not clear. You shouldn't wait for me. From now on, you are free to do whatever you want regarding divorce and separation." It appeared that she was not willing to hear such words and did not pay attention to whatever I said. She made a simple visit and said goodbye and left there.
One day I saw that Mr. Seyyed Ali Owliayee, my cousin with whom I was friend since student period, had come to visit me. He was an open-minded and wise man. He was also very active after the revolution. He had come from Tehran to meet me. He explained about what he had done for me through the headphone. He said, "I followed your case from Tehran and talked to a major general in this regard. They guided me here and I went to the military court in Mashhad and asked for your situation. There was a colonel in the court named Colonel Esameeli who is in charge of your case. Esmaeeli said that we had prepared his case and indictment but suspended it for one year in order to clarify his condition." He told me these things privately. But I was not so happy because I liked my situation to become clear as soon as possible and save from this world. At any rate, he informed me and I did not make any statement and passed by it and thanked him. He said goodbye and left there.
Riot in the prison
We received the news about what was happening outside through the prison's TV and those who had been arrested in the demonstrations and brought there. It showed that the demonstration was expanding day by day and the regime's power was diminishing. This situation caused the prisoners to think of a riot and to disrupt the prison. It first started form the second ward and other wards. I remember that the move was first started by a young prisoner who was from north of Iran and had left leanings. It went so far as that the prison was set on fire and spread to other parts. Concurrently, the prisoners seized the storehouse, workshop and kitchen and could have access to some of the tools. In fact, it can be said that we were armed with cold weapons.
We intended to prevent the guards from entering the prison with the tools like iron, wood and other things and if they came, we planned to arrest them and took hostages. Of course, the guards had terrified and did not expose themselves to the prisoners' attack. The guards were not able to enter. They had just been deployed on the turrets and walls.
The political and ordinary prisoners as well as those of fifth ward had blended together. Different parts of the prison had caught fire. I do not know who were going to set on fire the prison and spread it. The fire spread everywhere including the fifth ward. First, we imagined that just a few beds and mattresses were burning, but later, it became clear that two of the prisoners had been entrapped in the fire. Unfortunately, after a while, a bad smell spread and it became known later that the two had burnt in the fire and lost their lives.
On the whole, the prison was in a bad state. Everything was messed up. There was no water. Although the prison was in the hands of the prisoners, it was in full siege. There were no food and the security forces either fired tear gas bullets or sometimes shot at the prisoners. A few people had been injured and we were spending bad hours. Finally, the prison's authorities decided to release some of the prisoners especially the political ones and those who had committed minor crimes.
The guards pulled up such prisoners from the only entrance and the hole of a metal cage and released them because they did not dare to open the prison, fearing an attack.
Who managed the riot?
I was fully aware of the events. There were one or two prisoners who had left leanings. They were trying to lead the prison's movement and thought of forming and leading a revolutionary committee inside the prison. By chance, one of the forces who had a very good status among the political prisoners as well as the ordinary ones was Mr. Zarif Jalali who was a religious political prisoner.
Translated by: Mohammad Baqer Khoshnevisan
Number of Visits: 3580