The Memoirs of Mohammad Reza Hafeznia (2)
Hamid Ghazvini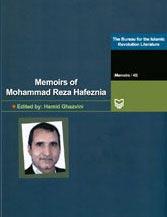 The Memoirs of Mohammad Reza Hafeznia (2)
First mission
Two weeks had been passed since the beginning of my job. One day, I was having lunch at home around afternoon when someone knocked the door. I went and opened the door. Someone had come from the garrison to take me back. He said: you should come back to the garrison since we are on alert.
I said: "I have just arrived and was having lunch". He answered, "At any rate, you must come back to the garrison as soon as you can."
This was my first experience regarding military alert. I had no acquaintance with the issue and culture of alert up to that time. I had no choice but to have lunch quickly. Then, I put my clothes on and left for the garrison.
I was wondering that there might be a military drill; because it was rumor that a drill would be held soon. When I arrived in the garrison I left for the Tank Battalion directly. As soon as I look at the Battalion's compound, I felt something wrong had happened and this was beyond a normal call. I asked several troops what was going on. They said: "The people have poured to the streets and they want to dispatch us and the tanks to the city".
In view of my psychological and mental conditions due to my disgust and hatred against the regime and army, I was shocked when I heard the news. It was disgraceful that we were used against the revolution and people.
I was repeatedly rebuking myself that "Hafeznia" you should not allow the people are killed and martyred and become a tool in the hands of the regime against them!
I was just thinking about such things when they announced that the tanks were ready to be dispatched. They called on us to become ready for moving toward the city. By chance, the First Squad (five tanks under my command) located in Sardadvar Street was ready to enter the city. I really didn't know what to do.
I could not say anything to anyone, neither consult or leave or stay. I had become helpless.
In this situation, I saw a number of senior police officers who had stood above the tanks beside the crew. The presence of police officers in a military garrison seemed strange and unexpected. If I was the commander of the First Squad, then what were they doing here?
I had really become confused. At the same time, I didn't dare to ask a question. Suddenly, I decided to do something. I thought that today they made us enter the city and used against the people and tomorrow, we might be involved in more violent scenes against the people. I decided to strike them a blow for the beginning. I intended to get a gun and to do something with it. Two plans came to my mind, either to come back above the tank and to fire at the police commanders in public by machine gun, or if it was not possible for me to leave for the city, I fire at some of these police officers. Of course, they would finally shoot and kill me and my wish that was martyrdom would be fulfilled.
I was busy thinking when they asked me to get gun and bullets. I went and stood in the queue.
I reviewed different plans in my mind while I had been standing in the queue. Suddenly, the Company commander told me that you did not need to come! I asked normally: "What should I do if I stay here?" He answered: "You must stay here on alert." I said: "You mean I do not need to get ammunitions." He said: "No! You do not need. You stay on alert with the empty loader and gun until you are informed! I said: "What about the tanks? You mean I am not the tank commander anymore? He said: "At present, it is not necessary; I manage the works, stay here!"
Everything was changed swiftly. As if the entire affairs were going through another path up-to-the-minute and I didn't know what the divine fate was. On one hand, my new plans were canceled out and on the other hand, I had to stay inside the company's room as an officer on duty for emergency cases.
I was walking in the company until around 11 PM and had nothing to do. During this, I was thinking how I could put into operation my decision.
Of course, I apparently tried to act somehow that nobody suspected, but I had a world full of uproar from within. The reality is that it is possible just for me to imagine those moments. It is not possible to write and explain about the conditions. I saw myself on the threshold of leaving this material world, the one who was ready to carry out martyrdom-seeking operation.
It was around 11.30 PM when the tanks returned to the garrison. I asked the tans' crew: "What was the matter? How is the situation in Mashhad?"
They replied, "Mr. Kaffi (a well-known cleric) has collided with a car on his way to the city of Quchan and has been killed. The news had caused the people to gather and demonstrate in front of the holy shrine of Imam Reza (Peace be upon him)."
Perhaps, this was the first great demonstration of the people of Mashhad. And since the regime had not experienced such protests previously, it had frightened a lot and entered the tanks inside the city. However, the atmosphere of military conflict with the people was intensified gradually and such tactics was also used in other cities. For example, martial law was announced in Isfahan and people were treated violently.
At any rate, I wanted to get some information about the city's situation, but because it was late night and the alert situation was cancelled as well as the dispatched forces returned to the garrison, I preferred to ask questions from them.
The next day some of the tanks' crew made some claims. For instance, one claimed that he had scattered the demonstrators or the other one said that he had turned the turret or fired shots in the air or things like these.
I just listened to them showing no reactions but I was full of uproar from within. I ask repeatedly, God what happened!? Why couldn't I go? This was a great opportunity for me to carry out an operation and to attain martyrdom. Such an opportunity might not rise for me in the future.
To be continued …
Translated by: Mohammad Baqer Khoshnevisan
Number of Visits: 3697