CFP - Oral History Network of Ireland Conference, 12th-13th Sept 2014 - "Making Connections: Oral History and Community"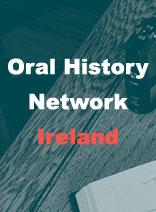 crampsia@TCD.IE's picture
Arlene Crampsie
Wednesday, July 16, 2014
H-OralHist
0 comments
Dear all,
Please find below details of the Oral History Network of Ireland's third conference - Making Connections: Oral History and Community - to be held in Kilkenny City, 12 - 13th September 2014.
As with our previous conferences, our objective is to bring together individual oral history collectors, local community groups, curators, archivists, academics and policy practitioners in order to encourage a range of lively debate and discussion across the broad oral history spectrum. In continuing with our tradition of inviting keynote speakers of international renown, we are delighted to welcome Dr. Rob Perks, Lead Curator of Oral History in the British Library and Secretary of the Oral History Society in the UK to this year's conference.
The conference theme focuses on the connections between oral history and community. We invite papers that deal with community in its broadest sense. Potential topics could include (but are not limited to):
Community group led oral history projects
Oral history projects that have studied various communities
The role played by community groups in collecting and in preserving oral histories
The role of oral history in creating and deepening a sense of community
Developing a sense of community among oral historians
If you would like to propose a paper, please submit an abstract (of not more than 250 words) that includes your name; the name of your group, organisation or institution; and your email address to info@oralhistorynetworkireland.ie before Friday 8th August 2014 at 5pm. In addition, we are organising two community-focussed practitioner panels entitled 'Moments in Oral History', where speakers will give 10-minute presentations on outstanding moments, descriptions of people encountered, or reflections on the challenges and rewards of the Oral History experience (see call for contributions on our website). The conference committee's decision on successful abstracts will be communicated to potential presenters in early August.
Registration for the conference is now open through our website http://www.oralhistorynetworkireland.ie/2014-conference. For further information or queries please contact us through info@oralhistorynetworkireland.ie.
Best wishes,
Arlene
_______________
Dr Arlene Crampsie
Member of OHNI Conference Committee
Co-Director Oral History Network of Ireland
School of Geography, Planning and Environmental Policy,
UCD
https://networks.h-net.org/node/16738/discussions/35125/cfp-oral-history-network-ireland-conference-12th-13th-sept-2014
Number of Visits: 4005