341st Session of Night of Memory-1
The Greathearted
Adjusted by Leyla Rostami
Translated by Ruhollah Golmoradi
2023-7-20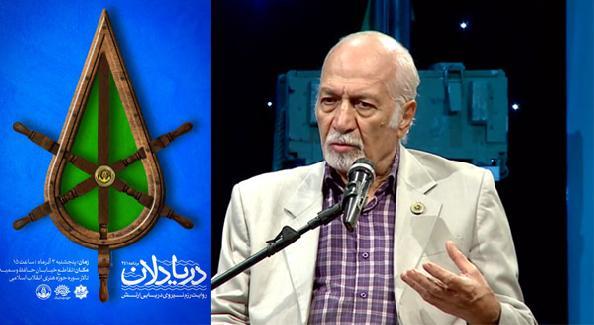 The 341st Session of Night of Memory, titled "Daryadelan (The Greathearted)" and narrated by the honored warriors, veterans, and released prisoners of the Islamic Republic of Iran Navy was held in Hozeh Honari's Sooreh Hall on Thursday, November 24, 2022. In this session, pilot, rear admiral Karamat Shafieifard and Mr. Farnoosh Seifollahifard shared their memories. Akbar Eini and Mohammad Ghasemipour hosted this night of memory.
■■■
At the beginning of the session, while reminding the seventh day of Azar (November, 28) which is dedicated to the "the Islamic Republic of Iran Navy"[1], the presenter invited the first narrator to share his memories. He then handed over the interview to Mohammad Ghasemipour because of his greater knowledge on the topic of the session.
The first narrator, Admiral Karamat Shafieifard, at the beginning introduced himself and said, "I was born in Shiraz and fifteen years before the Islamic Revolution, I was employed as a helicopter pilot in the navy. After the revolution, for some reasons, I was able to serve in the Red Crescent of the Islamic Republic of Iran. The Red Crescent, which has an air emergency and rescue unit, requested a pilot from the Navy, and in 1979, the Navy assigned me to the Red Crescent as a pilot officer. After being released from captivity, I served again in the Navy and the Joint Staff.
He went on to remember repatriation and meeting his family and wife, and said, "After returning from captivity, brass hat Shamkhani, the then commander of the navy, welcomed me. When I went to his office, my children were in another room. They brought the children and I saw them and we got into the car with them. The car was a patrol covered in mud. First, they took us to a mosque in Tehranpars, where I gave a short speech, and then I came and stood next to my ex-wife very normally, and then we went to her father's house.
The narrator continued, "They had arranged chairs in her father's house. When we sat down, the late clergyman Movahedi Qomi, the then head of Navy Ideological-Political Office, sat beside me and told me the story in such a way that there was no news of you; They even saw you when your helicopter was on fire and said that you must have been martyred and even held a memorial service for you.
The ceremony of my martyrdom had been held in my hometown, Shiraz. They had also prepared the placard of my martyrdom. They sent me its picture and I saw it myself. After spending 8-9 years of patience and resistance, my first wife got divorced, and as I did not return and I had been recognized as a missing person for many years and that no trace of me had been reflected in the country, she remarried. I told clergyman Movahedi Qomi, "Well, if there is no problem from the point of view of Sharia, there is no problem from my point of view." He said, "No, it does not cause a problem from the Islamic point of view. I would like she returned (in divorce), but since she had given birth again, I thought it was better she would not return.
Answering the host about how he was captured and how he became both a naval officer and a helicopter pilot, Karamat Shafieifard told, "It was not like now when the Red Crescent have such a large fleet of helicopters, ambulances, etc. At that time, there was one helicopter and the pilot had been recruited from the navy, that the person was only me. The Iraqi army had seized Ahvaz Rolling Mills. When we were sent to Ahvaz Rolling Mills in September/October 1980 (Mehr, 1959 SH), all the helicopters were military and I was the only rescue helicopter pilot. Iraqi artillery was constantly operating and regularly fired the 92nd Ahvaz Division. At that time, our forces were resisting and they needed rescuer to carry the wounded. In one of these missions, our helicopter was struck, which led to an emergency landing. The helicopter caught fire; We also got out of the helicopter. Iraqi personnel carriers came and took us and I was captured.
They took me first to Basra, then to Baghdad, and then to Istekhbarat (the Iraqi intelligence agency), and it was after the interrogations that I fortunately managed to come out of it. High-ranking military officers were directly handed over to the intelligence of the Baath army and were not introduced to the Red Cross in any way and were known as missing. After what I said, they severely tortured me. The Iraqis said we seized Susangerd, we took Abadan, they gave examples of the places they had captured. In response, I told them, "The fighters I saw on the front and the people's support I saw will surely arrive in Baghdad, and these words cost them dearly. They said, "How can you prove it? From the pocket of my flight suit, I took out some of the dry supplies that were still left and said, "These were sent to the fronts from Kerman and from faraway places, and they are supporting the fronts. Be sure that these people will drive you out of their land."
The narrator continued, "Then they took us to Istekhbarat. As you know, Istekhbarat was a place of torture and they tortured me. I will never forget that day. They tortured me so much that I could neither sit nor sleep. I was standing until the next day; Of course, I got a little better after that day. From there we slowly got to know the names of the pilots who were captured with the strokes of the letters of the alphabet, fist, and morse code by the blows we hit on the wall. In the same way, I found out that the freed prisoner martyr Hossein Lashkari[2] was also among the prisoners. Prominent officers were kept in solitary cells of Istekhbarat, and no one outside knew about their fate. Martyr Tondgooyan was also captured almost the same days, one or two days before or after when we were captured. I have a lot of memories.
He added, "We were then sent from Istekhbarat to Abu Ghraib prison. We were eighty. Abu Ghraib was a very terrible prison. They brought some pilots and some others who were not pilots. Living there was very difficult. We weren't in a good hygiene situation and didn't have a bathroom. A number of warriors who their arms and legs had been broken had been also taken there. Martyr Hossein Lashkari also had a broken arm. We had a very hard life. Later they brought a doctor or even a dentist. The dentist only extracted teeth and there was no restoration. Mr. Lashkari lost most of his teeth there. Now, for every tooth we lost, they gave us a bottle of milk. We shared that one bottle of milk among our group of eight or nine people. They kept us in this way until I returned to Iran. Of course, before I returned, they came and took Mr. Lashkari. We also thought that he was really taking to Iran. I had also made a number of handmade items and gave him as a gift and said bring these with yourself. But he was returned to Iran around eight years after this meeting, that is, after our liberation.
In the continuation of his speech, the narrator introduced the reason and motive of standing in captivity as the hope in God, resorting to Imams and Quran, and said, "My father was a religious person, and in my childhood, he took me to the mosque and meetings of Quran, and from that time, I got to know the meanings of Quran. In captivity, they gave us a copy of Quran, and there was a pilot named Mohammad Reza Ahmadi, who was a translator of Quran, and he made me gradually familiar with the meanings of Quran. The same Quran and prayers survived us. The radio that we got also elevated our spirit of resistance.
The narrator then mentioned the first days of his return from captivity and meeting Hossein Lashkari's family, and said, "I went to Mr. Hossein Lashkari's house because he did not return with us. At that time, his son educated in a gifted high school. I told his wife that whenever Mr. Lashkari comes back, all his teeth will have fallen out and been false teeth, will have a cane in his hand, and will wear glasses. His late wife started crying and said, "I hope he will come back as you say. If my husband returns, there is nothing wrong with him, even as you say. He will be welcomed. But his wife spent again eight years of loneliness and waiting, and Hossein Lashkari returned to Iran eight years after us.
In response to the host's question that "There are some young people among us, you recommend them to be in the navy or air force," the narrator said, "When I was in the officer candidate school, people from the navy came in white uniforms; Among them, there was an officer who said, "We needed one quota for the navy, who is ready?!" Some people raised their hands, including me, and they took us to the amphitheater to take the test. In this way, I became a naval quota. Some time passed—I don't remember a week or two— and then some people came from the Air Force and said who wants to join the Air Force? I loved being a pilot from the beginning, so I went for the test again. The next day, they took me to their commander. There were two of us. He told us that you cheated. I said we didn't cheat, but we tried it twice and now we want to go to the air force. Then he said you two who did such a thing should go back. We were about to be fired. He verbally said you were fired and cheated. We said we didn't cheat and we want to take the exam again. Then they sent us to the navy, and we also became a member of the navy. Since I liked pilotage a lot, I had also applied to be a pilot in the navy, and that's how I became a Navy pilot.
To be continued...
---
[1] Operation "Morvarid" is one of the sacred defense operations that was carried out with the support of the Air Force of the Islamic Republic of Iran on November 28, 1980. In this operation, they destroyed the two oil platforms of Al-Bakr and Al-Amiyah, which Iraq used as an economic complex and as an observation post. November 28 is named "Day of the Islamic Republic of Iran Navy" in memory of this operation.
[2] Hossein Lashkari (1952-2009) was one of the pilots of the Air Force of the Islamic Republic of Iran, who was captured a few days before the official start of the Iran-Iraq war and returned to Iran after 18 years of captivity in Iraq. He endured the longest period of captivity among all the captives, and after his release, the leader of the revolution named him as "Seyel al-Osara (Sayyid of Prisoners)." Lashkari was very important for Saddam personally. Saddam wanted to present Hossein Lashkari as a document of the initiation of the war by Iran. Iraq's imposed war against Iran started just four days after capturing Hossein Lashkari. From the early August 1980, the air invasion of Iraq had actually started, and Iran had to show its readiness in the form of reconnaissance missions and offensive operations to the border positions of the Iraqi Baath army. Lashkari had only flown into the border wall and the reason for crashing and destructing the plane was due to a missile launched by the Baathists themselves.
Number of Visits: 510