Significance and Function of Oral History in Documenting Organizational Knowledge and History – 2
Sepideh Kholoosian
Translated by M. B. Khoshnevisan
2022-6-7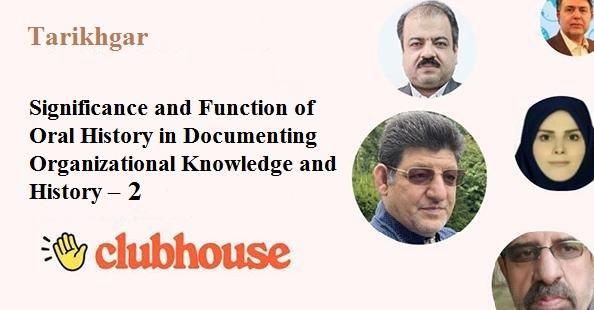 Note: Dr. Abolfazl Hasanabadi, Dr. Habibollah Esmaeeli and Dr. Mehdi Abolhasani participated in the fifth meeting out of the series of meetings on oral history in Iran hosted by Mrs. Mosafa. In the meeting set up in the History Hallway of the Clubhouse, they talked about "the significance and function of oral history in documenting organizational knowledge and history".
In continuation of the show, the host invited Dr. Hasanabadi to continue talks about the difference between organizational memory and organizational knowledge as well as the discussion about the standards which exist for organizational history.
Hasanabadi: The discussion I brought up under organizational history and organizational memory indicated exactly whether it is possible to carry out an oral history work through organizational history. If possible what standards does it have? If not we should seek organizational memory in oral which in this case, what standards do it have? One of the few articles I reviewed and came across in the world was that using oral history is more about documenting organizational memory.
Two steps are considered for oral history in the world. The first is to document organizational memory. That is, they consider the organization as a living being that, as all government employees know, not all of the organizational unspoken words are documented. The argument that Mr. Abolhasani says is based on an official administrative history; that is, what is considered in the circulars, official documents, minutes, statutes, etc. This is a discussion and part of organizational history. But we have a discussion about the informal history of organizations that is never brought up anywhere. We have a lot of unsaid things and all of them are in managements. Where are these now? Are they part of knowledge?
Another point is that a lot of organizational data and organizational experiences are data that cannot be transferred in the main context of the writings and is more evident in the context of speech and expression. This is a structure that is considered in the world and is not negated. You are not looking for building organizational history through oral history. Many organizations now seek to make history for themselves through oral history, and I reject that, and the reason for the discussion is the same. But what is the basis of oral history in the world and is considered, is that you do not seek to make organizational history through oral history, but seek to document what is not first in official sources and secondly in official sources but is incomplete, and you have to complete it, and this is a different discussion.
Using oral history has different levels. We have one level of organizational memory, one level of organizational empiricism, and one level of organizational knowledge. Not all employees in an organization have organizational knowledge. That is, although they may have organizational experience, they do not have organizational knowledge and it is not transferable at all. Organizational knowledge is limited. Every organization has a certain amount of organizational knowledge to present. Thus, you can categorize and grade what oral history can do in this area? What about in the area of experience and in the area of knowledge? But what we see now is that none of these categories existed, and there is no such thing as organizational memory as standard, which can be graded later and oral history can be used within its own context. Oral history can then find different functions.
Host: Thanks a lot for your explanation. We hear your opinion in this regard if any, Mr. Azizi.
Azizi: while I confirm what the Dr. and any respected friend said, I think all of us are looking at a thematic unity from a special angle. It may seem that we want to disagree with each other. What is happening in Iran is that the boundaries between organizational memory, organizational knowledge management, and our oral history in projects that Dr. Abolhasani rightly points out, have been determined by non-specialists and it is much more evident that these boundaries are intertwined and mixed.
Mr. Doctor referred to the discussion of knowledge management, which is quite clear in this issue, you are going to create the ability to use the organizational knowledge of one organization for others. Either we have the documented documents of the organization or the tacit knowledge that people have and it is not documented but the knowledge is hidden and implicit and must be extracted.
But in the discussion of organizational memory, you do not necessarily seek knowledge and management within the organization. When you work on organizational memory, you do not necessarily want to see what methods an organization's employees have used to shorten their paths. On the contrary, we want to look at a group of the same documents that can be easily questioned.
Suppose you want to review management reports and the work that is being done in the field of management and see whether these things have corresponded the past or not. With a knowledge management, this can be found and see if the documents that are rejected as a work report, for example, and we call them solid and definite documents, are correct or not? That document was produced on the date it claims to have been produced, by the person who claims to have been produced, and has been created in the environment and context and space that has been, but the information in it is incorrect. That is, the content in it, for example, has been exaggerated, and it has not mentioned and explained about the mistake and simply has ignored it.
Therefore, it is wrong to say since it is necessarily a document, then it is real, and we can find documents that are not real. I do not want to go for fake documents. The documents that are produced in our office environments can at least be said to be inaccurate. So here the organizational memory as well as oral history comes to help us.
We have a flaw in the organizations and management issues that oral history is interdisciplinary in its place, and we are making it more interdisciplinary. We also mix oral history with the science of management, which uses sociological methods and field interviews to identify its past history. So there will be conflicts inevitably. This is where only oral history can help us. In organizational management, only a series of information is reflected in the documents.
Even if all the documents are produced correctly and in the right environment and at the right time, there are no errors and mistakes in them, you have two organizations in each organization. One is an organization that is based on the structure and hierarchy and organizational chart and the other, there is an informal organization. We do a lot of our organizational work by informal organizations. Especially now with social media, in my opinion, as someone who is interested in archives and is still somewhat traditionalist and cannot understand modernism in this case - because I know we do not have the infrastructure in Iran yet - many of our organizational actions are solved by informal organizations on social media. That is, I request something on WhatsApp or a document is sent to me, in the same messenger or in any other tool or social network that we work with, I edit a copy or complete a minutes. This has no place at all in the management of organizational knowledge and explicit organizational knowledge. You cannot find these transactions and this exchange of information and data and influence and decision-making in the organizational structure and management at all. These items are not stored anywhere in your organizational systems. This is the new role of informal organizations. Informal organizations existed before the birth of social networks. Perhaps throughout history, you have had informal organizations in institutions, organizations and organizations, and so on. It already exists, but now it uses another tool that has dramatically changed the way it works and communicates. Informal organization means that one person may be in one country and one person in another country. Now suppose both are colleagues and make a decision for the organization that is not recorded in any of the organizational documents. So it is here that the oral history is correct, at least from the point of view we have.
As I said in the previous session, I know the oral history interview is more accurate, so this is where I get information from my interviewees by conducting oral history interviews that this information is not recorded anywhere, and I go to the parts that are not reflected in the documents or we have documents about it for whatever reason it has disappeared or is less or missing and we cannot find it in relation to the subject. It is here that we go for the missing rings. Otherwise, according to Dr. Abolhasani, when I work on a historical subject or phenomenon where all the documents are available and everything is so clear that it makes me needless about other information that I want to look for, and it no longer makes sense to use an oral history interview. When I have no ambiguity, I have no question and no doubt, using oral history is a kind of following the fashion. That is, because the work and approach of oral history has become fashionable, I also use the history of the organization in my work, which is related to contemporary history, to say that I have also worked on oral history. The function of oral history is in places where our documents are monotonous, scanty, do not exist not at all, or it is false, and do not reflect reality and are out of reach. So we have to go to oral history. But remember that in the organizational oral history and organizations, we have to get a lot of information from informal organizations.
Dr. Hasanabadi also pointed out that in the projects that he himself had implemented and in the projects that we implemented in the organization for our oral history, we were not satisfied with the bosses and at various levels, we interviewed the chairman, deputy chairman, general manager, expert of the organization, etc., even the expert who had retired; but perhaps rightly or wrongly, we focused on the experts and individuals who we felt were influential in terms of length of service to gather information about the organization's oral history and the parts about which we have little or no knowledge.
At any rate, I still agree with the boundaries between organizational oral history, that is, interviews conducted for the purpose of organizational oral historiography, and those interviews conducted for the purpose of gaining individual biological experience or for the purpose of developing organizational memory. With the case that Dr. Abolhasani is referring to, that is, the interviews may not recognize the historical context in which the events took place, in a society where academics and history graduates are still skeptical of the concept of oral history or oral history interviews or historiography with skepticism and sometimes pessimism, such boundaries are fragile.
In continuation of the show, the host invited Dr. Ali Tatari to continue the debate.
Tatari: What is certain, and I realized, is a specialized discussion of the oral history of organizations; That is, documentation in organizations. In the first part, I make some improvised points from my own experience. During the past year, I have begun another area of oral history over the past fifteen years. I have mostly been involved in the organizational field and worked under a specific organization of the Majlis (parliament) Documents Center, which was mainly the activities of oral history in that field. After Mr. Jafarian entered the Library, Museum and Documents Center of the Majlis, we started some activities. Before that, there was no such thing as oral history at all, and upon my suggestion, in 1388 (2009), the Oral History Center of the Majlis was set up, and in the same direction, we saw that for producing documents and alongside the documents we have, tens of millions of documents, including newspapers, detailed negotiations, and so on, helped us, but it did not replace history, especially in the area of parliament, and I believe that we in the organizational area, have to see which organization we are talking about.
Indeed, the effect of oral history is much greater in the discussion that takes place in the field of documentation in some organizations. Some may say that it is equal with oral history and the production of documents is important everywhere, but based on my experience, I do not think so. For instance, in the area of Majlis, the lawmakers have a series of issues outside the public arena and detailed negotiations behind closed doors, and they have not recorded them anywhere. This is how we were able to access some of this information. We had about 60 interviews with the lawmakers and added about 15 other figures, some at the request of Mr. Jafarian. For example, irrelevant people like Sheikh Ali Tehrani, with whom I had a 28-hour interview, and although irrelevant, it was valuable.
After I founded an institution and wrote oral history on its board, even if there were other fields, I realized that in the field of knowledge production and content, and especially the discussion of knowledge production and management, oral history is one of the important issues and examples of data collection and document production in the world. The whole world is moving in that direction, and the vision for the future is from disciplines such as history archives and sociology. That is, history can no longer continue its old style. The classical style has nothing to say anymore and many fields of the humanities are moving towards it. We also entered this path and saw that one of the things we can do in that path is a very long process.
The process in this area is knowledge management and its benefits and importance have seven levels. But the first discussion we have is discovery, and the other is storage, evaluation, and sharing. In the discussion that it should be done in any organization, in the discussion of knowledge management that it should be considered for organizations, this initial process is one of the most important operations that can be done in document production and knowledge management is the oral history and we saw that it also works there. In the discussion of organizational documentation, when we examine goals and hypotheses and realize their importance, we are talking about the accumulation, storage, and sharing of knowledge. One way of sharing knowledge is precisely this discussion of oral history. This means that you can facilitate access to information and knowledge through the interview.
They have come to the conclusion in the world that in order to produce content in this new area, we have to move from the field of innovation, improvement, decision-making, motivation, efficiency of operational and organizational units and processes that mainly affect the field of economics toward the field of oral history. One of the characteristics of these organizations is that they do not have archives and document centers, and their information has not been categorized or has just moved to this area. This is where the first point I made when I said that many areas and institutions and offices are more important than oral history.
For instance, the presidential office has an archive, or we have recently seen some areas, such as the Central Bank, which has published its own oral history and that of many managers in a very codified form. Now if you set them aside in the economic area, there are many areas that do not have an archive. I did something for Bank Sepah last year. In the entire archives of Bank Sepah, which now, with the merger of five other banks, has become the largest bank in the Middle East and does the work of the first bank as a whole, there were magazines in one floor of the books. That is, the entire archive of Bank Sepah was summarized in the same amount. An interesting point in this regard is that many former managers are retiring. Four or five other banks have come and want to recruit and distribute. Because these forces are younger, the old forces are coming out. Many former managers who have been present since the establishment of Bank Sepah in 1304 (1925), when it was the bank of the General Directorate of the Army, are retiring and taking out a lot of information.
In the plan I presented there to get the information of those loved ones, the only thing that came to my mind was to quickly bring many managers, experts and brokers of the bank toward oral history in a statistical community that we define and record their memories to be documented and then use them in the discussion of knowledge management. In other areas, some banks, such as Bank Tejarat, which was formed from the merger of twelve banks, many of its managers and retirees are still alive, but there is no information about them in the archives. That is, even the entire archive of the Bank of Iran and the Middle East was destroyed in a miraculous measure 3-4 years ago, which here is not the place to discuss its cause. At the time when I was informed I wanted to buy it, but the then manager said it had nothing to do with us although many unrelated documents were purchased for obvious reasons. When three hundred thousand sheets of documents of the Ministry of Agriculture were being destroyed, I bought them for 400,000 Tomans in 1392-93 (2013-14). Today, I see that many reports and turnovers and financial balances and the issues that reflected the life of the Ministry of Agriculture are in this collection.
I consider oral history to be so important in all areas that it has no counterparts. When there is only one person on a subject, for example, I and Mr. Niazmand, who was the head of the Development and Renovation Organization of Iran, and of course Dr. Saeedi, also took the trouble to publish his book, in the few sessions we met, we found out that the person behind the discussion of our industries in the 1340s (1960s) and our golden age was a person whose name has not appeared, and these interviews have brought him to life. A man whose cars have been driving on all the roads of Iran for sixty or seventy years, it was only those interviews that led to his revival.
We now have many of these in the discussion of economic organizations, banks, and institutions. None of them have done anything in their long history, especially since the time of Reza Khan, when modernization in the economic field had just begun. I think after the issue of the documents and collecting them and the sources they have, and none of them has an archive - about 95% - the Iranian Chamber of Commerce does not have an archive with 135 years of history. We do not have a trade museum in our country, even in the form of an archive. One way to get out of this crisis, which has a lot of work to do and has a large volume for the next hundred years, is the same oral history. That is, if all the potential of the guys of contemporary history come, I believe we will have works to do for another hundred years...
To me, one of the areas that has a lot to say in the future and is effective for the culture, civilization and development of Iran, that is, we who have spent our lives in this area, have not entered other phases and have only done cultural work and fought to get here and we do not become passive, are these areas particularly the issue of oral history and I see this area becoming more active day by day and a better perspective for it.
In continuation, the host invited Dr. Esmaeeli to continue the debate.
Esmaeeli: in my view, the concern of Dr. Abolhasani is the concern of all of us. The problem that exists today in the area of oral history is the involvement of incompetent and unprofessional people in this field. The mistake that happens in this sphere is that they think that in the field of history, wherever there is a story and it can be defined, it can be called oral history. What we, as historians, have a duty to do is to try to generalize the methods of historical study, first in the field of oral history, and second, to teach these methods to others.
One of the mistakes that the people of history have is that first, they quickly equate oral history with memory-writing, and because some have been told in the classrooms that memory-writing is the weakest source of history, they themselves first begin to cook the goose of oral history, and this is the worst thing that can be done. Whereas we have to defend our professional status and teach and learn that when we speak to an oral source or a narrator, the narrator becomes a first-hand source if he or she witnesses the story somewhere. But if the same person talks about something else, it becomes a second-hand source.
The same simplest first principle of historical studies that Dr. Nouraei said, when it comes to a historical issue, we talk to different people and get saturated evidence. Saturation of evidence can happen to three or fifty people. That is, the issue become so important that we have to teach these and learn them ourselves in order to apply it in practice. It is important to know who wants to do the job. If someone is really not qualified and is not familiar with it, he or she should learn. Unfortunately, the field of history has no owner and the same is true for oral history. The people of that field do not recognize it either.
Another point was made by friends due to the necessity of importance, and I myself see now that sometimes things are said that are not in any of the official and media reports. For example, when I used to work in the General Directorate of Culture of the Ministry of Science and the friends who were students or were with us at that time, remember that the issue of music in universities became very serious and then the leader's office paid attention to this issue and we as an office broker, we acknowledged and accepted. I talked to Mr. Kazemi about this recently. He pointed out that this issue was not only in the area of the universities, but also it had created a lot of problems in the area of the Ministry of Guidance and finally they had gone and solved it through negotiations. In which report has this been mentioned and resolved? Only one person, who was a direct witness of the incident, came and spoke about it, and this was a government tactic. It was right and it was done.
These cases are very common in these areas. Let me give an example in football. The Shahin team was disbanded due to a management decision. All official sources said that the dispute between this person and that person caused it, while it is not correct. In my opinion, a political decision had been made to deal with a part of a social current. That is, it is appropriate to go and look at the political context of the story. We must teach and pay attention to these.
The issue of oral history is inescapable and is practiced in our own country and in the rest of the world. If we go to the library of the Congress now, for example, we see that they have done it quite well. Once I saw that one of their insistences was to talk to the director of Aramco in Saudi Arabia with the same model that we do and with the same time, place, time and year. This was published and I saw that the oral history of Aramco was written through the narration of three or four managers there. So what does this mean? It means that one day we read history for mental enjoyment or an academic affair. Here I want to refer to the documentation discussion. Also, it happens that we want to transfer an experience. The transferring of management experience and the current knowledge between the experts and managers of organizations is of great importance. If, unfortunately, a rupture and separation is created in it, the result will be that the organization will go backwards and a waste of human, financial and time resources will occur. It would be great if we could come and tell these friends that interviewing is a tool and not a method, and that anyone with a recorder and a camera is not an oral practitioner, and to convey the subtle point that a tool serves something else. If I aggregate data according to a plan that can be used by others, it can be used both historically to mean scientific knowledge, spiritual enjoyment, or whatever you say, and it can be used to transfer experience.
You can see the method that I myself have followed and I share it here. For myself, I have categorized in such a way that when we are doing an oral history work, sometimes, an individual is our subject; so we mostly have to go forward with the method of biography and consider the actors. Sometimes we review an event. We look at the event at three levels: micro, medium and macro, i.e., at the family, neighborhood or global and regional levels; sometimes we also look at the level of an institution.
When we talk about an institution especially about the organizational history, we have to fully separate two areas from each other; sometimes we talk about an administrative organization, sometimes about the physics of a complex and sometimes about a building. For instance, regarding the current building of the Majlis(parliament), who has been the architect and what were the problems? You see to what extent he or she can have different subjects. Or for instance the establishment of an organization. When I myself looked at it because of my managerial experience, I said that when you want to work on an organizational history, you come across a triangle inescapably. If you want to gather information and this information is methodical, when you go to different people as narrators, you first have to read about that organization as much as you can. Not just yourself, but your entire team individually and in detail, expertly and with knowledge. Not to put a microphone in front of the interviewee and ask him or her to speak. And then say thank you, it was very good and … These have no value. The friends have seen all these models.
When you enter an organization, the first vertex of that triangle is actors and human elements. When we talk to those actors, we are talking to those who have the most information; the same first-hand source point that I mentioned. The second thing that comes after the actors at the top of the triangle is that we have to talk about the institution. I mentioned this institution, which can be examined both physically and in terms of administrative procedures, instructions, regulations, decisions, and so on. I mean we should talk about them. What happens to the multiplication between the administrative organization and the activities of the actors? All organizations and institutions have a product. This product can be an industry, a social service or a cultural-artistic event. That is, I have to see what the output of an organization is and teach about that output, learn and say that this knowledge must be applied. In the field of sports, for example, one can say that I managed the Iranian national team and took it to the Olympics, and that is where such things have happened. Here, I get the information in a completely historical way, and while I am writing history, I tell the next person that you cannot make this mistake or you can use these tips. For example, a phenomenon such as the Iranian players' confrontation against the occupied Palestine is a government decision and the Islamic Republic is doing it. But how they have organized it, which in some places they have been able to take advantage of the intervention of global institutions and the management of those institutions is an experience that must be recorded while it does not appear in any of the official reports. Only he who is present at the scene can transfer such an experience.
I believe that we have to go forward methodically and follow the principles of studying oral history especially everyone who enters should observe this triangle. And most important of all is the relationship and recognizance between organizational developments and national developments. That is, the relationship and major national or regional developments are very important, and the friends also mentioned this.
To be continued ...
Number of Visits: 1656