The 325th Night of Memory -3
Memories about the Baneh Border Battalion
Compiled by: Iranian Oral History Website
Translated by: Fazel Shirzad
2021-10-19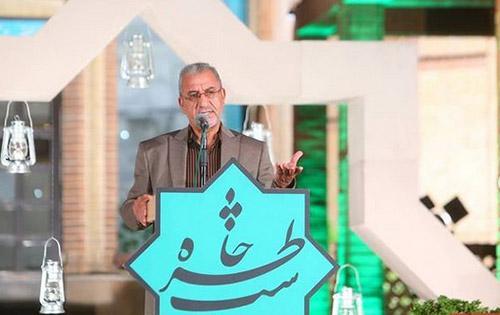 Note: The 325th Night of Memory program was held in person on the Thursday of 23rd July 2021, in the open space of the Arts Center, with the performance of Davood Salehi. In this program, some recounted their memories with the subject of border guards of the police force, such as the 2nd Brigadier General of the Revolutionary Guards, Jalal Setareh who is Deputy Commander of the Naja[i] Border Command, Colonel Abolghasem Khatami who is Deputy Minister of Culture and Social Affairs of the Naja Border Command, and Ali Kazem Hassani Raigani who is the cultural advisor to the Naja border commander.
In the third part of the Night of Memory program, Davood Salehi, the presenter of the program, initially read a text about martyr Mardani. He states:" Mohammad Mardani was the only child of a family and his birth coincided with the birth of Imam Reza (PBUH). He had loved Imam Reza (PBUH) since he was a child. Then, he became young and he was sent to the front for the second time. He was standing on the stairs, tying his shoelaces; He looked at Mrs. Aziz Khanum (mother) and said:" I wish we went to Imam Reza's (PBUH) shrine again before I was sent. You do not know how much I miss Imam Reza." He kissed Mrs. Aziz Khanum's flowery chador and said goodbye to her and left. His father was standing in the back of the door, holding an earthenware bowl full of water and jasmine flowers. He hugged the father tightly. He said in his ear, "Dad, I will miss you very much. I wanted to go to Imam Reza's (PBUH) shrine together again before being sent. no problem. God willing, I will go and come back, we will go together.
In short, anyone who hugged Muhammad heard from him that he missed Imam Reza (PBUH) very much. Muhammad was martyred at the night of an operation in Kurdistan. Mrs. Aziz Khanum has narrated: I was sitting in the room and praying. I had just finished my prayers when I heard the sound of the bell. I got butterflies in her stomach and ran in front of the door. Tomorrow morning we all went to the Ascension of the Martyrs, but the martyr in front of us was not Muhammad. There were two friends of Mohammad. They said that my son has been martyred; If I want to see him, I should come to the Merajoshohada[ii] of the Martyrs. The corpse was not Muhammad. I told the person in charge of Ascension, sir, this martyr was not my son. Everyone was surprised. The person in charge of Ascension started turning on and off the wireless and worried, upset, a few minutes later he came and stood in front of Mrs. Aziz Khanum and the father; He lowered his head and said: "Mrs. Aziz Khanum and the father, I am ashamed. Honestly, we made mistake; we sent your martyred son wrongly with the battalion of Imam Reza with other martyrs to the holy city, Mashhad. Sorry!"
Although the martyr's father had a lump in his throat, he did not show. He looked at the person in charge of Merajoshohada and said, "No. nothing has been done wrong; before going to the area, my son wanted to be a pilgrim of Imam Reza (PBUH).
Salehi continued: "When we talk about borders, we should also look at other countries that could not protect their borders well and strongly." How they were engaged by terrorist groups to make border towns and villages insecure to enter the country; but thanks to our dear border guards, not only do we have good peace in the capital and big cities, we even have good peace in the border cities. These are the results of the efforts of the border guards of our country. Thanks to our dear border guards, not only do we have good peace in the capital and big cities, we even have good peace in the border cities. These are the results of the efforts of the border guards of our country.
After that, the presenter introduced the last narrator of the program, who was the cultural advisor of the Naja Command, Mr. Ali Kazem Hassani Raigani, and invited her to the stage.
After greeting, Hassani introduced himself as a retired colonel who had served in the Naja for three years and three months. "I would like to make a brief reference to this issue," he said, "The scent of the Decade of Dignity is still in our beloved country. The word کرامت/Kǣr˄mǣt/ (dignity) is derived from the root of کرم/Kǣrǣm/ which means honor and dignity. Whenever the word کرم /Kǣrǣm/ is attributed to God, it means the obvious benevolence and blessing of God, but if it is addressed to man, its meaning will be different and it will mean the meaning of generosity and magnanimity and so on. As you are aware, the Decade of Dignity is the first decade of the month of Dhu'l-Hijja[iii], which begins with the birth of Fatemeh Masoumeh (PBUH), and the decade ends with the birth of her noble brother, Imam Reza (PBUH). On the thirtieth day of the month Dhu'l-Qa'dah[iv], we also have the martyrdom of Imam Javad al-A'meh (PBUH). Interestingly, it is said that the words Karim and Javad are two almost complementary concepts. In ethics, some of these words are also replaced by each other. It is sometimes said that Karim is the one who will give you something if you do not ask him, but Javad is the one you should ask him to give you. Both of these are the attributes of God who is both Javad and Karim.
The narrator continued his speech by mentioning a memory: In 1982, I volunteered to be sent to the Kurdistan operational zone and served in the Baneh's Border Battalion as the ideological-political commander of the battalion. At that time, I was Lieutenant 2 and I with no experience. He was there during the first days of my service, and the late Bahrampour[v] the commander of the gendarmerie at that, to whom Kurdistan people owes part of their security. A noble major, the commander of the Baneh's Border Battalion, was also present there, whom I will not name. The Naja was usually divided into several sections, such as ideological-political forces, command, information protection, and so on. In other words, ideological-political and information protection are the two wings that fly the commanding sector. These were a triangle that complemented each other.
As you can see, counter-revolutionary and dissident groups such as Komala, Democrat, Khabat[vi], etc. were active in the Baneh region at that time. A struggle took place at the Manjilan military base, and the late Colonel Bahrampour and his commander flew to the military base by helicopter to investigate the matter. Although I also asked them to take me with them, they did not take me with them as much as I asked. Then, I do not know what they planned. Maybe they thought something might happen to me as an inexperienced officer because I had only been there for two or three days. Eventually, they did not agree and went there and killed some of the counter-revolutionaries. They even explained that someone who had hidden on a tree branch had been shot. They put these people in a Nissan pickup truck and drove them around the city, and people watched. By doing so, they cracked the whip of the counter-revolution. This was the starting point for my service and I realized that as I came here I had to be very sincere.
On the other hand, those who sent me there in charge had instilled in my minds that when I am there I have to work hard to train and attract the troops, and also to create a spiritual atmosphere; we thought that as we are in the political-ideological sector, so we were own heaven; we did not know what brave men and officers were there.
Hassani continued: "Baneh's battalion was a combination of army forces, nineteenth brigade, green hats, under the command of Commander named Dadbin, who were brave officers of the army and later became the commander of the ground forces. Of course, you are familiar with them. The starting point of my acquaintance with him is the memory I tell you: "One day, near the prayer time, the battalion commander came back from an operation and entered the barracks. His clothes were dusty and dirty, and I was an inexperienced lieutenant with energy and a strange mind that I thought everyone should be an angel and one of the angels of God. I had such an idea in my mind. I went and greeted him, and the lieutenant did not know me earlier, but he knew that I was in charge of it. Because there were few spiritual ones that some of them came there as missionaries to the border and returned for a month. At the same time, I went and took his hand and said: "Excuse me, it is the call to prayer. Come to the mosque." He replied: "I came from there. Let me take a shower later. He was very surprised when he saw that I, the lieutenant, was pulling his hand, who was a major general and forcing him to come to pray. As I am telling this memory, I am ashamed and it is really unfortunate that we were not justified, and thought that we were only owners of Islam. I pulled his hand and he resisted. He said: "Shape up! And if this is Islam and this is how you should be invited, and I want to pray because of your invitation, I do not want such an invitation at all."
The narrator continued: "It was night and the prayer was offered. Incidentally, a prayer ceremony was held that night. I saw Brigadier General Dadbin who greeted the prayer. At that time, the uniform of the army was similar to that of the gendarmerie, and it was not very clear at night, and I did not know that he was the brigade commander, but he did not have a rank. I told a Sergeant Major named Mr. Faraji: This soldier is very good in his prayers and he is very interesting in the continuations of prayers. Do you think we should attract them for a political ideology? He looked and said quietly, "Mr. Captain! He is Maj. Dadbin, the brigade commander."
I got up quickly and he looked at me and I respected him and apologized. He said: "Why Mr. Raigani?! We are honored if we recruit you as ideological soldiers." With this action, he taught me a lesson that has been the starting point for our relationship. We had family relations until he received the rank of brigadier general and became the commander of the 28th Division in Sanandaj.
Hassani said: "Martyr Mahmoud Amanollahi was also a very great man and they were always along with Brigadier General Dadbin and they would come and visit me and I realized that the way of propaganda and invitation to Islam was not as I imagined. Unfortunately, we do not know how to deal with our children in our own families. If our child has a knife in his hand, we may get angry and take the knife not to cut his fingers.
The narrator went on to say: "it is mentioned in Holy Quran in verse 34 of Surah A'raf: "We have set a deadline for all of you, and whenever this deadline is ended; we will not delay for a second, neither forward nor backward." Now the deadline has two forms, we have a suspended deadline and a determined deadline. God says that if that determined deadline arrives, it will not be delayed for a second. Many of us are afraid; Of course, caution is the condition of reason and we must prevent it, but what is destined will be done in time. Well, It is fair enough. I read this verse because we went with Hujjat al-Islam Hosseini to an operation in Halabja. We came to a highway where a friend from Isfahan said in his interesting accent: "This is the road of death, here you will surely be martyred." But we did not follow his words and went by car there. The enemy was fired around us by mortars, the car was punctured but fortunately, nothing happened to us. It was really strange and then we entered Halabja. I was successful in the Bloody Pilgrimage to Mecca. More than 500 people were martyred there. I was one of those people who become unconscious there and had not to chance to become a martyr because God has decreed that nothing will happen to him until his time comes."
"At the end of her speech", the narrator said, "considering that we are in the decade of dignity, I would like to present to you a poem that has been composed on the occasion of honoring Imam Reza (PBUH):
O God, thanks for Reza's presence!
As he gives upon us his grace
O Stranger, I feel homesickness!
Through mercy intercede us, wrong doers.
O Merciful Imam, shining sun!
As a dawn of Iran from Khorasan!
Heal the sick and suffering existence!
You're a calmness for souls from distance
You're the guarantor of the desert deer
You've really become for hearts like a hunter
You Imam Reza take care of us
You're the eighth star of God's grace.
Defend this homeland from the enemy
We will sacrifice our life and body
For your presence now I am living
You're the happy ending of this spring
This happiness is belonged to you
Your presence brings protection too
The tree of revolution blossoms from you
You protect us kindly too
If the enemy has a plan against us
You disturb them; you're lovely to us
Khorasan is a symbol of love and loyalty
It is enlightened by light of Reza highly
It was our hope in Iran our land
His presence has cut the oppressive hand
The whole land of good fortune existing
Illuminated by the light of his being
Whoever appeals him whenever is possible
He'll made a bridge over his trouble
Passed from despair and hopelessness
Taken from Imam a key to solve problems
Look at the Khorasan's friends
Come, sir, travel to these hearts
Help the proud border guards
A change has begun from your presence
We, the border guards, protect the land
O great man by your command,
For religion let us sacrifice our lives
Against enemy we saddled our horse
To visit your shrine give a chance us to come
For our privacy and lives we defend home
Number of Visits: 1052