SABAH (48)
Memoirs of Sabah Vatankhah
Interviewed and Compiled by Fatemeh Doustkami
Translated by Natalie Haghverdian
2021-02-09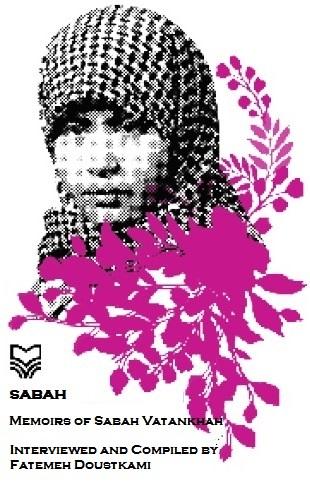 SABAH (48)
Memoirs of Sabah Vatankhah
Interviewed and Compiled by Fatemeh Doustkami
Translated by Natalie Haghverdian
Published by Soore Mehr Publishing Co.
Persian Version 2019
---
Right at that moment, an ambulance arrived. The driver got off quickly. He was a big and relatively fat man. As he got off the car, another RPG bullet hit the ground five six meters away from us and one of the army forces collapsed. After the dust and soil and fire died down, the driver of the ambulance went towards the injured. I followed him. We had not yet reached the injured that a mortar bomb hit the ground between Santap gate and the railway and the driver of the ambulance made a sigh and kneeled on the ground two three steps ahead of me.
I reached him. Shrapnel had hit the left side of his chest next to his heart. He had placed his hand on his wound and the blood was pumping out of his fingers like a spring. I grabbed his shoulder and collected all my strength in my hands to be able to drag him. But he was heavy and I could not move him even one step. The driver was conscious. I told him: "Brother, grab my shoulder and help me get you to the ambulance."
He stood half rise and grabbed my shoulder. I lifted him. His forehead was soaked in sweat. Although he was in deep pain, it was obvious that he was trying not to put his weight on me, but his foot dragged on the ground while he took steps. I felt as if my lumber vertebrae were breaking into pieces.
When we approached the ambulance, all of a sudden in a distance of seven eight meters away, a mortar bomb hit the ground. I bended; as soon as the mortar bomb hit the ground; I felt a deep burn in my left knee. The strength of strike was so intense that I felt my leg is torn from knee down. When the dust and soil settled, I looked at my foot and saw that three drops of blood have poured on my shoe. As my shoe was beige corduroy, that three drops of blood were very obvious on it. I felt that I had been hit by shrapnel. I dragged both of us to the ambulance with great effort. The driver did not notice that I had been hit by shrapnel too. He thanked me when we reached the ambulance. The army forces helped and placed him in the car. They placed the martyrs in the car quickly. One of the martyrs had lost his head and hands and feet. Then, one soldier ran towards the house to bring the injured.
In the yard, Dr. Sa'adat was treating the injured with his own injured hand. Those who were in the yard had slight injuries and were considered as outpatients.
Anyway they mounted them in the car and ambulance left in high speed.
I dragged myself into the yard trembling and sat down. Nobody noticed my way of walking. As time passed, the burning in my foot increased. The bleeding also increased. I was in a lot of pain, but I was happy that nothing bad has happened to me and I can stand on my feet to some extent and manage my own tasks. I did not talk about what had happened to me to anybody. Although my trousers were covered in blood, but they all thought that it is the blood of the injured. If I told them that I was injured, they would send me back. I did not want to go back. I wanted to stay in the frontline as much as I could and treat the injured.
It was not a suitable place to lift my trousers up to see what has happened. I just took gauze and placed it on the location where the shrapnel had hit. My foot was still burning. The point where shrapnel had hit was beating like heartbeat and burnt. My trousers had a small hole in it. I bandaged the wound. My manteau was long below knee and was like a dress with no buttons. When I got up, it was not obvious that my foot is bandaged.
Dr. Sa'adat collected our aid equipment with a wounded hand. We were waiting for a vehicle to arrive and return us to the office. About half an hour later a pick-up came and returned us to the office.
In the office, team members asked about Zahra. I told them that she has been injured and transported to the hospital. At that moment I told them that I have been injured. The pain was killing me. Dr. Sa'adat asked surprisingly: "you have been injured by shrapnel and we did not notice? At least you could have told us and we could have bandaged your wound!"
The team members did not believe that I have been able to endure this much pain and keep silent. I told Dr. Sa'adat: "I did not say anything since I was afraid that you would send me back. I wanted to stay with the rest of the group as much as I could."
Khalil Najar said: "Get ready to be transported to the hospital." I said: "There is no need to send me to the hospital. Bandage my wound here." He said: "ok I will have a look at your wound. If it is possible, I will drag out the shrapnel here but if I cannot drag it out, you have to go to the hospital."
I sat on the bed and moved my trousers up. Najar took the surgical pence and attended to the shrapnel. He entered the pence into the wound and turned it around. I sighed loudly and I felt dizzy and lied on the bed. Although I had endured a lot of pain until then but the pain of removing the shrapnel was so much that I felt massive weakness and I fainted.
I could hear the voice of Khalil Najar who said that the peak of the pence hits the shrapnel, but it does not come out and only the bleeding has increased. He stopped what he was doing and brought me a serum to inject and said: "Tomorrow you have to go to the hospital to have it removed and also inject tetanus vaccine."
It was sunset. I closed my eyes to sleep. Maybe sleep would help me relax.
I suffered ague at night. Team members were around me. Ashraf, Keshvar, Belgheys, Mehrangiz and Ms. Akbari; Mehrangiz came to me and cuddled my face and head and told me in a kind and mellow voice: "Don't worry Sabbah jan! You will get better soon."
Among the team members, Belgheys was more worried about me. We had become close friends. She pulled a blanket over me and did not leave my side until morning. Poor girl was really terrified. She worried that my wound might have been infected and cause further problems. Dr. Sa'adat had prescribed anti-biotic capsules and had insisted that I take them on time.
Although I was covered with two blankets but it was near sunrise that I woke up from chill and my teeth hitting against each other. My knee was in a lot of pain. It was time to change the bandage. When they opened the bandage, I saw that the area surrounding the wound has turned blueish dark. Bruising had covered part of my thigh and the area surrounding the wound was so painful. The Iraqis had started attacking since early morning. The voices of blasts did not stop even for a moment. It was a strange feeling; strange and bitter. The city was falling right in front of our eyes. We had done all we could to keep our city but the enemy was much more powerful and we were empty handed.
The blasts got closer and closer. They were hitting the surrounding of Jameh mosque. We were on full alert. I had to get to Taleghani hospital and inject Tetanus vaccine in that condition. I was worried that the wound might get worse. I did not want to go to the hospital alone. The team members had a lot to do in the office and had to stay there to attend to the injured. Therefore I asked one of the boys called Mousavi to accompany me.
I do not remember his first name. He was about fifteen years old, tall and brunet who had come from Karaj for aid work. As of first sight, I kept his gesture in my mind. Despite the warm weather of Khorramshahr, he was wearing a woven black shirt which had a little writing in grey on its chest. It was obvious that the weather of Karaj has been turning cold at this time of the year. His trousers were made of fabric and brown. He had been in town for two three days but to be honest he had done everything he could without a minute rest. He brought the injured to the office with other team members or took the martyrs to the Abadan martyrs cemetery.
I told Mousavi that I wanted to go to Taleghani hospital. I told him that I wanted to inject Tetanus vaccine and also get an x-ray from my knee to see where the shrapnel is. Mousavi accepted to accompany me without any hesitation.
We left the office. We started walking with the hope of finding a car which could take us to the hospital. I could barely move myself and walked very slowly. After a while, we got into a car. Mousavi and I were looking at the streets around in silence. I turned to him and said: "How come you have come to Khorramshahr?"
Mousavi who was waiting for an opportunity to start a conversation, said: "We lived in Sanandaj. I am the only son in the family. During the Kurd Public events, many families were irritated like mine who did not agree with those events. My father and mother moved to Karaj because they were afraid that I might get hurt."
I was surprised. I said: "How did your parents agree to send you to frontline? The danger here is hundred percent more than Kurdistan." He smiled and said: "They do not know that I am here. I did not tell them at all!" I asked: "Are you serious?!" He said: "Yes, I swear to God I am telling the truth!" I told him: "You have made a big mistake. You should have told them." He said: "If I told them, do you think they would let me come?!" I said: "You had to do your best to convince them. Those poor people are worried sick about you?!"
He said nothing and remained silent. We reached Taleghani hospital. We went to the emergency ward. A male doctor was sitting in the emergency ward. We had seen each other a few times before when I brought in injured soldiers. When he saw me with no injured, asked surprisingly: "Where is your patient?" I said: "I am the patient."
I told him what had happened and explained that I had come to inject Tetanus vaccine. Doctor said: "Very well, wait I will bring a needle."
I was afraid of injection since childhood. When I got sick, I was ready to take many capsules and syrups to avoid injection. I had a strange phobia. My hands and feet were frozen from stress! In the hospital and office, I had seen many other individuals who were afraid of injection like me. For example we would often see injured individuals who had been hit by one or many shrapnel and all the body was fully harmed but they were patient and did not say a word but when it was time for injection or serum therapy, they would avoid it or close their eyes to avoid seeing the needle going into the flesh. The doctor gave me the ampule and said: "Go to radiology section and ask for Mr. Forouzan to get an x-ray from your foot."
I knew Mr. Forouzan. He often asked for my help when we took injured soldiers to radiology department. Sometimes it was necessary to hold the fractured and harmed hand or the foot of the injured during x-ray.
When I was done in radiology, I took the x-ray to the doctor for his advice. Doctor looked at it and said: "The shrapnel has hit next to the knee bone. Thanks God it has not created any fracture and is inside the flesh. You can go and take it out." I said: "If I do not take it out, will it hurt?" He said; "At the moment I do not think it will be a problem. Later it might move and bother you. Anyway it is your decision." I said: "Ok so let us keep it for later." He said: "So I will prescribe some medication to alleviate your pain and avoid infection."
I wanted to keep this uninvited guest as a memoir and not take it out as long as it did not bother me. I liked it despite the pain it caused. This was the smallest proof of love and interest to Revolution and Imam. I told to myself may be this small shrapnel will ask for forgiveness in front of God after death!
I bought my medication and then went to ward to see Zahra, Zohreh, Amir Sameri and other injured we had brought there a few days ago. The nurses did not appreciate us frequenting there. They acted in a way to show us that we are interfering in their business; although this was not the case at all. We were simple aid workers and did not want to have anything to do with them.
To be continued …
Number of Visits: 1051