Along with memoirs of Amir Sameri - 1
Role of Khorramshahr Abouzar Group in city and border
Faezeh Sasanikhah
Translated by M. B. Khoshnevisan
2019-12-03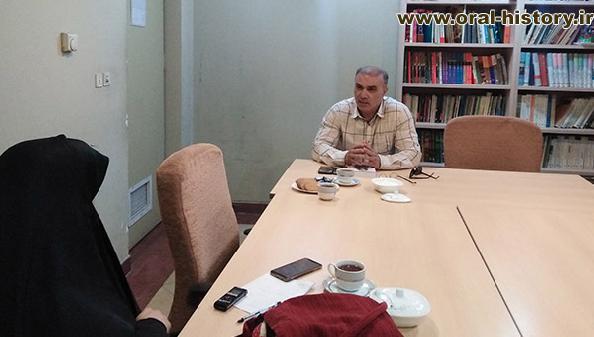 Note: The first years of Amir Sameri's youth was concurrent with the victory of the Islamic revolution and the occurrence of important events in Khorramshahr after the victory of the Islamic revolution. The events started with the rebellion of the Arab People and reached its peak with the breakout of the Iraqi imposed war against Iran.
Sameri was born in 1962 in the town of Abadan. After finishing elementary school, he along with his family immigrated to Khorramshahr. He was an important and active member of the popular Abouzar Group since the beginning of its formation till the end. This popular group stood by and protected the newly-established Islamic revolution in the most critical and sensitive conditions.
The correspondent of Iranian Oral History website has conducted an interview with Amir Sameri to share his memoirs of the first years after the victory of the Islamic revolution and the first days of the Iraqi imposed war against Iran. In this interview, he retells his memories, introducing the Abouzar Group better. Therefore, the expression of the memoirs of this active member of the group is not limited to the memoirs of one individual, but to the activity of one of the most important groups formed after the victory of the Islamic Revolution in Khorramshahr.
*When was the Abouzar Group formed?
* Abouzar Ghaffari Group known as Abouzar Group was established by my father Abdolali Sameri and Mr. Saheb Aboudzadeh in Khorramshahr amid the victory of the Islamic revolution. Many people knew and counted on him. Since my father was an Arab, he was able to bring in a large force of Arab-speaking people in this group. The day the people stormed in the barracks and seized the guns, our tow-story house turned into an armory. Of course, the nomads (Ashahyers) who were living in Abadan were armed since the Shah. We were also familiar with gun and my father had always a gun at home.
Except for our area which was big and large, the guys of Kout Sheikh Neighborhood who were living on that side of the river came to us and gathered together. In fact, Mr. Saheb Aboodzadeh who was also an Arab-speaking merged his forces with those of my father. And the group expanded day by day. Many teenagers and young people in the city like martyr Hamid Reihani and his brothers, martyr Masoud Paki, martyr Bijan Talebi, my cousins martyr Rahim and martyr Riadh Sameri, martyr Morteza Emadi and his brother Mustafa, martyr Taqi Mohseni Far, Hamid and Ahmad Mohseni Far, misters Jabbar Beigi, Malek Shahi, Dastgir Zadeh, Shahbazi, Morteza and Mustafa Golak, Kazem Saeedzadeh and his brother, Seyed Rasoul and Seyed Abbas Bahr al-Oloom, Mohammad Hossain Karamati, and Ayad and Aqil Bahramzadeh who were living in our neighborhood, became the members of the group.
*You mean the Abouzar Group was run directly by your father and Aboudzadeh?
*Yes. My father and Mr. Aboudzadeh made decisions for the group and had become very powerful. The Islamic Revolution Guards Corps IRGC) had yet to be established at that time. Later, when Mr. Jahanara gradually formed the IRGC in Khorramshahr, the power of Abouzar Group was still greater and cooperated with each other. Before the victory of the revolution, my father had become familiar with martyr Jahanara who had already played a role in the formation of Mansouroon Group.
*Why was the group named as Abouzar?
*I don't know exactly why the group was named as Abouzar? When the revolution became victorious I was sixteen or seventeen. Perhaps, one reason was that after the victory of the Islamic revolution, the name of Chehel Metri Street in which we lived was changed to Abouzar Ghaffari because the main part of the city like Safa Bazar, Seif Bazar and the suburbs were located in that area. We lived in Chehel Metri Street. The place of my father's job was a little lower and he was doing the shipping of an Italian company called Saipem.
*What was the duties of Abouzar Group?
*A few months after the victory of the Islamic revolution, a number of Arabs in Khuzestan backed by the then Iraqi government demanded secession and wanted Khuzestan to be separated from Iran which was known as Arab People Rebellion. During the rebellion, the Abouzar Group helped a lot to maintain order in the city and to quell the rebellion. However, some said that since you are Arab-speakers, this is betrayal! The influence of my father and the help of the Abouzar Group contributed the rebellion to be quelled. I can say that eighty percent of the forces of Abouzar Group were Arab speakers. Since then, the group shaped better and worked regularly, namely we had regular posts. We used a number of guns collected during the early revolution.
*Did you guard inside the city or along the border?
*The clashes first started from inside the city. Sometimes at nights, we clashed with the supporters of the Arab People Rebellion which led to shooting. They attacked and we responded. Since the number of our forces was high, we had the responsibility of protecting the city's security. The Abouzar Group was also responsible for protecting the whole rallies held due to the bombings carried out by the supporters of the Arab People.
Once, a grenade was thrown into Khorramshahr's Jame (grand) Mosque. A shrapnel had hit to a two-toman coin which was in my pants pocket and I had not noticed. At night when I wanted to sleep, I saw that something was bothering me. When I put my hand into the pocket, I saw that the shrapnel had hit to the coin. The coin was large in size and had become sharp. In fact, the coin had been tilted instead of being pierced.
*A complicated situation had happened in the rebellion of the Arab People. Many of these people were already your friends and at least knew each other. Is it correct?!
*Yes. You are right. I remember that once I had gone to one of the Arab areas of the city to visit a friend. They had found out that I had come there. One of my friends came and told me, "Amir, don't come out. They have come here to capture you." I had a gun. I said, "I go out". He said, "Don't go. They shoot at you". I said, "I go", and I came out of my friend's house. I quickly grabbed one of them and pointed the gun at him and said, "By God! If you move, I'll shoot a bullet in your head." That man said, "You are an Arab and must support us!" I said, "I cannot get my Persian friend and my brother out his home. If you go against me, I'll do the same. So please, let me go until no blood had been shed. I guard at the border. I have nothing to do with you. If anyone takes up arms against me, I'll do the same. You go and I have nothing to do you." They were convinced and left.
*Why didn't Mr. Aboudzadeh and your father agree with them?
*We did not like the city was divided between the Arabs and Persians. All the people of Khorramshahr were like a family. We knew each other and did not like to be separated from each other. Many of our friends were Persians and we had lived and grown up together since childhood. We knew that the saying that Khuzestan belongs to the Arabs and must be separated from Iran is illogical and there is no reason to be just an Arab. Is it possible that one gets his brother out of his home?
*What was your role in Abouzar Group?
*I and my cousin Rahim were among the executive elements of the group. We were two groups who divided the forces.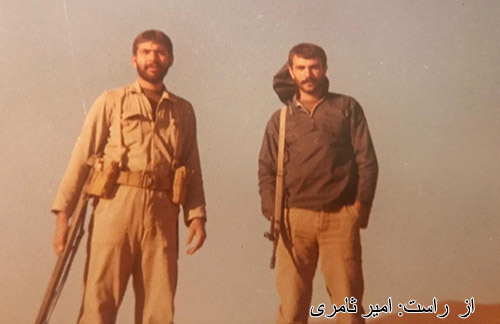 *Had you been trained militarily?
*Yes. I had been trained a few military courses; one in Khorramshahr and another in Abadan. I had also had a military training along with Khorramshahr's IRGC forces in Ahvaz which took 45 days. Our instructor was a man known as Karim Felestini. In these trainings, I got familiar with individual guns and military equipment. Although they were short, I learnt how to work with machine guns and RPG7s. I also learnt how to fight and how to be a veteran fighter. We trained what we had learnt to the group's guys behind the prefabricated buildings. One of my best trainings was under Karim Felestini.
*Why was he called Karim Felestini?
*Because he was from Palestine and had come from Palestine to help us.
*One of the things done by the supporters of the Arab People was bombings. One example happened in Kout Sheikh District and the other in Khorramshahr's Seif Bazar in 1979. Do you have any memory in this regard?
*Yes. You are right. The anti-revolutionary forces planted bombs in different parts of the city. Sometimes, we went to arrest them. The IRGC had just been established at that time and they were selecting their forces. They acted toughly in selection of forces and everyone could not become an IRGC member. They investigated about the individuals. They selected a number of the forces of the Abouzar Group. Martyr Jahanara, the IRGC commander in Khorramshahr loved me a lot and he liked so much that I became one of his forces. He always told my father, "Give me your son." My father said, "I'll give that one." Mr. Jahanara said, "No, give Amir!" But my father did not accept. My father called Jahanara as Seyed. Once, he told my father, "Go to Seyed tomorrow morning, he wants to tell you something." The Jahanara's team was supposed to carry out an operation. I said ok. He said, "Take your gun too." I asked, "Should I take the big gun or the small one?" he said, "The small one." And I left. I exactly remember that it was Nowruz Eid. I went to Jahanara's office. I entered the room and said hello. As soon as he saw me, he asked me why I had worn such clothes. I was surprised because I thought that I had worn good and simple clothes. He said that you want to fight, asking me to come back and wear my best clothes; a jean trousers and a short-sleeve shirt. First, I thought that he was kidding me but he was serious. He said, "We want to have an operation and I don't want you to be recognized."
According to the received information, the supporters of the Arab People were supposed to plant a bomb under the bridge of Khorramshahr. They had already managed to do this inside the city. In the operation carried out by me, Seyed Rasoul Bahr al-Oloom, Ahmad Forouzandeh and a number of others, whose names I do not remember, our mission was to arrest the bombers and we did so.
*How did you identify them?
*They had already been identified by martyr Mohammad Jahanara and Ahmad Forouzandeh who at that time worked in the intelligence department of IRGC. At that time, during the Eid days, the Foroudgah (airport) Square was very crowded. Jahanara said, "We want the considered man safe and sound, be careful that the ordinary people are not harmed."
*When did you go to guard from the border?
*After a while, we said, "It is useless to be just in the city. We have to guard from the border. They bring guns and explosives through the border." We were supposed to close the borders so that the supporters of the Arab People could not smuggle guns or import explosives.
A number of the group's members were very young. They went to the school in the mornings and then when the schools were closed, they came and play. Then, at nights, my father gave them a ride and took to the border and they were guarding till morning. Then, we took them to their house in the morning in order to go to school. They and their family really worked very sincerely.
*The people trusted your father.
*Yes, they did. In general, I can say that the people of Khorramshahr were a single family together. We had lots of people like martyr Behnam Mohamamdi who went to protect from the border but some of them are really unknown.
*Did you give guns to all those who guarded at the border?
*No, we did not have enough guns to give to all members of the group. Due to shortage of guns, one stood with a stick, the next one with a gun, one with a stick and the other one with a gun. They were selected who would pick up the gun and who would hold the stick. That time, there were problems on who we had to give guns. We gave sticks to those who did not have guns. Many years later, when I was reviewing our joint memories with one of my friends named Kamel, he told me, "Do you remember that your father always gave you a Uzi gun and gave us sticks?" I remember that the first day that I was taken for guarding, my father said, "You must stand inside the cemetery!" I was just sixteen.
*You mean Khorramshahr's Jannat Abad Cemetery?
*No. Abadan cemetery. A gun was in my hands and there was a palm grove around there. We guarded in full darkness.
*How was guarding during the day?
*The forces of the police station who were a few, guarded during the day. A patrol car came and circling round. The one who wanted to cross our border from the Iraqi soil, stopped until the patrol car left and then entered our territory, but we were very careful at night. We deployed our forces so that no one could enter our territory. In this way, we managed to prevent the bombings in the city. The saboteurs no longer took risks and could not easily enter the city. The guys of Khorramshahr really had a hard time to protect the city.
*How long did you continue guarding the borders?
* We were guarding the border at night before the war began officially. Before the war started, we had a brief clash with the Iraqis. I remember precisely that two of our forces named Musa Bakhtour and Abbas Farhan Asadi were martyred. From then on, I noticed changes on the Iraqi border. Many of the Iraqi guards were Shiites and our friends, and we talked to many of them. They liked our thoughts and asked us about the revolution. For example, they asked us, "Is it good that you made a revolution?" After a while, we saw that they have changed, and their trenches were getting more fortified. We announced continuously: They're changing their forces. When Abbas Baharloo or Mr. Mohsenifar came to inspect, I told them, "Look, these are not the forces of some time ago! We are seeing this here every day, they are changing their forces! "
*You said we noticed that they were getting more fortified. Do you mean that they started building trenches?
*Look, first there was no trench-building. The cadre forces are very different from the soldiers. We had done it very skillfully. I realized that their forces were not ordinary forces at all, but rather elite ones while our border police stations had few forces. I gradually saw that the Iraqis were making trenches and bringing military equipment. I told my father whatever I had seen and insisted, "Hurry up! You must do something! They are thinking of something. They are bringing military equipment!" My father said, "I am also seeing. We have announced and will do in our meetings." In my mind, I was just thinking that they were retaliating for the June 1980 clash and their 21 deaths. We didn't think they were preparing for a big war, and one day when we had been sitting at home, they drop bombs on our heads. It took about three months since then until the war began.
*Musa Bakhtour and Abbas Farhan Asadi were martyred on 11th of June 1980 and the war officially began on 22nd of September 1980.
*Yes, the situation took some three or four months. I do not remember the dates exactly. But certainly you as a researcher know better.
To be continued...
Number of Visits: 2813