Ahmad Ahmad Memoirs (43)
Edited by Mohsen Kazemi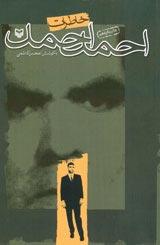 Ahmad Ahmad Memoirs (43)
Edited by Mohsen Kazemi
Soureh Mehr Publishing Company
(Original Text in Persian, 2000)
Translated by Mohammad Karimi
---
Honey Moon in Prison
It was about two or three days after my marriage that the telephone ranged. I pick up the phone. A man said: "Sir, I am calling from Telecommunication Company. I am checking the lines. Please give me your address then I can give your new phone number." I found out they were controlling my house since the company had all the addresses. So I prevaricated to answer him. Instantly I called my brother and told him the matter. Haj Mahdi said: "They have arrested Ahmad, son Haj Agha Lahooti (1), and now they in chase of me. Now, just get out and let see what happens." Without telling anything to my wife, I got out and went toward my brother's smithy in Shahbaz Avenue. I found the shop closed. I understood that SAVAK had pursued my call to my brother and tracked him to arrest, but he had succeeded to escape. It got night. I went to my father-in-law's house and slept there and the next day I went to my job at Qa'em Glaze Company. I was badly worried. I could not do my job as usual. An hour passed. I called home. A stranger was there and asked: "Who are you?" I said: "You're at my home; I have dialed my home. Who are you?" He said: "Introduce yourself." I said: "I am Ahmad. Now tell me what are you doing there? He said: "We are pursuing Mahdi Ahmad, and you do not have the right to come here. You should tell where he is hiding or we arrest you." I said: "There is my house. My wife and parents live there." He said: "We have orders to arrest anyone who comes here." I put down the phone and went to the late Sadegh Eslami and told him what had happened. He advised me not to go home for some time.
About fifteen days I did not go home. It was near the month of Ramadan. Having no news about my family, it was hard to tolerate for me anymore and I went home on the first night of the Ramadan.
Right after getting inside my home they arrested me. Right there, they began interrogating me about the hidden place of Mahdi. I said I did not know. They transferred me to "Anti-sabotage Common Committee (ACC)" (2). At the same time my wife and other family members were imprisoned in a room.
I knew ACC. But it was the first time that they were taking me there. When we reached there, they took me to a room and began hitting me with fists and kicks. Using my previous experiences I began shouting and objecting. I said: "… why are you hitting me? Are you stupid? Aren't you interrogators?! Don't you know Coalition Councils do not have a military approach?! They cannot have any relation with me. I have military activities background. They are an Islamic proselytizing group and I know nothing about them." They said: "We take you as hostage in order to force your brother to introduce himself. I said: "DO you think he is stupid to intro duce himself. It is ten days that you have surrounded our home. What have you obtained? You cannot arrest him." The thuggish men of committee hit me so hard on the first night. Whatever they asked I equivocated. This interrogation and torture were done under the direct leadership of Manouchehri known as Doctor. He was a savage, fat, ugly figured man and there was a 4-centimeters scar on his right cheek under his sideburns. He was a real thug. The torturers would use torture device of Apollo (3) unskillfully.
When they could not achieve anything from hitting and torturing me they transferred me to a cell with 1.5*2.5 meters dimension. Before me there was a man with injured feet. But his injuries were not so severe. It was Ramadan but he would neither pray nor fast. I had decided to fast and by the God's help and all that pressure I could manage to do it for all the thirty days of that year's Ramadan. I would keep my lunch for my sunset breaking fast and my dinner for my dawn in order to impede any problem for my feeding.

---

1- Hojjat-ul-Eslam Hassan Lahouti was born in 1927 in Rasht. After the Islamic Revolution victory he was appointed as the representative of supreme leader in Guilan, elected as the representative of Rasht people in Majllis, Islamic Revolutionary Guard Corps Supervisor in Guilan and Friday prayers Imam in Rasht.
2- In mid 1970s, Pahlavi regime established a new suppressive body known as ACC with the participation of the Police, Gendarmerie, SAVAK and g-2 of army. The first director of ACC was "Gen. Ja'far-Gholi Sadri". It was located in the Police reformatory building neighboring the General Police Administration in down town in Bagh-e Melli (National Park). This location was suitable for the fast access of operational forces.
Colonel Nejati writes about ACC in his book, "25 years of Political History of Iran":
ACC was established for conducting the policy of suppression and torture. The directors of this horrible committee were from the Army, the Police and SAVAK experienced officers. Other than ACC, there were some other committees established in SAVAK and Evin Prison that would work independently or with cooperating with ACC. ACC operations of ACC was not only torturing and interrogating the prisoners. They would also commit several crimes against numerous men and women who were killed individually or collectively."
3- Apollo was a torture device that in which the hands and legs of the prisoner would be tied up with an iron hat on his head in order to keep his shouts of coming out. The loud shouts of the prisoner would even tear his tympanic membrane.
Number of Visits: 3377