Ahmad Ahmad Memoirs (3)
Edited by Mohsen Kazemi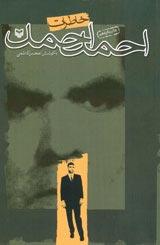 Ahmad Ahmad Memoirs (3)
Edited by Mohsen Kazemi
Soureh Mehr Publishing Company
(Original Text in Persian, 2000)
Translated by Mohammad Karimi
---
The First Prison Experience
Pass mark for 1st to 5th grade of high school was 7 and for 6th grade 10. In 1960 I was in 6th grade that I witnessed there was a protest among the students that changed to a guild protest.
Education Ministry had announced that pass mark for 5th grade and the lower grades would higher than 10. The students did not like that. So they reacted so fast. I was in 6th grade of high school and this new regulation had no effect on my educational destiny. However, since I saw that matter unjust, I participated in their protest. The students of Marvi High School had a big in this protest. I observed the silence was broken with these students and they were not kids any more. They were all full of energy and excitement.
The protestors gathered in front of Education Ministry in Tehran near to 30th of Tir Street, north of City Park. And we who had found the chance that we were looking for reached there. We could not control our anger. The students and I broke the windows of the ministry building on the street side and shouted slogans.(1)
When the rally was over, a friend and I went toward Ettele'at Newspaper three-way. On our way, we noticed that four people were chasing us shoulder to shoulder. We speeded up. They did the same. From three-way we changed our way to National Garden (Baq-e Melli) and they were still coming. It was sunset and it was getting dark. In one point they surrounded us. One of them caught me and manacled me. From their dialogues I got that they were monitoring us while we were breaking the windows. I asked; "What's up?!" they said: "Be quite! Let's go; it would be clarified." I told to my friend: "Go and tell my parents that I am captured in the street." Those four took me in the car and then we arrived in Police Station No.9. Then a captain came and asked: "What's up?!" They said: "In today's rally, he has stood on a stool and shouted slogans and also has broken widows by throwing stone." The captain said: "Record the report about him." They wrote the report and then took me to a room.
At 9 o'clock for the first time I found myself alone in a busy room. I was sad but I was feeling that I have bolded my existence. I was checking in my mind the answers that I had to say to my parents' questions. I was not thinking about the questions that the police were about to ask me at all.
There were 24 more students including 8 from our own school (Marvi). The first moments were so heavy burden. Gradually I got acquainted with other students. We asked each other about how each of us was captured. It turned out most of them had been captured for breaking the windows and shouting slogans. Our worries grew more as time was passing.
It was 11 o'clock at night and nothing had happened yet. We were getting hungry. We had not eaten anything till that time. It became midnight. The brought two pick-ups and took us with them. It was deep dark. We could identify which route we were going. It seemed to me that we passed Ab Karaj (Keshavarz Boulevard). We reached somewhere with no inhabitant. There was a big area surrounded by barbed wires. While we were going upwards I asked the guards: "Where are you taking us?" One of them said: "Quite! Shut up!" I asked again. He did not reply. I threatened them and said: "Tell us where is here or we will jump down." They relented and said: "Do not do it for the God's sake. Here is Qezel Qal'eh prison and we should surrender you here. You will be freed the day after tomorrow. If you jump down you may have accident with other vehicle in the back and this may cause problem for you and us both. So do not do it." The one who told these sentences was a good one. He advised us and said something that later helped us so much. He said: "Look! Here is Qezel Qal'eh prison. You are facing gun and stock and slash. They beat you to die. And nobody would be aware. Whatever you said to us up to now is over but from now on, whatever they said you should obey. Compromise and be careful. You are students of this country. Do not put yourself in trouble. Accept whatever they told you. You are like our children."
We entered Qezel Qal'eh prison. The prison had 7 meters tall levees with 2 meters thickness. We jumped down the pick-up and stood in a line. They told us to empty our pockets and surrender our shoelaces and belts. Then they gave each of us a pouch and told us to put our belongings in it and surrender. At first nobody took the orders serious and we were looking at each other. One of non-commissioned officers came forward and told the first one: "You did not open?! You did not take out?!" then beat him on the head heavily with stock. He lost his control and badly hit the wall and fell on the ground. By watching this scene we understood nothing was a joke. Speedily we opened our shoelaces and belts and emptied out pockets. Then some sleepy soldiers came to shave our heads. The shaven heads were so funny to look at! By looking at each person you would laugh, while your own head was much funnier and would make others laugh much more. When shaving heads was over, they took us to the soldiers' bath and told us since all the cells were full we had to stay there.
So, the bath became our prison cell! The conditions were awful. The ceiling was leaking and the ground was wet and we could not sit down. They brought all the other detained students who were in the protest to the same bath. The number of us in this bath which was our prison was about 120 people. Population density would not let us to have any move. Everywhere was wet and many people were in one small place; we had stuck to each other like pastries. It was a miserable condition. We had to sleep while standing. Sometimes, tiredness and hungriness would force all of us to sleep. When one of us was sleep, he would fall on the other one and the next would fall on the next person and this continues to the last person just like a domino; then all would stand again. There was hard miserable painful condition; particularly for the low aged students who had never been far from the families and had no experience like that. They kept us for three days in this condition without suitable food. Our food by the order of prison head, whose name was Saaqi, was the remains of the soldiers' meal or other prisoners with a deeply low quality. The reason was that we were not in the list of the prison and they would not get any food ration for us separately. So they would contribute the remains of soldiers' food to us. Anyway, after three days they came and collected our money to afford a suitable food for us. The new food was piece of bread and some cheese or sweetmeat. Some people had no money with them and some had put their money in the prison pouch on the first day. I paid whatever I had and shared for the students' food. That was the money that I had gained from working for Oil Company.
For the next night we scheduled a program for separating 120 people into groups. For one hour the first group would sleep and for the next hour the next group. Most of the student were not persistent on praying and would ignore it by some excuses. Few people would pray. Because of population density saying prayers was not easy. Two people had to stand on both sides of the one who wanted to pray to impede the pressure of others.
In 24 hours we had only three chances for going to toilet (morning, noon and evening). Since the number of toilets was not enough, there were long lines in front of toilets in the morning and sometimes we would lose the time for morning prayers. So most of the times we would say our prayers by ablution with sand.
A student from the 5th grade whose name was Lolagar was among the detainees. He was a fat boy and a good player. Every evening when they wanted to bring down the king's flag (!), he would start crying and saying: "I need my Mum!" and weeping so hard. Whenever the student needed toilet, they would tell him: "Lolagar, help us for the God's sake!" then he would start crying and would take his stomach in hand and cry: "Oh… help me! …I am dying!" Every person who would see that scene would believe that he was dying. Then the sergeant would come and open the door for him and rest and then the student would solve their problem.
After three days of being detained, they took us from that bath to line-4 of the prison. The same day a group of younger students sat around the walls of the prison and started to cry for their parents. Saaqi, the prison head, came and said some bad words to them and then said: "What's up here? You have defaced the political prisoners! What does it mean?! You are called political prisoners!" His speech was so interesting for some of them and till that time they did not know what "political" mean and what "political prisoner" mean. So the would look surprisingly. When Saaqi finished his speech, called the sergeant and said: "Go and bring the truck and take them to Ab Karaj. Here is not school... hah!"
The sergeant went and brought two buses and took them all to Ab Karaj and let them go. So the criers were freed this way and we remained. This event changed to a proverb among us and later whenever somebody would say: "he is a political prisoner", other's would say: "yes, prisoner of Sergeant Saaqi!"(2)
From the third day, when the criers went, there were more room for others and the food became better.
One day, they gathered us in Qezel Qal'eh yard and a police officer came and made speech for us. He said: "These are the students whom none of them is against the Shah and the country. They are our children; our youth. They are opposing with Dr. Eqbal and his gang who have changed the pass mark from 7 to 10."Then he said: "Hey, kids!" All together we shouted: "Yes!" Then he continued: "Ok, now here is a written undertaking that you would sign and then will be freed." All the students were happy and jumped and shouted and whistled. They took a signature from everyone and then took us by bus near to 24th of Esfand square (Enqelab Square) and let us go. They said: "Go home! You are free!" (3)
I directly went to Abbasi Khaki quarter from 24th Esfand Square. When I reached to our alley, everyone who would see me in that figure would laugh. They shaved my head with up and downs and it was badly funny.
When I reached home, my family was surprised for my unexpected freedom and became so happy. They said: "Why do you involve in something that has nothing to do with you?!..." and I said: "Now, it just happened…"
After few days after my freedom I went to Marvi High School. I saw a so called black list of 53 names including mine on the board. There was written that these named are expelled from school. So all of us, I mean 53 students of the 5th and 6th grade were expelled.
The same year, in June or July (1960), I went to school to register for the second time for 6th grade, but they did not accept me. In September 18th 1960 I went to school again. I saw students were standing in a long row and entering school by pressing each other. There was a lunatic house because of the crowd. I could reach to the registry office and despite being in black list I could register for the nest educational year. Fortunately nobody noticed the matter until the end of year. Finally I could get my high school diploma in 1961from Marvi High school in mathematics.
---
Notes:
(1) Slogans were not against the Shah and the kingship, but against Dr. Eqbal and governmental elements.
(2) By this proverb, they would show that he/she has been prisoner but has been freed for childish crying.
(3) Ahmad's record for this prison was referred to after being detained for his activities in Melal Eslami Party (Islamic Nation's Party). In Melal Eslami Party file 58-6-18, we read: "Ahmad Ahmad, the accused number 6 has been delivered to SAVAK by letter number 38/10/22-s-5/167128 by the agents of this office for insulting the Prime Minister in 1959." (Police file- Inquisition Branch dated September 13th 1965).
Number of Visits: 3902