The Memoirs of Mohammad Reza Hafeznia (7)
Hamid Ghazvini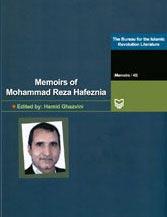 Memoirs of Hafeznia (7)
Finally, we arrived in the parade field of the artillery unit which was bigger and cleaner than the other ones. Armored, infantry and artillery units with thousands of soldiers and commissioned and noncommissioned officers had all stood up around the field. The military units with their guns and bayonets had remained upright and displayed a great battlefield. As far as the eye could see, the companies and battalions had been deployed around the field respectively. They were ready to march with their guns and bayonets. I had also stood up in the place where I had to be and the grandeur of the division and the field had no impact on me and my will. All of a sudden, I found out that Major General Shahir Motlaq, the division commander had returned and was present in the field! I said to myself that it should be a secrecy, he had been in Tehran, how has he come back, he was not supposed to be here. And God wants something is done by this weak creature today.
I had been drowned in my thought when I saw Major General Shahir Motlaq was delivering a speech. He in his speech dispraised the people who took part in demonstrations. On the other hand, he praised the Shah's regime and spoke about loyalty to the regime, and that we should do such and such with these traitors. He ruled out popular movements in the city. Apparently, he had been prepared in Tehran to return and suppress the popular protests. I got very angry at the remarks and rodomontade. I said, "Oh, God, you witness that I must make his voice silent within a few minutes later so that it would be a lesson for the rest."
I was continuously drumming into myself such issues and was getting ready for the operation. Finally, the military forces started marching. The units were passing in front of the VIP. We were almost in the middle of the population who should pass the VIP. When we reached the place where we wanted to turn and passed it, I told Lieutenant Mokhtari who was tall and walking in my right hand: "Mr. Mokhtari, my feet ache. If possible let's change our places." He said no problem and we did the same. I got very happy. We were approaching the VIP but suddenly he said, "Come back to your position!" I said, "Mr. Mokhtari, my feet ache. If so, I had to go out of the company." Of course, I couldn't do this since we were still far from the VIP and I had to march along with others. If I parted, I would have to go to the other side. So I had to both walk with the company and move toward the VIP. So, I trusted in God. If something has to be done and God has prepared its means so far, then he would prepare the rest. I decided to get out of the company before they started marching. At the same time, I reviewed my plan as we were approaching the VIP. As soon as they began to march, I jumped out and took my colt out and made it ready for firing. The commander of the division was reviewing the troops and I started to fire at the VIP. All were still doing their work that the fire shots terrified everybody. He was still reviewing when I started firing. But after a few seconds, I saw he fell down, and the troops ran away. I said what a hollow division! A few bullets had still been remained. So, I attacked the other generals who had stood beside the VIP, and they also started running away. Someone threw himself behind a barrel and the other one behind the VIP and the whole division with that much of ammunitions had been scattered. Now, I had become the lone challenger of the field and everybody was escaping. It was a strange scene. Suddenly, I found out that there was no bullet in my gun. I immediately went after other magazines which were in my pocket. As I wanted to change the empty magazine with a full one, my arms were locked and someone clutched me from behind. I could do nothing anymore. Apparently, he was one of the guard officers or a sergeant who held me. But surely, he was a strong and tall man. Suddenly, I saw a head appearing over me. I couldn't do anything. My colt and magazine fell down and I was beaten severely.
Detention
As I was being beaten cruelly, I turned my head, seeing the whole division which as far as you eye could reach was full of military forces had escaped.
There I said to myself, Wow! What army the Shah has relied on! It was so hollow that was completely broke down just with a few shots that I had fired. All of a sudden, I saw that someone was shouting, don't beat, don't beat. He was the first one who separated me from them and started looking over my mouth with his finger quickly. At that time, I didn't understand why he did this. But later, I found out that they probably wanted to see whether I had put cyanide pill in my mouth.
Then, they held my hands and threw me in a car and transferred to the division's jail. On my way, I was thinking of the whole incident which had occurred and what policy I should follow and how I should behave, because definitely, I would be interrogated.
Translated by: Mohammad Baqer Khoshnevisan
Number of Visits: 3308