The Memoirs of Mohammad Reza Hafeznia (1)
Hamid Ghazvini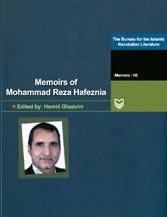 The Memoirs of Mohammad Reza Hafeznia
The Memoirs of Mohammad Reza Hafeznia is the story of an attempt by an enlisted officer (Mohammad Reza Hafeznia) in 77 Khorasan Division for assassinating the Division's commander whom he regarded as the cause of the people's suppression. The event had a wide reflection in summer of 1978.
The book explains about how the narrator's personality was grown up since his childhood and how his though and campaign motives were formed. It also says about the process of the operation's planning and its implementation, how he was arrested, his interrogation, the period of detention, and escape from the prison as well as the life of the narrator until the victory of the Islamic revolution and his first attempts in the first months of the establishment of the Islamic Republic government.
The Memoirs of Mohammad Reza Hafeznia collected by the Oral History Department of the Islamic Revolution Literature Bureau has been compiled by Hamid Qazvini and published recently in 173 pages by Sooreh Mehr Publishing Co. We are going to review parts of English translation of the book from this week.
Leaving for Mashhad
I could no longer stand to continue the situation. I wanted to carry out a plan against the regime as soon as possible. I was thinking that I had no longer any opportunity to procrastinate. And it was not clear whether I could succeed.
Therefore, I reviewed different plans in my mind. Even at one point I thought of asking help from the religious persons with whom I accompanied in order to wage a series of guerilla operations in the city of Shiraz. I imagined that I should provoke them. For example, I should tell them, "Hey guys, why have been remained silent? The Muslim people of this country are being killed and you don't show any reaction? …"
Since I was very soft-hearted, I was really upset to see the people especially the religious ones were treated very unfairly and in general religious activities were under pressure and the people were attacked.
I became increasingly upset why we had remained silent about the country's general situation and the escalation of the revolution. I was rebuking myself many times that shame on you "Hafeznia"! You are calling yourself a Muslim and are serving in the army's garrison but while the grounds are ready for a measure, you do not do anything?!
You are watching that the regime is using the people like you who have stood up for Islam!
The rebukes and their repetition had a certain psychological and mental impact on me in a way that it was making me ready little by little to carry out an operation even inside the garrison where I was serving at the first opportunity. Since the movement had been widely expanded and the regime was trying to involve the army as much as it could, I wanted to strike a blow to the regime rather than being an agent for its strengthening.
At the same time, I was aware of being transferred to the Guard's garrison. It was said that a special recommendation or connections were needed for being transferred to the Imperial Guard. I thought a lot to remove the problem and finally it came to my mind to find Colonel Khorashadi who was a senior officer in Shiraz military base and my fellow townsman. I decided to ask him to act as a mediator so that I could enter the Guard's Division. But the problem was that I had no contact with him and at the first place, this contact should be established. So I called to Birjand -a city in north of Iran- and got the phone numbers of Mr. Khorashadi from my first cousin. Then, I called his house and introduced myself. Since he was from our village, he recognized me. I told him, "I have received good grades and if you do me a favor to do something to transfer me to Tehran, I would be very pleased, and because I am going to marry and the girl whom I want to marry is living in Tehran."
After listening to my words, Mr. Khorashad said, "OK, I will review and if it was possible, I would do something for you." I became hopeful a little.
I was hopeful until the day when the forces were supposed to be transferred to different garrisons came. When the names were announced, despite what I already imagined, my name was not among those who had been transferred to the Guard Division.
The names were read from Chieftain Tank Group, Scorpion Group, and M60 Group (whom I was from M60 Group).
I didn't know what to do. Finally I chose the city of Mashhad because of its proximity to Birjand which was determined as the city of my military service.
My dispatch to Mashhad caused the path of my campaign to be changed completely, and thought of something else.
I had already thought of conducting an operation if possible against the person of the Shah through the Guard but all of my hopes went up in smoke.
When I arrived in Mashhad, I entered the garrison and introduced myself. In order to reside outside the garrison, I went to the house of a familiar old lady who was from Birjand –a city in north of Iran- and was living with her disabled husband. The lady was nursing her husband alone and very competently. And she was very firm and unyielding.
They had an additional room and I asked them to rent it to me.
I resided there as she gave me an OK.
I had little familiarity with the city of Mashhad. I did not know political forces, active religious places and the centers which played an important role in the campaign. And in fact I had become very confused. So, I spent several days to become familiar with the city. Then, after one or two weeks, I was installed as the commander of the First Squad of Tank's First Company from the Tank's Battalion of 77 Khorasan Division. It was natural that if anything happened and necessary measure was needed by the tanks, first I would win a lottery who was the commander. The Tank's Battalion had been deployed in Mashhad's newly-built garrison.
The commander of the Tank's Battalion was a colonel who had little presence and was a calm man. But his deputy Major Kouhestani was completely the opposite.
Since the movement and the people's campaign had spread to different parts of the country including Mashhad, the deputy according to what he had been trained usually tried in the morning to take tough stances against the religion and revolution. Even sometimes, he made unfounded and blasphemous claims. For instance, he said, "My command is higher than God's. You must obey mine."
He treated very violently and haughtily. I, who had recently been transferred to the garrison as an enlisted officer and hated the regime and its agents and was looking for an opportunity to strike a blow to the regime, could hardly tolerate this man. Even I was thinking that if I could do nothing eventually, at least I must make this major silent by all means, even if I had to shoot at him.
To be continued…
Translated by: Mohammad Baqer Khoshnevisan
Number of Visits: 3971