ASIA-INDIA: ORAL HISTORY AND THE SENSE OF LEGACY – A CONFERENCE IN BANGALORE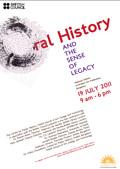 Indira Chowdhury and Rob Perks report on a conference organized by the Centre for Public History (CPH) at the Srishti School for Art, Design and Technology on the 19 July 2011.
'The conference was held at the auditorium of the National Gallery of Modern Art, Bangalore, and brought together 160 participants from many parts of India, including Baroda, Lucknow, Kolkata, Chennai, Pondicherry, Mumbai and Hyderabad. Participants included academics, NGOs, college students, corporates and individuals.
'The speakers included Rob Perks and Mary Stewart from the British Library, who spoke about the origins of oral history and archiving; Dr. Indira Chowdhury reflected on her own oral history fieldwork in rural India; Dr. C S Lakshmi of the Sound and Picture Archives for Research on Women (SPARROW), Mumbai, spoke about her experience of setting up an oral history archive; Dr. Suroopa Mukherjee, Reader, Department of English, Hindu College, University of Delhi, talked about her oral histories with survivors of the Bhopal industrial disaster; and Urvashi Butalia, director and co-founder of Kali for Women (see www.zubaanbooks.com), India's first feminist publishing house, talked about her groundbreaking oral history book on Partition The Other Side of Silence. There was also a poster session and a film screening by SPARROW.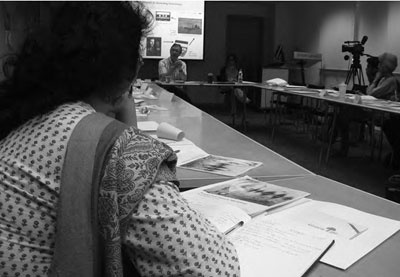 The audience remained engaged throughout the conference and expressed their interest in the formation of an Oral History Association of India.
'The conference saw the announcement of the foundation of the Centre for Public History (CPH) at Srishti School for Art, Design and Technology in Bangalore. CPH seeks to democratize history by using oral history to incorporate multiple and marginalized voices and use design and digital technologies to reach diverse audiences. Dr. Suroopa Mukherjee announced she would make the oral history interviews with survivors of the Bhopal industrial disaster available to CPH so that the archive can become a resource for future researchers.
'The British Council kindly supported the visit of Dr. Perks and Ms. Stewart through their "Connections through Culture" program and the visit encompassed a training seminar and several presentations.'
Source: ORAL HISTORY, OHS Journal, Spring 2012, p. 27
Number of Visits: 6664