The 335th Night of Memory
Health Defenders
Sepdeh Kholoosian
Translated by M. B. Khoshnevisan
2022-8-30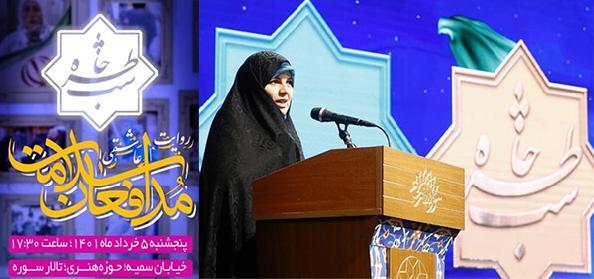 The 335th program of the Night of Memory was held in the Sooreh Hall of the Art Center on Thursday 5th of Khordad 1401 (May 26, 2022) attended by the physicians and the staff of the health defenders and hosted by Davood Slaehi. The families of the martyrs of health defenders, the medical health staff and a number of volunteers in the area of health were present in the ceremony, talking about the memoirs of the breakout and ascension of the corona pandemic.
***
In the beginning, the host of the show considered the Night of Memory, which was centered on "health defenders", as the most appropriate program of these days, and honored the memory of the terror martyr, Brigadier General Hassan Sayad Khodaei, and expressed his condolences on the martyrdom of this great general. Then, recalling the anniversary of the proud days of the recapture of Khorramshahr, he pointed to the incident of the Metropol building and said, "In the days when the people of Khorramshahr were preparing to commemorate the 40th anniversary of the liberation of their city, not only Abadan but the whole country were saddened. An incident that was full of sadness and pain for the residents of the capital like Plasko building incident".
The first narrator of this program was Mrs. Sahafzadeh, the wife of the martyr of health defender, Dr. Manouchehr Haji Aghaei Shahrashtani. Martyr Haji Aghaei, a surgeon and patient therapist at Haft-e-Tir Hospital, was treating corona patients in the ICU Ward.
Mrs. Sahafzadeh said at the beginning of her speech, "I strongly believe that wherever I appear in the name of my husband, he is also present there. Before my wife's martyrdom, if I heard such words from the wives and children of the martyrs, it would be difficult for me to believe; but now I feel from the bottom of my heart that wherever I am present in the name of this martyr, he is also there. For this reason, when I am invited to a place, I go there with enthusiasm, because not only his name but the names of all the martyrs are mentioned".
The narrator continued, "The biggest feature I remember from him was his sacrifice, which he practiced until the last moment. Although the pandemic was a bad disaster, for people like my wife who loved to serve, it was a blessing to be present and serve. My wife volunteered to go to this arena. He could have not gone and not been present in Corona's ICU; but according to the testimony of his colleagues, he himself accepted this responsibility and wanted to serve with corona patients without hesitation. As soon as he was called, he spared no effort. It happened many times that he had taken the car out of the hospital to return home, but when he heard that the patient had suffocated and needed intubation, he returned to the ward and put on the treatment gown. Of course, he was a general surgeon and a general surgeon does not have a direct role in the treatment of corona diseases except in acute cases; because corona patients were treated by anesthesiologists and infectious diseases doctors, but when the disease reached its end and the patient was on the verge of suffocation, they asked the surgeon to come and perform intubation".
She continued, "My husband worked in several hospitals, and although I saw him very rarely, after three or four nights on duty, he described one case to me in detail. In the last week of his life, a very young patient came to the ICU. It was on Sunday that my husband said: This young man became very ill and I wanted to do my best to treat this patient. But whatever I tried, I couldn't do the intubation. Blood was coming out of his throat and he wouldn't let me put the tube in place. I had to raise my shield and bent down and brought my head close to him. I got so close to him that the paramedics and staff stepped aside and scolded me, doctor, don't put your head so close to the patient's throat. I said: He is very young. If we do our best, maybe we can do the tubing and he will remain alive. Later, I heard that the patient was cured by the grace of God. The doctor contracted this disease from the same patient. After visiting that patient, he had a fever and was on duty for the next few days.
I didn't see him again until he came home one day of his shift and said I wasn't feeling well. I said: Is it Corona? You should have been hospitalized. why did you come home?" He said, "There is no need. I have taken Favipiravir tablets. I also get other pills and treat myself". I said, "You should be hospitalized". He said, "It is not known whether it is Corona. I have also tested". I insisted again. He said, "Don't come near me, because there is a possibility that I may be infected". He was going to quarantine himself. Again I said, "Why did you do this? You should have been hospitalized". He stood up and looked at me and said, "Madam! We have a shortage of beds. The beds belong to the people and we should not occupy them. We can heal ourselves, but the people cannot".
In the afternoon of the same day on 17th of Mordad (August 8), he was short of breath. I said, "I will call the hospital where you work so that they can send you oxygen from that department to home". He said, "No, oxygen belongs to the people. It is lacking". It was the first days of the month of Mordad and the pandemic had just broken out. The doctor said, "The oxygen belongs to the people and the patients need it. It is not right to take it for ourselves." I provided oxygen for him from somewhere else. I insisted him a lot to go to the hospital but he still resisted and said, "Don't worry." At night, I had to call his colleague, Mrs. Dr. Amini who is an infectious disease specialist. I said, "Mrs. Doctor, he resists and does not come to the hospital. What should I do?" Dr. Amini convinced him to go and was hospitalized in the same hospital he himself was the therapist of the patients.
At night when I brought his clothes to get ready, he said, "Madam, instead of these things, put a table so that I say my prayers." I said, "But you have already said your prayers". But I saw that he wanted to say the night prayers. Thanks to God, I witnessed that during the thirty -four years of being his wife, he never left his prayers. He is not this world now that I say these things, but I think these traits are really a memorial for the next generation. I witnessed that he never overslept for his morning prayers during these thirty-four years. When he said his prayers at that night, I said, "Now that you are ill, you don't need to say eleven rek'ats. One or two is enough." He said, "tonight, I want to say something to God." I didn't understand how he was praying. Early in the morning, I told him, "Let's go now". But he said, "First, I should say my morning prayer. If you bring me now to the hospital, I cannot say my prayer. Let me pray and then we will go to hospital cleanly. After the morning prayer I prepared to go, but in front of the door, the doctor fell to the ground and what that shouldn't have happened, turned to happen. Due to the lack of oxygen, blood was clotted and my wife was martyred on Eid al –Ghadir of the year 1399 (2019).
In continuation, Mrs. Sahafzadeh talked about his martyred brother and the joint memory he had with martyr Hajiaghaei. She said, "My brother, martyr Mohammad Reza Sahafzadeh, was a Basiji who was martyred in Operation Karbala 5. When my brother was martyred, my husband envied him a lot. Because my husband had also gone to the front many times. During his student career, he was on the front whenever they had semester closure. He used to say, "It's a pity. It was a table that was spread and I didn't deserve to take anything form it". When the TV showed a program about the martyrs on various occasions, he said, "Did you see that I had not wished to be martyred from the bottom of my heart? If so, I would have been with your brother now".
At the time we wanted to get married, my brother came forward and said, "My sister; don't reject this gentleman. He is a faithful and good person". He was really like that. He was committed, faithful and polite. I am not going to exaggerate these things and say them after his martyrdom. According to the acknowledgment of all his colleagues and friends, he was completely polite and had asked me to do the same throughout my life. He had said, "I have two requests from you. Let's live together with faith and politeness". He was really the same. He was a first year medical student at the time of our marriage. Before his martyrdom, my brother told me, "In addition to studying, this gentleman is very faithful". The doctor was really his own order. God willing, they will be in a good position together and we will also be martyred. This sentence of martyr Soleimani calms me down a lot. Martyr Soleimani had said, "Those who live as martyrs will be martyred". My husband lived as a martyr.
To be continued...
Number of Visits: 1065